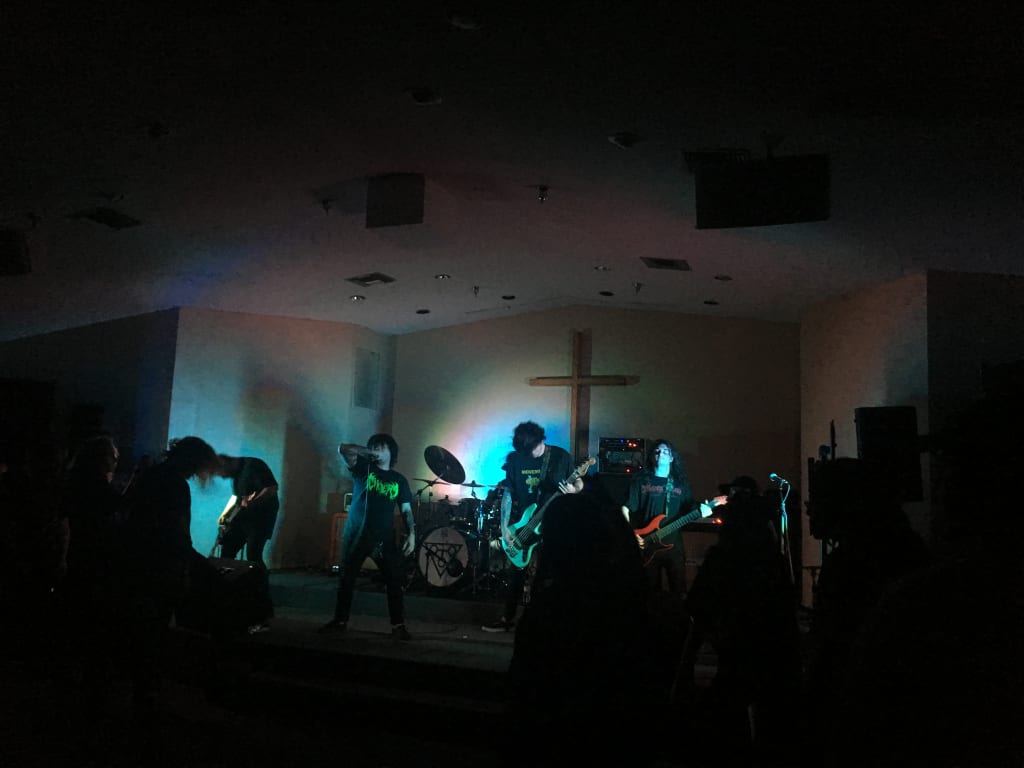 Bodysnatcher at The Noise Box, Brandon, FL
I've always appreciated music of many genres as the message behind a song can greatly affect my mood. Unfortunately, for a long time I was only aware of well-known and already established acts such as Slipknot, Turnover, and The Smashing Pumpkins, as well as festivals like Vans Warped Tour. Due to my limited knowledge and appreciation, I'd buy into these acts simply because it's all I knew how to do.
As the years rolled on, I began broadening my horizons, beginning with underground rappers. Pouya was one of my favorite rappers, and learning that he was also from Florida gave me such immense pride as a Floridian myself. In 2016, I was given the opportunity to see him live in St. Petersburg, FL at one of the bigger venues available in the area. I was shocked to see him play at such a large venue, but I was so proud to see the turnout was a sold out show. The love and support of his fans was what got him to that stage in the first place.
At this time I was getting further into the hardcore scene as well, but the more notable acts weren't touring within Florida, or close enough to me if they were. My search for local hardcore music was then lead to fan favorites within the scene such as Bodysnatcher and Traitors.
Even now, bands like Bodysnatcher and Traitors are gaining much more ground; they are touring across the country, and more recently Canada. While touring, vans and trailers are typically the premise for storing equipment and personal belongings. With this mode of transportation comes need for vehicle repairs or reimbursement for stolen equipment. In order to fund repairs and replacement equipment, these bands often rely on merch sales as it's their main source of income. When these artists stop along routes to their next show, they often ask to crash at homes of friends and fans. Seeing as they don't have the funds to constantly stay in hotels, this is the next best option.
The first time one of these bands posted about their need for repairs and merch sales being their only solace, it really put things into perspective for me. Artists making more headway in mainstream culture rarely face such problems as they're granted more luxury and reliable transportation. These established artists also have the opportunity to stay at hotels if necessary. There is such a distinct contrast between the way these bands are able to make a living.
Local Tampa, FL bands such as Head High, Noose, and Corpus are also fan favorites, yet they still work full times jobs when they're not playing shows. Again, this really puts things in perspective. While artists that are now largely successful likely hustled for years to get to the point they're at now, and it's very admirable, these local acts are currently in the muck of it and have been for years.
By all means, support the music you love, but don't be afraid of supporting similar artists simply because they're not on the map yet. With support from active fans who buy tickets directly from them or purchase merch at their shows/online, these artists could very well make waves in a much larger scene than local or statewide. Don't be hesitant in actively searching for local musicians that appeal to your taste. If you have the funds and means to also support them through merch sales as well, do it; it's what helps them pursue their passion.
Reader insights
Be the first to share your insights about this piece.
Add your insights