Super Smack & Mega Ran's "BXG" should be on your playlist
A song for solidarity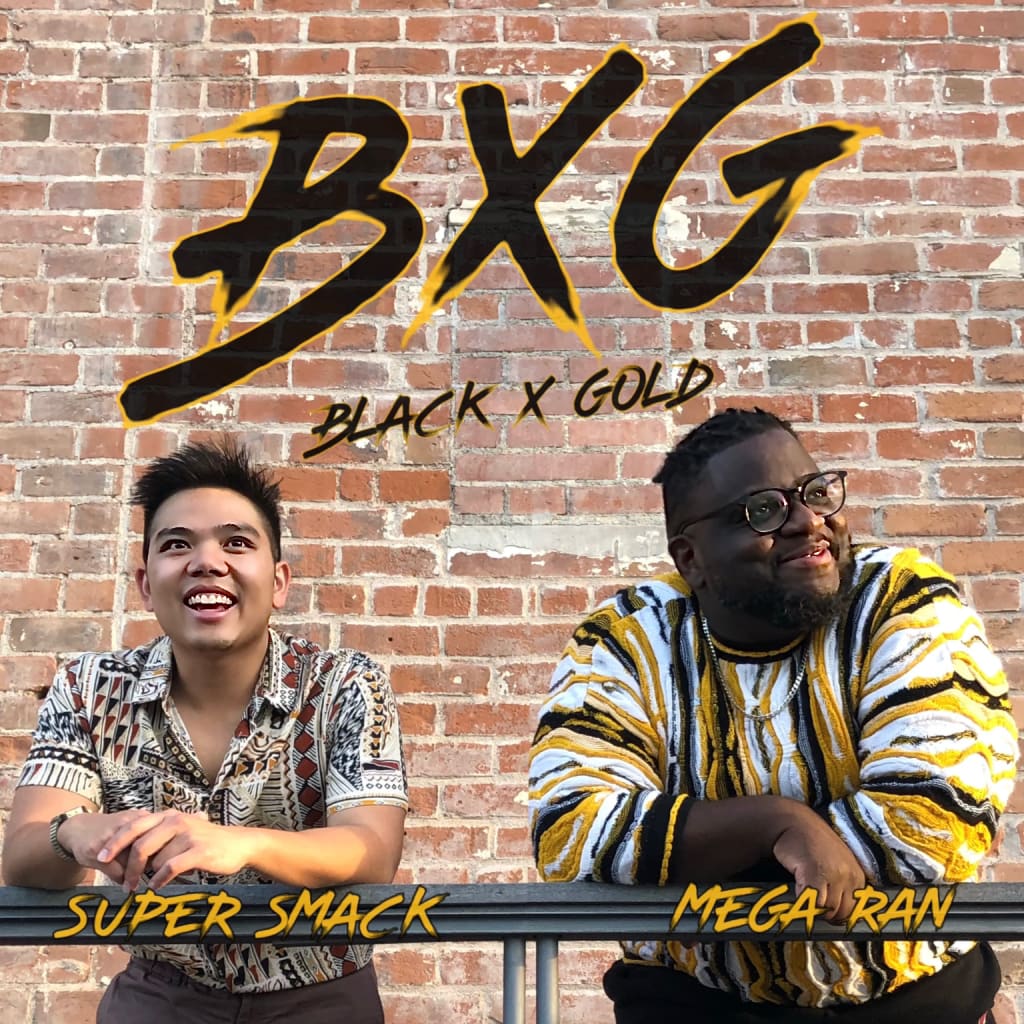 Every week I love to listen to playlist and find my new favorite song to add to my catalog! When "Black X Gold" came on my radar I immediately found my head bobbing and catching onto the hook as it was very easy to sing along to.
As the verses are exchanged between Super Smack and Mega Ran, I started listening in depth to the lyrics and the deeper meaning behind the song. It discusses a message of coming together and making our voices heard when it comes to racial issues. We all have heard all of the movements throughout the past years of racial injustice.
Smack quotes in the song "A riot is the language of the unheard". I also loved when Mega Ran and Smack came together in the song saying "Protect your peace and I recommend respect your friends but also check your friends". The gist of this is about holding everyone accountable for their actions and words.
I had the pleasure of interviewing Super Smack and asking him to create a playlist of songs that align with the feel or message of "BXG". Stream and read below to learn more about the behind the scenes of this wonderful song.
1.) Hi Super Smack welcome to Vocal Creators! I wanted to start off this interview as I am curious what inspired your stage name?
Thank you! It's dope to be here. Growing up, superheroes always inspired me. Everything from Goku to Super Mario to Chrisopher Reeve's Superman— I always loved the image of donning a special outfit, powering up, and going off to fight evil. I think being a musician is the closest thing to being a superhero in the real world. I want to live up to those inspirations. That's why I'm "Super".
As for the "Smack" part— it's all about the onomatopoeia. You can't say the word "smack" without making the sound. Sonic energy is my superpower, so I think Super Smack is right on.
2.) I went back and watched some of your past music videos which were super energetic and fun. What is your favorite part of being a musician and creative?
Making people feel things. Helping them feel more connected, more hopeful, and uplifted— not in a saccharine way but in a soulful one. Music has that effect on me and it's my dream to share that.
3.) "BXG" is very different from any other song you have ever released, however it still feels like you. How were you able to incorporate your style with such powerful lyrical content?
I've been exploring this idea recently-- "gravity pop". Usually when we think of pop music we think of fluffy, surface level stuff— but there's no reason why popular music can't also have real gravity to its message. As long as the song BOPS people will listen. Mega Ran and I talked about this right at the beginning of our songwriting process. He has this great phrase— "A little medicine with the candy." I underlined that one.
I also have to give a huge shoutout to our mixing engineer Bill Beats, based in Seattle, who really brought out the pop elements while staying true to the hip-hop roots. Also our music producer Lewis Cullen, based in Wales— I felt like this beat is so inspired and with the vocal samples and driving bass guitar, it'd be the perfect foundation for some gravity pop.
4.) Mega Ran was the perfect collab for this song in my opinion. It seems that you two gelled well together just by how the song flows and also seeing the single cover of "BXG". How was it creating that cover art for you both?
The photoshoot was a blast. Ran is based in Phoenix, which is where I moved last year. The city has so many cool locations and the lighting is incredible. We got to work with an amazing visual director named Catherine Ricafort— who actually happens to be my sister! Her background is in dance, so she understood what we were aiming for musically, and was able to direct us almost like a choreographer would. She really brought out the fun and joy of the song, but also the gravity of the message, and captured it in a visual vibe.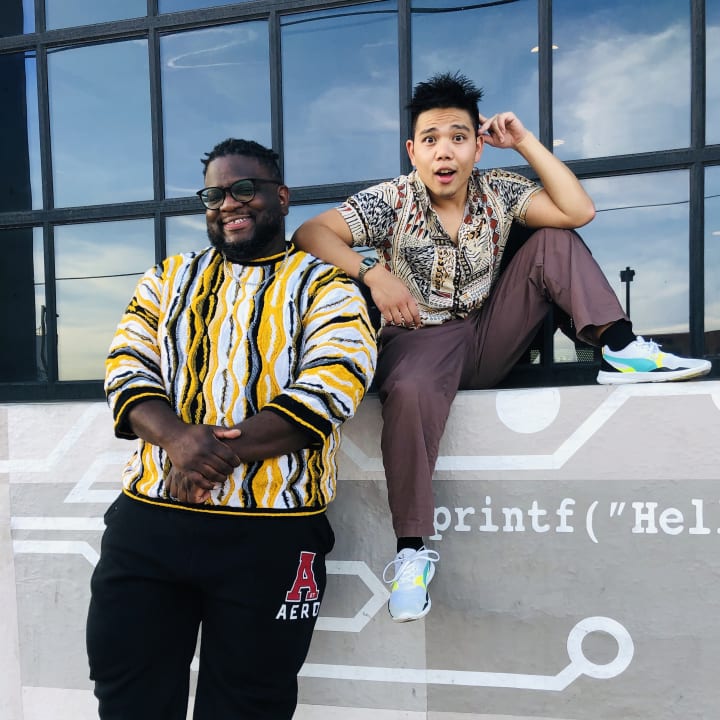 5.) Are you planning on performing this song anytime soon live or should we expect new music coming from you?
Performing BXG live would be dope! We cross paths at the same shows, so it could definitely happen.
I'm releasing an EP this month called NEON BLUE. It's the sequel to my first EP NEON RED and I'm really excited about it. I took more musical risks on this one, incorporating elements of indie rock and spoken word for the first time, along with the hip-hop and Nintendo-inspired chiptune I was already doing. I think NEON BLUE is gonna show a different side, while still having that through-line between NEON RED and also BXG.
6.) Bring your listeners into the creative process! What are the absolute things you have to have in the studio with you? (laptop, notebook, etc)
For recording, I like to have everything memorized when I go into the booth. I have pretty fast memorization skills, which I think comes from being an actor before I was a rapper. Being "off book" or off-script always helped me focus on the emotion behind the words.
That said, I'm also a really visual person. So I'll usually have a piece of paper with the lyrics, where I make annotations between takes. Things like "inflect up here" or "switch to sing-rapping there" or changing where I get my breathes— I like getting different kinds of takes and then piecing together the puzzle later during mixing.
Just no phone for me in the booth. I get way too distracted with it and it totally takes me outside the spirit of the song. It's more fun to do it old school, anyway.
7.) Piggy backing off that same question, what was the setting when you and Mega Ran wrote the song. Did you all bounce ideas off one another or wrote separately?
It was a mix of both actually! I'll let Mega Ran take this one, here's what he wanted to share about our writing process:
"The collaborative effort was so much fun, but also so rewarding... It wasn't just sitting down and linking together some clever rhymes; but it was a conversation that needed to be had, and still does. We have to speak about these issues because they're important, and unfortunately not going anywhere. Smack and I sat down and talked about how to say just the right thing on this song..not the perfect phrase or word, but to let people that are hurting out there know that we stand with them.
I took a great deal of pride in working on this song with Smack. It's everything I've wanted to say and exactly how I needed to express it. I thank Smack for being there and willing to collaborate with me on such an important piece of music." — Mega Ran
8.) Watching the lyric video honestly pointed out more cases of social injustice to me. I know you all referenced George Floyd, Latasha Harlins, and Vicha Ratanapakdee. How did you and Mega Ran incorporate their names in the song?
With the way social media works, there is a time when everybody knows certain names. Certain hashtags trend, and then they fade. But the memory of these people, who were victims of hate and racism and broken systems that failed to protect them— those memories deserved to be remembered forever. Whether it's 1991 or 2021— we have to remember them George, Latasha, Vicha, and many others. We said their names here, together and in song, to help that happen.
9.) Can you make us a playlist of at least 12 songs you feel are uplifting or powerful like "BXG" and title it "BXG Super Smack Playlist"