Suburban Sound Machine
an unashamedly retro style, deliberately multi genre band, reflecting the diverse musical interests of its members.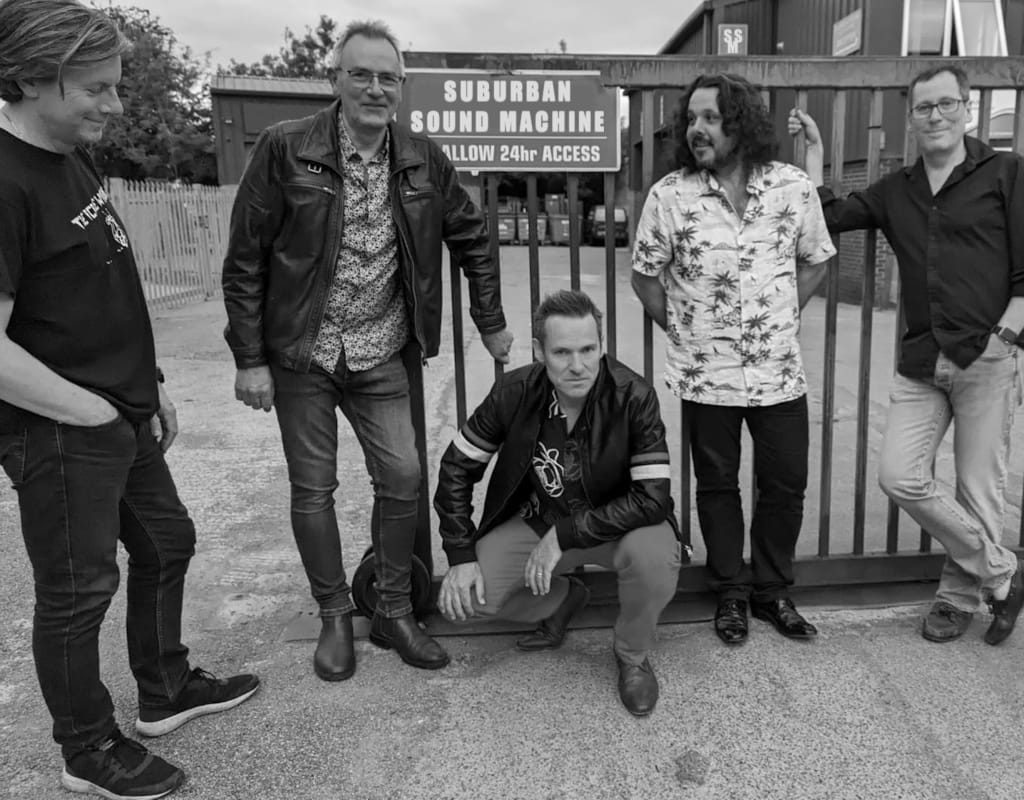 Suburban Sound Machine has emerged from a group of exasperated musicians, locked in their homes, who needed to get their musical mojo's back.

Completely remote, due to lockdown restrictions, they recorded and released their first collection of songs in May of 2021. Now the band is able to finally get together in person, they are jamming the songs, preparing to go on tour and writing new material.

The band has an unashamedly retro style that is deliberately multi genre, reflecting the diverse musical interests of its members. The songs take in influences such as David Bowie, Roxy Music, The Kinks, Siouxsie and the Banshees, Blur and even a touch of Miles Davis. The songs have poignant lyrics, taking an amusing, affectionate and sometimes melancholy look at middle class, middle English life.

The first new single The Boy From Croydon came out in January, and now Perfect Life is out! At least 2 more singles in the pipeline...
How long have you been creating music?
Started out doing covers as a working pub band then got song writing creative during lockdown with my bass player friend who was stuck in Italy. We wanted to write songs we would love to listen to and hoped our audience would enjoy (instead of covers!)
Do you have a preferred genre?
We describe ourselves as a multi-genre band. Every song has a definite 'Suburban Sound Machine' feel to it, but we go from indie to punk to ska to pop to Disney type jazz (just wait for the next single after this one). However, I would say a recurring theme is almost a BritPop revival.
Do you write your own music, or do you collaborate?
Nathan (the bass player) and I work as a team to create the outline of the song, chord structures, melody line, lyrics and arrangement. Then the guys join and add their instrumentation and ideas to bring the song to life.
Tell us about your latest song, EP, or album.
We released a lockdown album (all done remotely) last year, and then have released two new singles since then. The most recent is Perfect Life.
Do you have any other plans relating to this release? A video?
We are currently focusing on preparing a full set for live shows and finishing off our songs. We have a couple of songs we think are bangers to follow up after this one, so want to get them out rather than do a video. We only just did our first photo shoot so are a little behind on that side!
What is the best song you ever released and why?
Tough call. I think the best on our album was Sleeping With Mary as it had great lyrics and a fun easy to access tune. However, My Philosophies has gone down a storm live. Really not sure why but seems to hit home for some reason
Do you, or would you like to, perform live?
Yes. We love to play live as old hands from the pub circuit. We have our first couple of gigs coming up. Camden Rocks Festival this weekend (5th June) and a private event called Esherfest the week after. We then are looking to complete our set for a mini tour from the beginning of October.
Which of your songs is, or do you think would be, fun to perform live?
We have a couple not yet released that I think will go down a storm. Shut Up Stanley is a barnstormer singalong about a vaguely racist, sexist, homophobic grandfather / father in law / parent (delete as appropriate) that I think will be great. We have also created a 3 minute punk blast called #MiddleAgedMiddleClassPunkSong that is also great fun.
Do you create music for yourself or for fans?
Definitely both. We are writing music that we love but with an aim for an audience to enjoy it. Great music that's great fun for all musicians and audience, that's the idea.
Other than fame & fortune, is there something you hope to achieve through music?
It's all about the enjoyment. Enjoy the music (us and the fans), enjoy the show. Go home happy.
What is your favorite/best outlet to connect with your followers Instagram, Spotify, FB, Twitter, iTunes? How would you want them to follow?
All would be great! But I think we update FB the best and as we release regularly, following us on Spotify will ensure you don't miss a new song.
Are you currently working on any projects we should look out for?
We have a massive backlog of songs ready to record and release that we really like. Look out for 'Shut Up Stanley' which is the one about the racist, sexist grandfather etc., then 'Just Relax' for a totally different feel. Its super laid back (tongue in cheek slightly) take on somewhere between Jazz and Disney soundtracks.
Did I forget to ask something? Something you would like to say, that I did not address.
No. Great question set. Thanks!
Reader insights
Be the first to share your insights about this piece.
Add your insights