Student Musicians Showcase Diverse Music & Styles
A Review of the Columbus City Schools Marching Band Invitational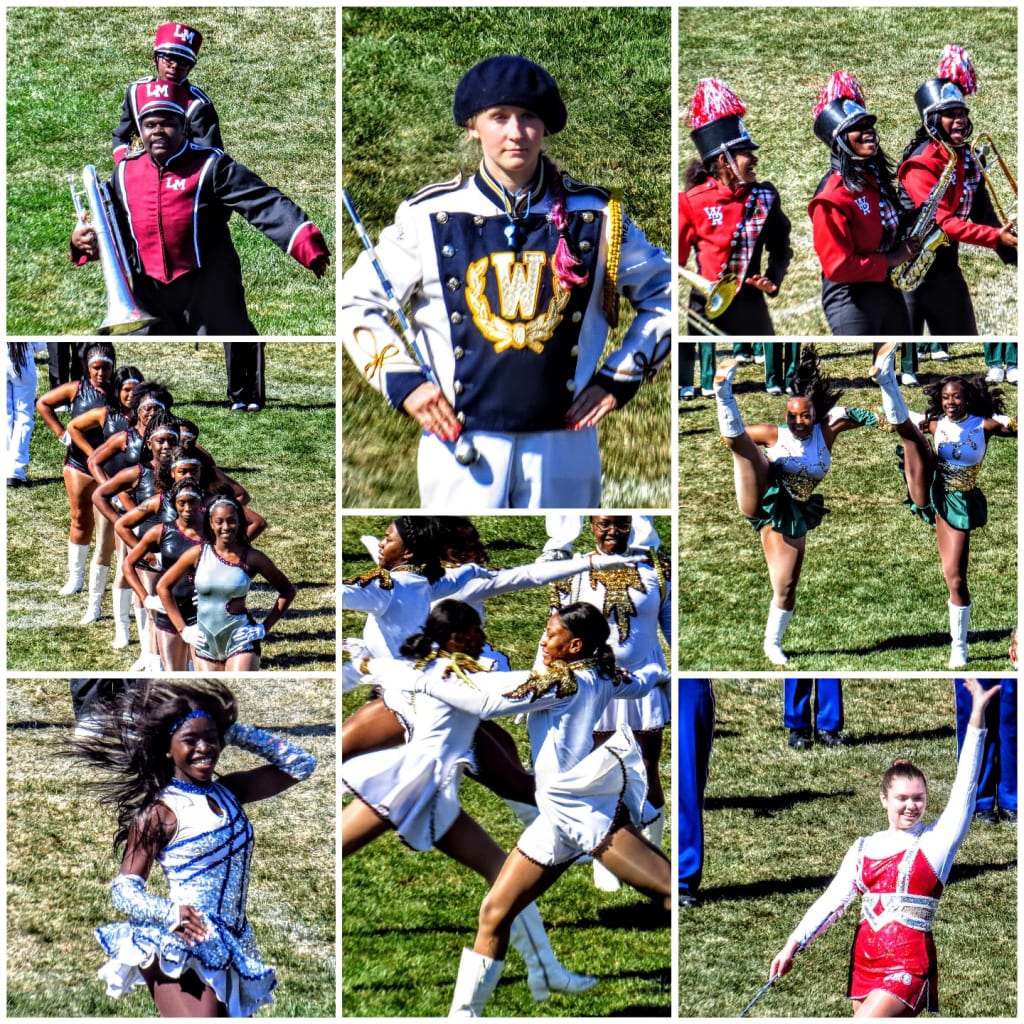 Columbus City Schools should be proud of the students who participated in the Marching Band Invitational, Saturday, Oct. 5, at Africentric Early College. It was an encouraging showcase of young performers and music directors of various backgrounds and situations. Each band could be seen making the most out of what they had to work with, which is an essential quality to possess in life.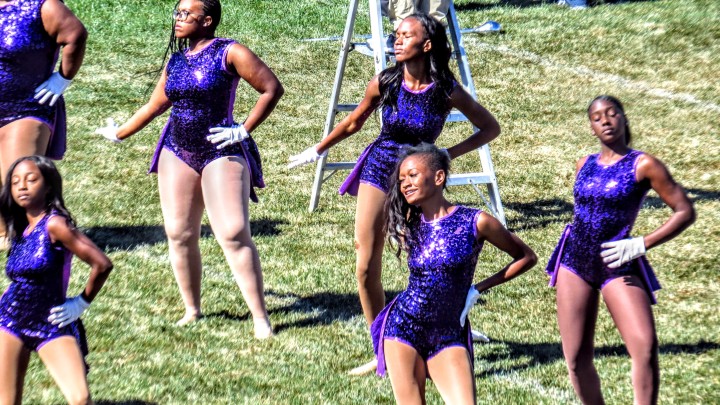 Host Africentric kicked things off during the high school portion of the event. Unfortunately we were just settling in, so we didn't get to observe it as deeply as the other performances. What did stand out was the gracefulness of Africentric's drill team. They had a bit of elegance that was refreshing to observe. The band's third selection "Big Ballin'" was fun to hear. For those who may not remember, that was a 1998 underground rap classic from the Big Tymers just before they became household names in hip-hop.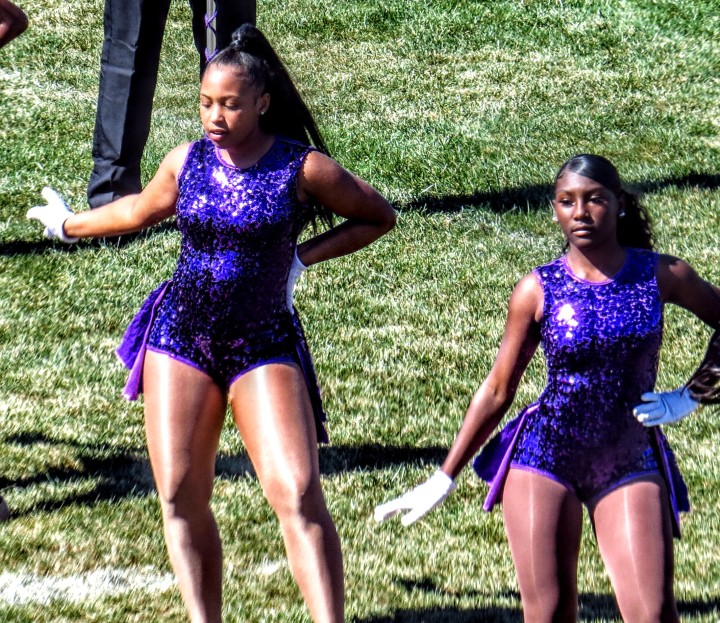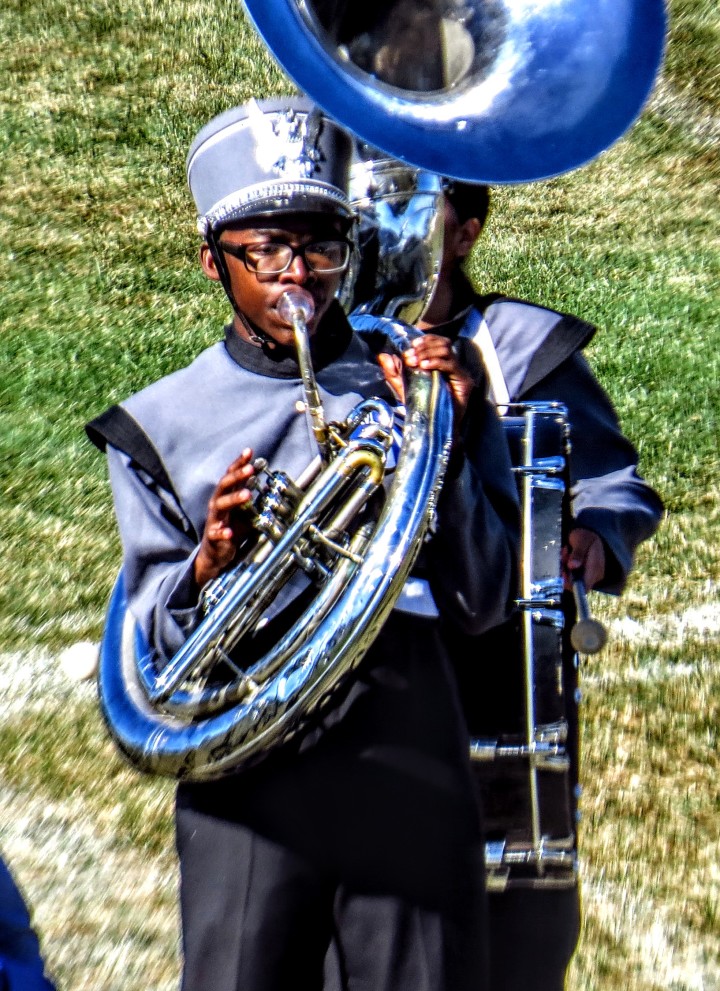 Mifflin followed things up and also delighted fans with their third selection, which was Michael Jackson's "Don't Stop 'Til You Get Enough." Mifflin performed with a drill team of three who flashed their welcoming smiles while performing their routine.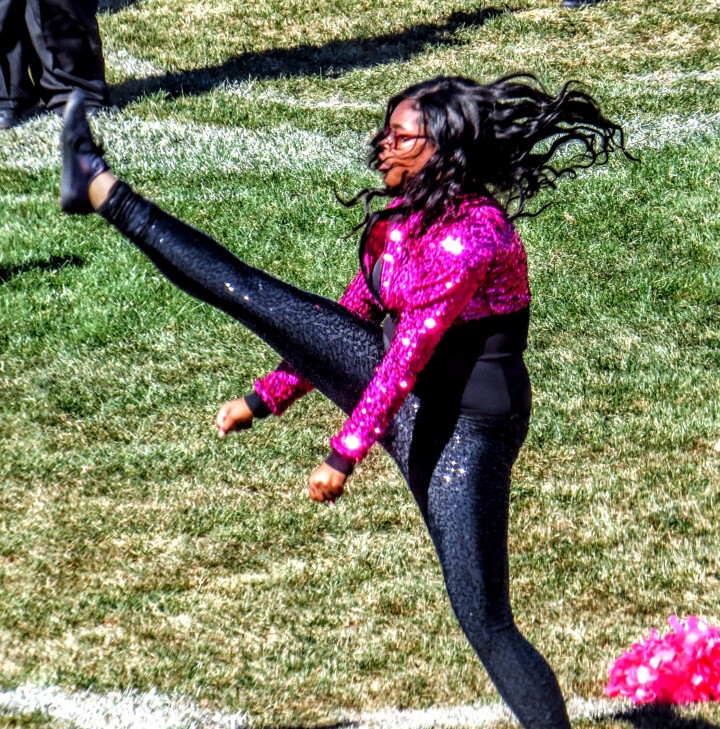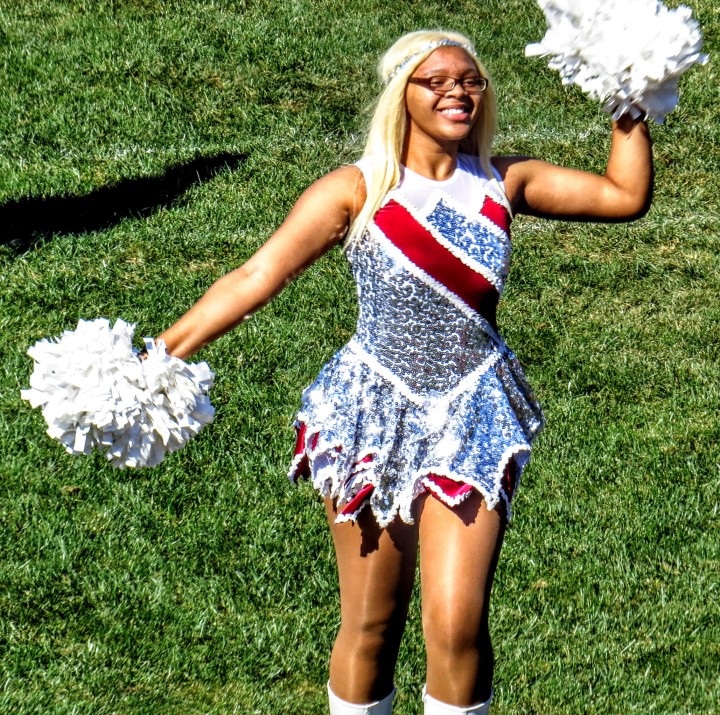 Marion-Franklin took the field armed with majorettes and a drill team. The band performed a fun version of Queen's "Don't Stop Me Now." The coolest thing is when you see a group of kids who are trombone players, and look like the last group of guys you expect to see dancing busting a move without a care of any judgement. Shoutout to the trombone players of Marion-Franklin for making us smile.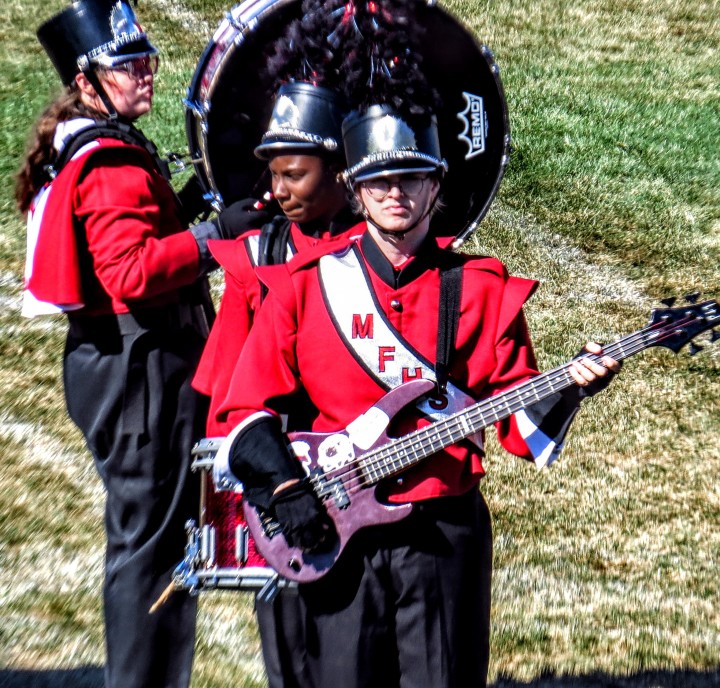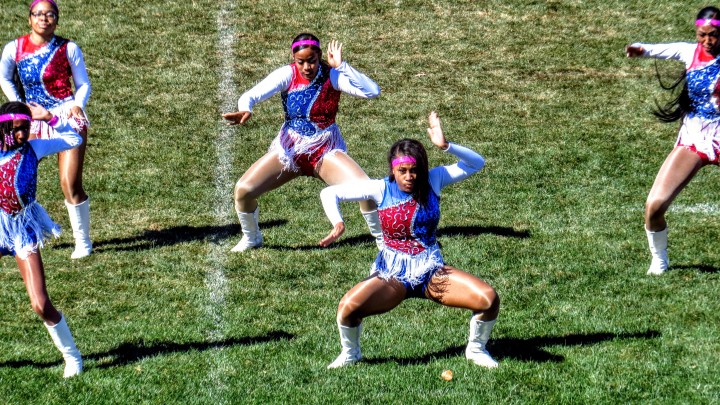 As Stevie Wonder fans, it was cool to hear Independence's version of "Don't You Worry 'Bout a Thing." For those keeping score that song was released in 1973. It's wonderful to see how music is kept alive for future generations to not only listen to, but reinterpret. The Independence drill team worked up a sweat with their well performed hip-hop inspired dance moves.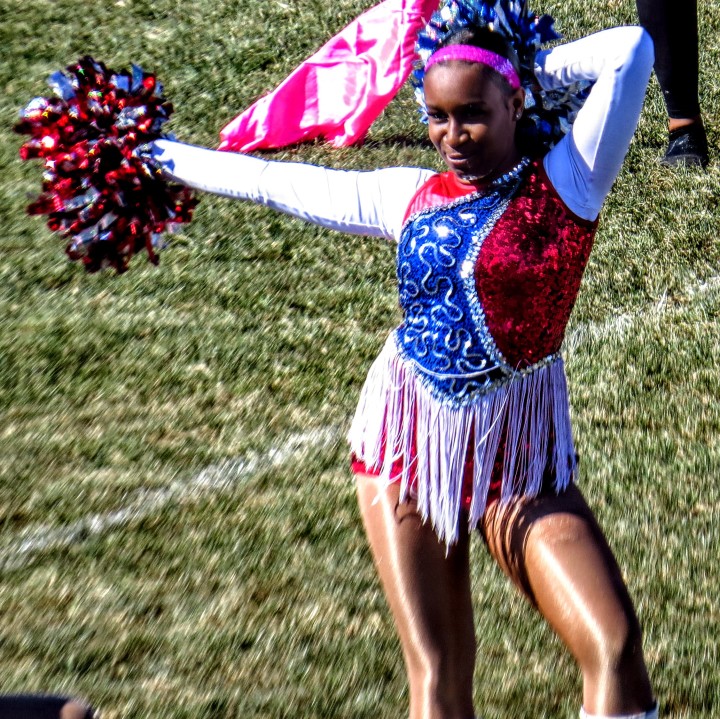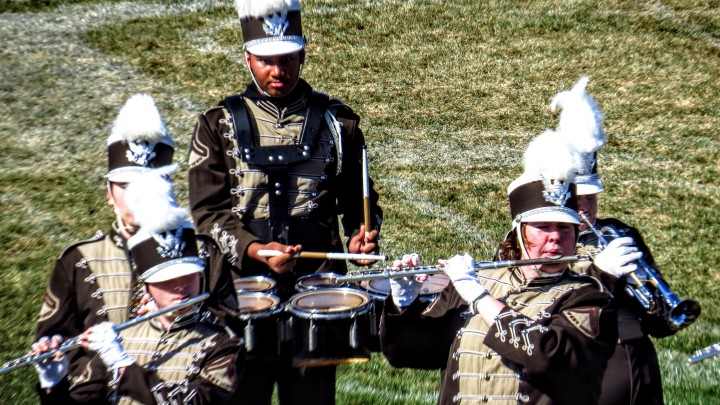 The mood changed when West hit the field. This is what we love about the Invitational. Everyone wasn't the same. First of all, we were huge fans of West's uniforms. They looked like something out of an old war movie. With their classic and unique look, West stood in a tight formation and played in a more relaxed style. Their trumpet soloist shined brightly in the band's selections of "The Final Countdown" by Europe and "Eye of the Tiger" by Survivor.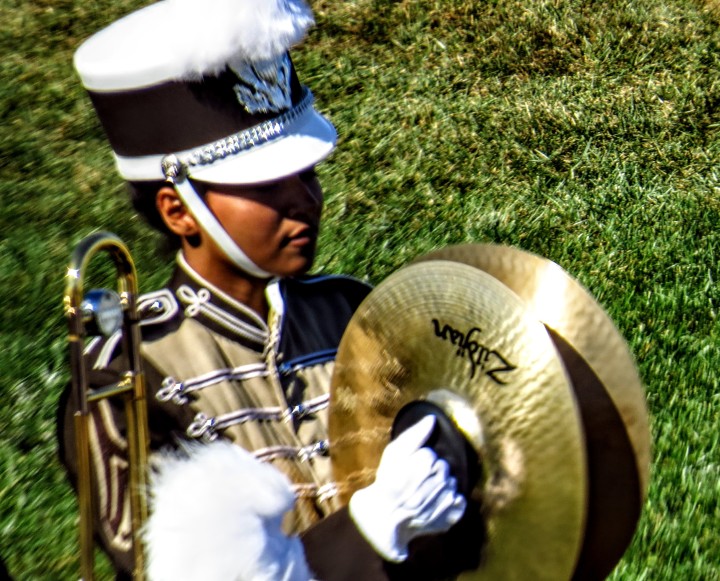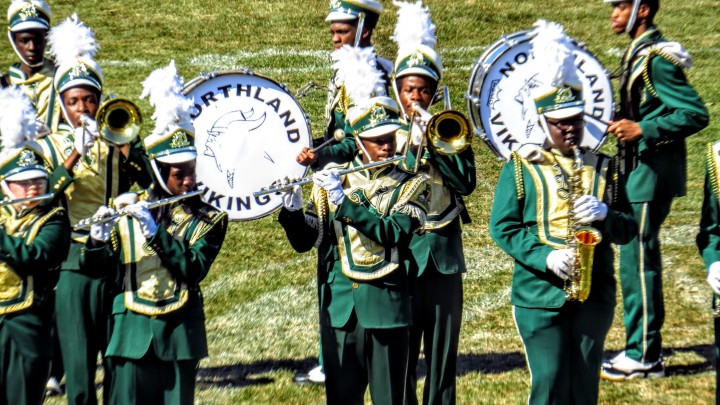 Northland also looked great visually as the players performed with beautiful white plumes sticking out of their hats. The Northland drill team looked polished and the drum major was easy to root for as he tossed his baton in the air during his routine. Northland played a solid rendition of The Spinners 1976 hit "Rubber Band Man."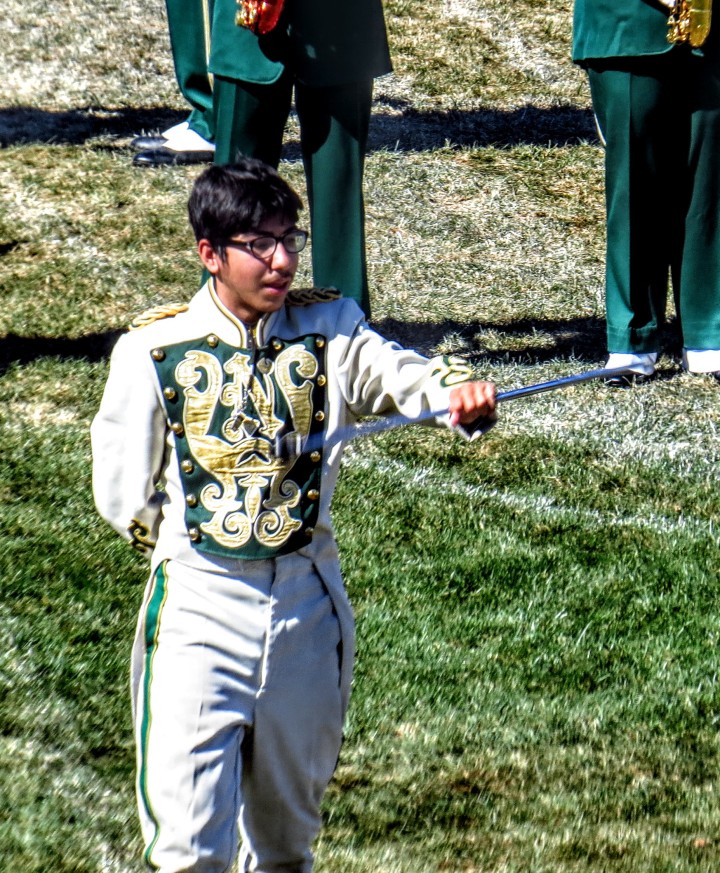 It could be perceived that Centennial was booked to be the centerpiece of the Invitational. The band played the most selections, as it featured multiple songs by Queen as well as Marvel movie themes. Unlike most bands that attended, Centennial has a large number of performers. This band can play music in its sleep. You can tell that they work hard daily, and have a great culture that demands nothing, but the best of what the students have to offer. When you have that culture it makes success look like it's easy to come by.
Centennial's lone majorette was one of the stars of the day. She's a great performer who doesn't sweat under pressure.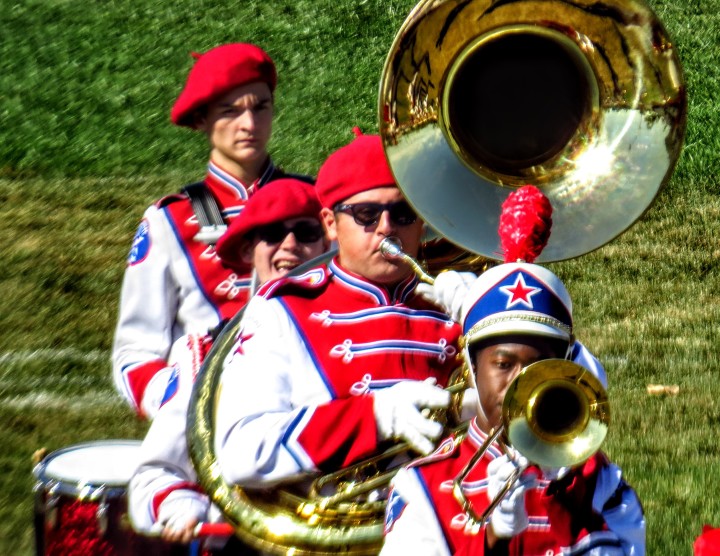 While Centennial is a hard act to follow, Whetstone did not disappoint. We will say that Whetstone's selections were the most difficult to play out of every band in the event. The band played three classics by the highest selling American rock group of all-time, the Eagles.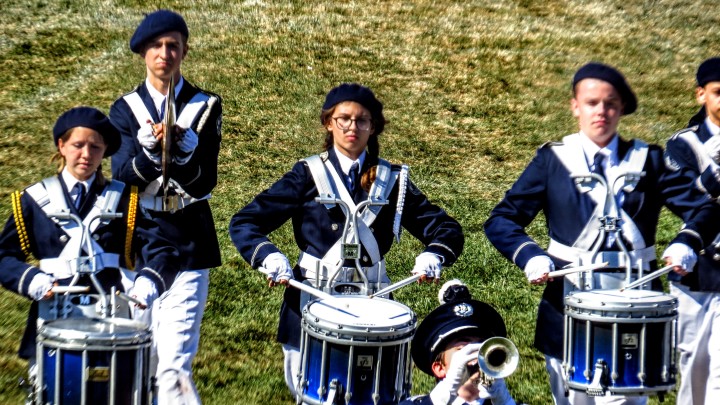 They began with "Heartache Tonight" before a beautifully jaw dropping performance of "Hotel California." The final number was "Desparado," which the announcer introduced as the greatest rock song ever. Quick note. We love "Deparado" but it's not even the best Eagles song ever, let alone the best rock song, but we digress. Nonetheless, Whetstone stole our hearts with their amazing performance.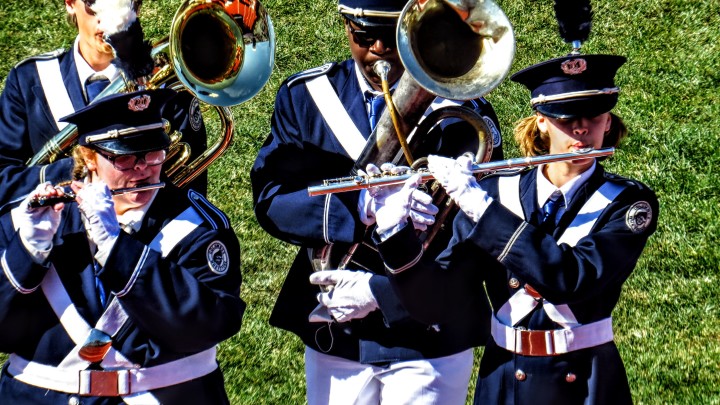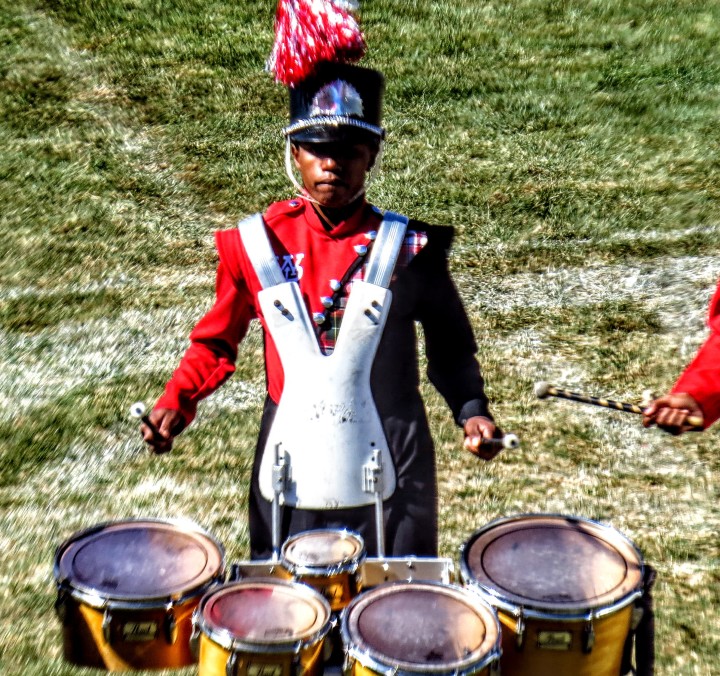 We counted Walnut Ridge as having 10 players. You read that right, 10. They also had six drill team members. We tip our hats to them, because as a player in a band with just 10 performers, you can't hide behind anyone as you could in a big band. It could be so easy to not participate and be discouraged, but those 10 kids played with as much enthusiasm as anyone in the Invitational.
We have to give props to their featured percussionist on the toms. He had one of the best individual moments of the day as he played behind the talented drill team.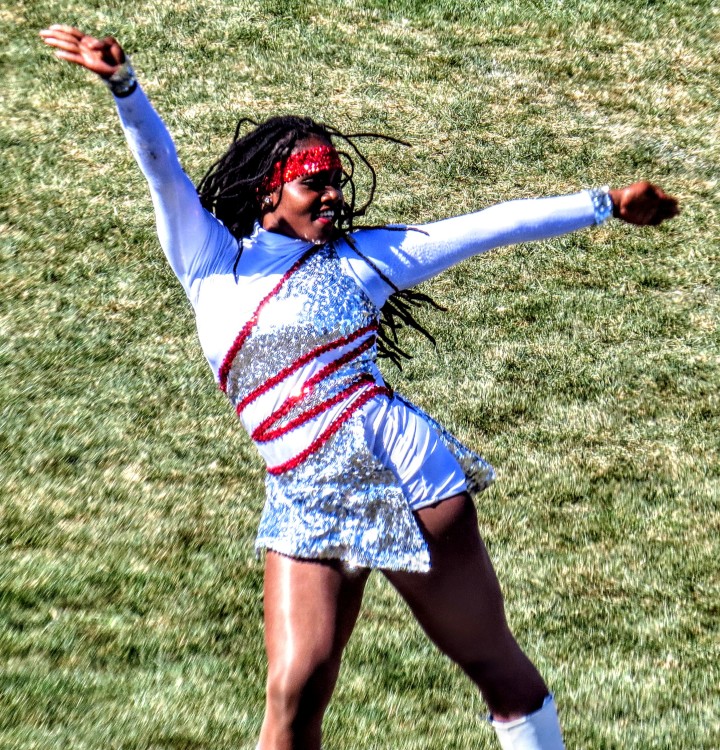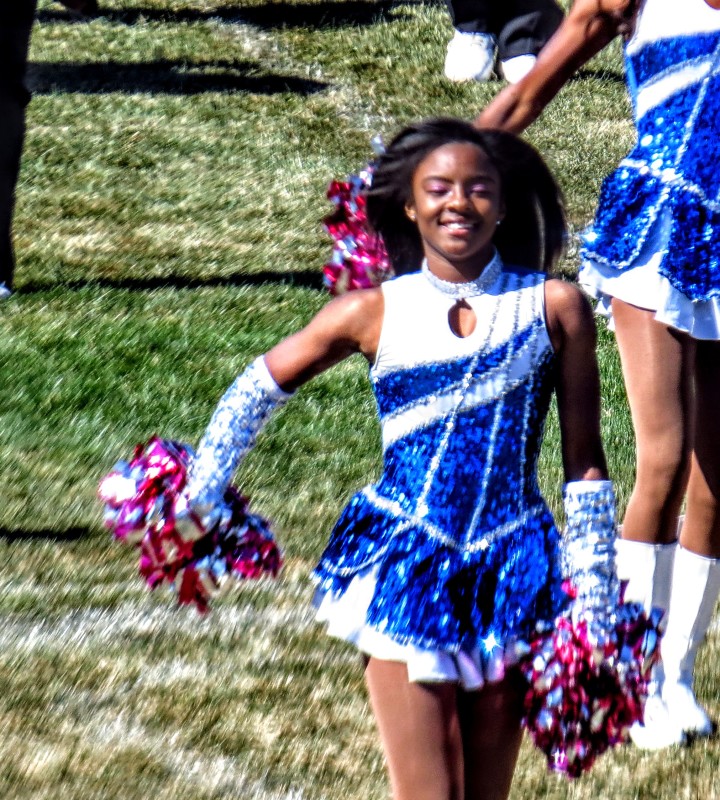 Speaking of drill teams, South's had a certain kind of energy that kept spectators eyes glued. You could tell that the band is in the process of developing its sound, which is no crime at all. We all have to start somewhere, but the drill team is entirely ready. Their choreography was sharp, athletic, and as valuable to the event as any of the top performances as we've mentioned so far.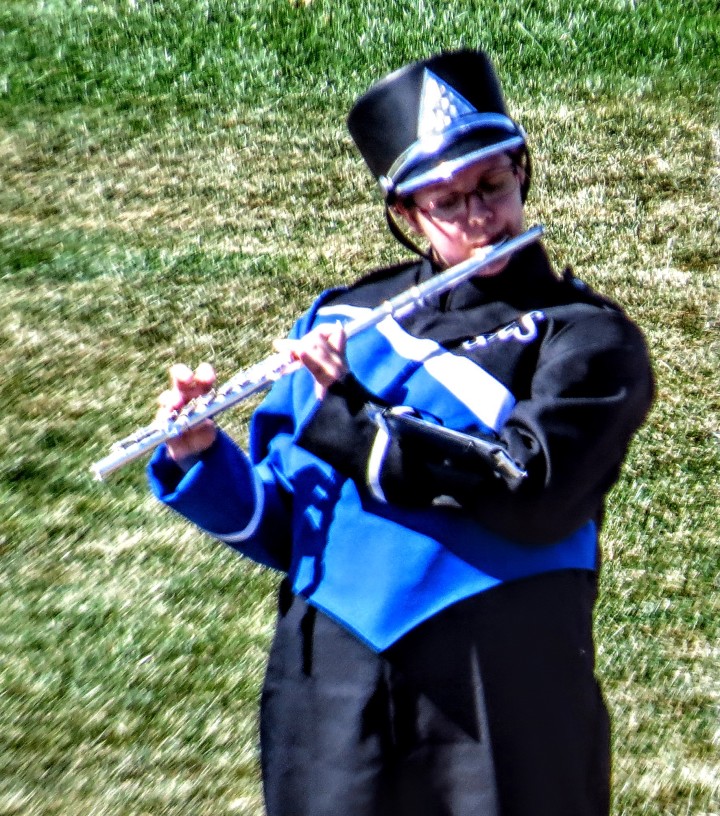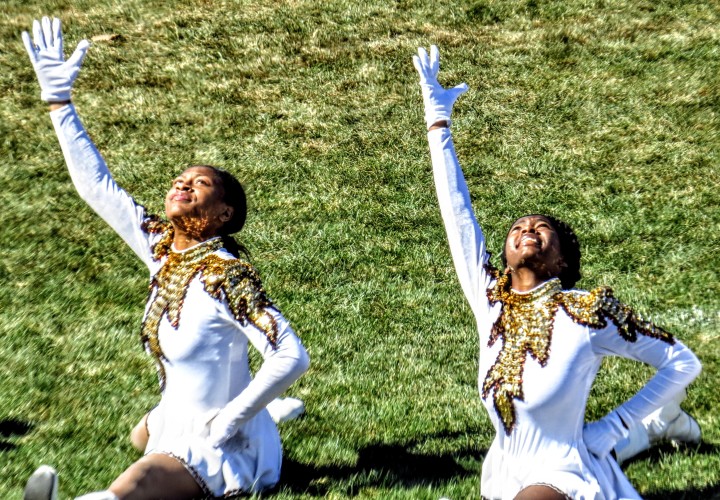 Beechcroft performed a more modern playlist featuring hits by Beyoncé. Its brass section has improved drastically since the start of the year and it shined in "Lose My Breath." The drill team has been a steady foundation for the band. Their consistency and confidence showed itself at the Invitational. Those girls know their stuff.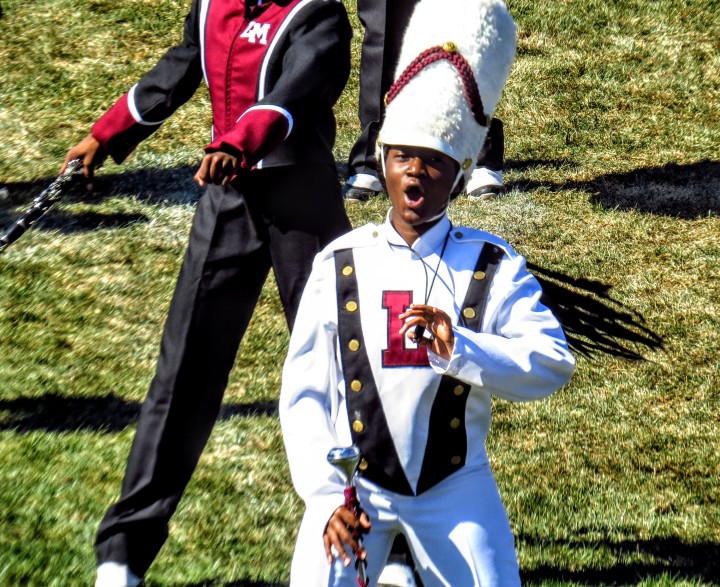 Linden-McKinley provided the best mix of great playing and showmanship at the Invitational. The band's brass horn section was powerful like those heard in the old 1970s funk bands such as the Ohio Players. The drill team had a certain, "it factor" and that matched perfectly with the musicians as the drum major was the perfect icing on the cake.
It was hard not to move a long when they played the 1970s disco classic "To Be Real" by Cheryl Lynn and Donna Summer's "Hot Stuff." They also played a good rendition of "For the Love of You" by the Isley Brothers.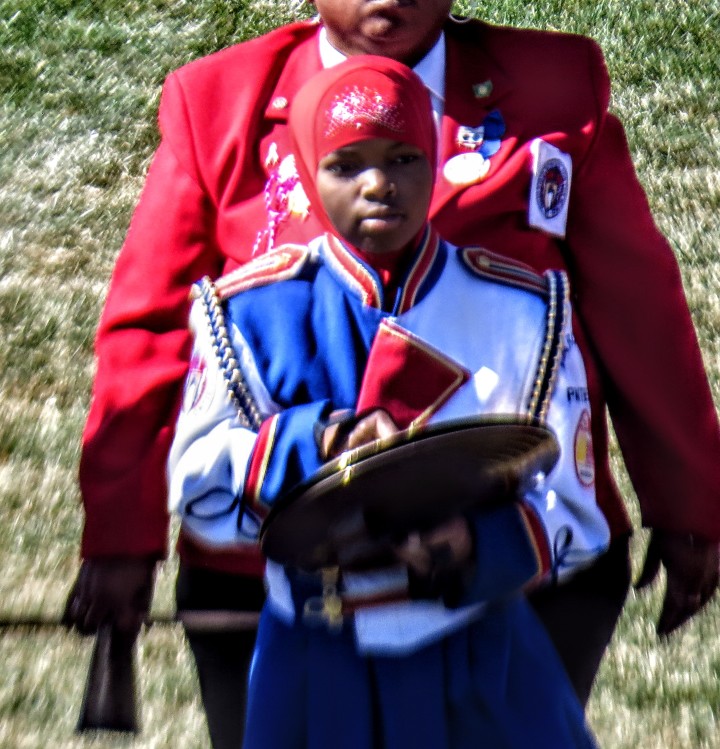 Finally, we got a special performance by the Ohio State School for the Blind. It was very inspiring. When you see young people can perform well despite their circumstances, it lets you know that in life there are no excuses. You've got to do your best and make something happen with whatever you have.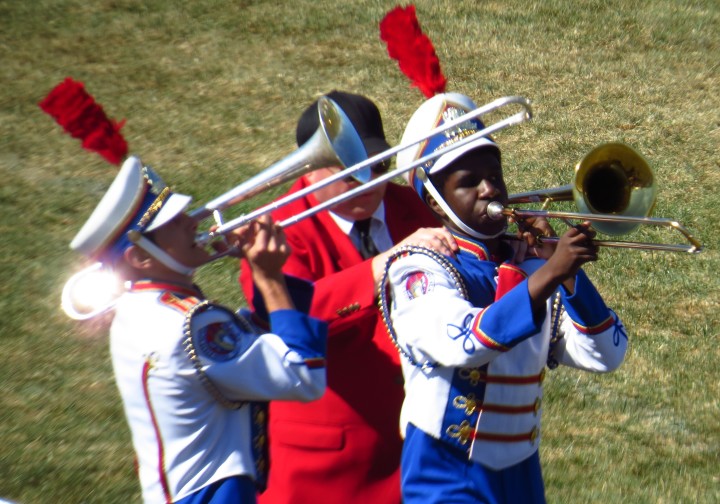 That's the key to this entire event. Some bands were big, others small. Some had experienced players, others were more dance-oriented. No matter what, they utilized their skills and gave the audience something to clap about.
Unofficial Official Awards by Winners Only:
Most Entertaining: Linden-McKinley
Best Overall Performance: Centeninial
Best Musical Performance: Whetstone
Most Inspiring: Walnut Ridge
Most Exciting Drill Team: South
Best Drill Team: Beechcroft & Linden-McKinley (Tie)