St. Louis, MO-Based Christian Rap Artist Is Recovering After Attempt on His Life
Travis 'Thi'sl' Tyler was shot in a lower extremity during a botched robbery in his hometown of St. Louis earlier this week.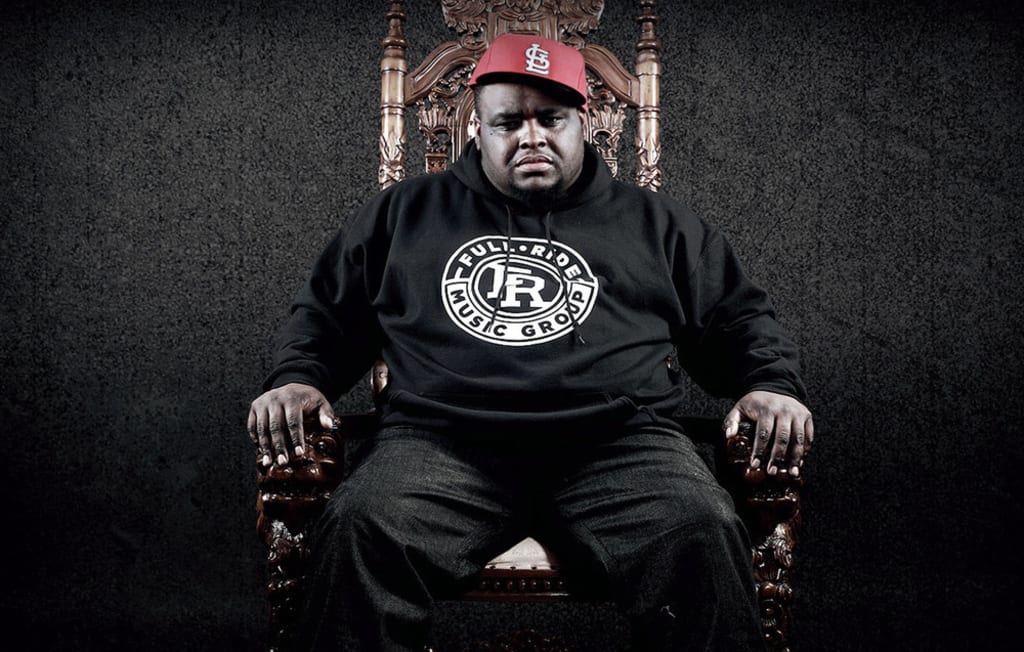 Photo Credits: Rapzilla
When news about a rapper being struck with gunfire makes local, national, or global headlines, the first thing people assume is that the artist is involved in a criminal lifestyle that could cause their life to end violently.
However, for Travis "Thi'sl" Tyler (pictured), a reformed man of God and Christian rap artist from St. Louis, Missouri, making the headlines over this kind of near-death circumstance was indeed a shock. Tyler, 41, is not the typical hip-hop "microphonist" who uses braggadocios poetry to flaunt his shallow relationships with countless women and material riches, or to tout his self-approved label of having the world's best flow. Thi'sl is a rapping missionary for Jesus Christ with an aim to reach the young men who are living the life he gave up long ago in order to save lives.
Unfortunately, on the evening of Monday, September 24, 2018, the Full Ride Music Group founder and recording artist could have met the same fate as other star secular rappers who were famous before him, such as Tupac Shakur, The Notorious B.I.G., and Big Hawk of the famed Houston, Texas-based "Screwed Up Click." According to the St. Louis Post-Dispatch, Tyler was standing outside the Nara Cafe and Hookah Lounge in downtown St. Louis when he was shot during what was reportedly an attempted robbery by an unidentified collective of assailants.
Other news outlets had erroneously reported that Tyler was shot multiple times in his body. However, the former Lecrae collaborator disproved the rumors by making a post on his Facebook page in which he gave the real story about what happened on that dangerous autumn night. Tyler also talked about his recovery process and said it will take some time for him to resume the productive life he was leading prior to being affected by gun violence.
"Dear friends and Family, I want to start off by saying, 'Thank you so much for the love that you have shown me during this time!'" Tyler wrote in a Facebook post above a caption photo where he is wearing hospital clothes and using a walker to get around. In addition to thanking fans, friends, and family members for their support, the social activist also gave more concrete details about what happened to him and the condition he is in. "I wanted to take this time to clarify what happened as well as personally give you guys an update on my current condition," he wrote.
"I was involved in an attempted robbery. It's not true that I was shot multiple times. That was believed to be true early on because I had three holes in my left leg but those ended up being the exit wounds and not the entry. The bullet entered my left thigh, fragmented in my leg, and exited in three pieces in my inner thigh by my groin. The larger part of the bullet then entered my right inner thigh, hit my femur bone, broke it, and exited the other side," the rapper explained. Tyler also claimed in his social media post that he was armed with a gun at the time he was shot.
"By the grace of God I had my firearm on me and was able to pull it and fire back, which is why I wasn't totally victimized. The road to recovery is going to be a long one. Speaking with my doctor today, it could be up to three months before my leg is completely healed," he confirmed. Local news outlets claimed that according to police, the suspects in Tyler's attempted robbery and homicide have not been identified nor have any promising leads come in, which could lead to an arrest in this case. However, Tyler refuses to allow this incident to break his spirit.
"Minutes after this happened I had these thoughts running through my mind, 'I'm out here everyday breaking my back to save the very dudes that just tried to rob me.' I instantly combated those thoughts with, 'This is the reason why I have to go harder, so these dudes don't have for do this.' This will not shake me or change the way I see view these young men, I still want to see these young men changed, I still want to see them come to know their creator and experience the saving grace of Jesus!" Tyler went on to say in his post.
Please visit here to give your financial support to Travis "Thi'sl" Tyler as he is going through the adversities of high medical bills, time away from his music ministry, and physical therapy after an incident of gun violence, which could have taken his life. Also, if you have any information that could lead to an arrest in this case, please call the Gang Unit of the St. Louis Police Department at 314-444-5775 or the CrimeStoppers hotline at 1-866-371-TIPS.
celebrities
About the author
Victor Trammell is a digital media producer, freelance journalist, and author. Mr. Trammell primarily covers current events at the Your Black World Network for online news. Formerly, he was a writer for the Michael Baisden Show.
Reader insights
Be the first to share your insights about this piece.
Add your insights