Sparkly, Dreamy, Cosy: Ranking Songs from Taylor Swift's 'Lover'
A love letter to love - Swift's description fits the album perfectly.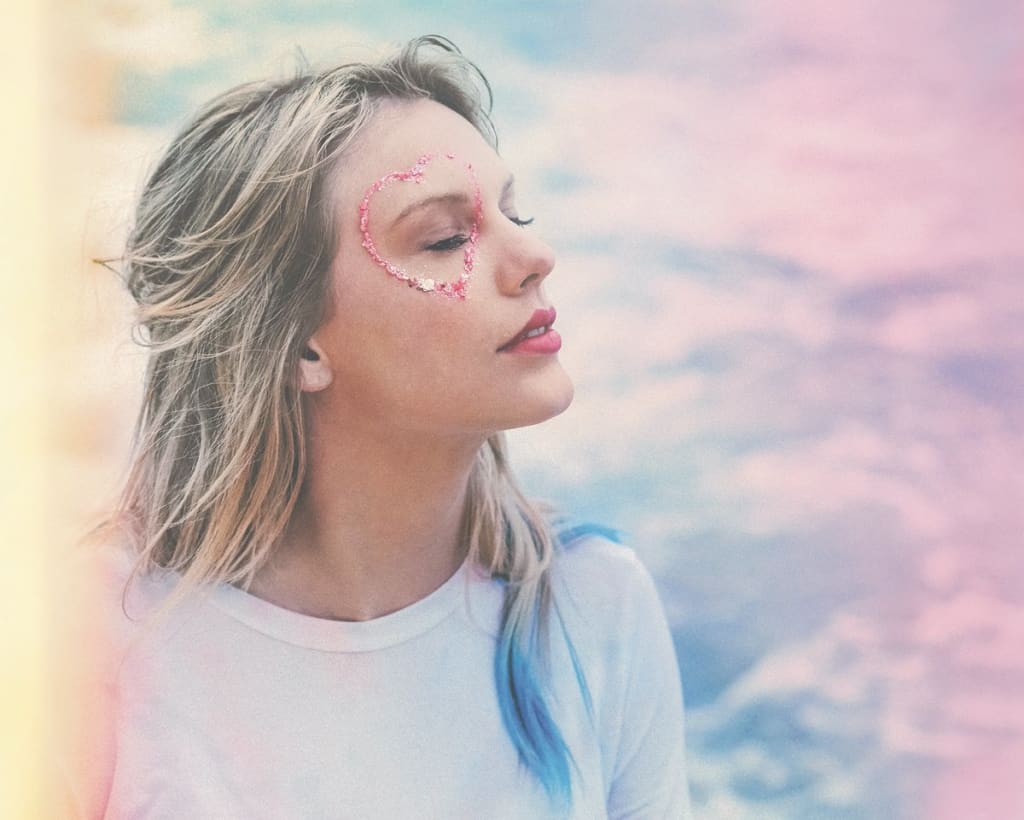 If someone looked at my Spotify playlist, they'd see a rainbow of selections, from Green Day to Evanescence to musical soundtracks. Country-turned-pop princess Taylor Swift also turns up somewhere in between, so it was only natural I would check out her newest album.
I went in not knowing what to expect, as Reputation wasn't exactly my thing (too much electric synthesis for my taste), but minus a few hiccups here and there, I really enjoyed the experience, even if it's not the type of music I listen to regularly. Which is why I decided to rank all 18 tracks of Lover, based purely on my subjective amateur opinion, which will probably change after another listen.
Let's get into it, shall we?
#18 "Me!" (featuring Brendon Urie from Panic! at the Disco)
The only time I fully listened to this song was when I took an uber and it was on the radio. I'm conforming to an almost universal opinion on this one, but it's just not her best song, especially as the lead single. It's not bad per say, more so that it doesn't suit her, or the album.
Favourite lyric: "And I promise that you'll never find another like me."
#17 "You Need to Calm Down"
It's a good song objectively speaking, and it has a good message, but both musically and lyrically it's just not a bop for me.
Favourite lyric: "And snakes and stones never broke my bones."
#16 "London Boy"
Once again, it's not a bad song, but it's just not the one I listen to much (probably played it three to four times in total). It has some decent vocals and production, but it feels quite bland and uninspired compared to some of the other gems on this album.
Favourite lyric: "They say home is where the heart is/ But that's not where mine lives."
#15 "I Forgot That You Existed"
Something tells me writing a song aimed at someone about forgetting their existence doesn't mean you actually forgot them. Irony aside, it's a light jam that works well as the opening track and conveying the mood of the rest of the album, but at the end of the day, it's quite forgettable (pardon the pun). I do like her sassy laugh in the end, though.
Favourite lyric: "Sent me a clear message/ Taught me some hard lessons/ I just forget what they were."
#14 "Daylight"
Taylor surely knows how to close an album and this one is no exception. "Daylight" nicely wraps up the singer's journey she shows through the record, reflecting on past mistakes and welcoming the better times ahead. I especially love the lyrical shout-out to Red, which just confirms that she herself is dedicated to keeping her discography consistent as it reflects who she is as a person. That being said, the song itself doesn't do much for me. Maybe cause it's kind of slow and drawn-out compared to most of the album.
Favourite lyric: "I once believed love would be burning red/ But it's golden / Like daylight."
#13 The Man
The feminist-themed track has an interesting production, and a clear message about equality, but it's usually a song I skip unless I'm feeling in need for empowerment. I bet it's something all girls have thought about—would life be easier for them if they were a man? Regardless of the answer, I think there are songs out there that discuss this subject a bit better.
Favourite lyric: "I'm so sick of running as fast as I can/ Wondering if I'd get there quicker if I was a man."
#12 "The Archer"
Now, this might be an unpopular opinion, but this song doesn't do the magic fairy dust effect for my ears. The best part about it for me are the lyrics, which seem to be self-aware when it comes to mistakes within relationships. The reason it's not lower on the list is cause sometimes when I'm in the mood, I find it the instrumentals and Swift's voice very soothing. When I'm not feeling it, however, the synthetic effect and almost-lullaby way of singing just put me off, especially since it's between two quite upbeat tracks in the album. The speeding-up of the music towards the end which never really pays off (which it looks like they did on purpose) leaves me feeling unsatisfied after listening it, also.
Favourite lyric: "Who could ever leave me, darling?/ But who could stay?"
#11 "False God"
This one really depends on my mood, sometimes I like it, sometimes I don't. Lyrically, I enjoy the portrayal of reckless love and the metaphors it brings (even if comparing love to religion is not that original), but her way of almost rapping and stumbling onto words, which obviously was intentional, just doesn't sound right to me most of the time. You do have to give her props for experimenting with different sounds, though.
Favourite lyric: "We were crazy to think/ Crazy to think that this could work/ Remember how I said I'd die for you?"
#10 "I Think He Knows"
This up-tempo bop took a while to grow on me, as the sudden vocal effect in the chorus threw me off. Once I got used to it, however, I grew to appreciate the cuteness of the song, which perfectly captures the feeling of being smitten with someone, not just lyrically, but also sonically, and even vocally, as Taylor lets her charming sass shine through with every word. Overall, it's a nice tune which shows not all songs about infatuation have to be full of angst.
Favourite lyric: "He got a boyish look that I like in a man/ I am an architect, I'm drawing up the plans/ It's like I'm 17, nobody understands/ No one understands."
#9 "Miss Americana & The Heartbreak Prince"
Lyrically, it's definitely one of the smartest songs on the record. The lost American politics battle aside, Swift's metaphors draw an aesthetic image which would be the perfect material for a cinematic music video (a promotional single, maybe?). Another meaning of a high school romance is also portrayed quite differently in the song, making it a nice addition to the singer's collection on the theme. Topped up with a catchy beat, and you have a sleeper hit. The only reason it's not higher on the list is because it took me a while to warm up to it.
Favourite lyric: "No cameras catch my pageant smile/ I counted days, I counted miles/ To see you there."
#8 "Soon You'll Get Better" (featuring Dixie Chicks)
This whole ranking business is getting really difficult now. The main reason this song isn't higher is purely because it's actually quite painful to listen to due to the subject matter, even if one hasn't experienced it. Usually I'm all up for singers performing emotional stuff live, but I wouldn't blame Taylor if she never played it, as the feels are too strong. On a lighter note, it's nice to see her back to her roots, showing that she could still be a kick ass country singer if she wanted to.
Favourite lyric: "Desperate people find faith/ So now I pray to Jesus too."
#7 "It's Nice to Have A Friend"
Another unpopular opinion, as this ethereal-sounding love poem seems to fly past most of the listeners of the album. For me, while the track can lack dynamic build-up, is pleasant to the ears as it almost recites a cute friends-turned-to-lovers story, culminating in what's most likely a marriage scenario. I admit it could've stayed a deluxe song as it does break the flow of the album a bit, but it's definitely something different for the singer, and who doesn't like a little experimentation?
Favourite lyric: "Church bells ring, carry me home/ Rice on the ground, looks like snow."
#6 "Cornelia Street"
I gotta admit, I did not like this song on the first listen (cue the sound of my head being hit by an apple core followed by excessive booing). After so many people declared it the All Too Well of the album, I decided to give it another go. Unsurprisingly, I ended up loving it. The lyrics perfectly describe the fear that lurks in the background whenever we're happy with someone. What if it doesn't work out? The almost-upbeat melody tricks our brains into thinking the track is less saddening than it actually is, only breaking its façade when it's just Swift and her piano for a few moments. All in all, a solid ballad.
Favourite lyric: "We were in the backseat/ Drunk on something stronger than the drinks in the bar."
#5 "Paper Rings"
This one could easily get confused for a Disney song (minus the drug and alcohol references, of course). The cheery love anthem which is practically a marriage proposal seems to be a hit or miss for people, some saying it doesn't fit in the album, which I disagree with. This song is Swift at her happiest, and you can genuinely see that she wrote it from a place of love for her new boo, and honestly, who can deny her the right to flaunt said track in her own record? Besides, it's catchy AF.
Favourite lyric: "I like shiny things, but I'd marry you with paper rings."
#4 "Death by a Thousand Cuts"
Yet another trick of Ms. Swift (that was a swift rhyme if I say so myself, pun intended) to use happy music while singing about pain. While not being about anything specific, the tune cuts you deep (I need to stop with these puns) mostly because of its ambiguity—every one of us has gone through some kind of heartbreak, which took a while to recover from, and the whole analogy puts an original spin to a possibly overused concept in song writing. A tiny sprinkle of sadness in an otherwise mostly happy album (minus the above mentioned "Soon You'll Get Better").
Favourite lyric: "I take the long way home/ I ask the traffic lights if it'll be alright/ They say "I don't know.'"
#3 "Cruel Summer"
Synthetic instrumental in the beginning took me a few listens to warm up to, but afterwards I was all up for appreciating the summer pop jam of the year (why wasn't this a single, again?). Almost-aggressively sung lyrics about being afraid to lose a budding romance because of your past (while not being celebrities, it's something a lot of us can relate to) matched with a unique way of rhythm in the catchy-as-hell chorus and an uncharacteristic growl from Swift past the track's climax makes for a super exciting listen.
Favourite lyric: "I scream for whatever it's worth/ I love you, ain't that the worst thing you ever heard?"
#2 "Lover"
From the very first listen, this track stole my heart and if that didn't defeat the song's entire purpose, I'd get married at least three times to play it at my wedding. It's Swift at her absolute best—writing story-based songs about love, except this time it's a happy tale about a guy who makes her genuinely happy, which shines through both in the cosy musical accompaniment and Swift's love struck voice (seriously, bless Joe Alwyn for being the inspiration for all this beauty). It represents everything the album was meant to do, and probably could've been the lead single (but something tells me it will be featured in many modern Christmas films considering it's holiday vibe).
Favourite lyric: The whole song, but special mention goes to "Can I go where you go?/ Can we always be this close?/ Forever and ever."
#1 "Afterglow"
The only reason Lover didn't score number one is because I am a sucker for angsty love tunes, and Afterglow delivers. It hints that despite finding the perfect partner in life, there will be hardships, but unlike in the past, Taylor is willing to admit her wrongdoings and fight for their happiness together. The song works as an open letter for anyone who feels like they hurt someone they love and want to make up for it. The balance between gentle almost-rapping in the verses and loud vocal arrangement in the chorus that sounds almost like begging makes for a soothing, self-aware listen that, in my humble opinion, hasn't got enough recognition yet.
Favourite lyric: "Hey, it's all me, in my head/ I'm the one who burned us down/ But it's not what I meant/ Sorry that I hurt you."