Soundpeats T2 Review : ANC From Soundpeats Worth It?
Soundpeats T2 Review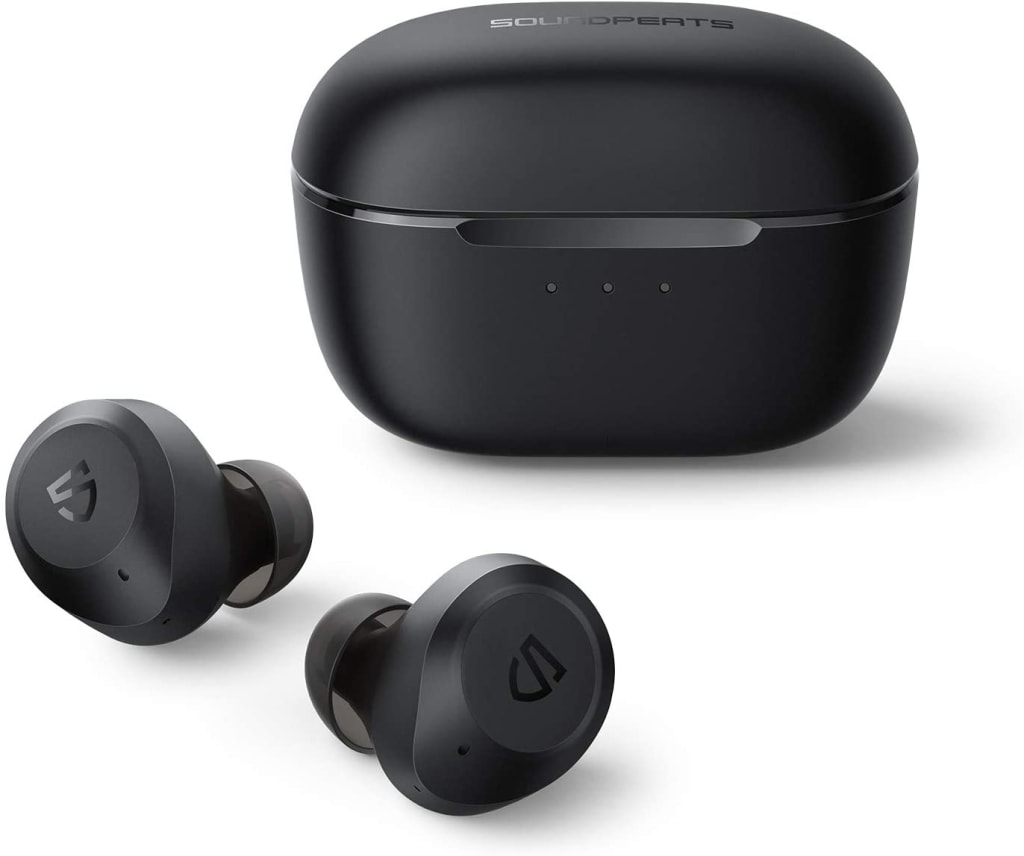 Hey Lovely Peoples, I'm going to give you a first impression review of the Soundpeats T2 Soundpeats's True Wireless first ANC earbud. Which selling at Amazon around $70 as all midrange Active Noise Cancelling (ANC) earbuds retail for. Soundpeats's using Hybrid Active Noise cancelling on these Bluetooth wireless earbuds
Let's jump into the review of Soundpeats T2 Active Nosie Cancelling Earbud…
Get Yourself a Soundpeats T2 at Amazon here (Save $10)
Soundpeats t2 True Wireless Earbuds
Soundpeats T2 : Design and Build
So this Soundpeats T2's case is small and well constructed.
It's tiny in one dimension, meaning it's great to fit in the Jeans. The magnetic keeps case locked pretty well. The buds are easy to get in and out of the case, and they seat exceptionally well on the charging connectors. This case charges by a USB type-c and does not support wireless charging, which is a bump.
It's got three lights on the case that indicate the charging status and battery capacity left on the case. Once you charge these earbuds, the battery lasts about 10 hours for the earbuds and can be extended up to 30 hours using the case.
But those usage periods will drop if you start using the ANC or the ambient mode or listen to the volume extremely loud, which is not recommended.
Now the Soundpeats T2's are a relatively large barrel shaped earbud with a very short neck that ends up being fantastic actually for comfort stability, and the earbuds lack any kind of blocked up feeling.
And these can be used for high impact workouts and fitness run, as this fits me pretty well.
Design and Build
4.3/5
Soundpeats T2 : Features
These have Bluetooth 5.2, which is the latest Bluetooth addition. These earbuds come with an IPX6 waterproof rating, which means these earbuds can resist high-pressure, heavy sprays of water, Which is Impressive
The Soundpeats T2's have excellent touch controls, but they do omit the previous track. Now they control everything else, including volume ANC on-off ambient mode and the voice assistant.
They also have done voice prompts for pass through ANC on and Normal mode. They have audible prompts for play pause and next track, and those are the actual prompts in English for those three actions.
Talking about the max volume, well, I mean, look, the Soundpeats T2 is one of the very loudest Soundpeats True Wireless earbuds that I've tested. It goes about 105 decibels that is kicking loud people, just be careful out on your ear drums you may damage it eventually.
Features
4.5/5
Check out our Sennheiser CX-400 BT Review here
Sound
The sound quality could be classified as a bass head lover's dream bud as this packs some real Deep Bass. The Soundpeats T2 pump out deep bass that's big, punchy, quite well defined, and the bass is on par with or maybe just slightly better than the Soundpeats sonic.
Soundpeats tuned these again with a kind of that U-shaped signature. They pumped up the vocals, and they pumped in some nice bright highs to match that excellent bass where they suffered just a little bit.
I'm willing to overlook it because of the great overall sound. There's some mid-range clarity that can be difficult to hear. Now the sound stage is the second area. They got it almost right for me, but it's just not very big. There's totally a clear separation between left and right channels, but they just never really get a sound stage that kind of goes outside the boundaries of my head it's still decent, but it's not the best that I've heard.
Overall, I have enjoyed the energetic sound and super strong deep bass with the solid male and female vocals on these earbuds.
Sound
4.5/5
Recent Posts
Top 5 Active Noise Cancelling Earbuds Under $60
Best Over Ear Headphones for Working out
Tribit Flybuds C1 Review : Best out of Competition?
JBL Reflect Mini NC TWS Review : Justify the price?
JBL Tune 225 TWS Review : Worth it?
Active Noise Cancelling (ANC)
Soundpeats using Hybrid Active Noise cancelling on these. The ANC on these is really good.
I love that it has the soft power on mode because you can really hear it start to eliminate the Outside noises and surrounding noises as it powers up to full control.
I rate the Active Noise Cancelling up there with the best ANC buds that I've tested, like the Soundcore's.
The ambient mode is also pretty good. I wish it were adjustable somehow, but it's still a mode that I could use for a decent amount of time to give me a good awareness of what's going on around me or being able to listen to ambient noise while listening to music in the background.
ANC
3/5
Best Over Ear Headphones For Working Out
Soundpeats T2 : Latency
Soundpeats T2 are great for watching a video, they figured it out, and it just works really well. But I was a little bit surprised when I checked the latency, and these are slower earbuds that I have reviewed in Soundpeats True wireless earbuds, especially with all those 5.2 Bluetooth earbuds.
These are not a gamer earbud at all now, regardless of how slow that latency is. I'm going to tell you that the Bluetooth connectivity in the range on it is stellar.
These connect exceptionally quickly out of the case to my phone, even from mono mode to stereo mode.
It is literally like before you can pull that bud entirely out of the case.
Battery
4.5/5
Soundpeats T2 : Mic and Call Quality
Based on the phone call, Soundpeats has put some decent mics into the Soundpeats T2. The earbuds pick up my voice okay.
There's often some kind of static or electronic tones mixed in with my voice, and those background noises didn't impede my voice too much, but the sound isn't eliminated either.
Call Quality
3.5/5
Soundpeats T2 : Overall
Alright, let's wrap this up; the Soudnpeats T2's are selling on Amazon right now for about $69 bucks, and that's right about the right price for an entry-level hybrid ANC earbud. They sound great with massive deep bass.
Get Yourself a Soundpeats T2 at Amazon here (Save $10)
They got vibrant highs, as I said, they got excellent ANC and good ambient mode Soundpeats T2 are great for watching movies. They're actually great for running and working out as well the controls, the Bluetooth, and the battery life is all excellent.
The bud designs themselves again; it, like entirely in my mind, eliminates occlusion, so running jogging high impact workouts with them are just great for me.
On the con side, that latency is pretty low, so you're not going to be using these for gaming that mid-range clarity that I mentioned is sacrificed over that great bass, and again there's no previous track on the controls.
I think that wireless charging is just one of those luxuries I'd like to see on every pair of buds from this point forward in 2021
FAQ's
Are SoundPEATS any Good?
Yes, Soundpeats one of the upcoming audio company. Soundpeats produced some worth looking much competitive wireless and TWS earbuds in recent time. Which are compete with much expensive wireless earbuds.
Which is the best SoundPEATS earbuds?
Soundpeats produced some awesome earbuds which should be in your budget collection of true wireless earbuds. These are my favorites Soundpeats Sonic, Soundpeats T2 and Soundpeats H1
Do SoundPEATS work with iPhone?
Yes, Soundpeats works with both iPhone and Android.
Mpow X6 : Best ANC Under $80?
Reader insights
Be the first to share your insights about this piece.
Add your insights