Playlists
Songs for the Aching Mother
My playlist for the days I'm feeling blue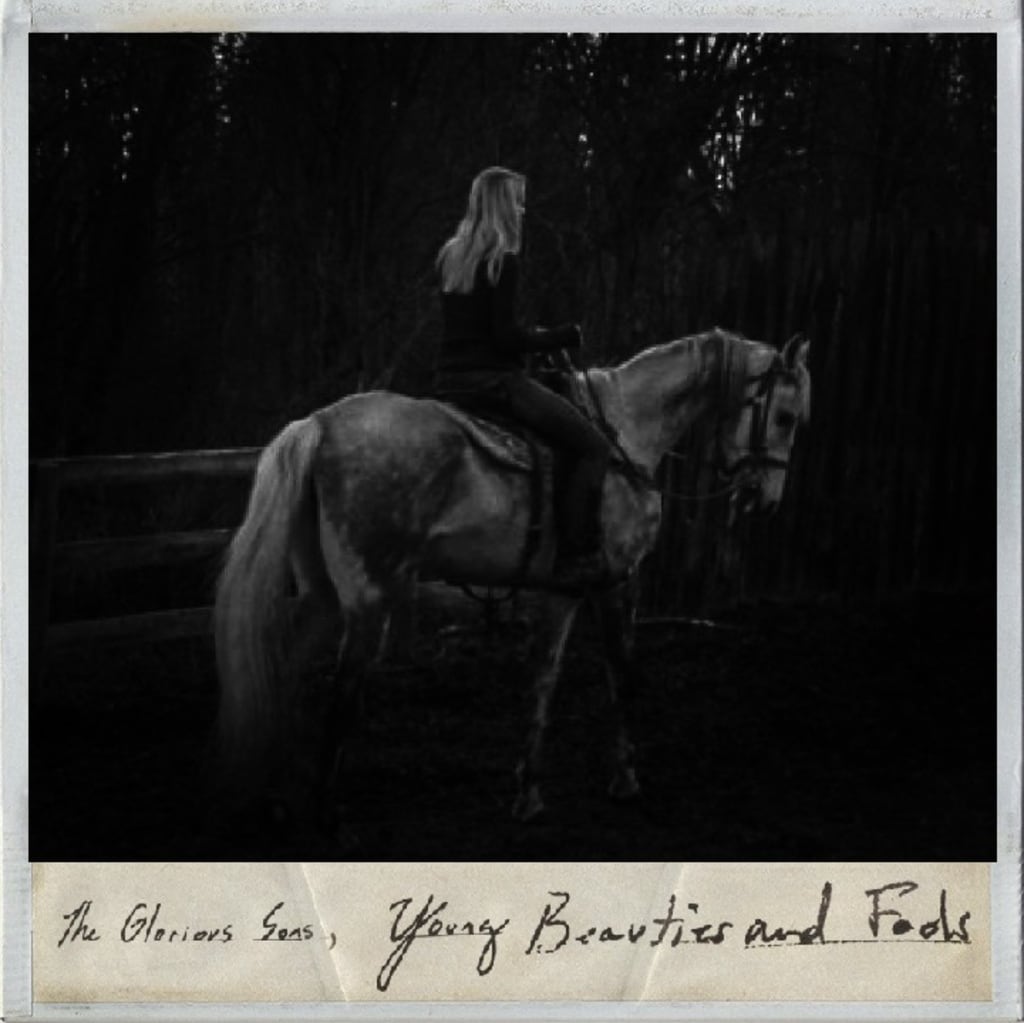 ^ NOT the original image - original image copyright of The Glorious Sons
Heh, I wonder what The Glorious Sons would say if they saw my eerie spin on their album cover "Young Beauties and Fools". A lone woman riding a one-eyed old spook in the twilight - his empty eye socket visible to the observant viewer. Making this little twist made me feel like I was back in high school art class, completing an expression piece.
The picture is of me, almost seven years ago, riding an old rescue horse I had taken in named Hero. It's a photograph I will always cherish - and it was the first photo that came to mind when I first noticed the album cover after downloading several of their songs. It's taken at a time that I was young and foolish, and over the moon with passion for all things creative, and full of wonder.
Those days are starting to come back to me, slowly but surely after so much seriousness and steady go-go-go. It's got to stop somewhere. I've got to put my life into perspective and start making it worth every minute. And I'm doing that again, finally. I'm not putting up with anyone else's demands of me. I'm not letting irrelevant opinions bother me anymore. I'm being real, and I'm doing whatever the hell I want to do that excites me.
So anyway - enough talk. Today I want to reach out to others who still have bad days even when the sun still shines. Because we all have those. But sometimes we don't know how to cope with them. Well here's my playlist - and let me forewarn you, the songs on it are not all upbeat, funky bouncy hip hop dance-ey songs. Some of them are angry. Some of them are sad and even make me shed a tear when I hear them. And, some of them bring back memories, both good and bad. The reason I don't keep a strict up up up playlist is because I feel like if I do that, I am denying myself the permission to feel my own very valid feelings. It's okay to feel sad. It's okay to feel angry. And it's okay to remember things, good or bad. The good memories will help lift my mood. The bad memories will help me appreciate the good ones as well as where I am at now compared to where I was then.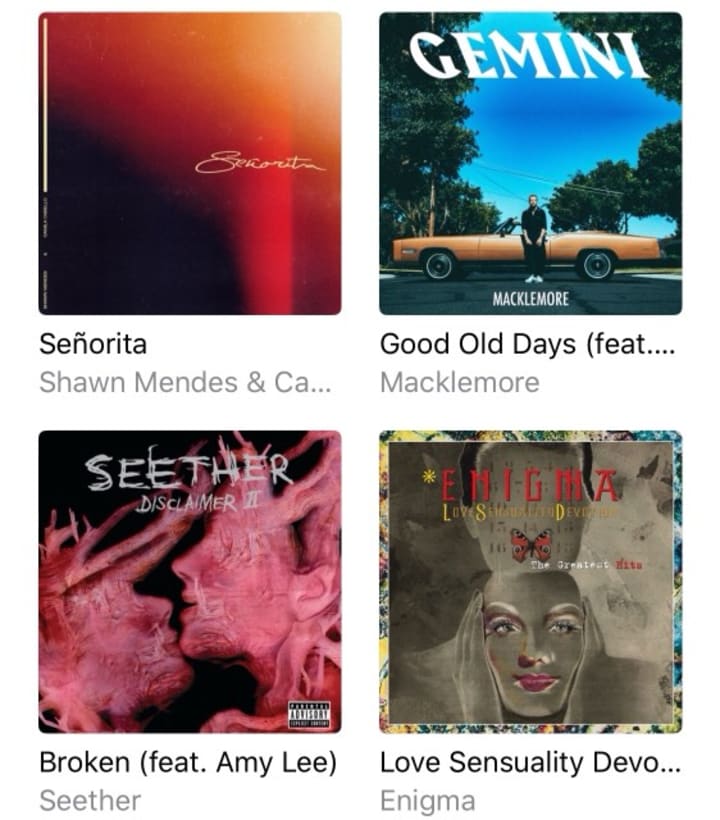 1 - New Rules by Dua Lipa
2 - If I Die Young by The Band Perry
3 - Drinking in L.A. by Bran Van 3000
4 - Roses (feat. ROZES) by the Chainsmokers
5 - Don't Let Me Down by the Chainsmokers
6 - Something Just Like This by Coldplay
7 - Yellow by Coldplay
8 - Boom Clap by Charli XCX
9 - We Don't Talk Anymore by Charlie Puth
10 - This Girl (feat. Kylie Auldist) by Cookin' on 3 Burners
11 - She's Dope by Down With Webster
12 - Superman by Eminem
13 - Cleanin' Out My Closet by Eminem
14 - We Made You by Eminem
15 - Work From Home by Fifth Harmony
16 - Dog Days Are Over by Florence + The Machine
17 - Take Me Out by Franz Ferdinand
18 - Budapest by George Ezra (I love the name Ezra)
19 - Thunder by Imagine Dragons
20 - Price Tag by Jessie J
21 - Sexy Back by Justin Timberlake featuring Timbaland
22 - Nightcall (feat. Lovefoxxx) by Kavinsky
23 - All These Things That I've Done by The Killers
24 - On Top by The Killers
25 - Do What U Want by Lady Gaga
26 - Up We Go by Lights
27 - White Walls by Macklemore
28 - Thrift Shop by Macklemore
29 - Lean On by Major Lazer
30 - Moves Like Jagger by Maroon 5
31 - All About That Bass by Meghan Trainor
32 - Shake it by Metro Station
33 - Ghengis Khan by Mike Snow
34 - I Took A Pill In Ibiza (Seeb Remix) by Mike Posner
35 - Slow Hands by Niall Horan
36 - Messin' Around (With Enrique Iglesius) by Pitbull
37 - Home by Phillip Phillips
38 - Feel This Moment by Pitbull featuring Christina Aguilera
39 - Another Night by Real McCoy
40 - Wish I Knew You by The Revivalists
41 - We Found Love by Rihanna
42 - It Wasn't Me by Shaggy
43 - Soak Up The Sun by Sheryl Crow
44 - Santa Monica by Theory Of A Deadman
45 - Riptide by Vance Joy
46 - Lost Stars by Kiera Knightley (Bet you didn't know she ever sang!)
47 - Mr. Saxobeat by Alexandra Stan
48 - Always On Time by Ja Rule
49 - Still Counting by Volbeat
50 - Fallen by Volbeat
51 - Dirty Talk by Wynter Gordon
52 - Unsteady by X Ambassadors
53 - We No Speak Americano by Yolanda Be Cool
54 - Only Time by Enya
55 - Dreams by The Cranberries
56 - Zombie by The Cranberries
57 - I Don't Feel Like Dancin' by The Scissor Sisters
58 - Good As Hell by Lizzo
59 - Senorita by Shawn Mendez and Camila Cabello
60 - Good Old Days (feat. Kesha) by Macklemore
61 - Broken (feat. Amy Lee) by Seether
62 - Josie by The Glorious Sons
63 - Everything is Alright by The Glorious Sons
64 - S.O.S. (Sawed Off Shotgun) by The Glorious Sons
So this is it - sixty-four favourites, in no meaningful order, although it looks to me like it started out alphabetically by artist and then randomized toward the end - way to go, iPhone.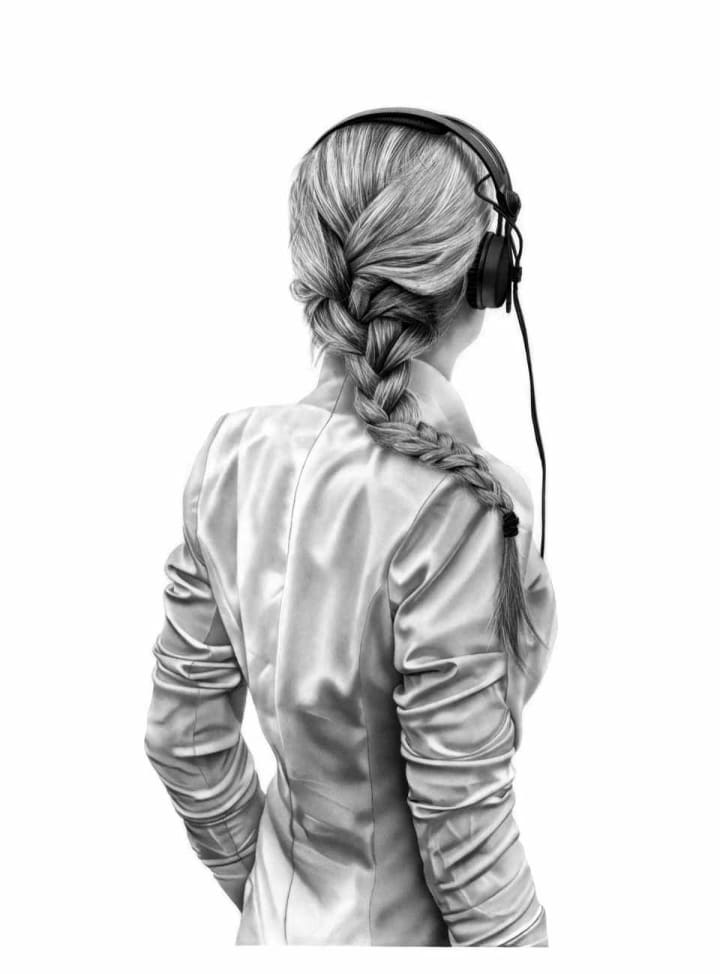 Do you have a special playlist? I hope there was at least one song on mine that sparked something for you - one title you saw that you just couldn't wait another moment to hit "download" on. If so, then I feel like my mission is complete in sharing my playlist with you.