Solved: How to Duplicate Spotify Playlist
Vincent Leclerc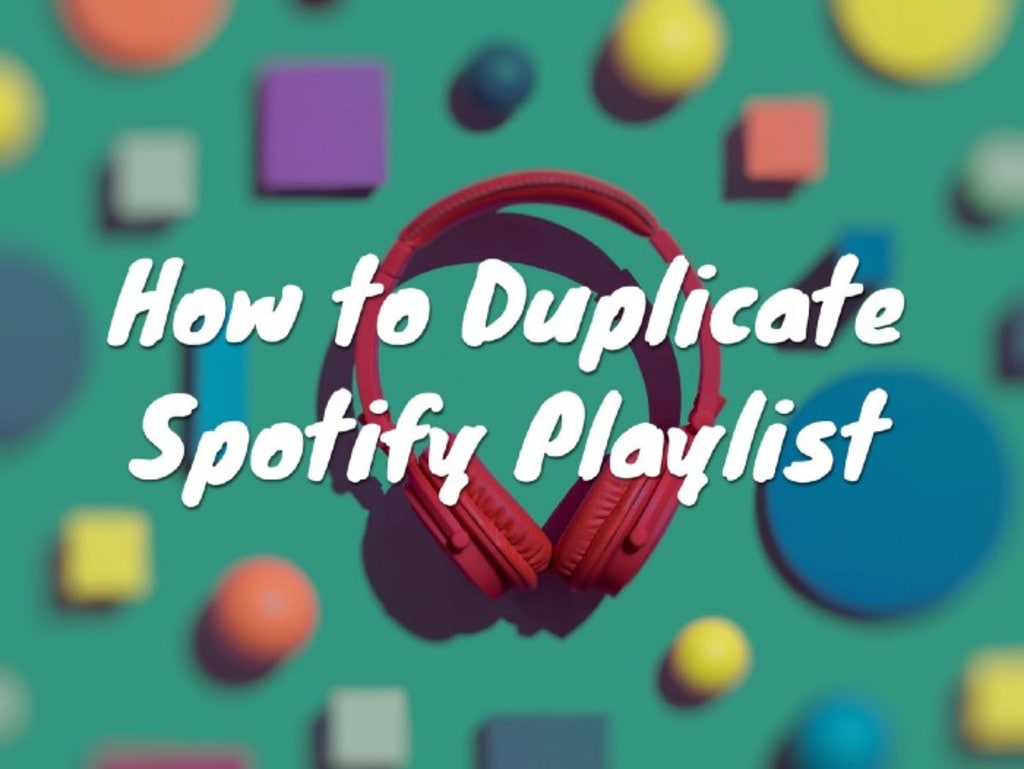 As one of the best and popular music streaming apps, Spotify provides users the capability to customize their own library and playlists. But one of the questions frequently asked by many Spotify users is that how can they duplicate the same Spotify playlist.
So next up we're going to cover how to duplicate a Spotify playlist and keep both of the same playlists on your Spotify account.
How to Duplicate A Playlist on Spotify
Technically, you can't immediately duplicate a playlist on Spotify, but you can get the same playlist in just a few easy steps:
1. Open Spotify on your desktop.
2. Create a new playlist by right click a playlist and click Create Playlist.
3. Go to the playlist you want to duplicate. Select all the songs by pressing Ctrl+A.
4. Drag the selection to the new playlist. Now you have duplicated a playlist on Spotify. This new playlist has the exact same songs as your original playlist. If you want it looks the same as the original playlist, you can rename it with the same name and add the same preview image to your new playlist.
How to duplicate someone's Spotify playlist in your account?
To duplicate Spotify playlist from someone, you'll need to go to his playlist page first. Then you can do the exact same steps above to duplicate this playlist.
If there're songs you don't want to listen to in the playlist, you can right-click the song and then click Remove from this Playlist. Or if you want to add more songs to this playlist, also right-click the song and hover your mouse to Add to Playlist. Then choose the playlist you want this song to be added to.
Can you duplicate playlists made by Spotify?
When you browse for the new playlists, you may find that some of them are curated by Spotify, can you duplicate these playlists too?
Yes, by doing the steps above, you can duplicate any playlist made by Spotify and edit it as your own playlist. Similar to duplicating, you can right-click the playlist to Create Similar Playlist to extend your music map. But this feature is only available for Premium users.
How to Download Spotify Playlist without Premium
It's pretty easy to duplicate playlist on the desktop Spotify app, but sometimes you might mess up the duplicated playlist with the original one. To better manage them, how about download them all and get all your Spotify playlists on your file manager?
With TunesKit Spotify Music Converter, you can directly download all your Spotify playlists to your computer without Premium. After downloading your Spotify playlists to your computer, you can manage them on your file manager and play anywhere you want.
TunesKit Spotify Music Converter is designed to convert Spotify audio files into 6 different formats such as MP3, AAC, M4A, M4B, WAV and FLAC. Almost 100% of the original song quality will be kept after converting process. With 5X faster speed, it only takes few seconds to download each song from Spotify.
1 Launch TunesKit and Import Songs from Spotify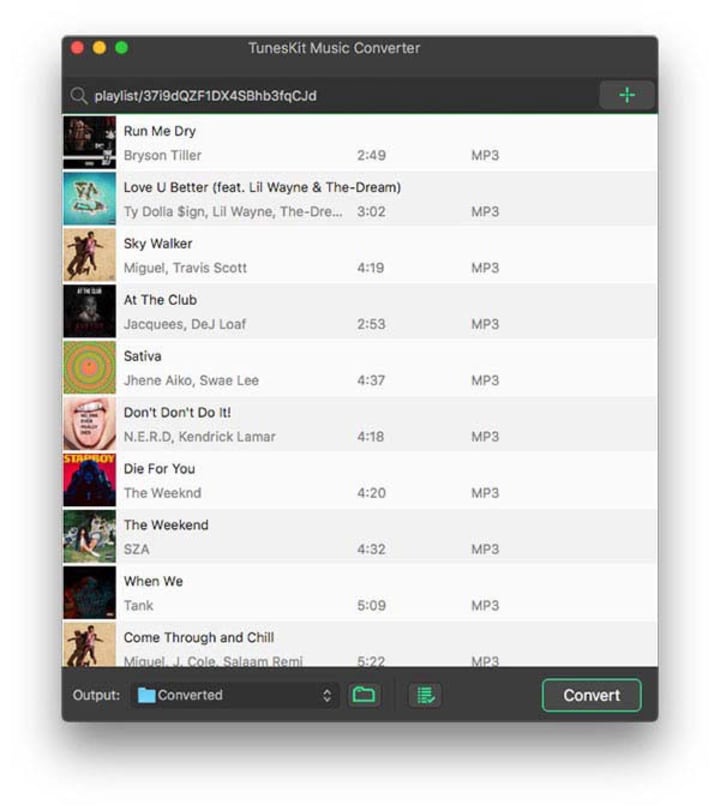 Open TunesKit software and the Spotify will be launched simultaneously. Then drag and drop tracks from Spotify into the TunesKit interface.
2 Set Up Output Parameters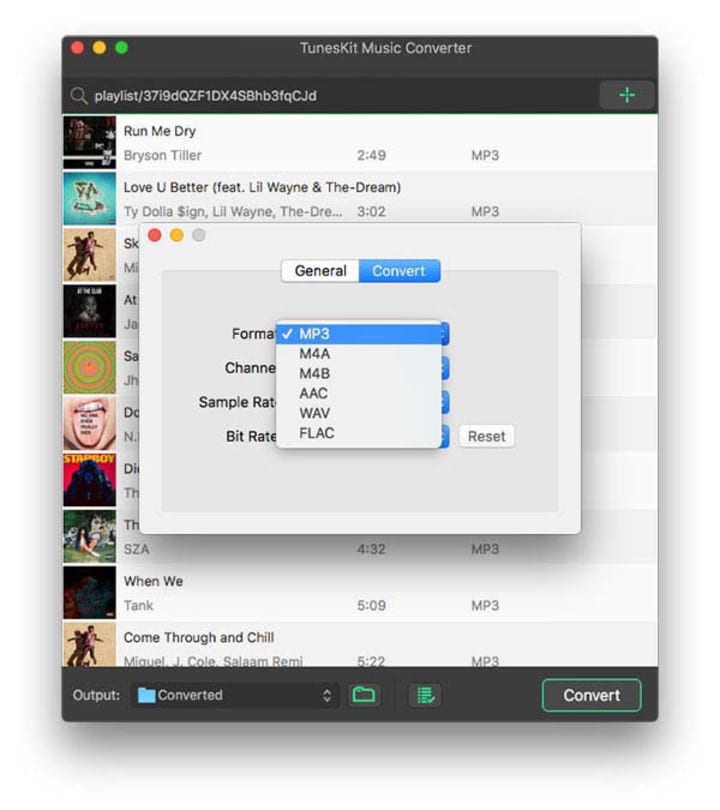 After adding music tracks from Spotify to TunesKit, you can choose the output audio format. There're six options including MP3, M4A, M4B, AAC, WAV and FLAC. And then you can adjust the audio quality by selecting the output channel, bit rate, and sample rate.
3 Start the Conversion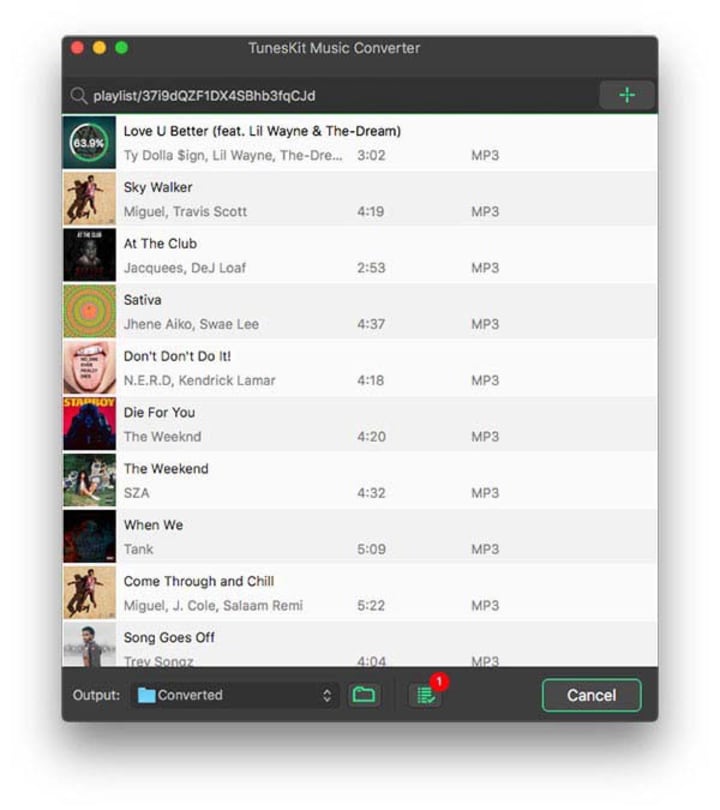 Once all the setting is finished, click the "Convert" button to start loading Spotify music tracks. After the conversion, all the files will be saved to your specified folder. You could browse all the converted songs by clicking "Converted" and navigate to the output folder.
4 Play Spotify Playlists Offline without Premium
After download Spotify playlists to your computer, you can access them on your file manager. No matter how Spotify changes, it will not affect these songs lying on your computer. You can play them anywhere you want without the Spotify app.
Bonus Tip: How to Delete Duplicate Spotify Songs
In the Spotify app, there's no delete duplicate songs option in each playlist. So to delete duplicate songs, you'll have to resort to other methods.
1. Manually Delete Duplicate Songs
To manually delete duplicate songs on Spotify, you'll have to sort the songs in your playlist by title. Just click the TITLE on top of the first song in your playlist, then all the songs will be sorted by name. And then you can delete the duplicate songs.
2. Spotify Dedup
You can also go to spotify-dedup.com and log in to your account, it will go through your playlist and library. Then all the duplicate songs will be listed, you can delete them on the web page.
Reader insights
Be the first to share your insights about this piece.
Add your insights