Sinners & Charlatans
Andy Robbins new EP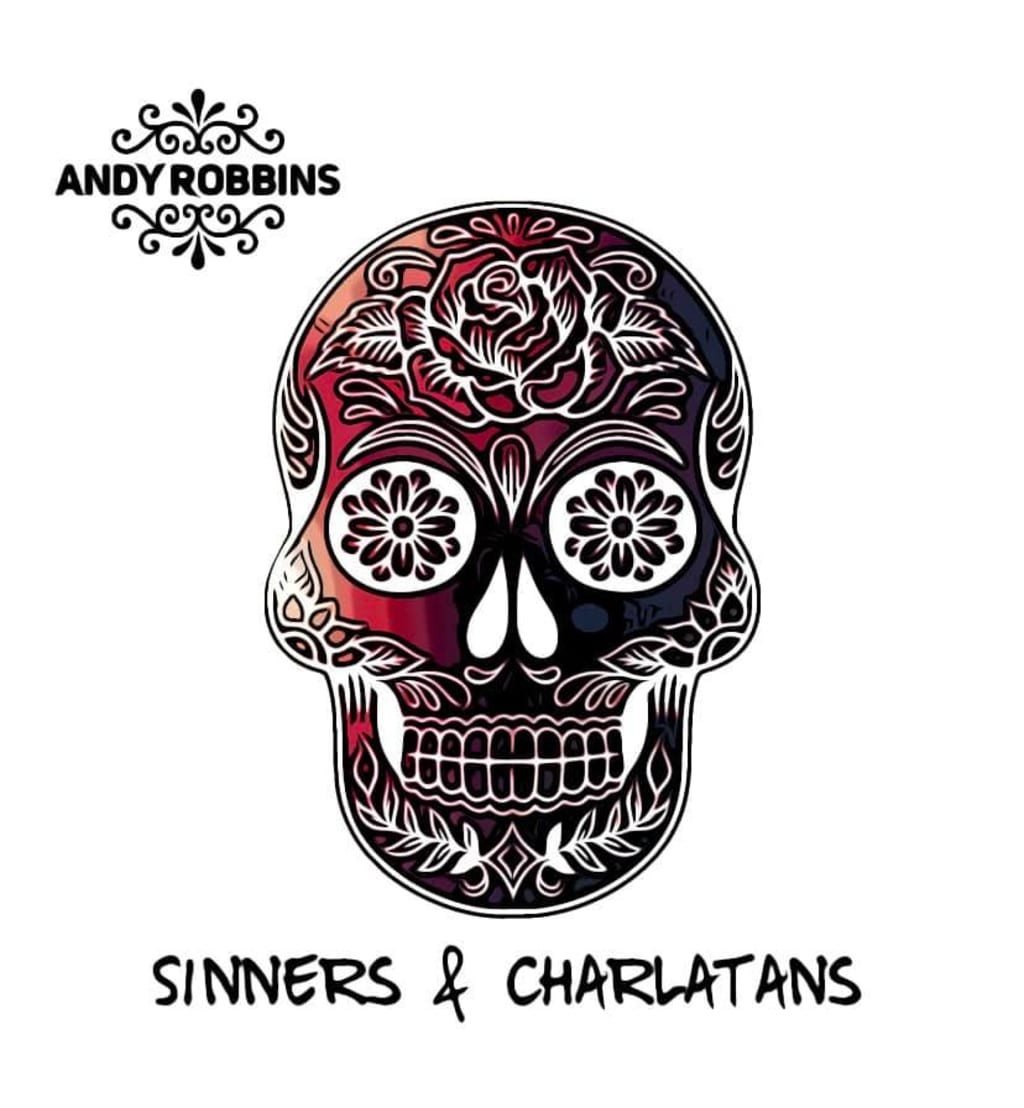 Andy Robbins is back with a new 5 track EP, Sinners & Charlatans.
Oxfordshire's own bard is due to release this latest offering of his unique brand of folk/blues/pop and this time he has taken on a new direction with his writing.
With the help of new producer Will Biggs, Andy has gone for a much more raw feel to this EP than his previous releases. Although his unmistakeable vocal and rhythm guitar playing which his fans love is still audible, there appears to be much more emotion and passion in the recordings.
In Andy's own words "This EP is very different from previous releases" he continues "I challenged myself to write in a different way than before". This is obvious from the first track "For You" right through to the final "One for the road".
For You is a blues based mellow tune. Andy's vocals, as always, are clear and precise and the added effect of delay to his voice on parts of the song only adds to the pleasant music. Andy's familiar, almost snappy guitar playing is only over shadowed by his voice and the well placed lead played by Tom Dalby is very reminiscent of the mid 60s blues tone.
Drawing on his own experiences of Love, Lust, Regret and Hope, one can only surmise that "For You" is a song of love. Yet it isn't a "Love song" in the same way a ballad is a love song, it is more a blues based rock song played at a slow tempo, with lyrics that are based around love.
This is probably my favorite track from the EP and one I have listened to on repeat for some time. At first it was to get the feel for the song and to attempt to decipher the lyrics, however that became second place and was replaced by a love for the song as a whole.
Blow Me Away is a little more upbeat than the first track. A typical folk based melody, topped by Andy's melodic vocal which I have to say has improved dramatically since his last EP. There is more passion and emotion evident to the listener in every track but none more so than Blow me away, the minimal use of lead guitar gives this song almost a Nashville feel to it and I could see it being popular among that genre of listener.
It would be interesting to hear Andy introduce the use of backing vocalists and perhaps even a full band as I think this would enhance what is otherwise a good track, turning it into a country/pop hit although I love the stripped down version of this track I would like to hear it with a full band someday.
If ever there were a song to take a person back to memories of sunny days, beaches, babbling brooks and the countryside then Wildflower, the third track on Sinners & Charlatans, is that song. Close your eyes and you can almost feel a warm summer breeze washing over you, almost smell the meadows and taste the salt of the sea in the air.
Perhaps its the gentle strumming of the guitar, or the slight harsh tone of the Harmonica. I cannot say, but this tune had me hooked from the opening few bars. This song is unlike anything I have heard from Andy in the past, and if truth be told I'm loving the new direction he has taken.
The lyrics seem to touch on regrets in Andy's life, memories which have clouded his mind for many years. He has stripped bare for all to hear his soul; and hear it we can as his songs grow in strength in unison with his vocals, vocals which haunt the listener long after the song has finished leaving you wondering did the song really finish so quickly? A trick that the mind plays on the listener as each track is a substantial length.
Track four "Not the man for you" is a song reminding Andy of a past relationship which may not have been good for him. The music is a catchy little melody that will have your foot tapping along. I've mentioned this before about Andy's music in previous reviews, but there appears to be a very strong Jack Johnson/Jake Bugg influence in his writing, not that this is a bad thing at all, quite the opposite in fact.
Not the man for you is a strong contender as a folk/pop classic and if Andy keeps up this quality of writing I can see him becoming a very popular artist within the industry. You can hear a change in Andy's voice from earlier work, it is much stronger and there is an obvious confidence in front of the microphone, which if I recall correctly in his previous EP, wasn't the case and the nerves showed.
You can hear in his vocal performance that Andy was much more comfortable with the music, the new producer and with Challow Park Studio's in South Oxfordshire.
The final track One for the road is yet another melodic masterpiece, just Andy's vocal, guitar and harmonica are evident and the song wouldn't have been out of place in the summer of love 1969, if only Andy had been around then.
A song of reminiscing and remembering the past, learning from mistakes and celebrating good time. The overall feel of this song is one that makes you relate, and of course the goal of any songwriter is to connect with their audience, Andy does this without effort and I can see this being a popular sing-a-long song in a pub/club environment.
The lyrics focus on the past and could be considered dark to some listeners. The upbeat music and Andy's melodic vocal keep the listener entertained and take this song to another place beyond the darkness of bad memories. You cannot help but recall the good times in your life, the parties and friendships, the lovers loved and lost and the experiences which made you who you are today.
If you are looking for music you can relate to then this EP is for you, throughout each track we are sharing Andy's journey, a journey that is familiar to many.
After listening to Sinners & Charlatans from track 1 to track 5 I was disappointed, upset almost that it was over. It left me wanting more so much so that I had to replay the EP several times and even then I found myself waking up with the melody to one or more of the tracks going around in my head, begging for me to replay them just to satisfy the earworm.
Andy Robbins goes from strength to strength in his songwriting abilities and I look forward to more releases from his world of Folk/blues/pop/rock perhaps one day a full album with a fully produced backing band/singers could be on the cards for us? In the meantime Sinners & Saints is a must have for your collection.
Every track has the added value of sounding new and fresh each time it is played no matter how many times you have already listened to it. There are few artists who can achieve this level and Andy proves he is no ordinary talent time after time. A musician and songwriter to keep an eye on as he climbs the ladder of fate and destiny, there is a little Sinner and a little Charlatan in us all .
Sinners & Charlatans by Andy Robbins will be out on all major streaming platforms from Tuesday 30th June 2020.

Phill Ross
I have been writing for 35 years starting out with poetry then moved on to song lyrics and music/band reviews,I now write mostly historical fiction and I have written and self published 11 books to date.
See all posts by Phill Ross →