Singing Plumber Shocked By Saucy Internet Messages
Kev Crane came to global attention when he was discovered singing as he fitted a bathroom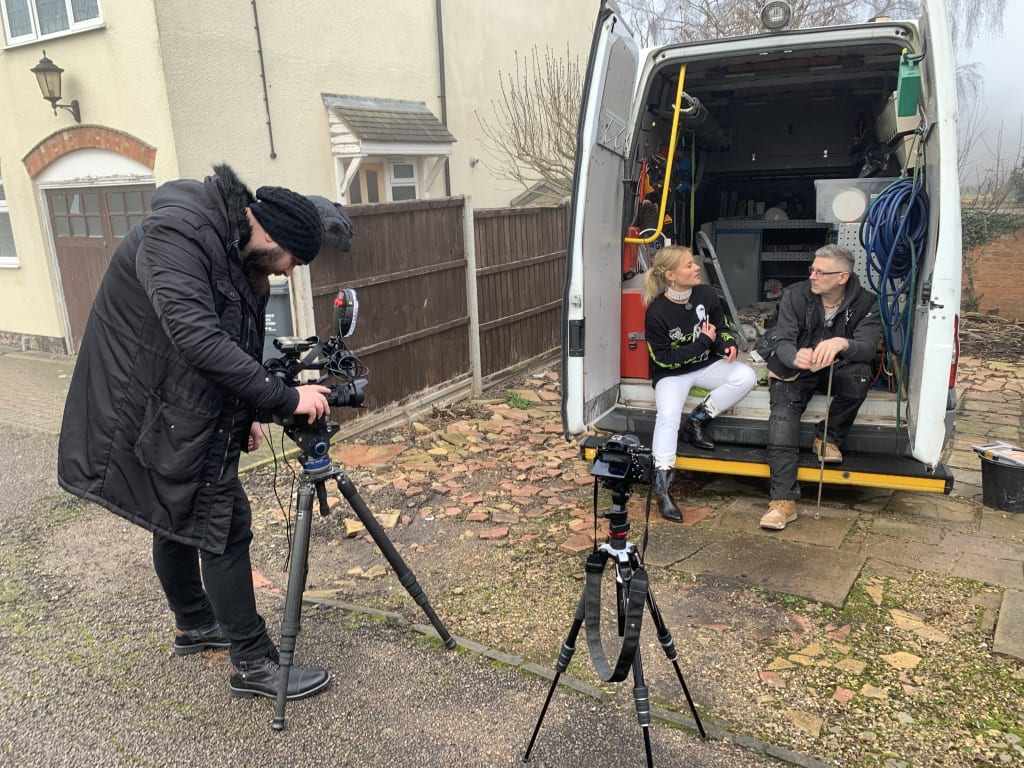 Singer Kev Crane being interviewed by Anna Senkara for Polish breakfast TV
When Leicestershire based singing plumber Kev Crane found himself with a record deal and featured in the press and TV all over the globe he had no idea that it would result in suggestive emails and social media contacts from admirers and fans!
Kev hit the news when he was discovered singing as he fitted a bathroom in, unbeknownst to him, the home of a record label owner. It saw Kev appearing on BBC News, The Washington Post and morning TV programmes from Australia to Poland!
"It's been a whirlwind" says the fifty year old plumber who is still fitting bathrooms between making new recordings and working with a film company in LA on a movie based on his story.
"It's really exciting" continues Kev "but I'm determined to not let down customers who were already booked in for jobs and that list goes way into 2022"
What Kev was not prepared for were the saucy suggestions that some women fans have sent him via the Internet "I've never seen myself as a sex symbol especially at my age" quips Kev "but I keep getting really suggestive messages from people since I've been on the telly, the radio and in the papers"
"One woman even said she was coming around to the house in her underwear.. but she never did as far as I know" grins Kev.
"Even before the record deal people used to ask me if the sexy stories about plumbers and their clients were true but apart from one proposition in a bathroom as I fitted a woman's u-bend and which I quickly refused I have to disappoint them .. the job is mainly just hard work and piping!"
Kev's new single is 'Robots and Machines' and in part addresses the day to day toil of 'work sleep work repeat' that is the reality of most people's life.
"I've always enjoyed work" says Kev "but sometimes it can all get a bit too much and we seem to be controlled by work and those who employ and govern us. I felt this more when I worked in a factory making furniture. Working to the clock and always under supervision, overseen by often faceless bosses who even time how long you are in the toilet! Since I retrained as a plumber and became self employed things are a lot better. Even more so now that I'm making music, getting played on the radio and even working on a new film"
Kev has no illusions about how difficult it is to make a full time living in the entertainment industry but he's well on his way to doing that and a few sexually suggestive messages along the way is a small price to pay for the journey he's now on.
Karen, Kev's wife says "Kev shows me all the messages he gets, they don't worry me as Kev and I are so much in love but I can see how such messages are in a way abusive though most mean no harm I'm sure."
Kev has had one or two 'hater' type messages but surprisingly few. Kev says "when I got the first message telling me how rubbish I was and asking 'who did I think I was?' and stuff I thought I was going to get loads but it didn't happen. Instead I got thousands of really positive messages and have a really supportive fan base now. They keep me going!"
Kev has just finished recording a song produced in LA, a cover of Depeche Mode's 'Personal Jesus' that will be out later this year and may feature in the soundtrack of an upcoming Hollywood movie. Kev explains that he can't say too much about the movie yet except that it's written by two of the most iconic British sitcom writers of all time who now live out in LA. The song 'Personal Jesus' means a lot to Kev as he has followed Depeche Mode all his life and this song is one of his all time faves.
'Personal Jesus' by Depeche Mode
Kev's version has been produced in LA by JSCE and it follows in the footsteps of other covers of the song including the great Jonny Cash:
Look out for Kev's version that'll be out later in 2022! Here's Kev's album 'Why Can't I Be You?' at Bandcamp and it's on all other platforms too:
pop culture
About the author
Paul Conneally is a Cultural Forager, poet and artist.
He writes on culture in its widest sense from art to politics, music and science and all points between.
His Twitter handle is @littleonion and on Instagram he is @little___onion
Reader insights
Be the first to share your insights about this piece.
Add your insights