Simply Red—'Blue Eyed Soul' (Album Review)
Blues, Soul, Funk, and a whole lotta fun.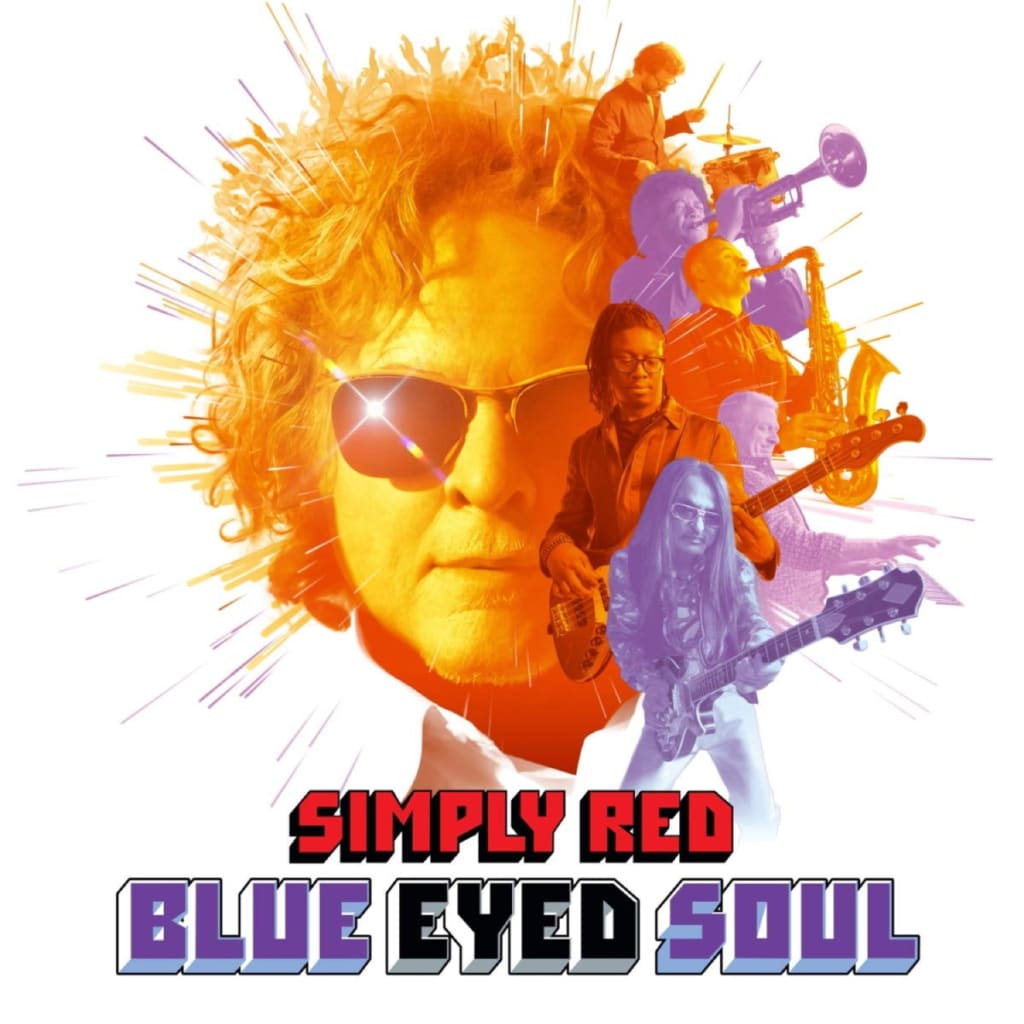 Simply Red have been a personal favourite of myself and my parents for many, many years. So, you could imagine my excitement when I heard a new album was on the way.
Blue Eyed Soul marks Simply Red's first album since 2015 and shows off Mick Hucknall and co.'s love for funk, blues and soul. Horns galore, funky bass lines, disco-esque rhythms, clean guitars and those signature vocals from Mick himself all lend themselves to a very accessible and enjoyable album.
I was lucky enough to be able to get my hands on a signed CD, signed by Mick Hucknall as a Amazon Exclusive, which to my surprise arrived over a week before the release date of the album!
This review will be going track by track across the 10 songs; if you want to see the overall opinions and rating then skip to the end, but if you want to know more about the album then I hope you enjoy.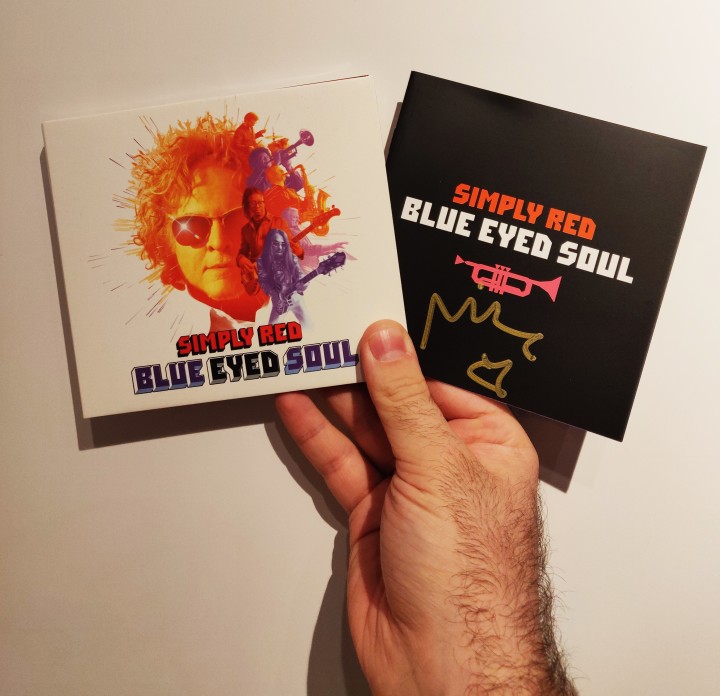 1. Thinking Of You
The album itself kicks off with "Thinking Of You" an upbeat disco pop track, which showcases Mick's vocal range and abilities whilst maintaining a gravelly and soulful tone. "Thinking Of You" really sets the tone and provides a powerful opening track and is also one of the highlights on the album.
2. Sweet Child
"Sweet Child" comes in as track number two, offering a much calmer composition from "Thinking of You." "Sweet Child" utilises smooth strings, more simplified bass and drum sections with a creamy guitar tone. This blends well with the softer style vocals. The lyrics from "Sweet Child" stick with me, especially passages such as; "Cos you, YOU, YOU, Are the future," "I see tears where there should be joy," and "A desert that needs some rain, to help you out, and ease your pain," This track acts as the love letter from a parent to a child, who simply wants the best for their child.
3. Complete Love
Track number three, "Complete Love," explores more traditional blues styles, with simplified instrumentation stripped back packages involving drums, bass, piano with sparing uses of guitar. Like track number two, "Complete Love" shows off Mick's softer, almost whisper voice. This track is a personal favourite on the album due to the stripped back nature and individual identity on the album. This track reminds me of recent efforts by Fantastic Negrito (a two time Grammy winner), and would be just at home in a contemporary blues playlist as it is in a funk, disco album.
4. Take a Good Look
"Take a Good Look" is track number four, and much like tracks number two and number three provides a mellower and more stripped back approach and composition. "Take a Good Look" also has the least in depth lyrics, only providing two verses and a chorus, of which the verses are repeated and the chorus heard only once. Despite this, that is exactly what the track called for. It provides a welcomed lyrical break from the lyrical and emotional heaviness of "Sweet Child" and "Complete Love." Nonetheless, another great track.
5. Ring That Bell
Track number five is "Ring that Bell" which starts off with a bass and drum rhythm with some cowbell style noises in the background, which remind me of the disco classic "Funky Town" by Lipps Inc. But this is quickly forgotten when the vocals come in, giving a vibe that this track would be extremely fun live, with great possibilities for call and response. Despite the lyrics focusing around playing "The ding dong hard" and playing "your ding dong smart," it's a fun track and marks the turn away from blues and back towards funk, soul, and disco, which is continued for the rest of the album.
6. BadBootz
"BadBootz" gets us past the halfway mark as track number six. Now Simply Red are back into the disco and funk rhythm, with Nile Rodgers 'Chic' style guitar rhythms and the bell of the ride being utilised to provide a solid foundation for the rhythm section. Horns make a full comeback with punching horn sections and random improve sections providing a soul and disco feel. Another very fun track with Mick talking about his "bad, bad booties" and his "rootie, tootie tooties." I have to admit, it did give me a bit of a chuckle on the first listen.
7. Don't Do Down
This then leads to track number seven, "Don't Do Down." This track gives us more call and response style lyrics between Mick Hucknall and backing vocalist Kevin Robinson. It also provides us with something that most disco albums wouldn't be complete without... a Saxophone solo. Although short, the saxophone throughout is a highlight. Another track that seems like it would be fun live.
8. Riding on a Train
An interesting concept for track number eight, "Riding on a Train." Not sure if this is from Mick's personal experience of trains not running on time (which in the UK is a very, very common occurrence) or just a metaphor for being away from those who you care about. Either way it works. Funky drums, bass, guitar and horns are heard at the beginning of the track before the drums and bass taking over for the verses. The drums on "Riding on a Train" are a real highlight providing great use of the kit, including the rim of the snare, drones and drags, great control of the hi-hats, and well executed use of the ride and the bell of the ride. Saxophone also makes a comeback to provide nice contrast to the soul filled vocals.
9. Chula
"Chula" finds its way as track number nine. Usually by this point of an album, songs may become tired, or simply the listener gets bored. However, "Chula" provides enough of a unique beat and feel to keep you interested. "Chula" in Spanish can be translated to 'Cute,' 'Beautiful,' or 'Sexy'. However, translations from other parts of the Spanish speaking world do differ quite drastically! The story of this track is falling in love with a beautiful woman and wanting to be with them. Horns make a major punch at the beginning and the multi-layered lyric passages provide a different tone to the rest of the album where it has been predominantly Mick and a backing vocal.
10. Tonight
Track number ten, the final track, is "Tonight." If you were looking for classic, old-school Simply Red, then here it is. Laid back melodies and soft drums with ethereal strings and soft vocals remind heavily of the Simply Red classic 'Holding Back the Years'. A perfect way to end the album on a song which has the potential to become a Simply Red classic over time. 'Tonight' also shows off Mick's softer higher register which has a lovely timbre to it and reminds me of older classics and definitely doesn't sound like it came from a 2019 album, which is a good thing. A jazzy style ending provides a nice close to the album with a sustained note from Mick, slow rolling cymbals and a jazzy chord to close the track.
Final Verdict
Overall Blue Eyed Soul is a well rounded and enjoyable listen, taking elements from; blues, jazz, disco, funk and soul and blend it into that distinctive Simply Red sound. It is very accessible and not difficult to listen to, without compromising on song quality. I was able to listen to the album four to five times whilst writing this and was not bored at any point. Standout tracks include; "Thinking of You" (Lyrics video below), "Complete Love" and "Tonight." Mick and co. have produced something special here. The only negative is the album is just 33 minutes long.
Final Rating: 8/10
Blue Eyed Soul is available November 8 2019.
Links to buy:
Amazon UK