Sik-K - 'Officially OG' EP Review
A short-form hip-hop showcase of brilliance from the 26-year-old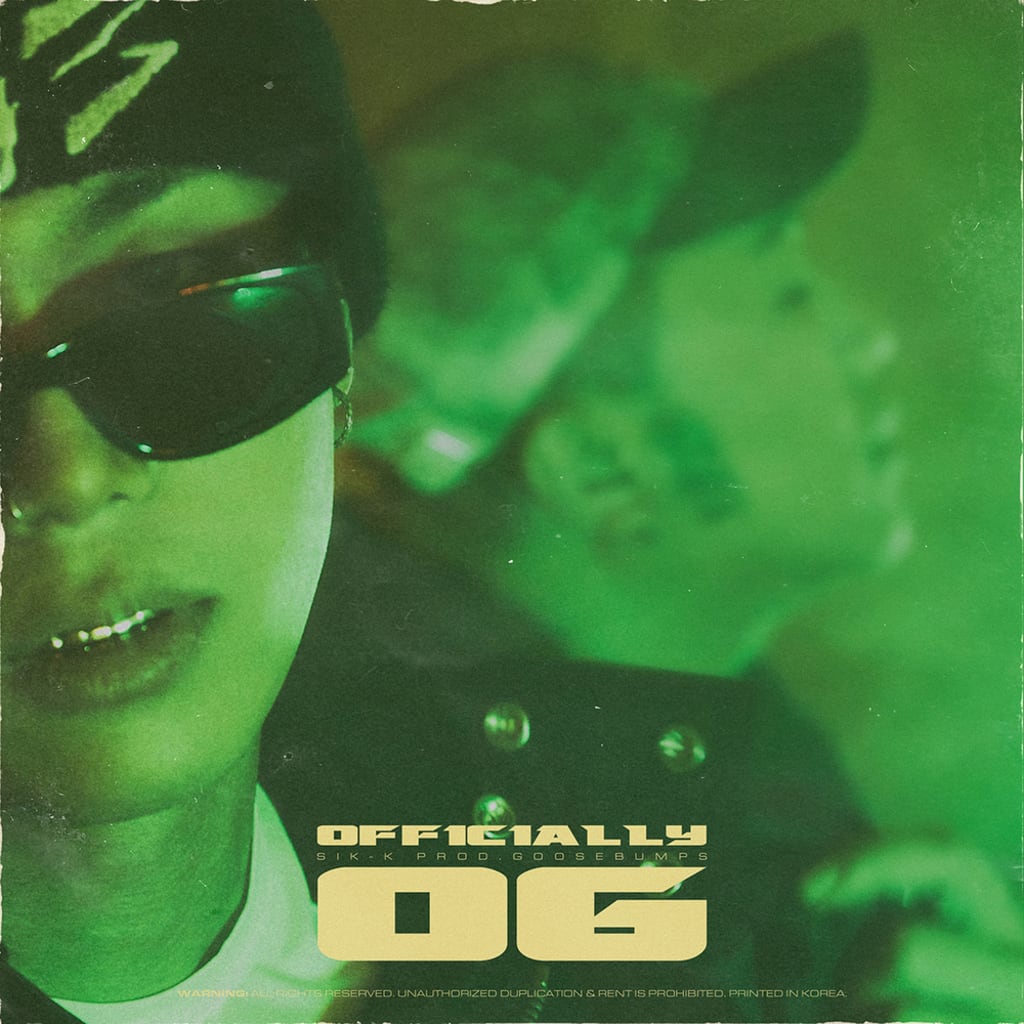 To call 2019 Sik-K's breakout year would, on the surface at least, do the South-Korean a huge disservice. After all, before FL1P the artist had already released three profitable albums in addition to numerous show-stopping singles and a strong collaborative EP with BOYCOLD. Yet, with the triumph of the 26-year-old's fourth full-length effort - which went hand-in-hand with his successful world tour - it felt like he had "broke out" and propelled himself to the apex of the hip-hop industry in South-Korea, at least from an international perspective. He was no longer just the future who had bucketloads of potential, but the present who was starting to hone his undeniable talent and appeal.
So now, attempting to keep the steam rolling from sensual EP S.O.S with collaborator Coogie, Sik-K has teamed up with versatile producer Goosebumps for Officially OG, an eight-track EP brimming with confidence, trendy sonics and vast soundscapes.
Opening with "VJ IS CLASSIC," an abrasive, trap-driven track, Sik-K instantly sets the tone for the EP as a no-nonsense ode to both past and present. Rapping seamlessly amongst hard-hitting beats and gunshots, the 26-year-old shows off his skill set in a self-assured, assertive opener. It's a no-brainer as to why this was chosen to start the extended play, and it feels like tangible proof of the unwavering confidence the artist now has.
"NO HOOK" follows, with Palolto and The Quiett enlisted to give their services across the three-minute trap-infused, razor-sharp number. Bolstered instrumentally by keyboard notes and sharp sounds, the three artists weave their talents together effortlessly, complimenting each other succinctly with pacy, lyrically tight raps. It emphasises the conviction shown in the preceding track, further proving that this is not just a run-of-the-mill release.
"HEAR ME" softens the mood slightly with a grungy guitar melody thick with tone and calmer vocal delivery, but still packs plenty of power. An emotional offering about love, it's a slightly more vulnerable Sik-K than heard across the rest of the EP, but makes for a refreshing change of pace that allows for the listener to catch their breath and dive deeper into the rest of the songs. So, whilst "HEAR ME" is unlikely to go down as a resounding favourite, it serves a worthwhile purpose that helps intensify the more forthright, straight-talking confident numbers across the release.
Vibrant and colourful, "30MIN" sees the guitars become softer and breezier, aided by trap beats and anthemic percussion. There's a lot of - occasionally jarring - vocal manipulation throughout the track, but Sik-K and Simon Dominic keep things interesting enough to ensure that everything remains at least somewhat sonically appealing. Thus, it's a decent cut, and an intriguing experiment, but nothing groundbreaking.
However, "SOAP SEOUL," a two and a half minute track, returns to the brash boldness heard earlier, featuring a soul-stirring melody, and the return of gunshots and trap beats. The 26-year-old is unrelenting in his fierce verses, showing a tangible sense of versatility and indisputable knack for creating sonically enrapturing hip-hop tracks. It's the apex of the EP, and a song that is hard to deny giving credit to.
"SEASON OFF," a track thick with bass and whirring, industrial beats is as high-octane as it gets. Lyrically as confident as ever, Sik-K keeps the energy at a premium, rapping with gravitas and endless gusto. It's infectious to listen to, and shows just how inexorable the extended play is in style.
To finish comes two ensemble offerings. Firstly, "DO MAIN 2020," a more traditional hip-hop sounding cut which blends bass with synth-sounds and a more freeform, forefronted vocal style. Featuring Lil Boi, Ugly Duck, Zico and Take One, it's a fair opportunity for everyone to have their chance to shine, but feels slightly too disjointed to truly stick in the minds of listeners. If there had to be a song to skip, it'd be this.
However, "WATER," which serves as a H1GHR MUSIC showcase thanks to supporting roles from Woodie Gochild, pH-1, HAON and Jay Park, is the perfect ending to the release. Originally released in July of last year this carefree, summer-tinged anthem has already been dominating playlists for nearly twelve months, but still feels at home with the newer material, and preceding seven tracks. With a perfect beat and excellent lyricism (including plenty of humorous lines), every artist delivers on their respective verses, and all of them help make it a joyous few minutes. It might be a stylistic opposite from Officially OG's opener, but it shows just how broad Goosebump's soundscapes can be, as well as good the chemistry is when he works with Sik-K.
To conclude, this is an excellent serving of tracks that ditch a lot of the electronic, rock and EDM influences the 26-year-old favoured in 2019, replacing them with a fresh variety of brazen-faced, flashy hip-hop tracks. Ultimately, this is the South-Korean's comfort zone, and if he can retain the services of Goosebumps for future releases, there's no doubt that the hard-hitting hip-hop heard here can continue to be elevated to new heights, with endless success no doubt to follow closely behind.
Rating: 9/10