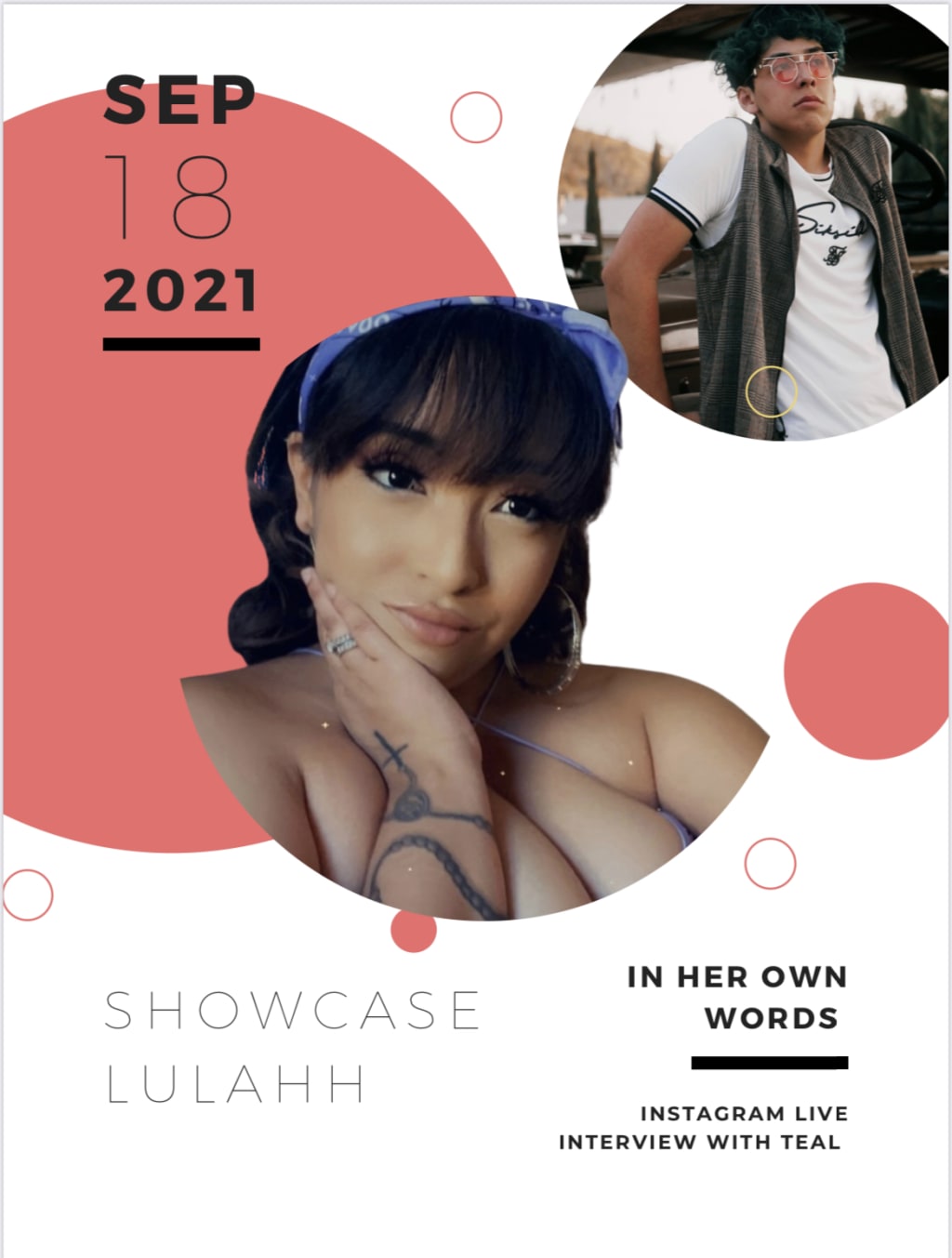 Original Flyer
As the west coast reassembles it's entertainment right for producing acts in the business it's the music scene that has become a bit scarce in recent years not spawning enough musical big numbers as the east coast rises to that title. In light side of this tragedy we take the time to find the little stars in the empty sky. One star who is shining bright and learning through the process of it all is Lulahh a young and rather influential Soul Singer from Northern California.
Now as we do have drought in the R&B genre due to incompetent record labels and terrible artist who can sing and ruin the amazing genre, we can look to the underground musicians who make music that translate to fine art. Luckily for Lulahh, she actually is an artist with voice not only unique but with technique and strength, you won't find a overtly breathy and scratched voice that sounds terrible like Billie Ellish here. Instead you will find one that can deliver graceful rifts and tremendous harmonies while giving the feeling Etta James and Lisa Lisa where genetically cloned and morphed into a voice fit for this woman.
As she learns and prepares for the business around her she takes every little step with caution, as times have certainly called for intuition and skills. That is big part of coming into the business and our starlet is well aware of Unsung Artist who have been mishandled in the limelight. Yet still she remains on Key vocally and figuratively.
Lulahh; Mother, Medical, Musician, all the best in one person from Sacramento, Ca has been ever so kind to go live with us. She even shared options on the lack of respect for veteran singer.
Q. Has music been a longtime dream, and if so have you had a good and bad relationship with music in general?
A. " Music has been a fulfilling dream of mine it has both gotten me through good and bad times".
Q. How did you come to use the name Lulahh?
A. "It was a childhood nickname of mine".
Q. On performing, do you consider this a strong suite or something you feel every artist never stops improving?
A. "It's definitely something that needs to be worked on. I don't think any artist can truly perfect it, there is always room for growth".
Q. Do you have any instrumental talents?
A. "Trumpet, Guitar, and some Keyboard".
Q. What are some lessons you have taken with gratitude?
A. "You won't always be number one but that's okay, someday".
Q. What's one thing from your story you hope makes a bigger impact for women in similar circumstances?
A. "No matter what happens just keep pushing, I know it sounds cliché but still true".
Q. Growing up who were your musical influences and personal influences?
A. "Main influence is Michael Jackson and my personal influence is Selena Quintanilla-Perez".
Q. Name artist that has given you the stamp of approval?
A. "Paula DeAnda, Zendaya, Taylor Swift, Kelly Clarkson, and JoJo".
Q. Will we get a live performance or video in the near future?
A. "A music video to my current song is definitely coming".
Q. What's the king run dream of yours?
A. "living comfortably with my family and to overall be happy".
Q. What areas are you working on for your Fanbase?
A. "just wanting to create one, but in all seriousness to connect with them".
Q. How do you feel artist imagery in the entertainment business affects people who build their brands?
A. "Hollywood is very unrealistic. Take it as you may, which I feel confuses business on how to build a brand".
Q. Can we expect an Album, Mixtape, or E.P.?
A. "I'm currently writing songs for an album".
Q. If you could perform anywhere in the world where it would be?
A. "On top of Mount Everest Haha, I'm just kidding".
Q. Are you happy where you at in music right now and what advice could you give to those who aspire to do entertainment?
A. "I am never satisfied and I am always hard on myself when it comes to my music. So my advice to other is to just come into this business light heartedly, enjoy it, breathe".
With the pleasure it sure had been on Live! With Teal, Lulahh does open to eyes to see that people starting off underground certainly are focused on the craft itself instead of just the over the top publicity stunt pulled by celebrities. Though her learning is never done her talent will forever be ignited as that is something that can never be broken, please check out Lulahh's music down below and thank you!