Shining Star Janis Joplin
A Talent Gone Much Too Soon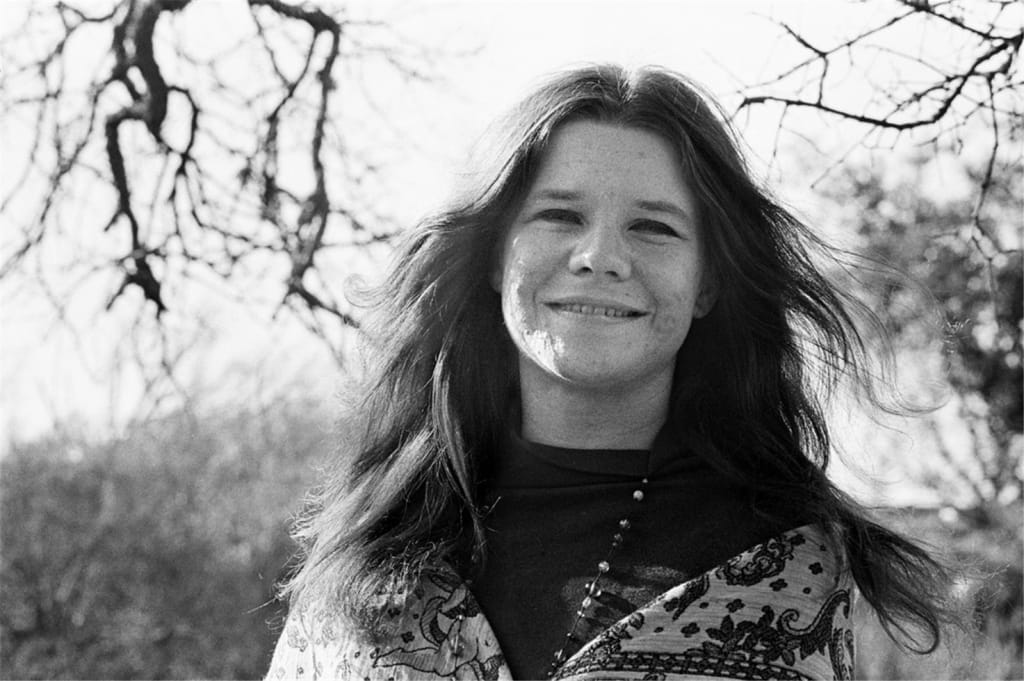 To tell others about a talent like Janis Joplin is like trying to explain a moonbeam that is here and then so quickly gone again. She had talent, amazing talent, but as the fates would have it, she was gone much too soon. I watched a documentary about her because I was interested and I watched her appearing on the Dick Cavett Show. I realized then and there that she was a most fascinating individual and rather eccentric too.
Janis Lyn Joplin was an American singer and songwriter who rose to fame in the late 1960s. She was the lead singer of a psychedelic-acid band known as Big Brother and the Holding Company. Later on, she became a solo act with her own back-up groups the Kozmic Blues Band and the Full Tilt Boogie Band. Her talent spread far and wide as she appeared in such events as the Monterey Pop Festival, Woodstock Festival, and the Federal Express Train Tour.
Her career gave her popular songs by which she was known such as "Ball'n'Chain," "Maybe," "To Love Somebody," "Kozmic Blues," and "Work Me, Lord." She had an amazing stage presence and a cry to her voice that came from the very soul.
At the very peak of her career, she became known as "The Queen of Psychedelic Soul" and was called Pearl by her friends. This talented young woman was also a painter, dancer, and music arranger. Janis Joplin is ranked number 46 on Rolling Stone's list of the 100 Greatest Artists of All Time. In 1995, she was inducted into the Rock and Roll Hall of Fame.
The best anyone can do when writing about this talent is to offer just the facts about her career and music. The very first song she recorded was in December of 1962 "What Good Can Drinkin' Do." Her downside was that she became a drug abuser and began using heroin as well as other psychoactive drugs combined with heavy drinking. At one point before her career could take off, she became a former shadow of herself due to an amphetamine habit and returned home to her native Port Arthur, Texas. After staying away from drugs for a while, she was noticed by the group Big Brother and the Holding Company and joined them as the lead singer in 1966. Her first performance was at the Avalon Ballroom in San Francisco, California. Afterward, Janis Joplin and the band began to play at clubs in San Francisco and other cities along the coast.
Their debut album was Big Brother and the Holding Company in 1967. Songs which stood out on the album were "Down On Me," "Bye Bye Baby," "Call On Me," and "Coo Coo," all with Joplin singing the lead. In 1968, the group went on a tour of the East Coast and performed with other well-known artists at that time such as Jimi Hendrix at the "Wake for Martin Luther King, Jr." concert in New York City.
They recorded Live at Winterland '68 at the Winterland Ballroom in April of that year. Janis Joplin and Big Brother made their national TV debut on The Dick Cavett Show. By this time the group was being billed as Janis Joplin and Big Brother and the Holding Company.
Their second album was Cheap Thrillswhich included hits like "Turtle Blues," "Piece of My Heart," and "Summertime." The album became number one on the Billboard 200 album chart and stayed there for eight weeks. It went on to become gold and sold more than a million copies.
Janis Joplin performed for Big Brother for the last time at the end of 1968 and moved on to a solo career. Her first back-up group was the Kozmic Blues Band and later on Full Tilt Boogie Band. In the summer of 1970, Janis Joplin and the Full Tilt Boogie band performed with the all-star Festival Express train tour through Canada.
Janis Joplin joined the rock and roll band in the sky on October 4, 1970, apparently due to an overdose of heroin made worse by too much alcohol she was only 27 years old and already a legend. After her death in 1971, her last and very popular album Pearlwas released and became the biggest selling album of her career. It included popular hits such as "Me and Bobby McGee," "Move Over," and "Mercedes Benz." The album was listed on Rolling Stone's list of the 500 Greatest Albums of All Time. RIP Janis — gone much too soon.