Shelby: The Avid Concert-Goer
me when I took this pic: like whoa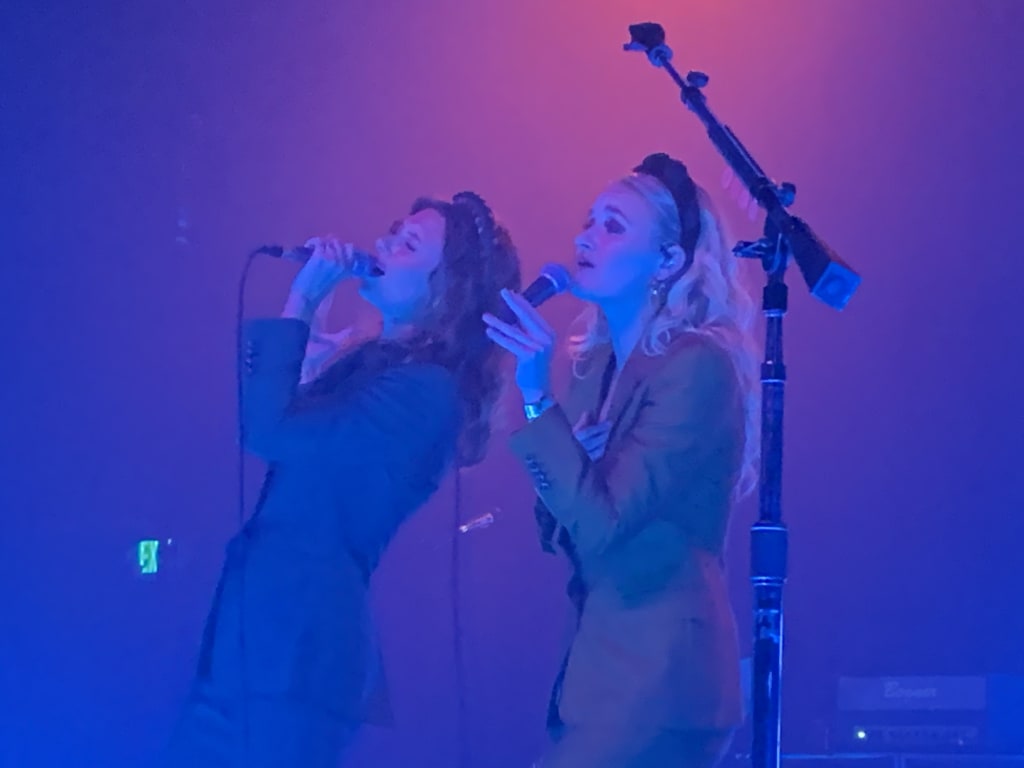 Aly & AJ at The Fonda, June 26, 2019
The idea of writing about a single photo that I've taken seemed like kind of a stretch since I, in no way, consider myself to be a photographer. However, I do find myself at concerts more often than most. I'm always trying to get the perfect shot. Sure, for social media purposes but mostly for myself. I love that on an off day, I can scroll through all of my memories and bask in the good times that I've had. The Aly and AJ concert this past summer was no exception.
This photo means a lot to me because for one, the lighting is absolutely killer, and two, I've waited to see them in concert for like 14 years. Of course I've got my fair share of shaky videos, people in the way, photos through someone else's phone but this one was *the* one. Just capturing them in their element and in this moment forever is something special to me. And it's mine.
Like I said, I'm no photographer so this was shot on my iPhone XR. No filters, no edits of any kind which is why it makes it my best mobile photograph. I was lucky enough to get as close to the stage as I did. General Admission can be a mess but it's honestly the best way to experience a concert, in my opinion. And obviously the photo ops are always a plus. I'm not saying it wasn't a struggle because it was. But being an avid concert-goer such as myself (despite being 5'3"), you learn to power through a crowd.
This was the first night of two shows in Los Angeles and what's more, this was their first time back at The Fonda since their first EVER performance 15 years ago! Talk about a moment! I think that is one of the reasons I enjoy live music so much; it brings people together. It's a story to tell. I like to know that I was there when it happened.
What was fun about watching them perform is that they would usually start each song on the opposite ends of the stage doing their thing (playing guitar and keys) and then would meet in the middle with some choreography. It turns out it's way easier to get a good shot when the band members are standing side by side.. who knew?? Unfortunately, they don't pose for you for 15 minutes so you have to use those ninja iPhone photography skills (or lack thereof). Somehow the mic stand is perfectly framed in this shot. :)
They played most, if not all, of their new music, a few of their hits, and threw in a couple of covers because why not! Everyone loves a good cover! Let me just say that I almost lost my shit when they played Rush, Like Whoa, and Potential Breakup Song. The 12 year-old in me is still convinced she dreamt the entire thing.
Whether or not you know who Aly and AJ are, this photo beautifully captures how moving music can be, for the performer as well as for the audience. After all, we are all here just to have a good time. With so much happening in the world today, it is nice to be able to escape the craziness every once in a while, even if it's only for a few hours. Life is made up of experiences, good and bad. I try to make as many good ones for myself as I can. For me, it is obviously a night I will never forget and a constant reminder to follow my passions.