Seven Awesome, Yet Little-Known Songs By Bands I Love
I bet you've never heard any of these, but you should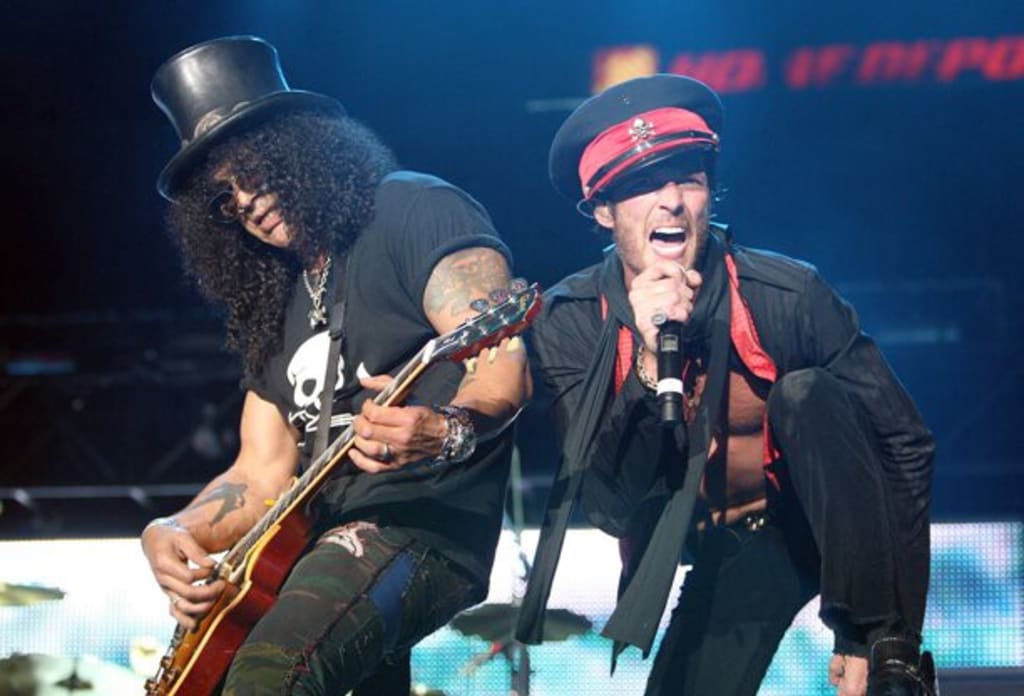 Slash and Scott Weiland of Velvet Revolver. They each have 2 of the 7 songs on my list. Photo credit: EW
Most people love music. And most of those people love bands and artists' biggest hits. But what about the songs that you rarely hear on the radio? Songs that were never released as singles. There is a multitude of relatively-unknown, amazing songs out there. These are the first seven I thought of, in the order they came to mind. Give them a listen and enjoy.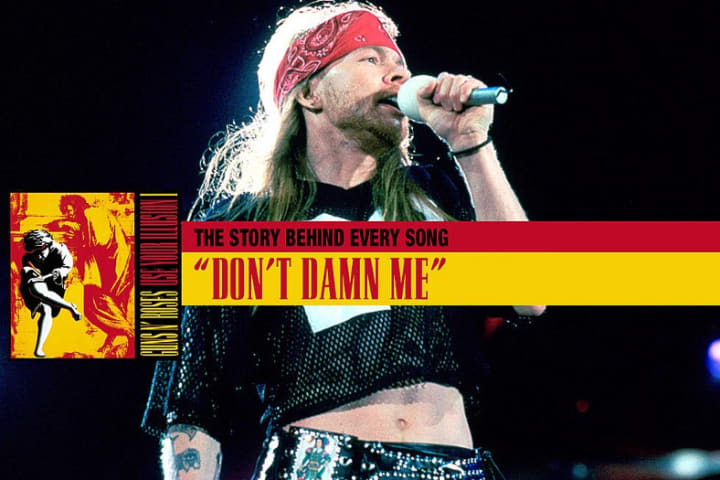 1. Don't Damn Me, Guns N' Roses. From Slash's heavy opening guitar riff to the message about "smokin' 'em if you've got 'em" at the end of the song, this one is just awesome. Axl's howling, scowling lyrics are insightful for a man of his age when written in 1991. You could very much tell that he had a lot going on in that brain of his, and a lot to say to his critics and the media. Being raised in a violent and sexually abusive home produced some dark and insightful lyrics on many of Guns N' Roses songs. This is likely one you've never heard unless you owned the Use Your Illusion I album.
2, Dry County, Bon Jovi. From the hugely successful album, Keep the Faith which was released in 1992, this longer, amazing song is a hidden treasure. With its slower, brooding start to the gradual build-up to one of the most amazing guitar solos I've ever heard, played by Richie Sambora, this sad song says a lot. The sadness of the oil industry drying up and dying in many places, and the havoc it wreaks on families dependent on those jobs creates a depressing backdrop for a song you've probably never heard on the radio. Check it out, especially if you like Bon Jovi and incredible guitar solos.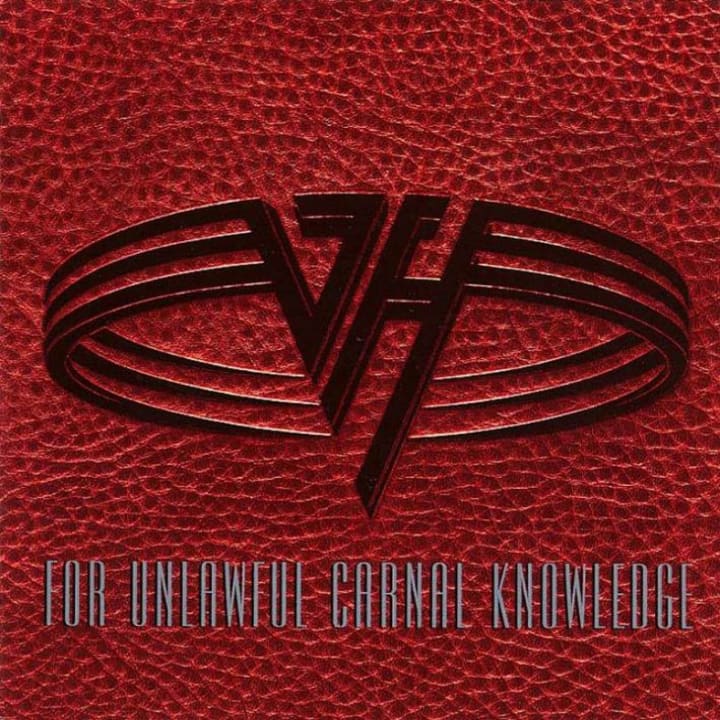 3. Judgment Day, Van Halen. This one is from the first Van Halen album I ever bought, 1991's For Unlawful Carnal Knowledge. I originally got into rock and roll music through a manager I worked with at my very first job. One of the 4 or 5 cassettes he started me off on to learn about great music was Van Halen's album 5150. The first one featuring their new singer, Sammy Hagar. So when the F.U.C.K. album dropped and we heard songs such as Right Now and Top of the World, I had to own it. Little did I realize that many of the other songs that filled the album were also incredible tracks. Such was the case with Judgment Day. Eddie's always awesome guitar riffs along with Sammy's powerful, almost screaming vocals makes this song stand out amongst an album full of incredible songs.
4. Fever, Aerosmith. The first album I purchased for the compact disc format was Aerosmith's 1991 offering, Get a Grip. It was such a great album. Most of the songs that were singles and released from it were rock ballads. The songs that didn't get much if any radio play were the ones that really rocked the most. Fever is a prime example. This song will have you tapping your foot or even jumping up to dance. Steven Tyler's lewd and clever lyrics on this along with Joe Perry's stellar guitar playing and the backing band's rhythm makes this a party anthem worth turning up full blast.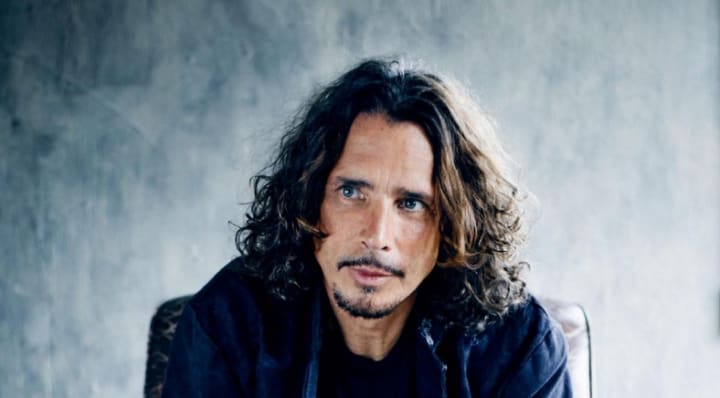 5. Big Dumb Sex, Soundgarden. I actually had never heard this vocally powerful song by Soundgarden before I heard the cover song version of it by Guns N' Roses. They did an entire album of cover songs on their 1993 album, The Spaghetti Incident? I liked it back then when I first heard the song. But I LOVED it once I heard Chris Cornell belt it out for Soundgarden, on their 2nd album, Louder Than Love. Their version is so much better than the GNR cover. That main riff Kim Thayil plays is hypnotic, and Chris' vocal performance is probably the best of any Soundgarden song I've heard. Not for the faint of heart though, if cursing and sketchy song lyrics are problematic for you.
6. From the Inside, Def Leppard. This hardly-known song comes from an album of never-released material and B-sides. It's a slower song sung by lead singer Joe Elliott, from the perspective of drugs. Specifically, what drug addiction promises it will do to its victim. Its intro sounds almost as if a bard from ancient times was playing it. It's so clever, soothing, and sad all at once. I've never heard it played on the radio and unless you're a big Def Leppard fan and own the album Retroactive, I doubt you've heard it either. But I highly recommend you check into it.
7. Crackerman, Stone Temple Pilots. Another song that speaks about drug addiction and sadly is biographical to a member of the band. Crackerman talks about an addict wanting to track down his dealer and kill him. Likely to overcome his own addiction. STP's lead singer Scott Weiland struggled with illicit drugs for much of his career before sadly passing away from an accidental overdose in 2015. This early work from their huge 1992 album core is a straight-ahead charging locomotive of a song, heavy with powerful guitar riffs and solos, while full of dark material. Scott's early struggles with addiction are painfully clear in this wonderfully tragic tune.
While most songs that get a lot of radio play tend to be better songs than those you've never heard, that isn't necessarily always the case. Check into these seven songs that I love, I think you'll be glad you did. You might even start listening to entire albums over select singles, to find your own hidden gems.
bands
About the author
Husband, father, NBA enthusiast, music and pop culture lover, gaming dad, dog father, creative writer, and blogger. Buy me a coffee? https://ko-fi.com/jasonpro9