'scuse me while I kiss the sky
Jimi Hendrix's legacy cracks through history's haze.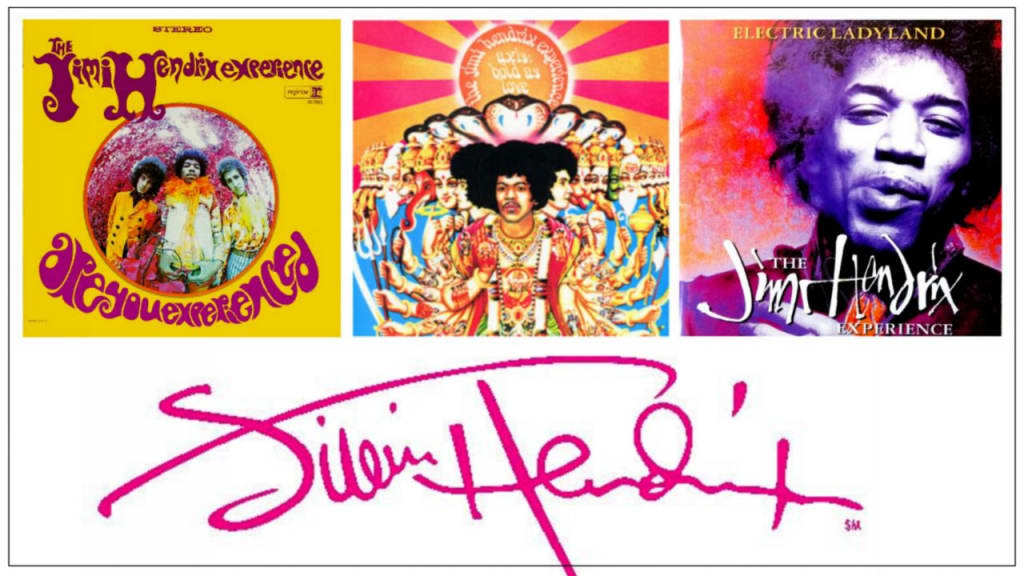 Rolling Stone loved "Are You Experienced," "Axis: Bold as Love," & "Electric Ladyland."
On June 4, 1967, shortly after the launch of the album "Sgt. Pepper's Lonely Hearts Club Band," Paul McCartney visited the Saville Theater in London to see and hear American singer-guitarist Jimi Hendrix.
Hendrix and crew (The Jimi Hendrix Experience) played eight tunes that night, including "Foxy Lady," "Like a Rolling Stone," "Manic Depression," "Hey Joe," and "Purple Haze." But it was the opening song, "Sgt. Pepper's Lonely Hearts Club Band," that still jingle-jangles in a few people's memories. Because it was so well-done? Nope. (In fact, it was raunchy-rough.) It's because the Beatles' album was so fresh (not even a week old) that covering one of its songs — especially in front of McCartney — was an unexpected Coup D'état.
"Watch out for your ears," Hendrix shouted to the crowd after feedback blasted from the speakers. "Watch out for your ears, OK?"
Here's McCartney's reaction, excerpted from the book "Many Years from Now"(1998) by English author Barry Miles.
"To think that that album had meant so much to him as to actually do it by the Sunday night, three days after the release. He must have been so into it, because normally it might take a day for rehearsal and then you might wonder whether you'd put it in, but he just opened with it. It's a pretty major compliment in anyone's book. I put that down as one of the great honors of my career."
Hendrix died three years later, on Sept. 18, 1970, at age 27. His brief (four-year) career is sprinkled with highlights as a singer, songwriter, guitarist, and performer, including:
* The Rock and Roll Hall of Fame described him as "arguably the greatest instrumentalist in the history of rock music."
* Readers of Melody Maker, a British weekly music magazine, voted him the Pop Musician of the Year in 1967.
* Rolling Stone named him the Performer of the Year in 1968.
* Disc and Music Echo honored him as World's Top Musician of 1969.
* Guitar Player named him the Rock Guitarist of the Year in 1970.
* The Jimi Hendrix Experience was inducted into the Rock and Roll Hall of Fame in 1992.
* In 2005, the band was inducted into the UK Music Hall of Fame.
In addition, Rolling Stone magazine listed The Jimi Hendrix Experience's three studio albums ("Are You Experienced," "Axis: Bold as Love," and "Electric Ladyland") among the 100 greatest albums of all time — and they ranked Hendrix as the greatest guitarist ever.
Despite all those accolades, it's worth remembering Jimi's raggedy-taggedy, resoundingly raw "Sgt. Pepper" recital at the Saville Theater — if only as an homage to an artist adventurous enough and bold enough to perform it fresh out of the oven.
By the way, if you think it's wild and crazy that Hendrix even played a song by The Beatles, consider this: During a 1967 tour headlining The Monkees, a made-for-TV rock-and-pop band that had its own weekly sitcom on NBC, Jimi Hendrix was the opening act.
How did he feel about the gig?
"Oh God, I hate them! ... I really hate somebody like that to make it so big."
Who introduced Hendrix to The Monkees? Brace yourself: It was John Lennon. He played a tape of Jimi singing "Hey Joe" for Mike Nesmith, the Monkees lead guitar player, who loved it.
Needless to say, the Hendrix-Monkees tour did not go well.
The first performance was marred when teeny-boppers drowned out the psychedelic rock star's music by screaming for the appearance of lead-singer Davy Jones with yelps of "We want Davy! We want Davy!"
Of the 29 scheduled tour dates, The Jimi Hendrix Experience played just eight. Legend has it that one night Hendrix gave the audience a one-finger salute and walked off stage — never to return.
Hendrix survived that brouhaha and went on to achieve rock star status.
What about The Monkees?
The group continued to be mocked unmercifully by critics; however, when the band toured England, The Beatles hosted a party for them. No word on whether The Monkees returned the favor by playing "Sgt. Pepper's Lonely Hearts Club Band."
.