Ryan Follese's Debut Solo Album Is Evidence You Can't Change Those Roots
Album Review Ryan Follese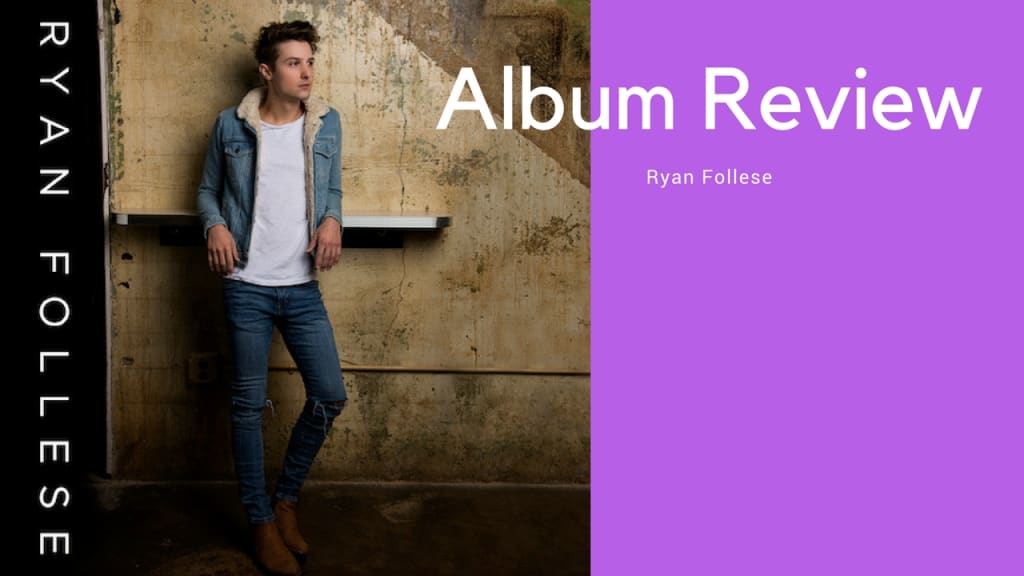 Everyone may not realize this but the guy with the guitar singing about backroads and putting a label on it isn't new to music, let alone country music. That's Ryan Follese, son of singer songwriters with country roots Keith Follese and Adrienne Follese, and he's most well known as being the front man from the pop rock band Hot Chelle Rae.
As a fan of Hot Chelle Rae with a special place in my heart for Ryan Follese since 2011, this writer cannot be more proud of Ryan sticking with music but utilizing and honoring his roots.
After an EP released in early September 2016, on August 18, 2017, Ryan Follese debuted as a solo artist with his first solo country album, off Big Machine Label Group. Which was a great surprise for fans who spent all summer watching him on various tours alongside big names in country music such as Florida Georgia Line, Locash, and most recently, Sam Hunt ft. Marren Morris.
Ryan even made an appearance at CMA Fest.
Overall, this album can bring it all home for you no matter if your usual life soundtrack is cityscapes instead of rural back roads.
Song by Song Review
"Lose A Little Sleep": You may lose a little sleep because this song may never leave your head, especially the opening line.
24/7 365 you're in my head
A country ballad about being so into someone the thought of sleep is surpassed by the constant thought of them, as well as the need for late night phone calls and texts.
"Put A Label On It": The second single Follese used to gain exposure for his debut album. It's a catchy song about finally defining the relationship and the feelings you share with someone being too hard to hide from everyone around you.
"Float Your Boat": The debut single from Follese out of the solo artist gate. It boasts lyrical content about living in the moment and doing whatever floats your boat.
"One More Round": A great follow-up track to the previous. It's equivalent to the country version of Beyonce's "Drunk In Love," and features stylistic and lyrical elements of "Body Like a Back Road" by Sam Hunt.
"Sounds Like You": A country ballad about reminiscing an ex based on familiar songs and sounds.
"No Headlights": A song about getting lost on some old back roads and not being concerned because you have everything or everyone you need sitting beside you in the passenger seat.
"One Thing Right": A love song that makes you picture everything else fading away as long as you have that one person in your arms.
"Wilder": One of my favorites off the album because it showcases Ryan's heart but still has an up-tempo melody and rhythm. And love the banjo on the backtrack.
Favorite lyric: "Like a couple of kids in the dark playing with fire just to see how hot we burn."
"Roots": Hands down, if you are having a bad day, this will make you smile and jam your line-dancing heart out, and is my favorite song off the album. It's a country jam about having small town roots no matter what city you migrate to. A harmonica really adds an amplified dance vibe.
"Sing It": Follese wrote this by himself about his time in Hot Chelle Rae, his family, and those that resonate with his music. It's one of those songs that really makes you see Ryan's heart is in fact on his sleeve, and concludes the album beautifully.
Old or young, small town roots or not, Follese's debut will make you reminisce about childhood, those old lovers, and days out on the lake where TGIF: Thank God I'm Faded.
About the Creator
Witty Writer Poet Blogger. I've been writing professionally since age 14. I run a book and music review site via The Smart Cookie Philes. I'm 26, Saint Leo University graduate, and a Florida native who enjoys street skateboarding.
Reader insights
Be the first to share your insights about this piece.
Add your insights