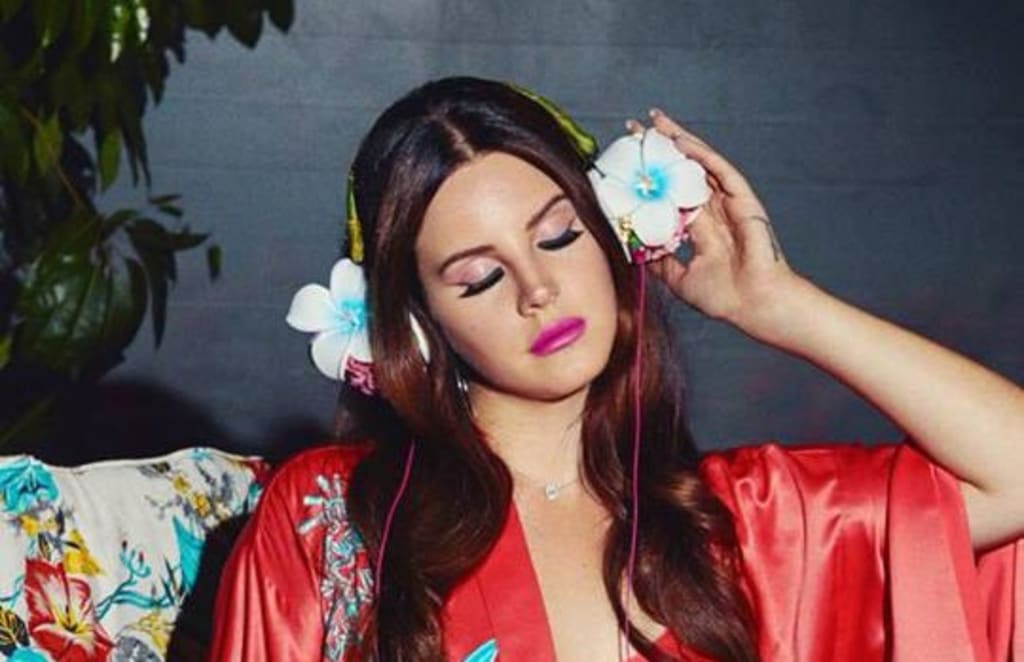 Similar to pretty much everyone else on the planet, music has saved me from jumping off a cliff and into an endless chasm of fire countless times. In this post, I'm going to share some of my favorite pieces of ear candy because I'm not just a negative bitch… I'm a negative bitch with good taste in music. For each song, I'm going to give my favorite lines and some commentary because I need to hit a minimum of 600 words to post. Now sit back, relax, and vibe with me.
1. Lana Del Rey—"Brooklyn Baby"
"Yeah my boyfriend's pretty cool
But he's not as cool as me."
Comments: We have to start with my empress, my overlord, and my entire reason for being. This song makes me want to strip in the middle of a crowded dive bar and bathe in the attention of men who aren't good for me in the slightest. Even though this came from my least favorite album of Lana's, it's in my top ten favorite songs by her. It's flawless and I totally believe that any boyfriend Lana gets will never be able to out-cool her.
2. The Marias—"Only In My Dreams"
"Baby stay here
The whispers in the trees
Are getting near
You're everything I need
To bear this fear."
Comments: I discovered this band pretty recently and I've already gone through their entire discography. They're fucking fantastic and their music makes me want to cruise around an empty street at two o'clock in the morning. This song in particular gave me goosebumps when I first heard it. My entire body felt like it was being dunked in lavender scented holy water. It was a religious experience. I felt close to God and I'm not even religious.
3. The Neighbourhood (ft. Denzel Curry)—"Kill Us All"
"Emotion only for the weaker being, make sure that nobody see
And show my intellect 'cause Imma evil genius."
Comments: Ok, let me make this clear. Denzel Curry is the only good part of this song. He went in and crushed his feature (Which didn't surprise me at all because he's Denzel fucking Curry). I strongly suggest that you only hear his part and go about your day. You don't have to skip to a certain time, just listen to the first minute and move on. I love The Neighbourhood, Jesse Rutherford was my Zeus, Hades, and Poseidon all throughout middle and high school, but... certified bops are few and far between these days.
4. Banks—"Poltergeist"
"Blame me for your false indicators
You're mistaking all my mistakes for my crooked nature."
Comments: Banks is... that bitch. Goddess is in my top ten favorite albums of all time. It helped me completely redefine my taste in music. The Altar didn't leave as big of an impression on me, which was kind of disappointing because I loved Goddess so much, but she still delivered some bops and this song was one of them. When I first listened to it, I was fully prepared for Banks' spirit to take over my body and use it as a vessel.
5. J.I.D—"EdEddnEddy"
"He told me bring him 300
I bought him excuses and like 200 or something."
Comments: When I listened to this song the first time, I was paying attention to the vibe of it rather than the lyrics, which is something I typically do in regards to rap nowadays, but when I played it again and actually listened to what he was saying, I was like, "Oh, shit, he's actually good." As soon as I was done giving it a third listen, I listened to The Never Story in its entirety and it's definitely one of my favorite rap albums. J.I.D is honestly one of the best new age rappers out there and he deserves a lot more recognition than he receives.
6. Chase Atlantic—"Swim"
"Swim, push the water to the edge and watch it drip
Check your footing, don't get caught up in the rip."
Comments: Look, I'm going to be vulgar, so please clutch your pearls in advance. Chase Atlantic is one of my favorite bands and I would let the members run a train on me. I honestly don't think there's a song they've released that I don't like. This song in particular holds a special place in my heart because it got me into them. The overall vibe of it is just flawless. It makes me want to snort coke off a girl's stomach and pass out near a gutter... which I'm not endorsing.
7. Grimes—"Butterfly"
"Why you looking for a harmony?
There is harmony in everything."
Comments: Grimes is my fairy princess twirling around in a magical music box and I love her. When I first listened to Darkbloom… I knew. What did I know? I can't even tell you. Just know that I knew. Artangels is such an amazing, unique album. Grimes has the rare ability to experiment heavily with her sound and be able to pull it off every single time. This song, and every other song on Artangels, makes me want to put on a tutu, smear rainbow paint all over my face, and throw glitter around my bedroom. It's not ear candy, it's straight sugar and I love it.
8. Foster The People—"Pay The Man"
"We hear the fire
We all go wild again
And you have the name
Of someone I love."
Comments: Foster the People is just perfect, ok? It's impossible for artists to always release superb content, to not have an off period, but these motherfuckers manage to do the impossible. Every album fucking slaps! This song is one of those rare ones that gave me goosebumps the first time I heard it. The chorus is so beautiful and it makes my heart clench every time I hear it.
9. Marina and The Diamonds—"Froot"
"Living la dolce vita
Life couldn't get much sweeter."
Comments: Marina is almost as dear to me as Lana. Words cannot describe the amount of love I have for her, especially when she gives us nothing but bops. She doesn't have to do that, but she does. God bless. This song makes me want to put on a leotard and spin around a neon pink dance studio and I live for it.
10. The Last Shadow Puppets—"The Dream Synopsis"
"Isn't it boring when I talk about my dreams."
Comments: I'm all for anything Alex Turner's divine ass decides to do. That man can do whatever he wants. If he wants to create some weird genre combing polka, screamo, and rap, I'll be all for it. That has nothing to do with the song. I just want people to know that I'll stand by him no matter what. Whenever I listen to this song, I find myself thinking back to a depressing time in my life, which isn't bad because it forces me to fully reflect on it, to learn lessons from it. Sadness is something no one wants to feel, but it's honestly such an important emotion and you have to let yourself feel it (I just realized I typed out the overall message of Inside Out).
11. Electric Light Orchestra—"Queen of the Hours"
"Black was the night that
Came in from the east
And caused the land to sleep."
Comments: I don't know for sure if ELO is my favorite band of all time, but they're definitely up there. I discovered their music recently and God I wish I grew up listening to them. I could write essay after essay about each album they've put out and people still won't understand how much I love them. This song in particular is not only my favorite song from the band, but one of my favorite songs period. Sometimes, when the sun is halfway below the horizon, I'll get in my car, put on No Answer in its entirety, and ride around a backroad until I've gone through it at least twice. It's magical and I strongly recommend it.
12. Joji—"SLOW DANCING IN THE DARK"
"Give me reasons we should be complete
You should be with him, I can't compete."
Comments: This song made me cry when I first heard it, which is, in my opinion, one of the highest compliments someone could pay to a song. It's rare when I can physically feel the emotion in an artist's voice, but this song made me feel everything. Joji took my heart and made it his bitch.
13. Jorja Smith—"Blue Lights"
"Gun crime into your right and
Drugs and violence into your left
Before our headphones flooding
The order into a subconscious wave you accept."
Comments: I constantly listen to the instrumental version of this song because I love it so much. It sounds so dreamy and magical. I feel like I'm half asleep on a cloud every time I hear it. That combined with Jorja's siren-like voice and rich lyrical content makes me feel like I'm in musical heaven.
14. Denzel Curry—"BLACK BALLOONS | 13LACK 13ALLOONZ" (ft. GoldLink & Twelve'len)
"Sky is the limit, I could die in a minute
Got my mind in a skillet, suicide not a mission."
Comments: Honestly, everyone should listen to TA13OO in its entirety because that entire album slaps, ok? Denzel Curry released one of the best rap albums of the year and it should not go unnoticed by anyone. This song in particular is pure gold. I feel an intense happiness every time I hear it. It's like crack in music form.
15. Rilo Kiley—"Does He Love You?"
"Let's not forget ourselves, good friend
I am not flawed if I'm not free
And your husband will never leave you
He will never leave you for me."
Comments: This is one of the most beautiful songs about being a side piece I've ever heard. Jenny Lewis grabbed me by the hand and took me on a journey I didn't know I wanted to be a part of. Songs that tell a story hold a special place in my heart. They're like gorgeously produced audio books.
16. H.E.R.—"Hopes Up"
"Now you dreamin' bout me while you sleeping
When you wake up I'm the reason
Eager for me like the weekend
Watchu want, watchu been needing?"
Comments: Everything H.E.R. creates is a vibe. Whenever I listen to this song, I envision milk chocolate being poured into my ears and coating my brain.
17. Ari Lennox—"Night Drive"
"Herbie Hancock on my radio
Ooh let's pull over for the liquor store
Cop some skittles and some Crown Royal."
Comments: Ari Lennox is a queen. If you want to start your day off right, listen to this song and everything else from PHO as you're getting ready for school or work. It's fucking therapeutic.
18. Lana Del Rey—"Queen of Disaster"
"When I saw your face, it was incredible
Pin it on my soul, it was indelible."
Comments: Let me make this one thing clear... Lana is the only artist who can modernize any era in music and make it sound fantastic. Don't fight me on this.
19. A$AP Rocky—"Houston Old Head"
"I said I'm just on my grind, I come to Houston all the time
He said what's been goin' down in your New York state of mind."
Comments: Live. Love. ASAP is such a good project. This song in particular is one of my favorites from it. It's chill, A$AP has such a smooth flow on it, and it's perfect to get high to... not that I get high or anything. I would never touch the devil's cilantro.
20. Phil Collins—"Against All Odds"
"How can you just walk away from me
When all I can do is watch you leave?
'Cause we've shared the laughter and the pain
And even shared the tears."
Comments: If you say you've never listened to this song and pretended like you were in a depressing yet epic music video... you are a liar.
Reader insights
Be the first to share your insights about this piece.
Add your insights