Rockaway Bitch to Debut at Garcia's the Capitol Theatre Alongside Straight to Hell
The all-female Ramones tribute band will headline with The Clash cover band, Straight To Hell, at Garcias this weekend, in Port Chester.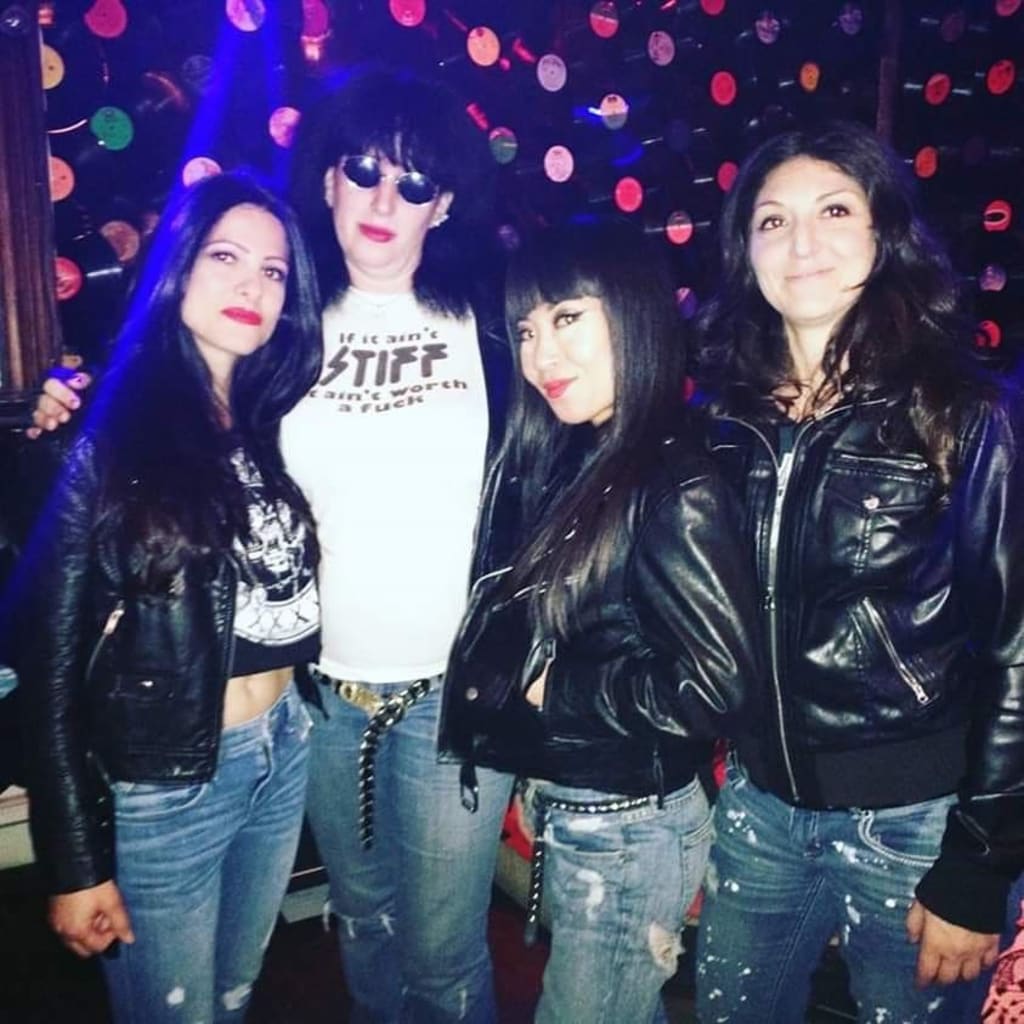 Rockaway Bitch, the all-female Ramones tribute band, will perform a selection of the Ramones classic hits at Garcia's Capitol Theatre, in Port Chester this Saturday, April 13. This marks their debut appearance at the rock palace's music venue and bar, named after the late Grateful Dead lead vocalist and rock legend, Jerry Garcia. The concert will also feature The Clash cover band, Straight To Hell—who will play The Clash's greatest hits. There's something for everyone! The show is for the 40th Anniversary of the Clash album, London Calling. The band Straight to Hell will take the stage after Rockaway Bitch. The band line-up includes Patti Rothberg as Patti Ramone (lead vocals), Jennifer Eden asJenny Ramone, (guitar) Rockelle Cakes asCakey Ramone, (bass) and Hitomi Nakamura as Tomi Ramone, (drums).
A Conversation With Rockaway Bitch:
I interviewed both the guitarist, Jennifer Eden (Jenny Ramone) and my sister, lead vocalist Patti Rothberg (Patti Ramone), and they're both looking forward to playing Garcia's this Saturday night!
Suzanne Rothberg: Patti, you've always been a huge Ramones fan what do you enjoy most about portraying Joey Ramone on-stage? You met him once too, and his mother!
Patti Rothberg: (Patti Ramone): There's a Ramones song "I'm an Outsider"(outside of everything)... we don't perform it yet. But growing up in Scarsdale, I always felt like that. I already had green hair by age 14... it's not like today where every kid has rainbow hair. I had to make a special trip into the city to visit Tish and Snookie's store, that sold the colored dye, which was called 'Directions.' I also had bright red streaks. I was drawn to everything subversive, but felt stuck in the suburbs.
PR: I went to see The Ramones at the old Ritz (Webster Hall)... people asked me if I was related to Joey Ramone... I was wearing those red glasses and hair in my face. When I went to visit my friend Lara (we bought our electric guitars together in 1988) at 'Manny's'—her school was filled with girls who used tons of aerosol in their hair... While they were doing their upstate metal/guidette chick thing, I was dressed in tight black leggings, skull boots, and dyed black hair. They never saw a thing like me in Saugerties! I saw Rock n' Roll High School and wanted to be Riff Randall (but I was really more like Kate Rambeau)... dating all these young guys (Maybe I'm Miss Togar!!? LOL!). But really, the person I always related to the most right away was Joey Ramone. He was my 'George Glass!' (fake boyfriend from Brady Bunch).
Suzanne Rothberg: Jennifer, you've been touring. What places have you played, any places that resonate with the band? And you're playing how many shows in the local area? You will continue to tour this Spring.
Jennifer Eden: (Jenny Ramone) We mainly play in the five boroughs, most often Manhattan, Brooklyn, and Queens. We've also hit upstate New York, for example, Newburgh, and have gone as far as Ithaca and Cortland. We've played throughout New Jersey, hit Connecticut, Pennsylvania, D.C., and we're currently working out the details for a show in Mexico City!
Suzanne Rothberg: Jennifer, what's the most complicated part of being in the band?
JE: It's not at all complicated—I mean, remembering 40 one-minute-long songs, with random structure can be a bit complicated, but for the most part, we just do our thing and have a lot of fun with it.
Suzanne Rothberg: Jennifer, the band was part of a documentary about Joey Ramone, any updates on that project?
JE: Yes, the documentary was actually focused on Joey Ramone. A film crew from Belgium emailed us, and asked if we would be a part of it. They were coming to NYC to film, and they met us at our usual rehearsal space. It was a great time, and we were honored to be a part of it. It has recently aired on national television in Belgium, but cannot be viewed in the states. I'm working on getting a link that would allow us to view it. One of our most supportive fans is actually from Belgium, and he was the one that informed me that he saw us on TV, pretty cool!
Suzanne Rothberg: Patti, were you always into their music?
PR: The first time I heard the Ramones was actually in the movie Times Square (1980) Robert Stigwood (Saturday Night Fever)! Even though I'm 46, I still relate to those teenage runaways, and punk clubs in a New York City that has disappeared. I continued to follow the Ramones and buy their vinyl thru high school. I was into them from the minute I heard them, until now. Same as when I heard Gainsbourg in Paris, before I spoke a word of French, I instinctively liked it... the TONE of his voice, the sarcasm, and fun of it. Sure enough, Gainsbourg was making word games in French, and I could tell by the attitude. The Ramones had the perfect formula for me: silly lyrics but sometimes about serious topics (what they want... I don't know?).... infectious sing-along choruses. Harmonies (which they're not famous for, but are surely there! As soon as I learned to play guitar, I found out how hard it is to play those songs, that sound so simple! (All downstrokes... respect to Johnny and our own, Jenny Ramone).
Suzanne Rothberg: Patti, what's your most requested Ramones song at gigs?
PR: We play most of the big hits, so everybody is happy. But we have had requests for "Warthog", and "Happy Family." We're just adding those now!
Suzanne Rothberg: Patti, when you first auditioned the band was originally a trio, and before that a previous musician left and had to be replaced. What did they like about your performance? You're the female version, and resemble Joey Ramone.
PR: This is a good time for a shout-out to our previous drummers... one was injured in a car accident. Not seriously, but missed that gig. The drummer who got me out of my shell and into the band was named Hana Mess or Messy, ironically because she made organic soap. The band started as a trio, with our bassist, Cakey singing to a strong fan base of (who-da thunk, but why not!?) spanish teenagers, in secret clubs in the South Bronx. A lot of these same original fans still come out and insist on posing with us like we're the real Ramones, and get autographs too. We lost a dear friend in early 2016, Jay Dodds, who was our drummer, Hana's boyfriend. He was a great guy, and always helpful with sound and carrying stuff. He passed away in his sleep.
PR (Continued): I was devastated that the band didn't play for many months— at some point, we were approached to try to play again, just to see... one gig in Brooklyn. For that one gig, we got a sub. Little did we know that our sub, the powerhouse, fashion model, and otherwise wonderful Hitomi Nakamura played the gig. It sounded so diabolical; the music seemed to play itself. She really understood the Ramones' drumming. It was emotional, but Hitomi was our missing piece. We went on as a Ramones tribute band, complete with props, Jenny's low stance and down strokes, Tomi's Tommy glasses and hair... my Joey glasses and vocal impersonation. Oh, I forgot the part where Cakey (bass) who had been in a cover band with in 2012—asked me if I would be interested in playing Joey in a Ramones band. I was like... "um, YESSSS!" and that was it.
Suzanne Rothberg: Patti, You'll be on tour this spring with Rockaway Bitch. This is your first time playing with Rockaway Bitch at Garcia's. The name is a tribute to the original band, but with one exception you're all women! The fans get pumped up when you play, and you deliver a kick-ass performance! Any thoughts on this?
PR: We are not treated like a girl band... the fans, who are all ages, including the original Ramones fans, who saw them over and over at CBGBS and beyond... they have only great compliments like "Thank you for bringing our favorite music back to us. You sound just like the Ramones like we remember them!" NEVER anything even close to, "You guys are pretty good for a bunch of GIRLS." Because each one of us has honed our instruments, and without being insulting, we emulate our respective band members. We play like girls, and that commands respect in our case!
Suzanne Rothberg: Any message for your Ramones fans?
PR: Yes. The Ramones were really special. Plenty of bands launched off of their sound, but there was, and can only ever be ONE Ramones. We always feel wonderful when we hear compliments about Rockaway Bitch... because we are the biggest Ramones fans of all. We aim to make it authentic and fun. We work hard having this much fun! Come see us and experience it for yourself. Rockaway Bitch... they NAIL it!
JE: Our message to the fans is thank you for accepting us—Gabba, Gabba Hey! We are continuously humbled to hear such positive feedback from our audiences, and we have such a great time sharing the experience of this music live with them. Ramones Forever! Having Patti as our lead singer... there is never a dull moment. Between her props on stage, and her quirky and witty-as-hell sense of humor, she is so much fun, but most importantly, she is so faithful to her role as Joey, and seriously 'nails it!' With all of her success as a solo artist and all of the many talents she possesses, I feel privileged to be in this band with her, and would want it no other way.
JE: (Continued) We are looking forward to playing our first show on April 13th at Garcia's at The Capitol Theatre. We are so excited to be asked to play at such a historic and iconic location. It will be a double headline show, with our pals Straight To Hell, who do an amazing job of covering The Clash.
Tickets are available through Garcia's website / or through Ticketfly.
concert
Suzanne Rothberg
Suzanne Rothberg is an entertainment writer and video producer. She has interviewed many celebrities and musicians—including Justin Hayward and John Lodge of The Moody Blues, Jack Blades of Night Ranger, Tommy Shaw of Styx and many others.

See all posts by Suzanne Rothberg →