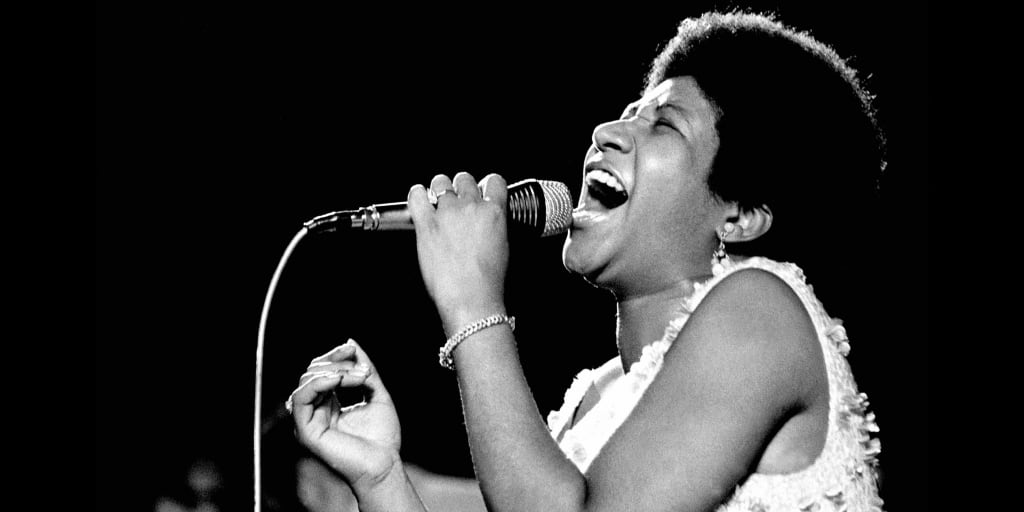 The Queen Herself
"Rock steady, baby
That's what I feel now
Let's call this song exactly what it is" -Aretha Franklin.
Growing up in a black household meant cleaning up the house on Saturday's while my mom bumped all the soulful hits while shaking her hips from side to side. Looking over her shoulder with a smile while yelling, "You don't know nothing 'bout this." I would then roll my eyes and smile because this was all I knew. This soulful R&B is what I grew up on, but there was something about Aretha.
Like many of the greats, Aretha Franklin grew up singing in the church. She went on to have one of the most influential music careers of all time from being the first woman inducted into the Rock and Roll Hall of Fame to being the first African American to headline at Filmore West.
Aretha Franklin accomplished in her career what some artists can only dream of. She was never able to be put in a box and seeped through many genres of music like she seeped through my soul when I listened to her.
HER STORY
Aretha got her start in music when she signed a record deal with Gospel Division and created her very first album titled, "Songs of Faith."
She then signed to Columbia Records where she produced songs like, "Today I Sing the Blues." For her to only be 17 and to create such a beautiful masterpiece was unbelievable. While at Columbia Records, she produced her next album "Aretha." They were trying to put her in the jazz genre, but it didn't stick.
Shortly after, she went on to produce her next pop-like hit titled, "Mockingbird." This song took her out of the jazz genre and put her into pop.
She then moved onto Atlanitc Records and produced a blues number titled, "I never loved a man the way I loved you." This song has transcended decades and has even been played in movies such as "This Christmas" and "Major Payne." This song is one of my favorites because like many other woman, I have dealt with a "no good" men. This song is a genius record.
Soon after came the infamous "RESPECT" which won her two grammys and launched her career into complete stardom. She had put her stamp in the music industry with hits that could never be forgotten. It is one thing to make a one hit wonder and it's another to make hit after hit.
After creating this extraordinary song that became a timeless hit, she went on to create, "You make me feel like a natural woman."
She then returned back to gospel and created her "Amazing Grace" album that, till this day, is one of the best selling gospel albums. Everytime I see this performance, it brings me to tears.
After creating another masterpiece, she signed with Arista Records where her and Clive Davis-well-known producer- produced some of her biggest hits. Clive Davis said in an interview that she was a perfectionist and would take no more than three takes to complete a song while most artists take weeks or months.
George Michael wanted to duet a song with Aretha and reached out to Clive. The song, "I knew you were waiting (For Me)" became number 1 all over the world and got her inducted into the Rock and Roll Hall of Fame.
Lets not forget the time that she subbed in for Luciano Pavarotti when he became sick and couldn't perform at the 40th Grammy Awards. Without any rehearsals or preparations, she got on stage and performed the song for him. This performance always brings me to tears. To be known as the Queen of Soul and still be able to effortlessly perform a song in a genre she was not really familiar with. This is a true artist.
THE QUEEN OF SOUL
Aretha Franklin is not known as the queen of soul because she did a few R&B hits here and there. She is known as the Queen for being able to shift into various genres of music with such class and ease. She has taught me that it is okay to not fit into any box and to break barriers and shatter labels bestowed on me.
She created music that every woman could relate to. Whether our hearts got broken or we needed a boost of confidence, Aretha had a hit for us all. She let me know that it was okay to feel sad or mad and to dance away the pain. She also made me feel that it was okay to want love and to be happy when I get it. She made me feel in a world that has always been so cold. She became that icon that many young female artists can look up to. An image of grace and power. A woman who just opened her mouth and let her voice show you how iconic she was.
Her music, to me, showed me how a true artist should always make you feel. You should always feel some type of emotion when listening to their songs and if you don't, then they have not done their job. Music should hit you in your soul every time. This to me is what quality music is.
There might never be another artist like Aretha Franklin, but that's okay. We have numerous songs we can bump at any given time. She has made music that will never die. It will go with the times and continue to be heard by generation after generation. She is the queen of music and her legacy will live on.
P.S. Here is my favorite song by the Queen and please remember to rock....steady.