River Studios Open mic 23rd of February
Recap from the Open mic night on the 23rd of February.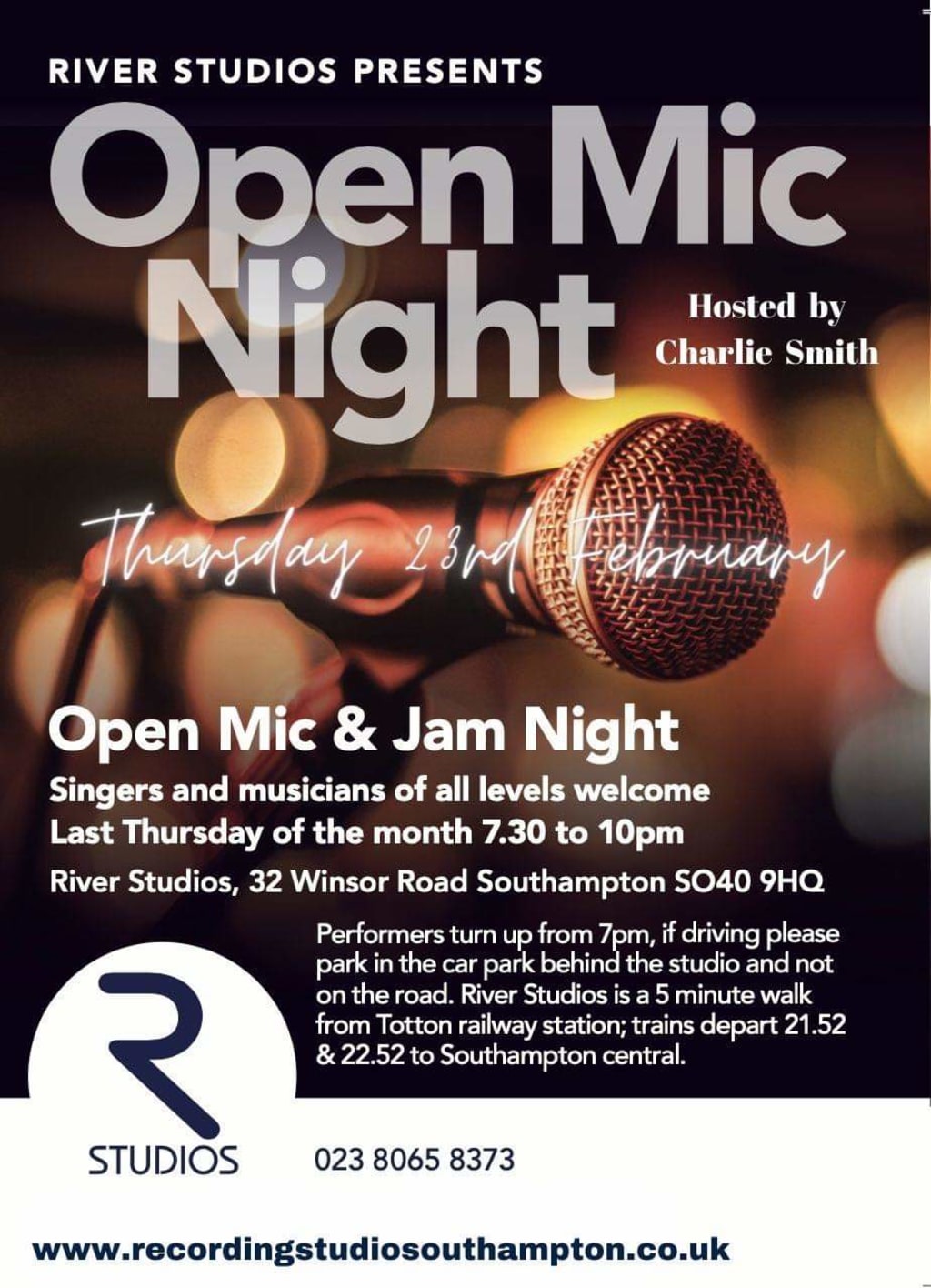 A new venture for me over the last couple of months has been to run a monthly open mic at River Studios. A local studio to me with a performance space. I thought it would be a great idea to do a little write-up of these events and also share the photos that are taken from the evening. I've also recently created a Facebook group for the event, so feel free to check that out if you are interested. Before I go any further I'd also like to thank all the artists that have played so far in the first couple of events. It has taken me a while to get everything set up how I'd like it. Of course, when you do something new, it will always take a while to build it up into what you want it to be. Hopefully, in the next few months, we will see some great open mic nights at River Studios to add to the huge list of open mics in Southampton.
So now I'd like to get into photographs. I also will share any news and information on the act. There will also be some music links that were applicable and social media links. It'd be absolutely awesome if everyone supported each other.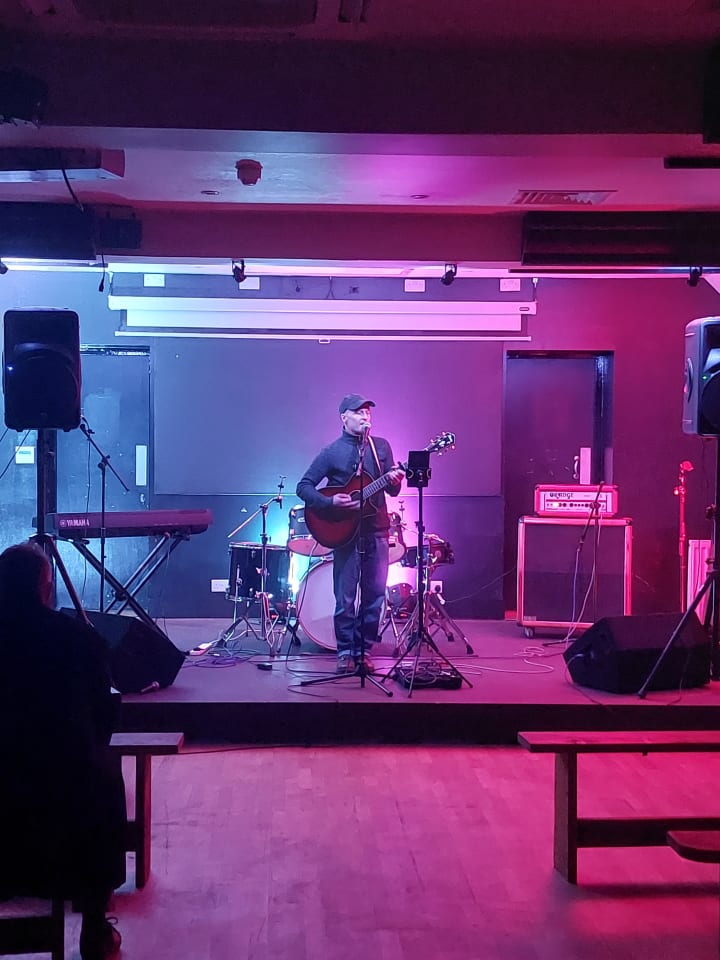 First up, we have Simon Morley. One thing to note is the use of pedals! Do you use pedals !? Personally, I don't, but if you want extra effects, then this would be the way to go. Plain acoustic guitars can get a little boring, so adding effects might be the way to go. Chorus, reverb. The choice is yours. You can find Simon Morley's music on Spotify so please go and listen here;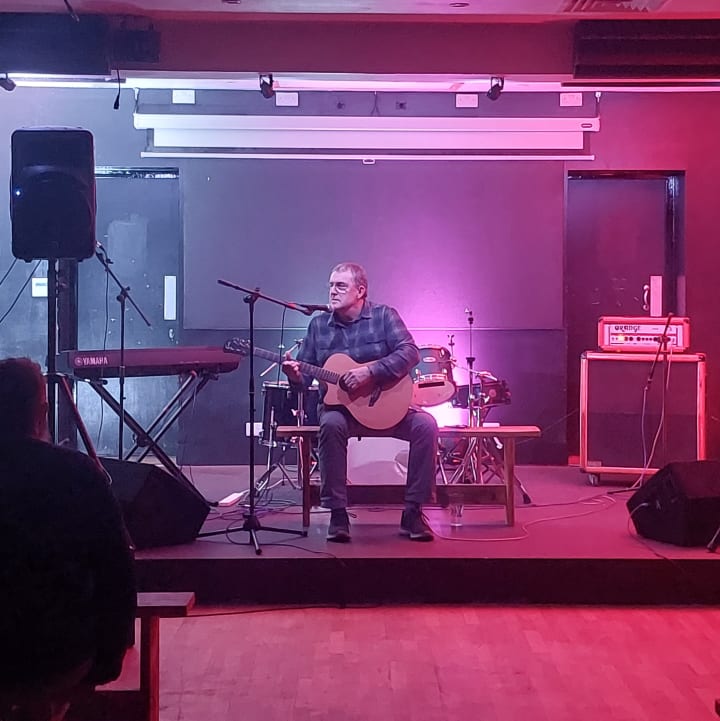 Next up, we have Geoff, or should I say 'Taylor made band' as the name he performs under. Some very exciting news is that he will be playing at HI Fest over at Hayling Island (Dates + times TBC). Hopefully, this was some good practice and should be a cracking festival this summer.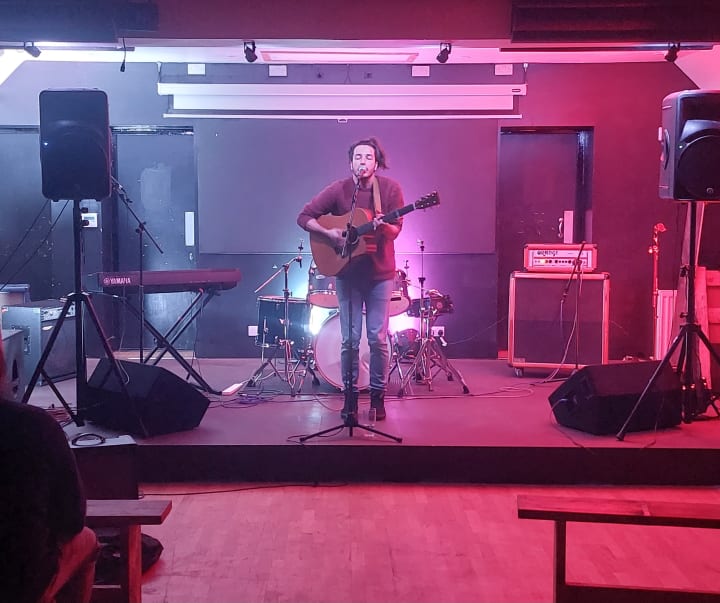 Next up, we have the ever-present Chvrli Blvck! Always seems to have a cracking performance at River Studios. Not only is he performing at the open mic, but he is also currently recording some new music at River Studios. Just relentless as he also just dropped a banger, so check that out. Why did you go? To get another beer, of course.
Talking of beer, we have a real rock and roller next. An avid tea drinker before a set and performing with a seriously low strap. I'm giging with Anna on the 2nd of April at the railway in if you fancy catching her next solo performance live.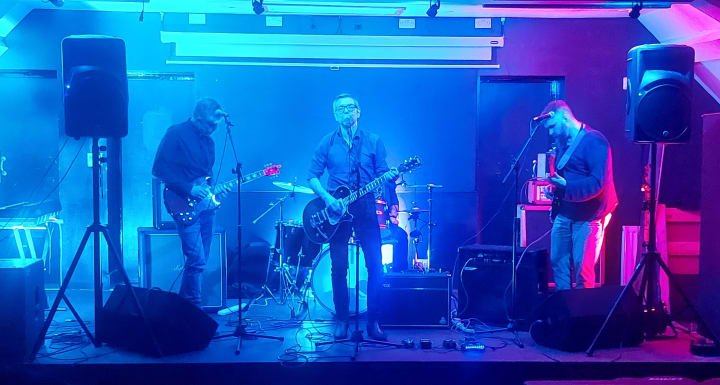 To end the evening, we have THCCP yes that is an acronym and no, I am not explaining what is or what it means. You'll have to ask them at their next performance. Which I believe to be the 30th of June at the Ark bar in Andover. Hopefully, they will be booking some more gigs soon because they are sounding great.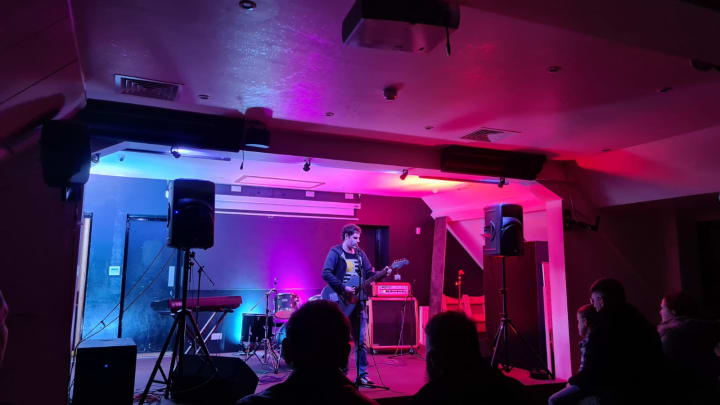 Ohh and I nearly forgot about me! I'm not that vain so let's quickly move on. Thanks, Chvrli Blvck, for capturing the moment.
That's it for this month's article! I want to say super sorry to all the acts that I didn't manage to get photos and/or didn't include in this article. As I have to run the sound as well, there is a lot to do in the evening. I'd like t give them a shout-out at least; Iris, Brooke, Stehp, and Charlotte. Thank you for performing.
The next River Studios open mic will be on the 30th of March. If you'd like a slot please drop a message on you're preferred platform. You can find a link to all my socials here;
Thanks for reading. See you for the next open mic.
About the Creator
I'm new to this but hey I'm giving it ago. I sing and play guitar. I'm here to share a few bits of info I learn along my journey
https://linktr.ee/CharlieSmithMusic
Reader insights
Be the first to share your insights about this piece.
Add your insights