Review - The Pony Collaboration 'Everything Was Ages Ago'
Cambridge-based band returns with their first album in almost a decade.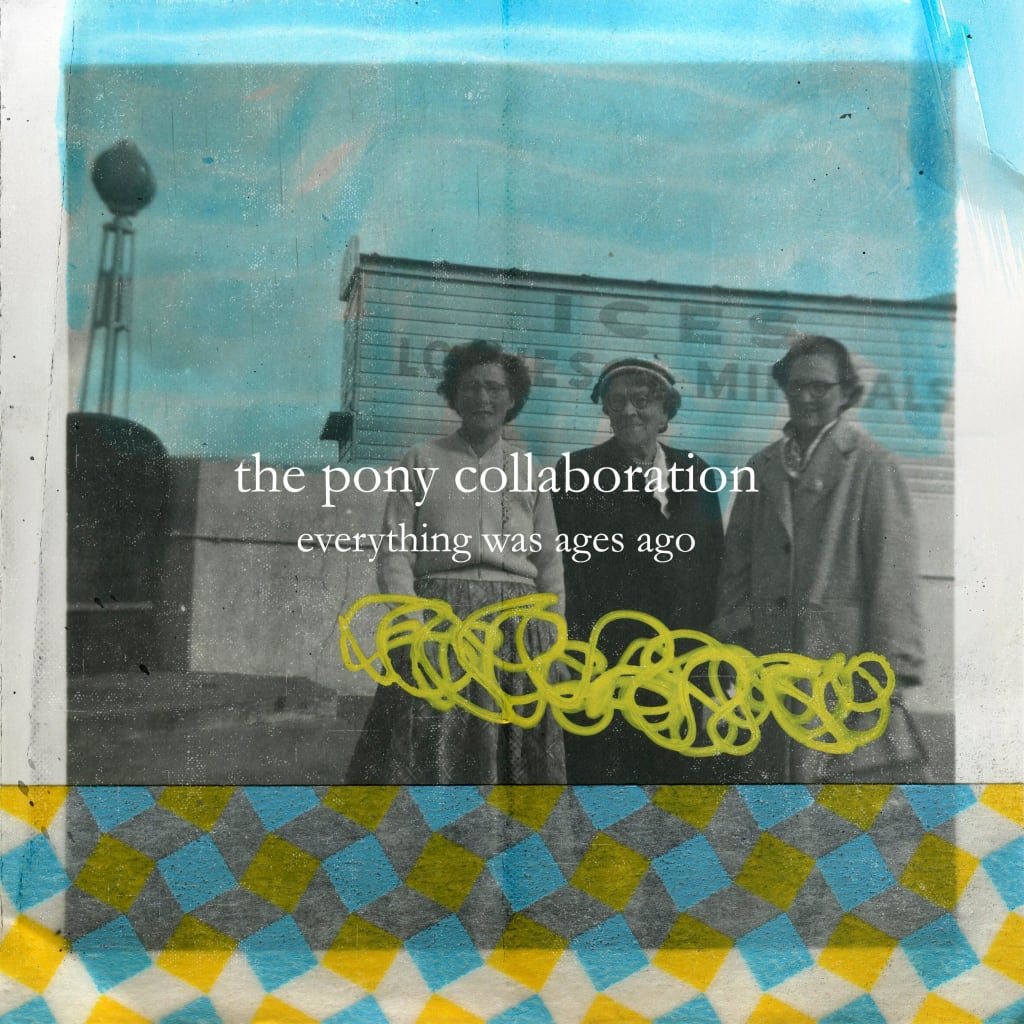 If Everything Was Ages Ago, the first album from The Pony Collaboration since 2009 after the band's extended "accidental hiatus," sounds like something from a simpler time, that's because it is. Comprised of previously unreleased songs recorded between 2010 and 2013, Everything Was Ages Ago invokes the lazy, carefree feel of a laid-back summer day, and it's not hard to see why the band has drawn comparisons with a host of artists from Tindersticks to The Go-Betweens to Los Campesinos!
Yusuf Albasri, Tom Barden, Michael Chalmers, Michael Grayer, John Lyons, Marc Rothera, Sophie Ryan, James Scallan, Ellie Walker, Claire Williams - a.k.a The Pony Collaboration - released their first, self-titled album back in 2007, followed by If These are the Good Times two years later, a follow-up which expanded their sound to incorporate wider orchestration, including brass. Everything Was Ages Ago is arguably their most diverse and interesting album to date, and the band are currently in the studio, working on a fourth.
The Pony Collaboration is exactly that - a collaboration. A sizable pool of artists contribute to the overall sound, but balance band life with other commitments, allowing members to dip in and out of playing live, writing and recording. It's a relaxed and organic approach to making music which is very much reflected in the band's sound.
As you might expect with ten members, the album showcases a variety of musical styles and influences, but never feels over-egged. Simple, stripped down melodies and riffs give way to lush instrumentation and unexpected sounds and time signatures. Many of the tracks have an almost timeless quality about them, with wry lyrics on universal themes, and cheeky self-referential musings. Everything Was Ages Ago rewards repeat listening, as there are lots of surprises, both musical and lyrical which are impossible to take in all at once.
The interplay between James Scallan's vocal and the voices of Claire Williams and Ellie Walker is reminiscent of Belle and Sebastian on tracks such as opener, "Spare Me the Details" and "The Novelty Wore Off," and there are hints of The Beautiful South and more than a dash of Kirsty MacColl in the title track. "Everything Was Ages Ago" is a real grower of a song. A cheerful, sweet, toe-tapper, it's a nice addition to the pop tradition of conversational male/female duets, with a country twang. The female-driven "Sooner or Later", "No Difference", and "Steven" also channel MacColl's brand of smart, acerbic pop, and give an injection of sassy energy.
Touches of Americana frequently creep into the mix, as highlighted by numbers such as "The Only Song I Ever Wrote for You," although the sentiment is very British and self-effacing. "Sorry" starts out as a simple acoustic refrain and opens up into something far vaster and more sweeping with the addition of country-style electric guitar strains in the chorus. Lush and heartfelt, it's one of the highlights of the album. A country flavour is also present in the lovely harmonies on the album's final track, "When I'm Lost," and the percussion imbues it with an almost lullaby-esque quality very fitting for a closing number. If this album is a sunny day, "When I'm Lost" is the inevitable sunset.
"Citizen Kane" is a laconic, dreamy, somewhat sad (and entirely relatable) meditation on expectations versus the realities of love, while "Continuity Errors" is a syncopated, funk-fueled, bass-driven oddity.
Spring is upon us, and might still be freezing out there, but, this little collection of songs will transport you to warmer climes in no time.
Everything Was Ages Ago is out now on North Bend Records, available on digital and CD formats.