Remembering David Bowie 1947–2016
A Celebratory Recollection of His Enduring Impression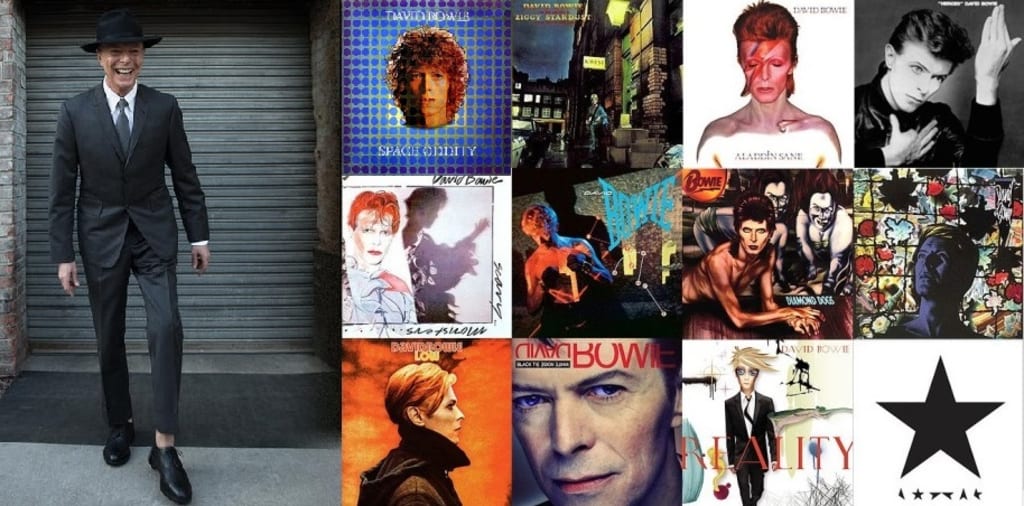 This week inconceivably marks two years since David Bowie's untimely passing, but it's still hard to believe he's gone. This week, on what would have been his 71st birthday, I am once again exploring his extensive catalog, as I fondly reflect upon my personal journey of discovery into the bewildering artistry of Bowie.
Where to begin when discussing David Bowie? It's almost impossible to define one of the most influential artists of all time with a musical legacy of near-mythic importance, especially considering his career spans from 1962 to 2016 and includes such classics as "Starman," "Rebel Rebel," "Heroes," and "I'm Afraid of Americans." Not to mention his vast canon of 25 eclectic albums, each one a divergent musical statement contained within an illustrious work of graphic art.
Nearly every Bowie fan has a favorite period or persona with a specific entry point, making it all the more difficult to attempt summing up the gender-bending, sexually ambiguous performer and musician's life and accomplishments without writing an entire book (of which there are already more than a few of in existence). So instead I'll try to sum up what impact the icon of music, film, art, and fashion had on my life.
My initial exposure to David Bowie was from top 40 radio and television shows such as The Midnight Special, Soul Train, and Saturday Night Live during the 1970s. As a kid, I already liked the songs I'd heard ("Space Oddity," "Fame," and "Golden Years" were my favorites), but as a sheltered pre-teen I was jarringly taken aback, even frightened by him, when first exposed to his spaced-out androgynous Ziggy Stardust persona. My initial reactions to the glam rocker were fear, confusion, and intrigue as I'd never seen or heard anyone like him, but my initial perceptions morphed into unadulterated admiration in the 80s.
I can remember being completely blown away as I sat transfixed the very first time I saw the "Ashes to Ashes" music video on MTV. This resulted in my newly awakened interest, just in time for Bowie's latest incarnation, as he dominated the new music video age. Let's Dance was the first Bowie record I purchased (as I became hypnotized by the infectiousness of "China Girl" and "Modern Love"), which led to my own personal discovery period as I began to delve into and devour each of his past albums from Scary Monsters (and Super Creeps),The Rise and Fall of Ziggy Stardust and the Spiders from Mars, The Man Who Sold the World, and Space Oddity.
My rekindled interest continued as I greedily consumed all of Bowie's output from that point forward, especially Labyrinth and Never Let Me Down, which culminated into my all-time favorite Bowie tour and live recording; his epochal Glass Spider Tour (although it's often maligned and dismissed by critics and fans alike). I would watch my VHS copy with such repeated regularity, it eventually caused lines of distortion to run through the worn video image. Let's just say I was in desperate need of upgrading my fuzzy video years later when it was re-released as a DVD/CD combo. As the years went by, Bowie grew to be a perpetual constant in my life as one of my favorite artists, as it never ceased to be a major life event for me whenever he'd release a new musical opus.
I'm pleased to say I finally had the opportunity to experience one of his electrifying and unequaled live performances in 2004, during what was sadly to become his final concert tour. The two-and-a-half-hour set was truly one of the greatest moments of my life (as well as one of my most cherished ticket stubs) and not a moment too soon either. Just weeks after attending his concert, Bowie underwent an angioplasty procedure for a blocked artery and the remaining dates of his A Reality Tour were cancelled.
Following his heart surgery, Bowie seemed to all but disappear until 2013, when he quietly surprise released The Next Day. His first album of new material in a decade proved to be well worth the wait, as TND debuted at number two on Billboard and received glowing critical praise. After a 10-year span of virtual silence, it was a sigh of relief to hear exciting new material. This exciting time of reemergence continued as "Moonage Daydream" was featured in the film and soundtrack of James Gunn's Guardians of the Galaxy. Shortly after Bowie's music was forever immortalized into the Marvel Cinematic Universe, news swirled that we could expect another new album early in 2016.
I was beyond elated when Bowie's Blackstar was released on January 8, the artist's 69th birthday. I spent that entire weekend enraptured by the eerily dark, but strangely hypnotic new music. I couldn't help noticing an indescribable undercurrent within the lyrics the more I listened, especially in "Lazarus," "Dollar Days," and "I Can't Give Everything Away," but I was too elated at having new Bowie music to dwell upon its darkness too deeply. However, this uneasiness became all too clear when I awakened on the following Monday morning to the shockingly unforeseen news that Bowie had passed away after an 18-month struggle with cancer. My first thought was that it had to be an internet hoax, but sadly it was confirmed as I watched the plentiful tributes begin to pour in from around the world.
Death is an unfortunate reality for all of us, but it almost seems as if some people are supposed to miraculously beat the cosmic odds and defy death. Somewhere deep down in my subconscious, I think I always believed that if anyone could escape the Grim Reaper's grasp, it would have been David Bowie.
Thank you, Mr. Jones, for sharing your talent with us mere mortals and giving the world such a magnanimous and inspiring body of work.
"There's a starman waiting in the sky/He'd like to come and meet us/But he thinks he'd blow our minds…"
About the Creator
I'm a music journalist, blogger and crate digger. I began writing about music during college and again as a freelancer. Links to my published pieces can be found on my music blog at: popmartzoo.com and/or follow me on Twitter:@popmartzoo
Reader insights
Be the first to share your insights about this piece.
Add your insights