Reinventing David Bowie
Will the Real David Bowie Please Stand Up?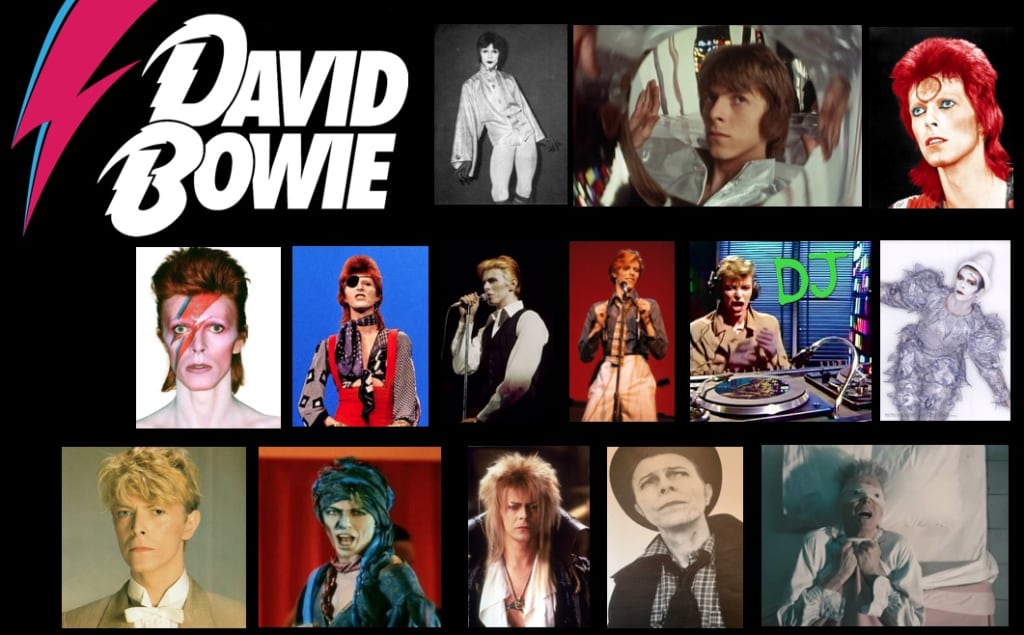 Throughout his career David Bowie took on many personas and characters. Some lasted several months other were a one-time appearance in a music video or photo session. Maybe Bowie used these personas/characters to escape his own realities of fear. This may have been a mechanism for coping with the demands of fame and always having that spotlight on him. When he crawled into one of his personas such as Ziggy Stardust or The Soul Man it was okay for him to express his inner anger and fear because after all it wasn't coming from David Jones but rather from a persona of his larger persona - David Bowie.
With all these changing characters and personas there was always a concern for his mental health. David Bowie himself was a persona and a character - the larger character that followed David Robert Jones around everywhere he went. It was that character that saw scary monsters deeply embedded in the fame he achieved. Bowie was a fashion guru who seemed to crawl up the hill backwards and hitting a million dead-end streets.
It was David Jones not David Bowie that constantly feared for his mental health. There was a history of schizophrenia and other mental disorders in his family. Jones was highly susceptible to losing his mind and "going crazy." He buried his identity deep into the moniker of David Bowie. David Bowie became a drug addict. David Bowie delved into debaucheries of all kinds. Once the fears became to large for the persona of David Bowie that's when characters such as Ziggy Stardust and Halloween Jack were born - these were an escape from the escape. These characters gave David Bowie license to be as nasty a person as he felt he needed to be. All the while David Jones was being more and more choked out of existence. David Jones was being suffocated. I CAN'T BREATH... It was the death of David Jones that brought life to David Bowie's most creative era 1972 to 1980. Album after album was genius. There was no stopping him. David Bowie was alive. But where was David Jones?
Mime Bowie 1967-1969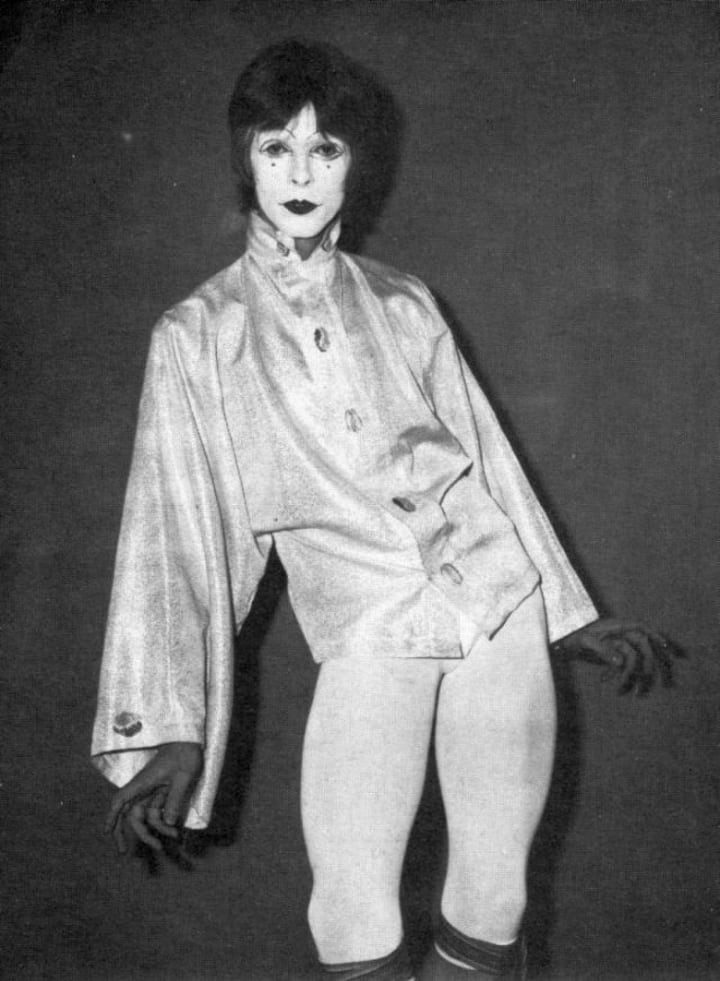 Bowie was a master mime. It was one of his earliest artistic pursuits. Through the 60s Bowie studied with performance artist Lindsay Kemp. At this point in time Bowie was a mime who occasionally sang. His albums were not selling and his record company wanted to drop him. Fortunately the song "Space Oddity" happened and Bowie went on to become a legend. Mime was an important part of Bowie's stage persona throughout the 1970s.
Major Tom 1969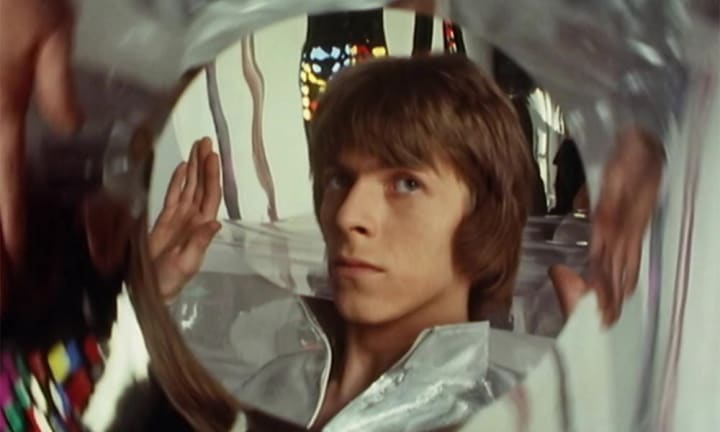 Major Tom was not a fully developed character as was Ziggy Stardust. Major Tom existed to bring life to Bowie's classic "Space Oddity."
Major Tom made a few comebacks in the Bowie songs " Ashes to Ashes" (1980), "Hallo Spaceboy" (1995), "Blackstar" (2015). Bowie, however did not reincarnate the character in these subsequent song, he only mentioned him within the lyrics.
Although a somewhat one-dimensional character Major Tom has lived on in the imagination of the fans and general public for decades. In 1983 German singer, songwriter, producer Peter Schilling had a huge worldwide hit with his synth-pop new wave song "Major Tom (Coming Home)." In 2003 Major Tom was again depicted in song, this time from the perspective of the wife he left behind in the song "Mrs. Major Tom" by K.I.A. and Shinjuku Zulu featuring Larissa Gomes on vocals. "Mrs. Major Tom" was rerecorded in 2011 by Sheryl Crow for inclusion on William Shatner's space-themed concept compilation album. The album also includes Bowie's "Space Oddity" and Peter Schilling's "Major Tom (Coming Home).
Ziggy Stardust 1972 - 1973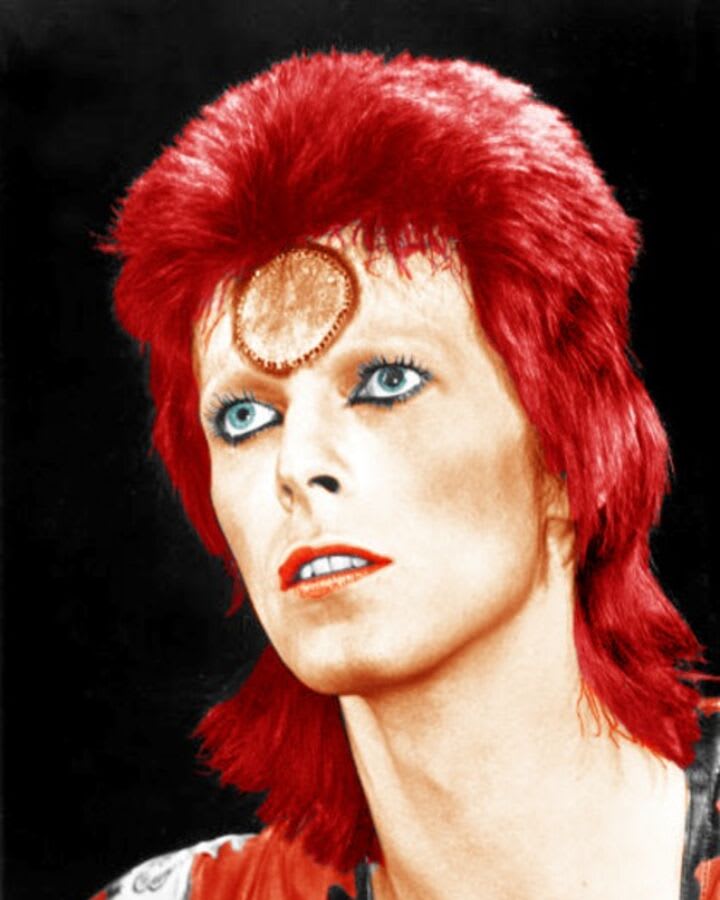 Ziggy Stardust is the identity most identified with David Bowie. Ziggy Stardust and David Bowie were one and the same.
David Bowie once described Ziggy Stardust as being, "half out of sci-fi rock and half out of the Japanese theater."
Stardust Bowie's gender fluid space rock alien included influences of Japanese theater, mime, and glam rock.
In the documentary "Cracked Actor" Bowie mentions how Ziggy Stardust became much bigger than he anticipated. Ziggy pretty much overshadowed everything. In July 1973 (some sources say it was 1974) Bowie killed off Ziggy Stardust. Bowie became very lost within Ziggy Stardust. Bowie alluded to it being some sort of schizophrenia. Speaking of Ziggy Stardust and some of his other characters he said, "I got lost at one point. I couldn't decide whether I was writing the characters or whether the characters were writing me. Or, whether we were all one and the same."
Aladdin Sane 1973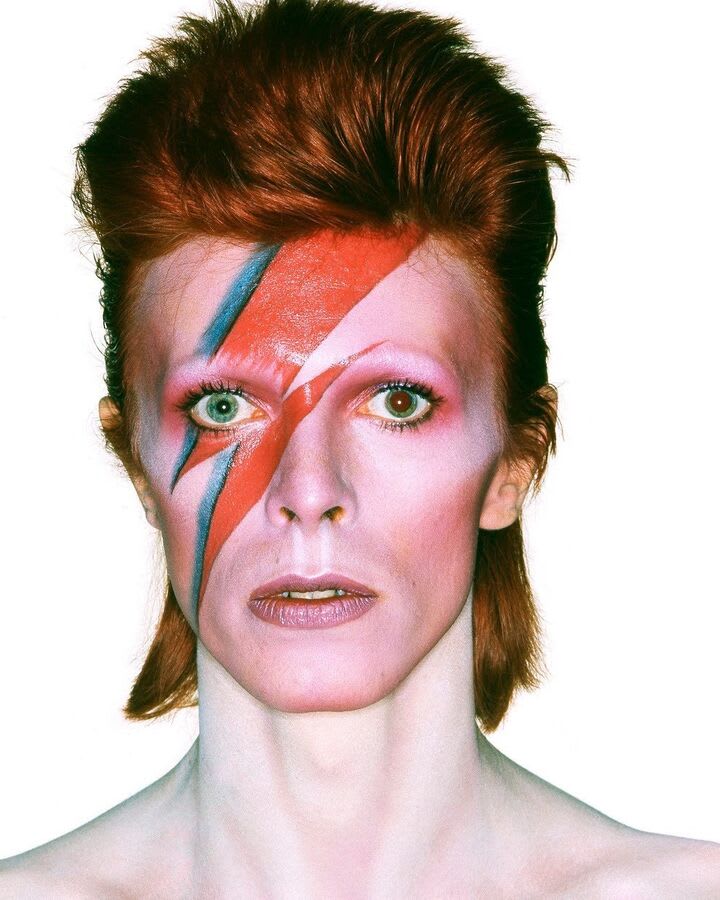 Aladdin Sane (also stylized as 'A Lad Insane' - a commentary on Bowie's mental state at the time) came to life after Bowie killed off Ziggy Stardust. Aladdin Sane is an extension of Ziggy in that Bowie has said Aladdin Sane would be 'Ziggy goes to America."
Most people mistake Aladdin Sane for Ziggy Stardust, due to the fact that many sources use Aladdin Sane's face when they talk about Ziggy Stardust.
Bowie described Aladdin Sane as being a harder, nastier, gaudier album than Ziggy Stardust. The album personifies the decadence and sleaze of American culture. With this description one is lead to believe Aladdin Sane is much more sleazy than Ziggy Stardust.
The character Aladdin Sane deals a lot with fame and politics and a heavy emphasis on mental health. Bowie's half-brother Terry had been diagnosed with schizophrenia and battled with bouts of psychosis. Most of his life Bowie feared going insane like his brother. Aladdin Sane was in part influenced by this fear.
Halloween Jack 1974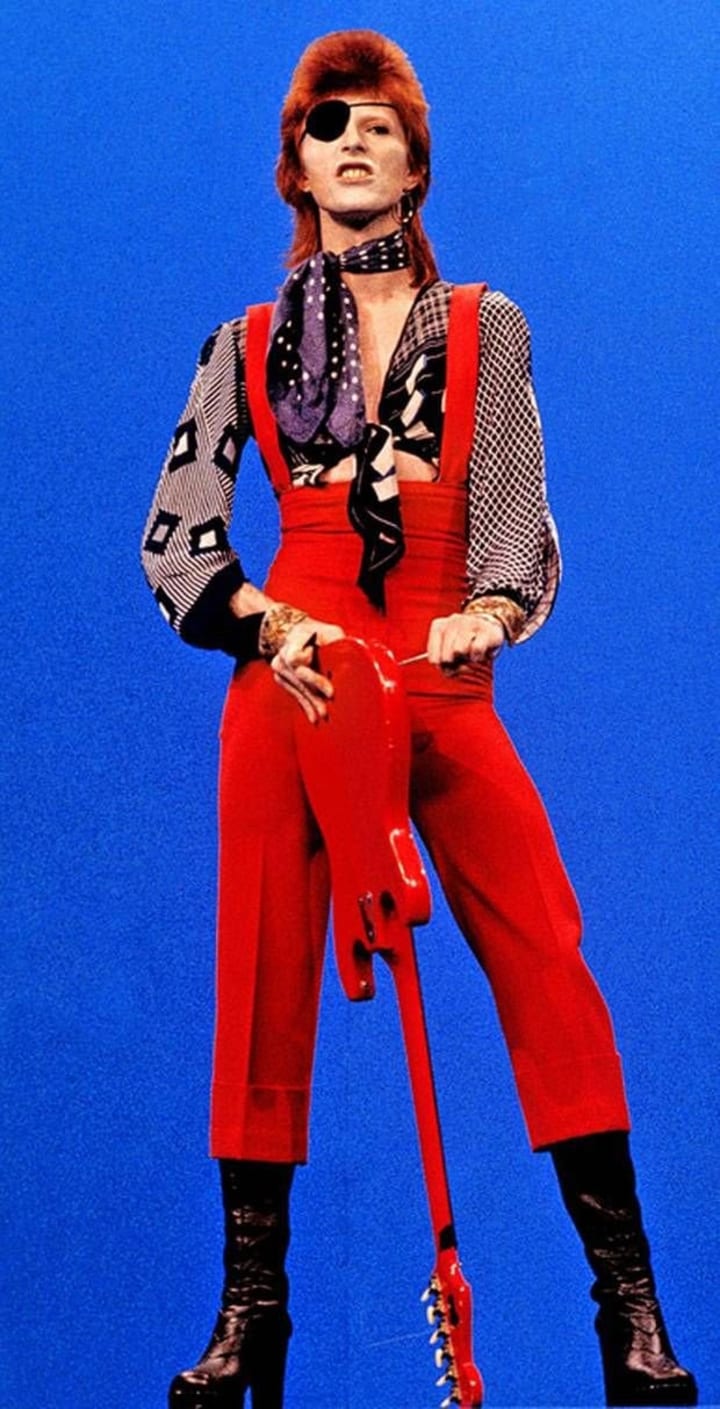 Halloween Jack was born with the album Diamond Dogs. Halloween Jack was similar in look to Aladdin Sane and Ziggy Stardust. All three characters had shaved eyebrows and a red mullet haircut.
In the song "Diamond Dogs," Bowie describes Halloween Jack as a real cool cat and makes a nicknamed reference to Tarzan: "The Halloween Jack is a real cool cat / And he lives on top of Manhattan Chase / The elevator's broke, so he slides down a rope / Onto the street below, oh Tarzie, go man go"
Halloween Jack lasted for only part of 1974.
The Soul Man 1974-1975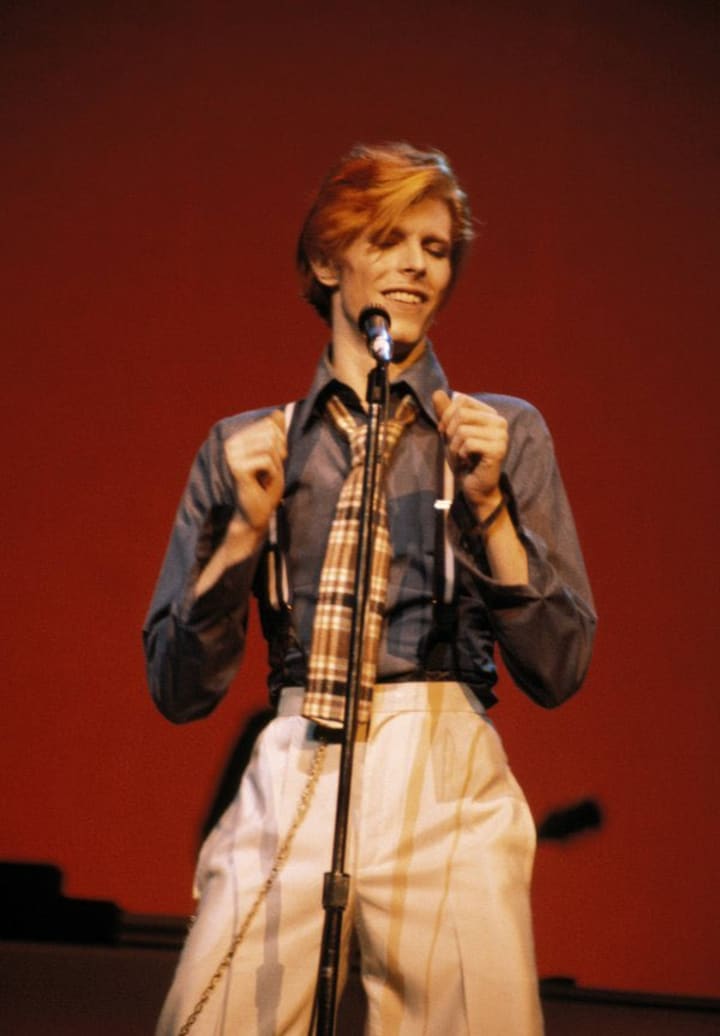 The Soul Man was a predecessor to the more popular Thin White Duke.
The Thin White Duke 1975-1976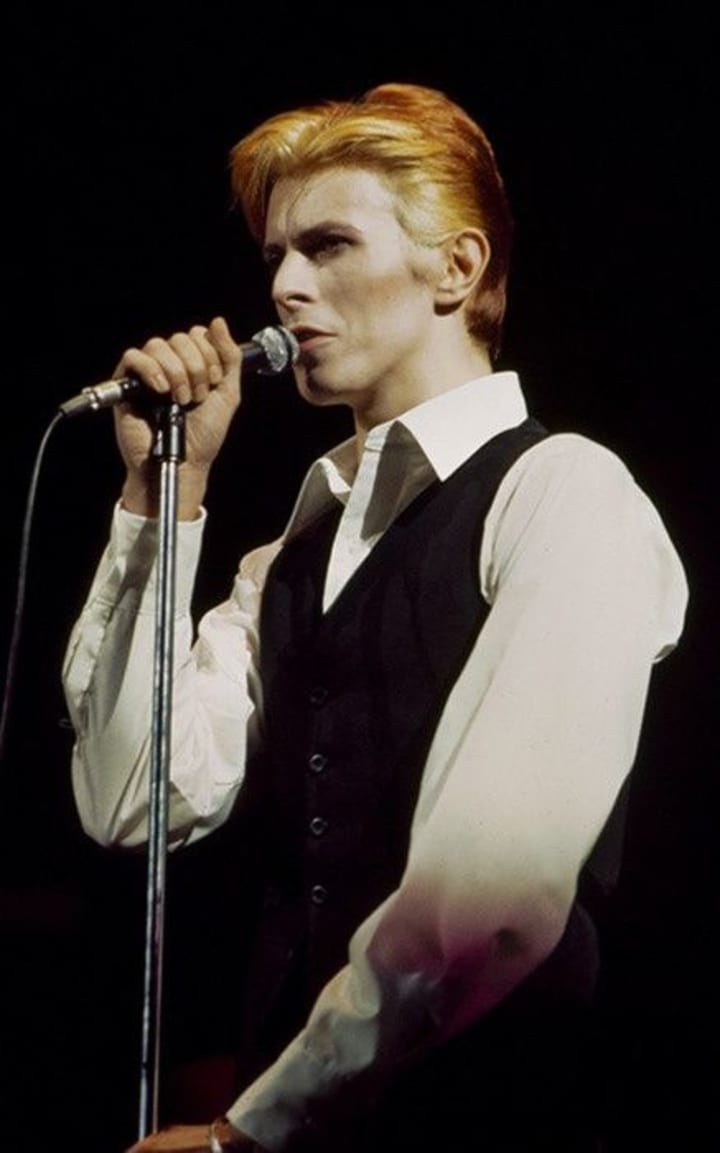 The Thin White Duke first appeared in 1975 during Bowie's Young Americans tour. He was an off-shoot of The Soul Man.
The Thin White Duke is identified with Bowie's 1976 album Station to Station and is mentioned by name in the title track. The lyric, "The return of the thin white duke / Throwing darts in lover's eyes" is repeated several times through the song.
The Thin White Duke was stylish, well groomed wearing classic black baggy trousers, vest, waistcoat, long sleeved dress shirt and white face. The character used mime and was the always sad clown. Bowie described the character as "A very Aryan, fascist type; a would-be romantic with absolutely no emotion at all but who spouted a lot of neo-romance."
The Thin White Duke was obsessed with fascism, Nazi Germany, and Satanism. Bowie says these obsessions were fueled by heavy use of cocain and amphetamines. He was struggling with paranoia and depression, and had serious doubts of his sanity. Bowie came to the conclusion the character was a nasty character. He later denounced and distanced himself from the fascist comments.
The DJ 1979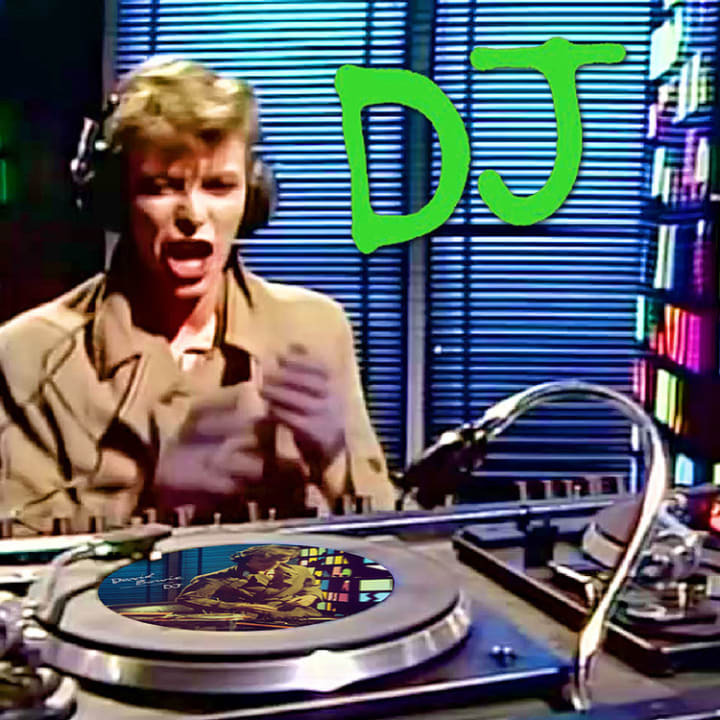 The DJ was first seen in the music video for the song "D.J." from the album Lodger.
The DJ was a great character playing the records people love and eventually destroying his DJ station.
Its believed the DJ stands for David Jones.
The Pierrot 1980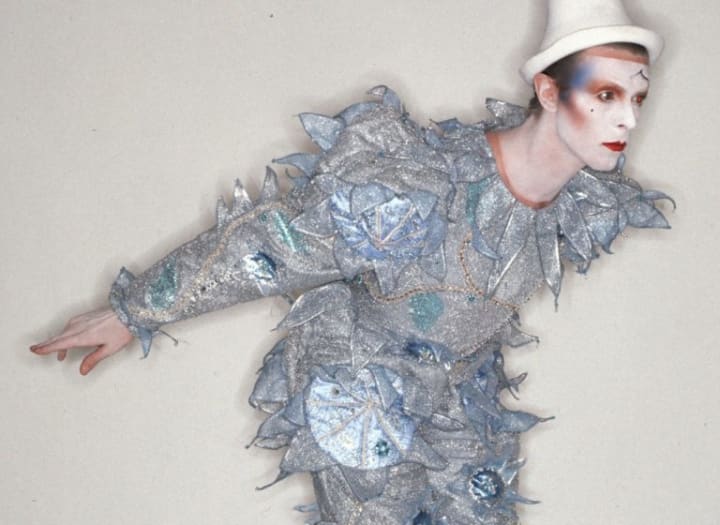 David Bowie reaches back to his earlier Mime persona for The Pierrot. The facial makeup is similar to his mime days although the costume is far more extravagant. The Pierrot costume (aka The Blue Clown) was designed by designer Natasha Korniloff. The Russian born, London based designer met Bowie in 1968 when they were both part of mime actor, Lindsay Kemp's entourage. Korniloff and Bowie remained associated through the years. She designed a few stage costumes for Bowie but The Pierrot her best known work.
The Pierrot made an appearance in Bowie's music video for the song "Ashes to Ashes" and was on the cover of the album Scary Monsters and Super Creeps."
Let's Dance / Serious Moonlight 1983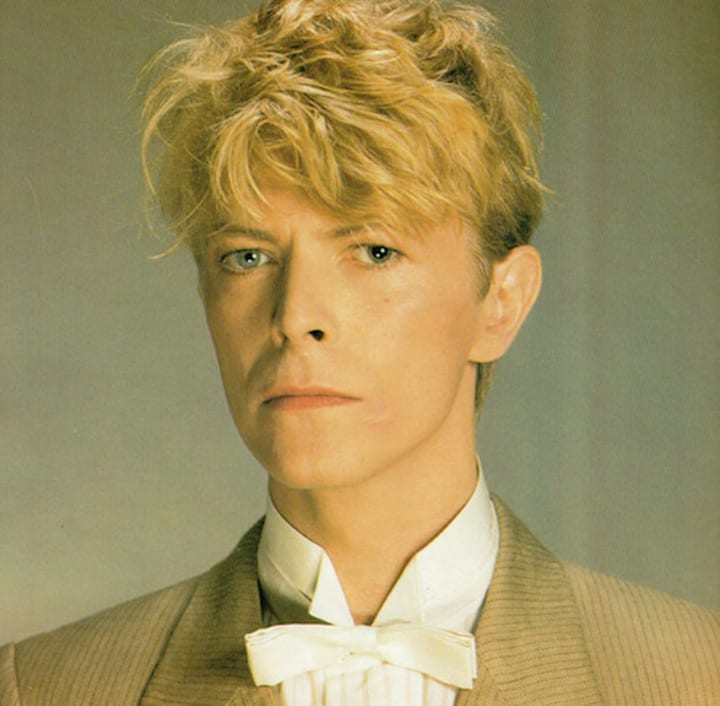 During this stage in his career Bowie took on a more conventional look and attitude. His life was not so driven by drugs anymore. He was using drugs but to a much less degree than just 10 years earlier. It was during this time he made his biggest hits with "Let's Dance" and "China Girl."
Bowie became debonair and stylish. He smiled more and seemed to be enjoying what he was doing. His look was a 1980's New Romantic sort of new wave glam. He was suave and cool.
Screaming Lord Byron 1984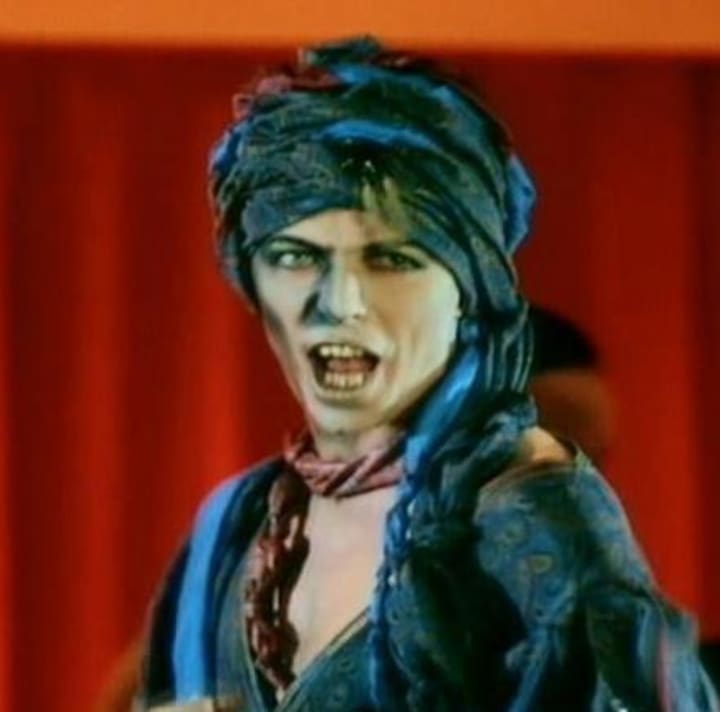 Screaming Lord Byron appeared only in Bowie's film Jazzin' For Blue Jean. The character did not appear anywhere else - on stage or off stage.
The name comes from musician Screaming Lord Sutch who is known for his onstage theatrics similar to Bowie.
Jareth The Goblin King 1986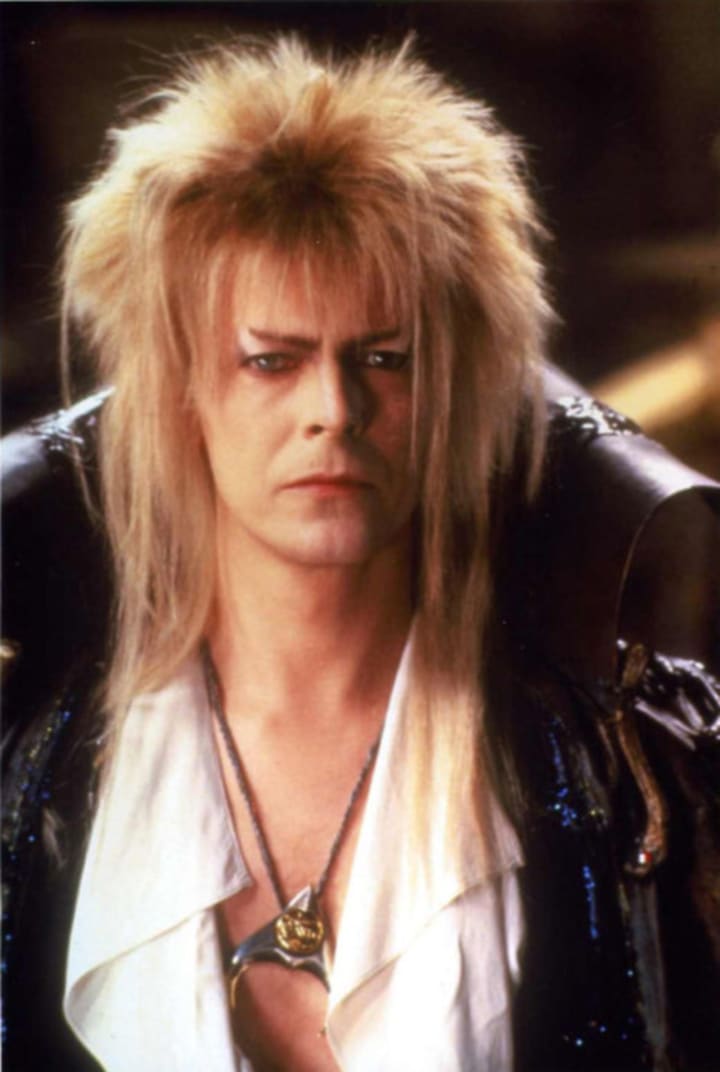 Jareth the Goblin King is one of Bowie' most iconic personas. He was a main character in the popular Jim Henson film Labyrinth.
The image of Jareth the Goblin King has been very popular appearing in posters, coffee mugs, key rings, as an action figure, and other memorabilia.
Nathan Adler 1995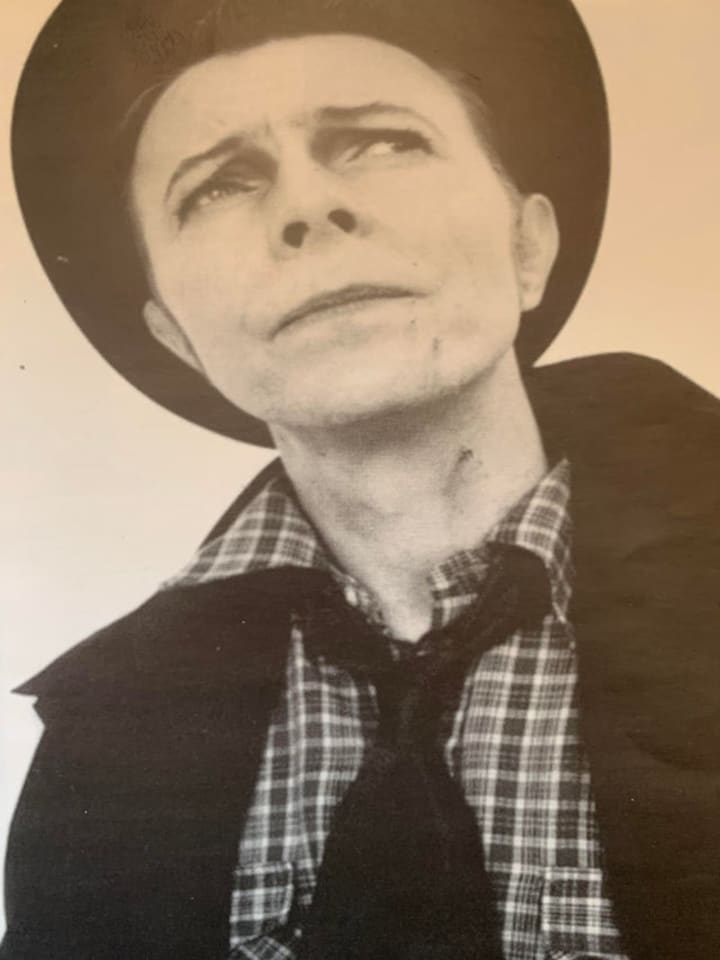 Adler is a character first born in 1994 when Bowie wrote a ten day diary for Q Magazine. Adler ended up becoming the focal point of Bowie's 1995 album 1. Outside. The album is one of Bowie's most ambitious recordings. Within the album there are several other characters: a jeweler named Ramona A. Stone; a 14-year-old girl named Baby Grace Blue; a 78-year-old loner named Algeria Touchshriek; a mixed-race "Outsider" named Leon Blank; Paddy, one of Adler's informants; and a shadowy figure named The Artist/Minotaur. Bowie stated that he based all the characters on himself.
Adler is a New Jersey detective who is investigating the dismemberment of Baby Grace Blue.
The Adler character appeared again during the Outside tour in which Bowie portrays Detective Professor Nathan Adler who is judging art after the final destruction and doom of the world. The latest fad uses human flesh as the canvas, and sharp tools as the brushes. So maybe Nathan Adler is an art detective who investigates the art of death.
The Blind Prophet (Button Eyes) 2016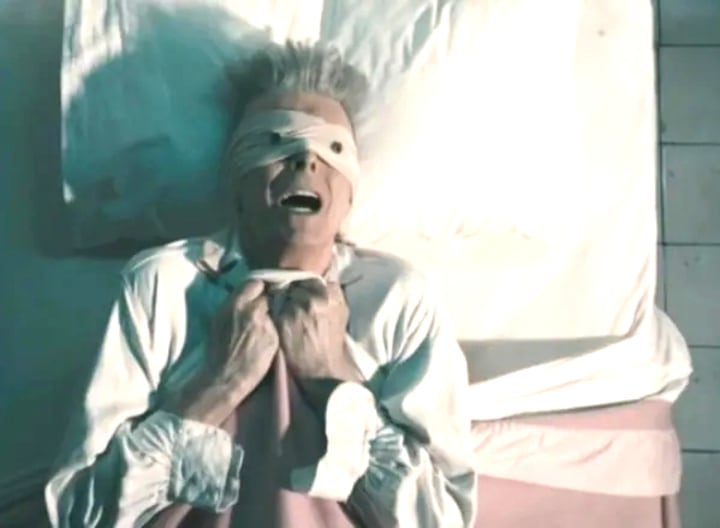 The Blind Prophet is one of Bowie's last characters/personas. He appeared in the music videos for the songs "Blackstar" and "Lazarus."
The character was blindfolded with buttons over it where the eyes would be.
The blindfold could possibly symbolize the darkness and finality of death. The buttons maybe seeing through that darkness and knowing death is nearby.
In the video for the song Lazarus a blindfolded Bowie is predicting his death. This is his goodbye note to his fans. Upon his death Bowie walked through that doorway of perception into that final house in which he shall live.
Finally David Jones can breath again!
xoxoxo