Recapping 2017: Standout Debuts, Pt. VI
With the year coming to an end, here are all the standout debuts of 2017 from new artists - or newish, at least.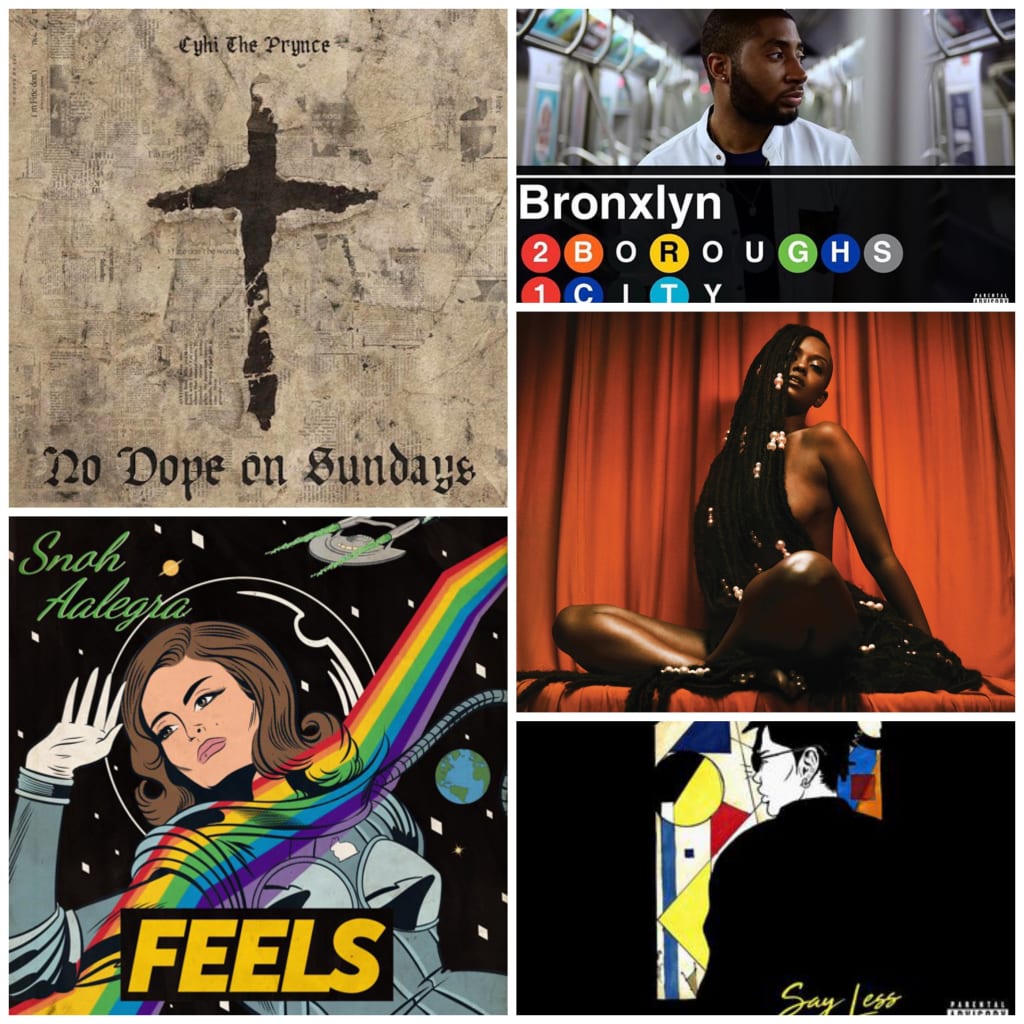 CyHi The Prynce, Kelela, Roy Woods and more - here are all the standout debuts of this year... part six that is. And yes, this is the last installment of this series. Don't forget to check out part five.
Release date: October 6
Kelela continues to push the R&B envelope with her debut album Take Me Apart. Four years since her groundbreaking 2013 EP Cut 4 Me, Take Me Apart has actually been six years in the making. Kelela wanted to take her time, and it was well worth the wait.
13 producers credited, yet the album moves sonically as one conducive entity. This is pure Kelela. She is the driving force. Presenting an eerie futuristic soundscape that varies in range, her voice remains the one constant that ties everything together.
As she tests her boundaries, she clearly paves herself a lane in the genre and confronts modern love head-on.
"Cry and talk about it, baby / But it ain't no use" - Take Me Apart
The 14-track album takes you on a journey from a troubled relationship...
"Will your love ruin my heart?" - Enough
... and then it starts to disintegrate...
"'Could I have done something' / You've got some nerve asking me now" - Better
... then you're living single and feeling liberated, in another's arms that is...
"You can chase it for the night / There's a place for you and I" - LMK
... to having to move on and open your heart...
"Darlin', my guard is down" - Blue Light
... but looking back and coming to terms...
"It's not a break up, it's a breakdown" - Onanon
... looking for closure but it seems hard to find...
"One look at you and I turn, I turn to dust" - Turn to Dust
... and the cycle continues.
"There you go / Holding onto something / I'm gonna prove you wrong" - Bluff
Take Me Apart is fluid yet takes you up and down from solemn ballads to pop-ish danceable joints. Kelela takes you on a rollercoaster, sonically and emotionally. A relationship that hits rock bottom, but once you're out of it, you end up right back in it. This is modern love; it'll take you apart.
Release date: October 20
Born and raised in Sweden — now LA-based — Snoh Aalegra is the one to watch. Signed to Sony at 14, the 30-year-old R&B singer has been working under the wing of No I.D. for the past two years and is part of his ARTium family. Following her 2016 EP Don't Explain, Snoh finally released her debut album FEELS. Trust me, it has all the feels.
The moment you begin the album, you are transported to another world. Snoh offers up her world on her debut album. She covers everything from determining her fate, falling in love, to losing her father. FEELS is relatable, a rollercoaster of emotion some of us are far too familiar with. If you aren't familiar with the story told by Kelela, here's one for you.
"This album feels like everything I'm inspired by, it's just what's in my heart. My real life has inspired me as well. All of these lyrics are real experiences and purely what's in my heart. I'm proud of that influence. - Billboard
Inspired by the likes of Stevie Wonder, Michael Jackson, Whitney Houston, James Brown and Lauryn Hill, such influences have definitely impacted her music. In my first run through of the album, I automatically thought of Stevie Wonder and a touch of Amy Whinehouse. Hypnotic and sultry, at times haunting, vocals waxed over smooth and bluesy beats, Snoh's heart resides in her music. Her love for music is undeniable as her passion exudes through her debut effort. There's a sense of vulnerability yet balanced with strength, the R&B singer has put her whole being into FEELS. Snoh Aalegra is definitely one to look out for. Can't wait to see what more she has to offer. Check out her newest mini-doc on TIDAL where she talks about her life and love for music.
Release date: November 17
"They say ganstas don't pray - I beg to differ"
CyHi the Prynce. Lord.
After appearing on Kanye West's My Beautiful Dark Twisted Fantasy, CyHi was signed to G.O.O.D Music and has since been a consistently credited writer. Seven years, sheesh. Well, his debut album is finally out and it is everything and nothing we expected. Lyricists are really trying to snatch back the game, I see.
No Dope On Sundays is a conceptual album where the Atlanta-native ties together this duality of religion and spirituality, and drugs and violence. This is his life. He sought to be influential with his debut album, sharing his upbringing in the streets but still holding onto his foundation in Christianity. It's more than just preaching, CyHi lived this life and offers advice on how to not let it catch up to you.
I think that's something that's always been a part of me, just having that respect for that day. Giving a chance to reset, evaluate what happened last week. Some dudes just live life rough, don't even sit back and look at it and then they go to prison and sit back and then they wanna reflect. So, all them things like that is just self-consciously massaging the brain for gradually getting outta the game or out of what you're into and getting into something positive." - XXL
The 15-track album explores different sounds, from upbeat to a smooth jazz feel. From melodic to hard-hitting, it's a soundscape consisting of peaks and valleys that aids in the digestion of CyHi's lyricism. Words of wisdom offered by a true lyricist, it'd be best for the listener to take in everything CyHi has to say. It may be hard to do in this new era, but do yourself the favor. Appreciate the allusions, illusions, tongue twisters and analogies for what they are, but look past it and really listen to what CyHi has to say.
No Dope on Sundays is a thorough project where CyHi pulls out all the stops. Through slick bars and gritty vocals, CyHi delivers a powerful message. Seven years, well that's a thing of the past. CyHi the Prynce's debut album is out and he is officially part of the elite class - as if he wasn't already. Salute.
Release date: December 1
As the demand for more music grew, Roy Woods finally released his debut album, Say Less. Perfectly calculated by the OVO team, who also released new projects from Majid Jordan (The Space Between), DSVN (Morning After), and PARTYNEXTDOOR (COLOURS 2 EP and Seven Days).
Where OVO Sound share the similar new era melodic sound, they all stand on their own. Say Less highlights Roy Woods' ability to switch it up on his fans. From haunting melodramatic ballads to funky beats, to dancehall-influenced joints, the 21-year-old has a promising career. His debut album pays tribute to his home in Ontario, its diverse soundscape reflecting that of the diverse sound of Toronto.
From "Medusa" to "Undivided," Say Less is gripping and entails Roy's experiences with money-hungry women that fame brought his way, entertaining them, to moving on with the most loyal of them. Making big moves at a young age, Say Less is a huge feat for the kid.
"This is a time that I dreamed of and worked my life off for, I never thought I'd be here at 21 and the fact that my little sister Diana made the cover art means the world to me, I love you guys forever till death and never will Roy Woods stop being Roy Woods EVER . . I love making music and I love my life with all you guys and I can't wait to see you on tour soon" - Instagram
Release date: December 20
And if you don't know... well, you need to.
Born in the Bronx, raised in Brooklyn — ladies and gentlemen, I present to you Bronxlyn and his debut project 2 Boroughs 1 City.
Bronxlyn is a true artist. Surrounded by people during his listening party, there were times he just vibed out to his own music. He was getting lost in his own words as if he were alone in the room. Off to the next track, he'd stand up and perform for everyone. Not sure if anyone noticed, but that's what a passionate artist looks like. Take notes, I did.
2B1C, as far as debuts, is a success. Polished and matured, Bronxlyn presents his soul all in 12 tracks. A raw talent with that real New York sound. It's his technique, artistry, lyricism, and — most importantly — it's his passion that will get him far.
And now you know. Check out my full review of Bronxlyn's 2 Boroughs 1 City.
Wait... Nah, for real. I'm done.
As my series comes to a conclusion, I reflect back thinking of how easy yet frustrating it was to put this all together. Let me tell you, I was on a mission. I even discovered some new talent myself. Tedious yet rewarding, I comprised this list to highlight 2017's new and hottest debut projects, from Hip Hop to R&B and Neo-Soul. I offer a range of artists from those who have been in the game for years, to those just starting out. There's a range of projects that made it on the most notorious lists, to ones that flew under the radar. Whether they are well known or yet to be discovered — both official and non-official releases — these artists and their debut efforts deserve the recognition for their creative artistry.
Here's to 2018! New year, new music!
Cheers.