Rachel Platten is Creating Waves and a Movement with Sophomore Album
Waves Album Review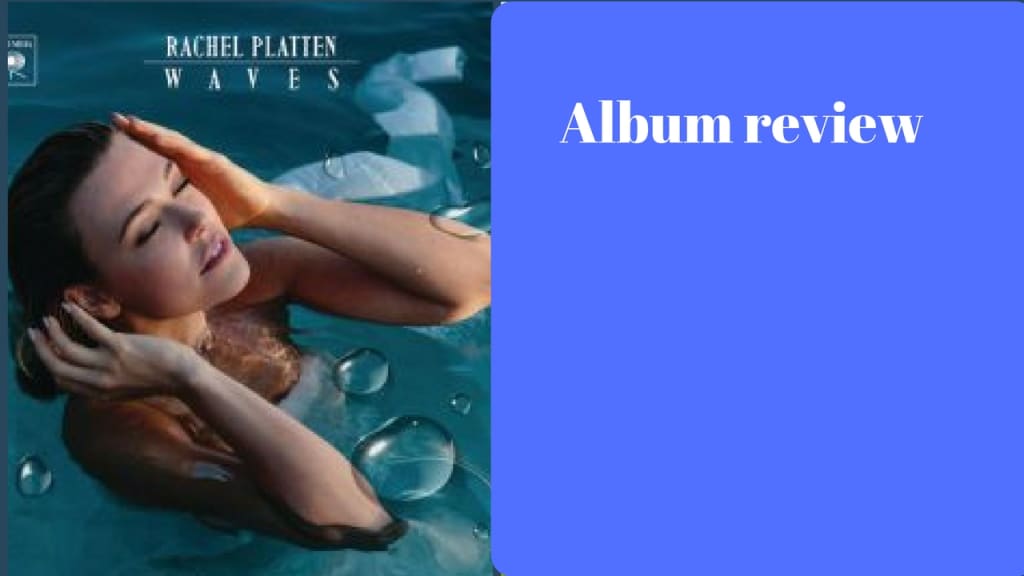 Following graduating college, I had stars in my eyes. I was hellbent on becoming a publicist. I've always been fascinated with the celebrity lifestyle but I also saw what a lot of people don't: famous people are people too. They don't struggle day to day trying to make end's meet or have the same problems but they are human first and foremost and should have well-rounded people in their corner. I grew up feeling like books and music gave me comfort and a form of escape when the world around me was grey so upon graduating college, I was set on becoming a publicist for an author or musician. Indie or otherwise.
I applied and applied to jobs and despite my resume boasting experience and my college degree hanging on my wall in my parents' house, the ink still damp from being fresh off the printer, I was absolutely appalled at how quickly and heartlessly I was rejected. I knocked on door after door but only found the sound of my knuckles rapping on the metaphorical wood left a hollowed sound that echoed in my ears. So I did the only thing I could think of: I created an opportunity since I couldn't find one that fit me.
Long story short, I built the Smart Cookie Philes and launched it on January 18, 2016. I then wrote up an album review for Rachel Platten to gain exposure for my small blog. Then, I saw a tweet from Rachel and her team that said she was hiring fans with an interest in music and public relations to be part of her tour crew for her upcoming Wildfire Tour.
On February 27, I received an email that knocked my socks off! On March 4, 2016, I worked the Orlando concert stop with opening act Christina Grimmie but the most unexpected part of working for Rachel was that she made sure each member of her tour crew got to meet her privately before her actual fan meet and greet.
She was on vocal rest that night prior to the show but what I automatically picked up on about Rachel Platten is that she's a warm human being who fought for her dream to come true and outside of that, she's still a sweet girl from Newton Centre, Massachusetts.
She also understood the importance of gratitude shown to everyone involved with the process of making her appear as the star. She was humble and whispered the words "Thank you," as I broke away from our picture together, seen below.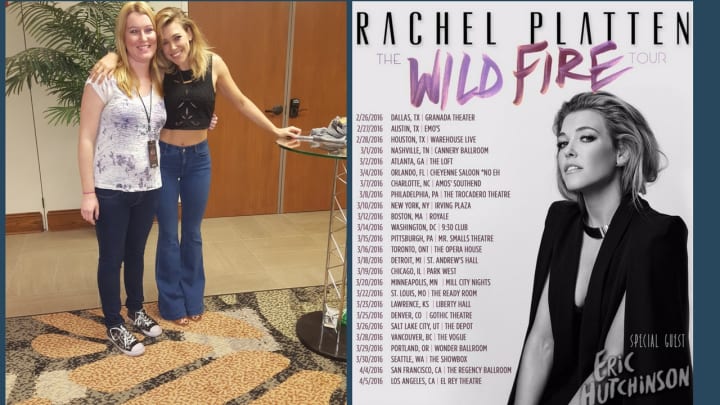 Platten is back with an album just as strong as her debut Wildfire but back with an unapologetic tone to her songwriting. When asked in interviews upon the release of Waves, Platten can be quoted sharing,
"With this album, I let the emotions come as they were. If I was angry, I let that come out in my song. If I was sad, I let that out in a song. With this album, there was a freedom I never experienced before with my art."
A confrontational opening track that is a bass heavy led send off to someone who expects perfection from you when you already know you are enough. The lyrics alternate between calling-out and shrugging-off, a duality that's mirrored in the track's sound: earnest, ethereal shimmers repeatedly built to a climax, only to give way to an easy, earthy bass-line as Platten realizes her struggle for acceptance in the relationship isn't worth the time or effort.
A track about wanting to know every part of someone and asking them to open up to you without a filter. Bells create a sweet melodic pop musicality with percussion that mirrors a heartbeat.
The musicality of the track reminisces waves gentle and then becoming rough creating a dark and sexy track that discusses wanting to just weather the storms with that one person.
The musicality echoes the lyrical message with a continuous build up that creates a musical story about someone who's carrying the entire relationship themselves and they are sick of it.
The first single off the new record is a barrier-breaking anthem referencing the glass ceiling women must break to be taken seriously by their male counterparts as well as having a general theme of any and all limitations people place on others unfairly. Caribbean elements flavor the musicality.
My favorite track on the album because it's got a subtle sexy feel with a dancy pop musicality.
Simple almost acapella musicality with a song about someone who tries to mend the hurt or brokenness they caused but it's too late.
A song about two people who know how they feel and don't need the labels that society forces on you, co-written by One Republic's Ryan Tedder.
A song dedicated to her Plattenums about how she looks out at the crowd & feels all the love.
A song Rachel penned for her Nana who passed away last year showcasing how close of a relationship they shared.
A piano heavy pop track about being unsure of how you deserve the love and kindness someone shows you.
My other favorite off the album because of the gospel soul feel to the musicality about how no matter the negative things that come against you, you still have a good life.
A song about suffering with anxiety, depression, and insecurities about our weakest moments, we all need grace to strengthen us & lift our heads.
From rising to fame with a strong power anthem (Fight Song) to this album which is Wildfire but better, Rachel Platten is a portrait of who I know artists to be: at their very core are just human beings. Yet, her warm aura and gentle nature make her a force to be reckoned with that will outlast her beyond her music career.
And Rachel, I will never forget that you gave me that chance! THANK YOU!
About the Creator
Witty Writer Poet Blogger. I've been writing professionally since age 14. I run a book and music review site via The Smart Cookie Philes. I'm 26, Saint Leo University graduate, and a Florida native who enjoys street skateboarding.
Reader insights
Be the first to share your insights about this piece.
Add your insights