Quiet Storm Classics
R&B + Easy Listening = Quiet Storm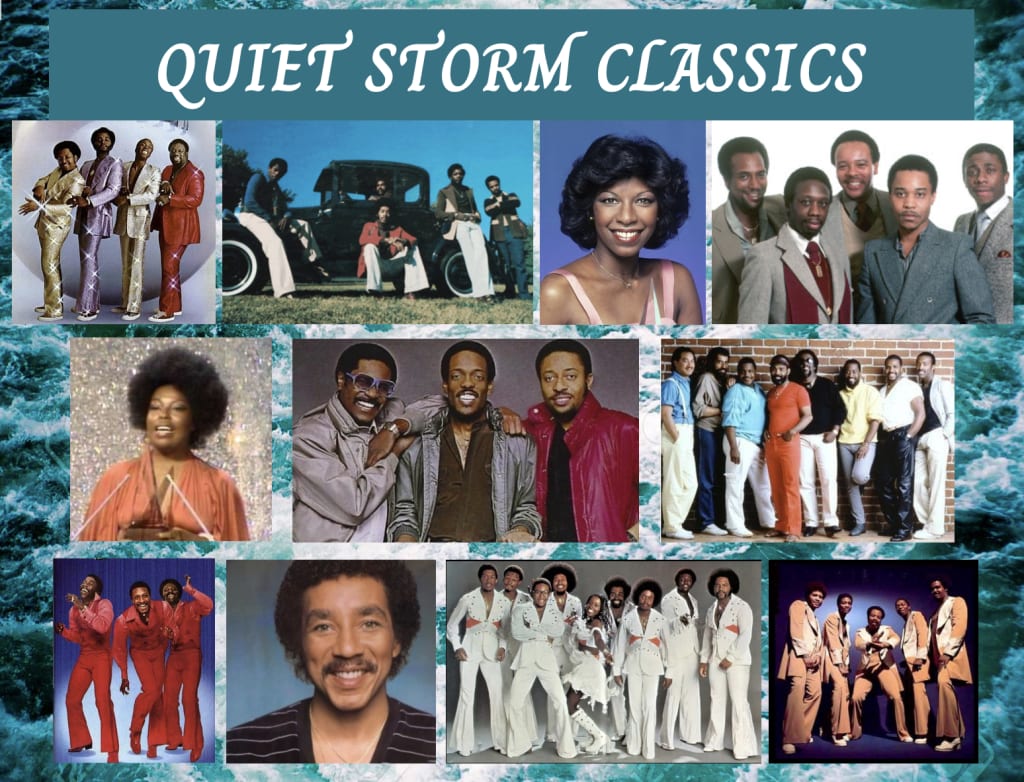 Left to right Top Row: Bloodstone, Blue Magic, Natalie Cole, The Dramatics / Middle Row: Roberta Flack, The Gap Band, Maze / Bottom Row: The O'Jays, Smokey Robinson, Rose Royce, The Stylistics
In the 1970s several sub genres of R & B and soul came to life including funk with musicians such as Parliament, George Clinton, Bootsy Collins, Sly and the Family Stone and Stevie Wonder. In the middle of the 1970s disco became a huge hit with Donna Summer, Thelma Houston, KC and The Sunshine Band and The Bee Gees.
One such genre that made its way into the hearts of music listeners is Quiet Storm.
Quiet Storm is a subgenre of R&B and easy listening. This genre coalesced in 1976 when Melvin Lindsey, an intern disc jockey at the Washington DC college radio station WHUR-FM brought the "Quiet Storm" to the station's late-night lineup, titled after a hit single by Smokey Robinson.
Although the term Quiet Storm came to be known in 1976 the genre includes songs from the early 1970s and even back into the 1960s and beyond.
The following are a few Quiet Storm hits that really revved up the romance and the late-night cuddles by the fireplace. These are some of the most beautiful songs in recorded history. Turn up that volume and really get into digging these smooth grooves!!!
Bloodstone - Natural High (1973)
"Natural High" is Bloodstone's second studio album. Their first album simply titled "Bloodstone" was released in Europe only. Hot on the heels of their debut album they released "Natural High." The album was recorded in the early part of 1972 and originally released in May of the same year.
Three promo singles were released in 1972 including "You Know We've Learned," "Never Let You Go" and "Natural High." It was "Natural High" that received the most attention from radio DJs and soon was released as a single in March 1973.
Written by Bloodstone's bassist, Chuck McCormick, "Natural High'' was the album's first official single and the band's first to make it onto Billboard's Top 100 Singles chart. It inched its way up to #10 and stayed on the chart for an amazing 19 weeks. The single was certified Gold by the RIAA in July 1973 and eventually certified Platinum in August 2000.
"Natural High" has remained popular for several decades now and still ends up on retro radio shows from time to time.
I remember hearing this song back in the 1970s and for several years I thought it was The Commodores (I know, I know it doesn't even sound close to The Commodores). It wasn't until the early 2000s, when I got my first computer that I learned that it was not The Commodores. I was doing a search on Wikipedia for the song and started with The Commodores. I was confused because I couldn't find a song. I thought to myself, "how could it not be listed? It was one of their biggest hits." So, I did a general Internet Explorer search and that is when I found out the song was by Bloodstone.
Blue Magic - Sideshow (1974)
By the time "Sideshow" was released as a single Blue Magic had already placed three songs within the Top 40 of the US R&B charts. They were well on their way to making a name for themselves.
"Sideshow" was Blue Magic's fourth single release and was their first and only US Top 10 hit. The song made it to #8 on Billboard's Hot 100 singles chart. The velvety smooth song was also a huge hit in Canada reaching #5 and made it to #68 in Australia. It's highest chart position was making it to #1 on the US R&B chart.
I was 14 when "Sideshow" was a hit, I was always drawn in by the clever lyrics. The song was easy for me to sing so I would always sing along when it came on the radio.
Natalie Cole - I've Got love On My Mind (1977)
In 1975 the legendary Nat King Cole's daughter, Natalie Cole released her first record and she herself became a legend of R&B and popular music.
"I've Got Love On My Mind" reached #5 in the US and Canada and #22 in New Zealand.
When I first heard Natalie Cole in the summer of 1975 with her hit "This Will Be" I became an instant fan. I love all her music, but my favorites are from the 1970s including "This Will Be," "Mr. Melody," "I've Got Love On My Mind," and "Our Love."
The Dramatics - In the Rain (1972)
After their 1971 hit "Whatcha See Is Whatcha Get" people were pegging The Dramatics as a one-hit wonder. After hearing this they quickly released "In the Rain" and the song was an even bigger hit making it to #5 in the US Billboard Hot 100 Singles chart. It was also #1 on the R&B charts for four weeks. In other parts of the world the song charted at #2 in France, #5 Brazil, and #9 in Canada.
The backing band includes several well-known musicians including bassist Michael Henderson, who often worked with Miles Davis in the '70s, and three of Motown's Funk Brothers: pianist Johnny Griffith, guitarist Dennis Coffey and drummer Uriel Jones. The track is also notable for its stormy sound effects, which lead into Coffey's guitar intro. Coffey used an Echoplex effect unit to get the delay.
Dennis Coffey, who played on many of the psychedelic hits for The Temptations, played guitar on this track. Coffey used an Echoplex delay unit to get the distinctive sound. Five years later when Coffey was working with The Floaters, he let them use his Echoplex to get the same sound on their hit "Float On."
"In The Rain" is one of my favorite smooth groove quiet Storm hits. The rainy-day sound effects certainly add to the quiet Storm appeal making the song a classic in the genre. But it is William "Wee Gee" Howard's lead vocal and Dennis Coffey's dreamy echoplex effect that capture my imagination.
Roberta Flack - Feel Like Makin' Love (1974)
The legendary Roberta Flack has several songs which qualify as Quiet Storm classics; "The First Time Ever I Saw Your Face," "Killing Me Softly with His Song," "Makin' Love (Theme from Makin' Love)," "Where is the Love," and "The Closer I Get To You" (the latter two with Donny Hathaway). But it is 1974's "Feel Like Makin' Love" which really encapsulates the Quiet Storm model. Beginning with the emotive vibey sound, a testament to David Carey's understated finesses with the vibraphone and Roberta Flack and Bob James' smoove keyboard parts. The mellow jazz arrangement, which features several great jazz session players including Bob James, Richard Tee, Alphonse Mouzon, and Ralph MacDonald. The romantic lyrics and "strolling in the park" groove all combined thrust this song into the higher echelon of Quiet Storm classicdom.
The song was a major hit making it to #1 in the US and Canada and #10 in France. In the US and Canada, it also peaked at #1 on both the R&B and Adult Contemporary charts.
Roberta Flack is one of my all-time favorites and if I had to choose a favorite song by her, I would be hard-pressed to choose "Feel Like Makin' Love."
The Gap Band - Yearning for Your Love (1980)
This romantic love song was written by Gap Band members Oliver Scott and Ronnie Wilson. The song was dedicated to Wilson's wife at the time. Wilson's brother Charlie Wilson performed the lead vocal.
The song was a moderate hit reaching #60 on the US Billboard Hot 100 Singles chart and #5 on the R&B chart. It was also #47 in the UK.
I became a fan of Gap Band in 1980 when a friend of mine played the single "Oops Upside Your Head" for me. I bought the single quickly after that. It wasn't until around 2002 that I discovered "Yearning for Your Love," when I bought Ultimate Collection, a compilation of Gap Band singles.
Maze - Song for My Mother (1978)
Maze may not have been as popular as The Commodores, War, Santana or Earth Wind and Fire but their music was every bit as exciting and intense. The songs were both musically and lyrically deep and lead singer Frankie Beverly could belt or croon with the best.
"Song For My Mother" is an uplifting song which finds Frankie Beverly sending joyful praise to his mom and all the moms of the world. The instrumental hooks are catchy and upbeat, and the hand clapping adds more energy and cheer to the song. It has an irresistible groove and features some hot jazz guitar licks. This is the ultimate feel-good song!
"Song For My Mother" is one of my all-time favorite songs. It has a message that resonates with me at this point in my life.
O'Jays - Use Ta Be My Girl (1978)
"Use Ta Be My Girl" was a change in direction for the O'Jays. Their previous hits such as "Backstabbers" (1972), "Love Train" (1973), "For the Love of Money" (1974), and "I Love Music" (1975) were all on the funk tip and based heavily on R&B (and disco) rhythms. While "Use Ta Be My Girl" retains the R&B and disco rhythms the song's groove is clean and smooth, dipping into the Adult Contemporary neighborhood of pop music. Yes, the O'Jays are 100% entrenched into pop music with this gem. But you wanna know something? That's okay. This is some delicious chocolatey pop music with a slight hint of vanilla for good measure. As a matter of fact this was the first and only O'Jays song to make it onto the US Adult Contemporary (AC) chart. It made it to #21 on the AC chart. I kinda always felt it should have made it into the Top 10 as the song received a major amount of AC airplay. The deal is the song made up for it on other charts by reaching #4 on the US Billboard Hot 100 Singles chart and #1 (for five weeks) on the R&B chart. The song was a huge hit. It also made it into the Top 20 in the UK, Netherlands, and Ireland. Nursing homes #5 and New Zealand and #41 in Australia.
So here is my take on the song. When I first heard it, I did not like it. I felt as if the O'Jays had sold out. I wanted more "Love Train" or "For the Love of Money" not this mushy love song. Well as the decades have moved on, I have come to appreciate the song and I like it quite a bit. After all, it was a million seller and certified gold by the RIAA back in 1978. It couldn't be all that bad.
Smokey Robinson - Being with You (1981)
Overall "Being with You" is Smokey Robinson's penultimate hit. Yes, in 1970 he went to #1 in the US with the Smokey Robinson & The Miracles hit "Tears of a Clown." But overall, on a worldwide scale, "Being with You" is the much bigger hit.
Originally Smokey wrote "Being with You" for singer Kim Carnes. He was so impressed with her 1980 cover of his 1967 hit "More Love," that he wanted to write something for her. Smokey called Motown producer George Tobin, who had produced Carnes' rendition of "More Love" about getting Carnes to record his new composition, "Being with You." At that point Tobin was no longer working with Carnes' so he convinced Smokey to record the song himself. After its release "Being with You" quickly moved up the charts and peaked at #2 on the US Billboard Hot 100 Singles chart where it stayed for three weeks. Ironically the song that kept "Being with You" from reaching #1 was Kim Carnes' mega-hit "Bette Davis Eyes," which remained at #1 for nine non-consecutive weeks. "Being With You," however did reach #1 in the UK and New Zealand.
Rose Royce - Wishing on A Star (1978)
Chart Positions: #1 (France), #3 (UK), #14 (Belgium), #15 (Netherlands), #101 (US), #52 (US R&B)
Certifications: Silver (UK)
"Wishing On a Star" ironically was not a hit in the US. It only made it to #101 on the US singles chart and #52 on the US R&B chart. As time has gone by, the song has become a classic in the US. In other parts of the world, the song was a huge hit reaching #1 in France and #3 in the UK, where it was certified Silver by the BPI.
"Wishing on a Star" was written by former Undisputed Truth ("Smiling Faces" 1971) member Billie Rae Calvin. The song was covered by several artists including the Cover Girls who reached the US Top 10 with the song in 1992 but it is the original version by Rose Royce that is the most recognized rendition in the US and around the world.
"Wishing On A Star" is one of my all-time favorite songs. Gwen Dickey's distinctive voice and the dreamy musical arrangement send me to heaven every time I hear it.
Stylistics - You Make Me Feel Brand New (1974)
Chart Positions: #1 (Canada, Brazil), #2 (US, UK), #3 (Australia), #6 (South Africa), #11 (Netherlands), #23 (Belgium), #5 (US R&B), #6 (US Adult Contemporary)
Certifications: US Gold, UK Silver
Let's Put It All Together is the fourth studio album by The Stylistics and was their best-selling album overall.
"You Make Me Feel Brand New", which originally appeared in a five- and half-minute version on their 1973 album, Rockin' Roll Baby, edited down to four minutes and forty-five seconds for their 1974 album Let's Put It All Together. This latter version was released as a single and became a huge hit, reaching #2 on the Billboard Hot 100 and the UK Singles Chart. It also peaked at #5 on R&B singles chart and #6 on the Easy Listening chart. "You Make Me Feel Brand New" ended up being The Stylistics biggest hit worldwide and was their last to reach the Top 15 in the US. The song was written by the Philadelphia songwriters Linda Creed and Thom Bell. Both songwriters made huge contributions to the Philadelphia Soul sound, writing many hits for The Stylistics, The Delfonics, and The Spinners. Bell also produced this track.
A note of interest in the fall of 1977 Elton John employed Thom Bell to produce an album for him. Elton had long been a fan of the Philly Soul sound. But relations between Elton John and Thom Bell soured quick and the album was never finished. In the Spring of 1979, a three track EP was released called The Thom Bell Sessions (A six track EP called The Complete Thom Bell Sessions was released in 1989). Among these recordings is the top ten hit "Mama Can't Buy You Love."
≈≈≈
If you enjoyed this Quiet Storm list... then Black Female Vocalists of the 1970s is your jam!!! Check it out...
About the Creator
Writing is a distraction for me. It takes me to places unknown that fulfill my need for intellectual stimulus, emotional release, and a soothing of the breaks and bruises of the day.
https://www.facebook.com/groups/vocalplusassist
Reader insights
Outstanding
Excellent work. Looking forward to reading more!
Top insights
Expert insights and opinions

Arguments were carefully researched and presented

Easy to read and follow

Well-structured & engaging content

Excellent storytelling

Original narrative & well developed characters
Eye opening

Niche topic & fresh perspectives

Heartfelt and relatable

The story invoked strong personal emotions

Masterful proofreading

Zero grammar & spelling mistakes

Compelling and original writing

Creative use of language & vocab

On-point and relevant

Writing reflected the title & theme
Add your insights