Queen of the 1960s Slipstream
Born in the 1970s, raised in the 1980s and 1990s but a 1960s girl at heart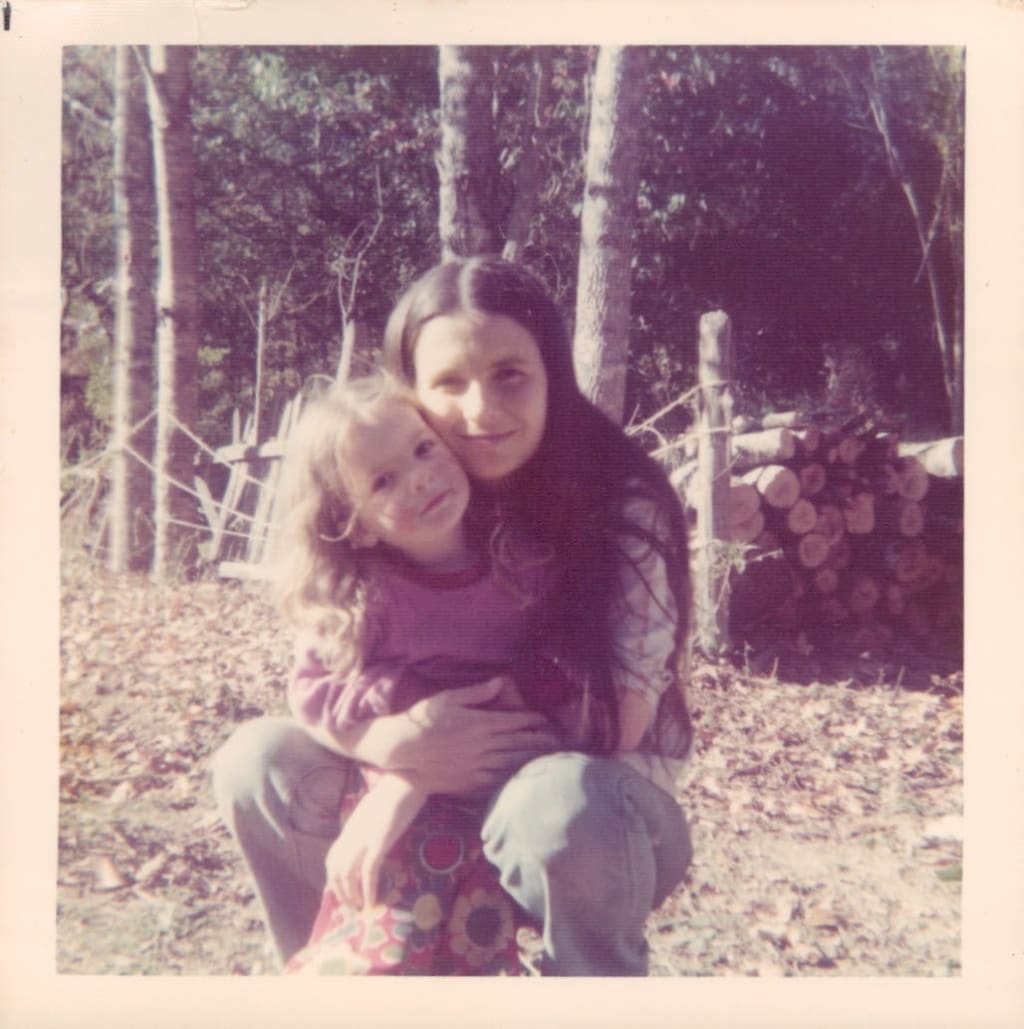 My Van Morrison-loving mother and myself, 1975ish
I love music from many decades but my heart is with the songs of the 1960s. Born in 1973, I was, to a great extent raised with these melodies and the chords resonate with me. I am not convinced that the only reason for this is that they were the background for the road trips of my youth.
My mother is an avid Van Morrison fan and played his music a lot growing up. My favorite album is his album, Astral Weeks, which was released in 1969, though the title of this piece comes from a song of more recent vintage that Mom says reminds her of me. Whenever I listen to it, I am transported back into the colors, scents, and emotions of my childhood. I am half asleep in the small, dark hours in the back of a Toyota hatchback headed for the beach. The fragrance of the sea is present and I can see sand in the headlights. Soon, before Van stops singing about ballerinas, Cypress Avenue, and the Slipstream, we'll be at the beach just in time to see the morning sun light up the waves as bright as faceted peridots.
Van Morrison isn't the only musician from the 1960s who was a big part of my upbringing. I was drawn to the Beatles and recall Listening to Abbey Road on a trip from Louisiana to Michigan and my brother and I took "Maxwell's Silver Hammer" as a cue to engage in some banging on each other's heads, which led to much parental consternation.
I was a band kid and played violin so, while I was a music lover, I was never as into the popular music of the day as many of my peers. I was also quiet and introverted and did not associate much with other children, so I learned about music from what my parents played, whether in the car or at home, and I was drawn to the Beatles. I asked for and got Beatles music for my 15th birthday, cassette tapes of Revolver and Rubber Soul to play on my Walkman. I listened to them again and again.
I still adore the Beatles and Van Morrison and their music formed me but I discovered Nick Drake as an adult from, of all things, a Volkswagen album. While Pink Moon came out a bit later, Drake's first album, Five Leaves Left, came out in 1969. It contains "River Man" and "Cello Song," two songs beloved by me. The lyrics are enigmatic and beautiful and, while faintly reminiscent of Astral Weeks, the music on Five Leaves Left was like nothing I ever heard before. All its tones were blues and greens and shaded water and struck something in me like a bell.
I can't really say that I "discovered" Simon & Garfunkel as an adult because I certainly heard their songs a time or two in my infancy but I only became a devotee quite recently. It was built on the use of "I Am a Rock," from 1966's Sounds of Silence in a Harry Potter fanvid of all things and hearing a remarkable cover of the eponymous song from that album by Disturbed." "Blues Run the Game," recorded in 1965 but added to the 2001 rerelease of Sounds of Silence, solidified my need to purchase and listen to the album multiple times.
Even the modern acts I like incorporate 60s folk and pop into their music. Mumford & Sons bears an aural resemblance to Crosby, Stills & Nash, who debuted in 1969, and I am very glad that my sister-in-law told me that some British tourists had come to New Orleans just to catch Mumford & Sons at Jazz Fest, so we should go hear them. I immediately bought Sigh No More. Though they are a harmonizing group, the ethereal nature and dark lyrics of Fleet Foxes songs such as "White Winter Hymnal" and "Tiger Mountain Peasant Song" bring Nick Drake to mind.
I have been thinking about my love for the music of the 1960s because I recently read David Mitchell's Utopia Avenue, the main characters of which are a in a fictional 1960s English folk-rock band. I thoroughly enjoyed it. One of my favorite moments is at a party on the roof of the Chelsea Hotel in New York and Janis Joplin, the hostess of the party, sings a new song by a teenaged Jackson Browne, "These Days." I never wanted to hear fictional music so much. That version of "These Days" in particular but also the music of the titular band. I guess that, despite being born in 1973, I am a 1960s girl at heart.