Psycroptic - 'As the Kingdom Drowns'
Angles from space make happy in your ears!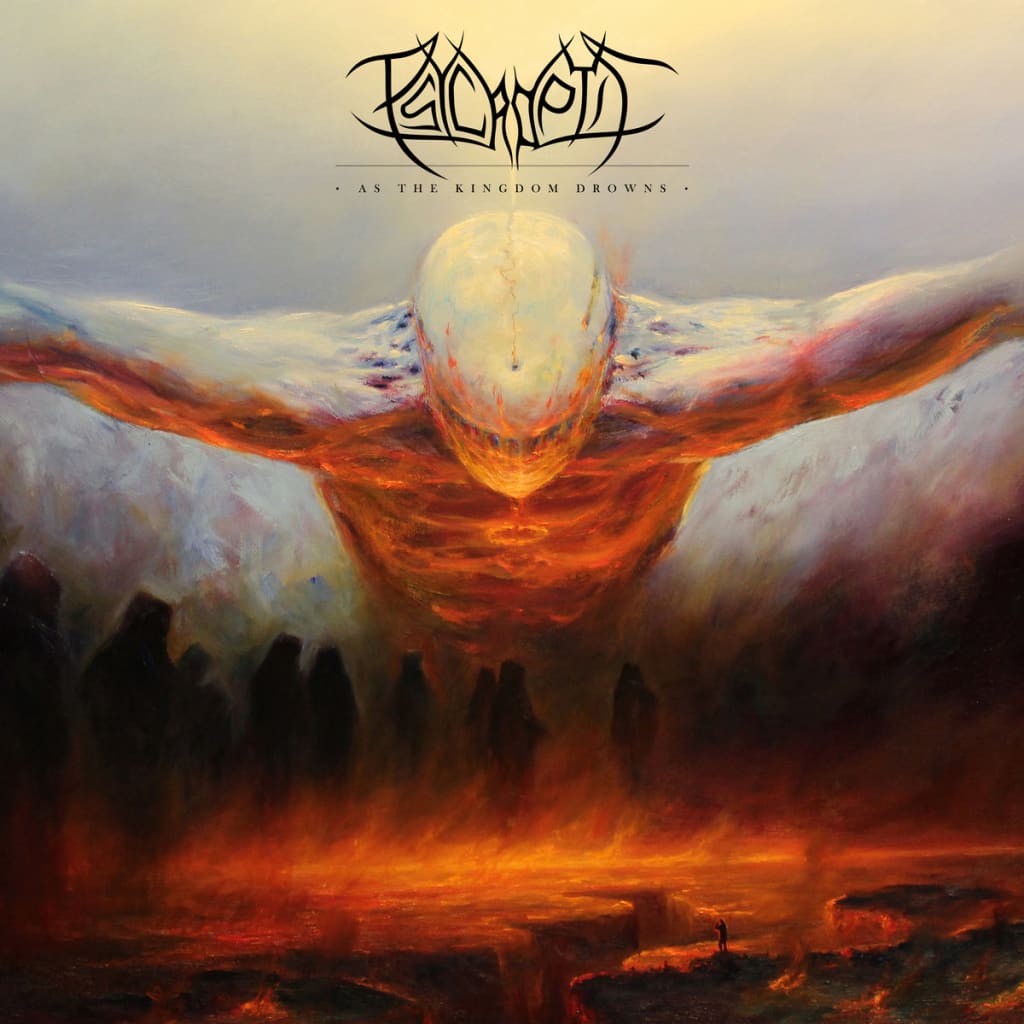 Formed in 1999 Psycroptic is an Australian technical death metal band from Hobart, Tasmania, Australia. With long time and founding members drummer Dave Haley and his brother Joe Haley on guitar who has been keeping band consistent in its style, yet somehow finding new ways to inject some new crazy jazzy styles to their sound over the years. As the Kingdom Drowns is the band's seventh release and second on their new label Prosthetic records following their 2015 self-titled album. Other albums include The Isle of Disenchantment (2001), The Scepter of the Ancients (2003),Symbols of Failure (2006),Ob (Servant) (2008) and The Inherited Repression (2012) so to say these guys are tech death vets is all but an understatement!
Their style can be a bit dense and hard to digest all at once much like others in their sub-genre such as "Nile," "Hate Eternal" and "Origin." Some would say that this is the extreme version of jazz music, which jazz in itself is not peoples cup of tea, but take that and add blast beats and screams. So as we delve into this keep that in mind, as we listen to the smooth sultry sounds as the kingdom drowns.
"We Were the Keepers" starts the album off with crazy tech riffs and breakdowns to start the album strongly. The way it had started I thought I knew what I was getting (some thrashy tech death) until around 2:30 which made me say out loud, "That is not what I expected." My ears seemed to process a seeming angelic choir jumped in on the track out of nowhere setting my expectations for the rest of the album super high! "Frozen Gate" continued the volley of chugs and crazy tech leads, the chorus on this one really stands out and I like the cleanish screams the vocalist is doing for the more ear grabby moments. "Directive" instrumentally and vocally sounds like some crazy alien mothership is flying over the listener with its captain screaming out to everything underneath it, it is a super fun space trip for sure! "Deadlands" is an overall decent song, kind of an overall stock song for the album, till that solo hits near the end, unholy crap that is some technical brilliance! The title track almost sounds like if Lamb of God wanted to write a tech death song, and that in no way is a bad thing for either band mentioned and towards the end that choir makes a comeback leading into beyond the black. Which seems like it could be an As Kingdoms Drown part two with a comeback of the angel from song one.
Instrumentally, these guys are truly amazing at what they do, songwriting alone at this level is impressive, but with how tight they are playing and how stand out of moments they have is nothing short of awesome! This blended with the vocals make an amazing assault on the ears, the vocals which are very unique for the style of music that is being played, this is also the most accessible part of the music for the common listener both in screams and the choir vocals, which add an interesting flair and changeup throughout the album as a whole!
Some of the downsides of the album are at around 27 minutes and change, this album is really short! Which for a tech metal band I would say is not as bad as you have to write all this craziness and changeup so much, any more would be a lot to take on. That being said there were a number of parts throughout the album that did feel a bit "this riff was clearly written right after or around the time of this" as on the second listen I could feel a bit lost on what song I was on as there are almost repeating parts from other songs in certain sections. This could just be my not as refined to tech death as I should be ears, though I try to tackle these from a point where a normal fan of metal would, leaving my old tech and prog days behind me as I took this in, and well that is what my ears told me.
Favorite Track(s):
I would have to pick three on this one, that being "We Were the Keepers" "As the Kingdom Drowns" and "Beyond the Black" as these were really stand out songs in an album if done wrong could have been kind of a giant blur of sound.
Rating:
This is one of those albums where rating it seems a bit hard, overall the album is brilliant, but as mentioned there were a lot of moments that felt a bit reused, so I am going with a very strong C+ to a soft, yet confident B-.
album reviews
About the author
Lead singer of the band Vesuvian, lover of the metals, horror movies and grower of beards!
Reader insights
Be the first to share your insights about this piece.
Add your insights