Post Malone's Up-To-Date Tattoo Collection!
Post Malone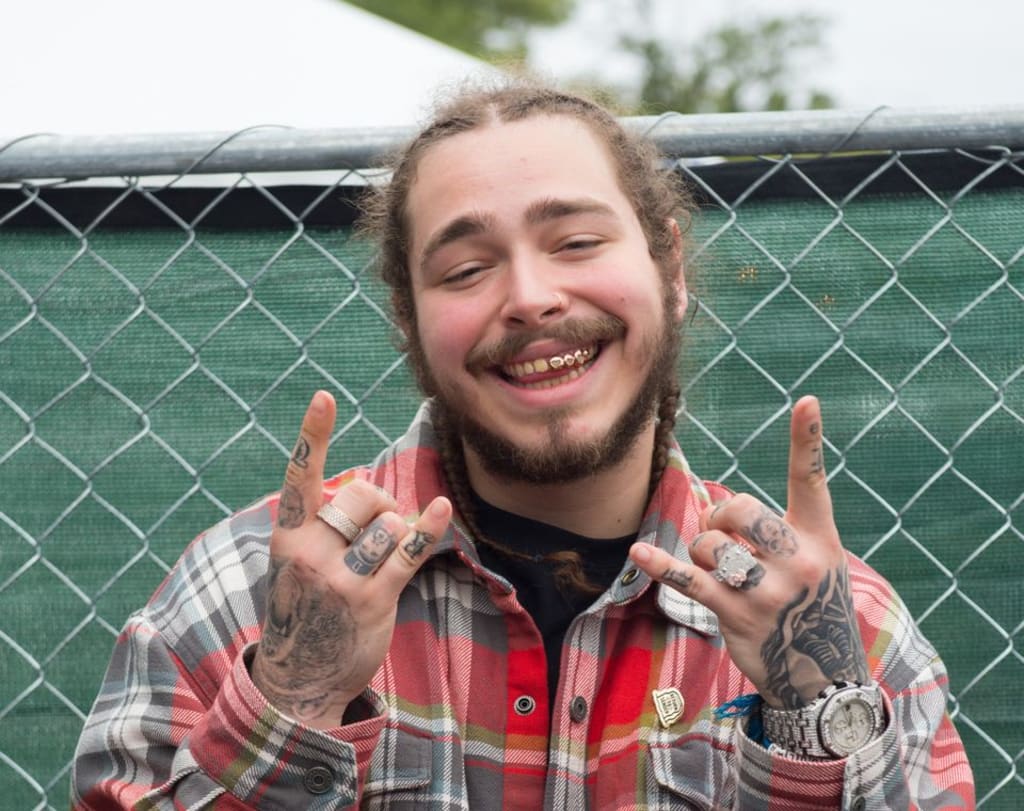 In light of Post Malone's recent face tattoo trying to break Twitter, I thought that I would do a little research and try to put together an up-to-date list of all the tattoos that Posty has... well, as many as I can see at least! Honestly, at this rate I don't think me or the internet could keep up!
Face Tattoos
1. Etching: So let's start out with the Twitter video. On Malone's recent trip to Tokyo, Japan, he got this etching on the side of his face, by the tattoo artist known as Ganji.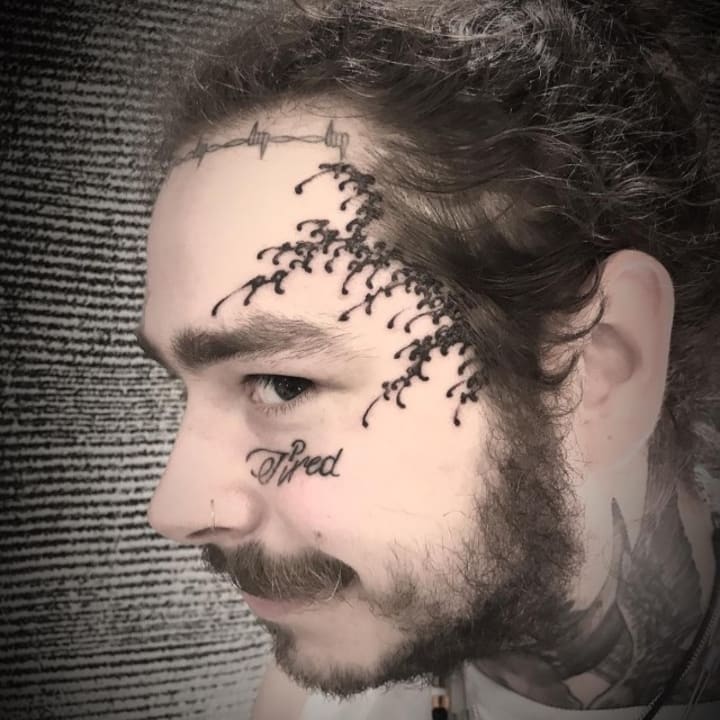 As pretty and whimsical as I think it is, I don't think that it is something I would get. It honestly reminds me of Japanese Cherry Blossom branches. Thoughts?
2. "Always Tired": Post got this tatted under each eye. In an interview with London Hip-hop radio and tv personality Tim Westwood, he stated that he got the tattoos on his face to piss his mom off. He'd better watch out before he gets grounded!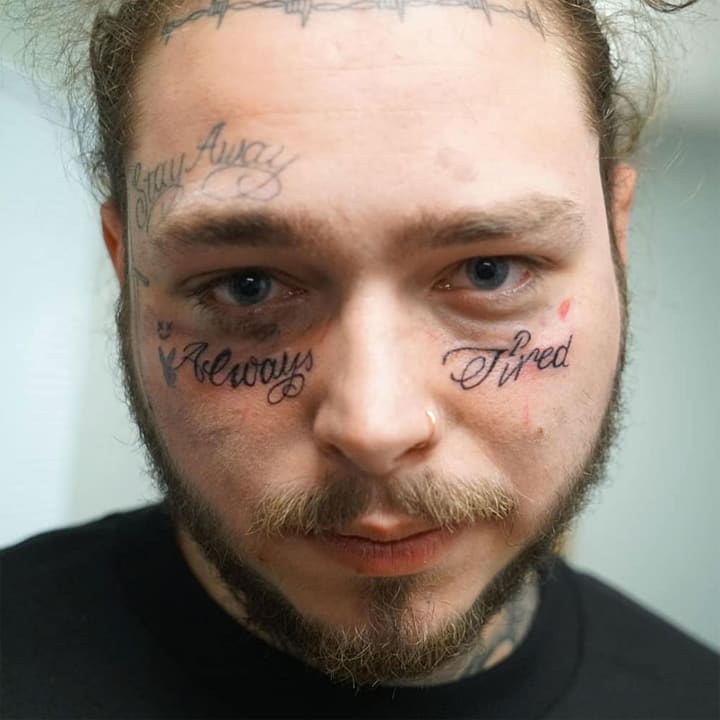 3. Dagger: Posty stated that the dagger he has tattooed on his cheek is actually called a "Claymore." He talked about his love for medival swords in the above interview. He said he had some when he was a kid. I'm guessing they were toys... hoping they were toys! Now he says he has a collection of REAL swords, and guns.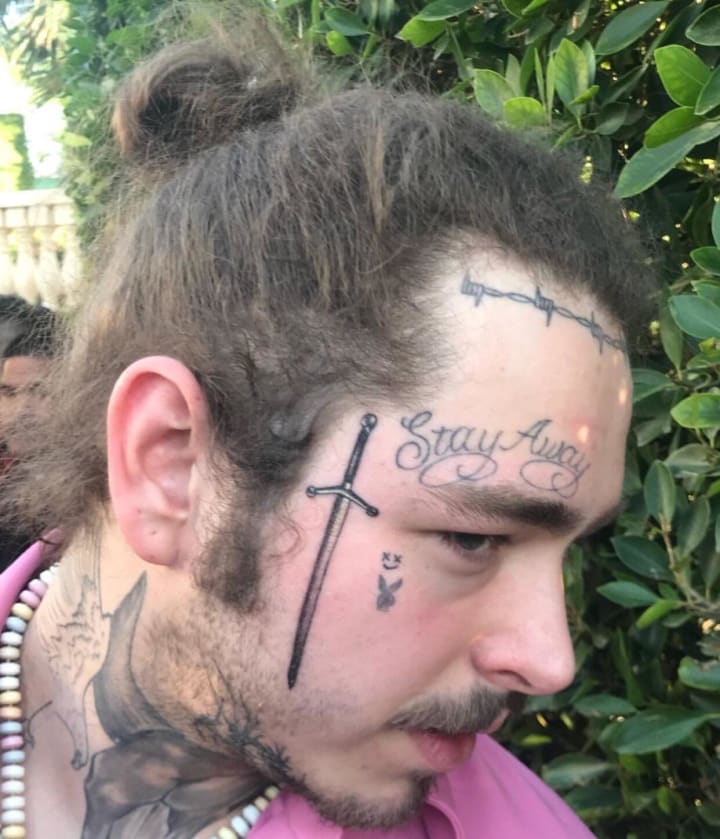 4. "Stay Away": This is tattooed above his right eye.
5. Mini-Playboy Logo: This little logo is tattooed under his right eye.
6. Smiley Face: This cute little face is right above his mini Playboy logo.
7. Barbed Wire: This is right across his forehead.
Hand Tattoos:
8. More Barbed Wire: This is right across his knuckles.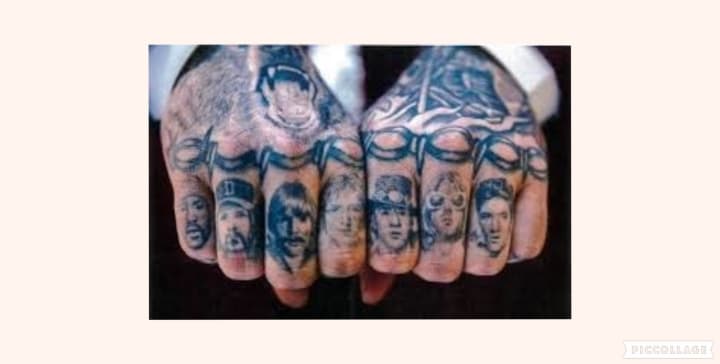 9. Finger Portraits: These are all done so well, but the artist is unknown. They include pictures of Elvis Presley, Kurt Kobain, Dimebag Darrel, John Lennon, Stevie Ray Vaughan, George Harrison, and Bankroll Fresh. He said, "I only get people who inspire me tattooed on me. Without these guys I wouldn't even be making music."
10. Bear: This growling animal tat is on his right hand.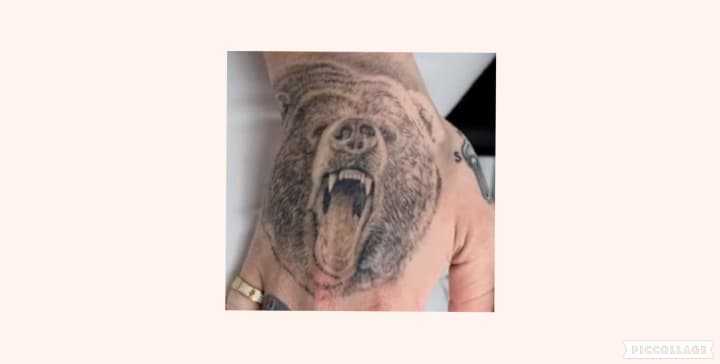 11. JFK: This portrait is on his left hand. It was done by Victor Modafferi. Malone said, "I think people should model their Americanism after JFK, I love America."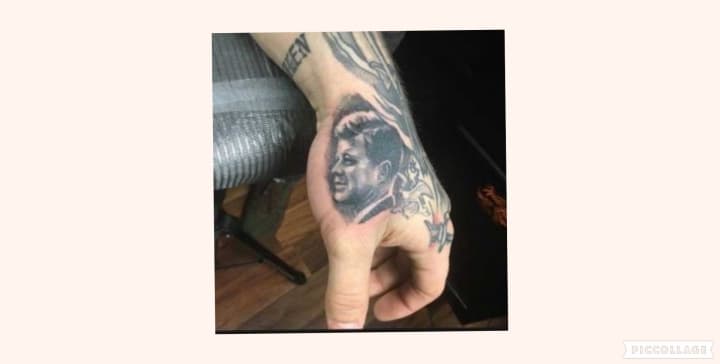 12. "REST EASY": tattooed on the tops of his fingers.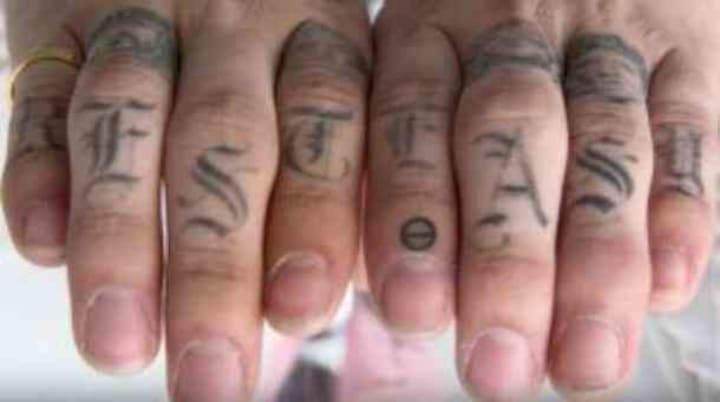 13. Cartier Love Bangle: This little circle is on his left finger at the top. In a video he said, "This was the most painful of all of his tattoos, it felt like they were tattooing my soul."
14. Saint Jude and his Inner Demon: This is tatted on his left hand going up his arm. It was done by Kyle Hediger.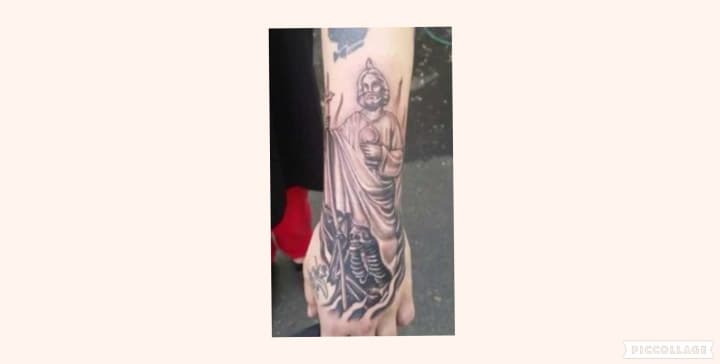 Left Arm:
15. Snake wrapped around an M16: This is on the back of his left arm.
17. Johnny Cash Portrait: This is right above the Lil Peep tattoo. Honestly, I think everyone has been inspired by Johnny Cash and if you haven't then you can "WALK THE LINE."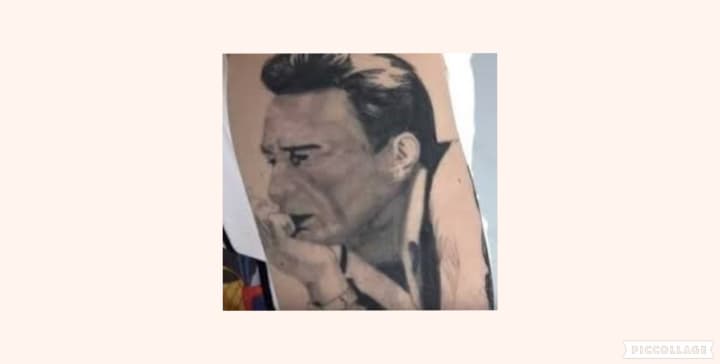 18. "SO FAR, SO GOOD... SO WHAT": On left lower forearm.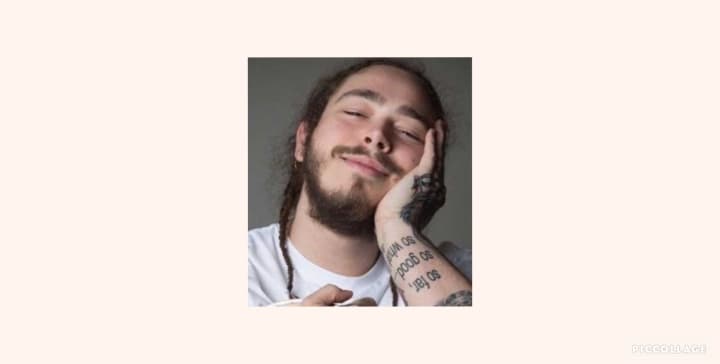 19. Skull Tattoo: Post Malone got a stone-cold skull tattoo with the Texas flag and a gold grill on his left inner forearm, by tattoo artist Yeyo Mondragon.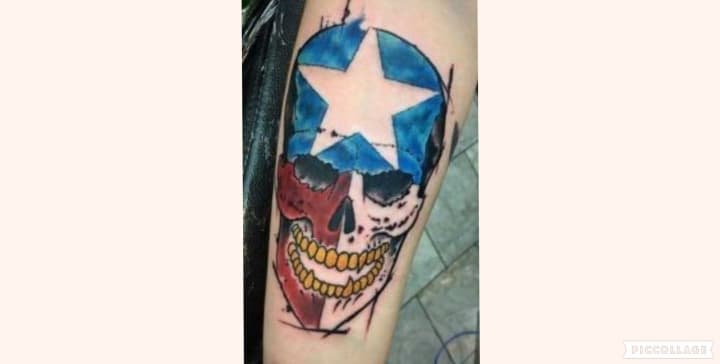 20. Big Playboy Bunny Logo: This tattoo is on the left forearm—and it is also Post Malone's very first tattoo.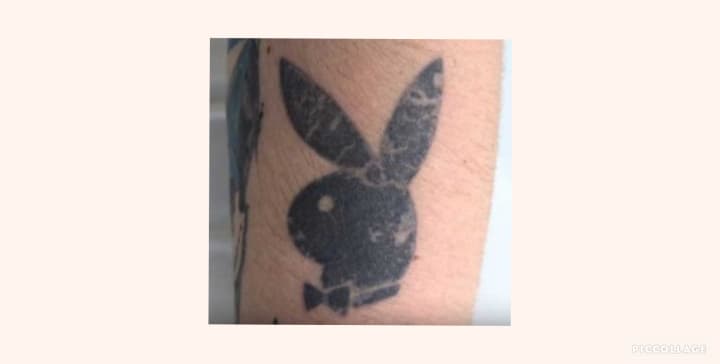 21. Gadsden Snake: Don't tread on POSTY... He has the Gadsden snake on his left forearm, and with his extensive collection of swords and guns, I'd be damned if I would even try!
Right Arm:
22. Knight fighting a battle on a white horse: This is on his right forearm, and to no one's surprise it looks a lot like a self portrait.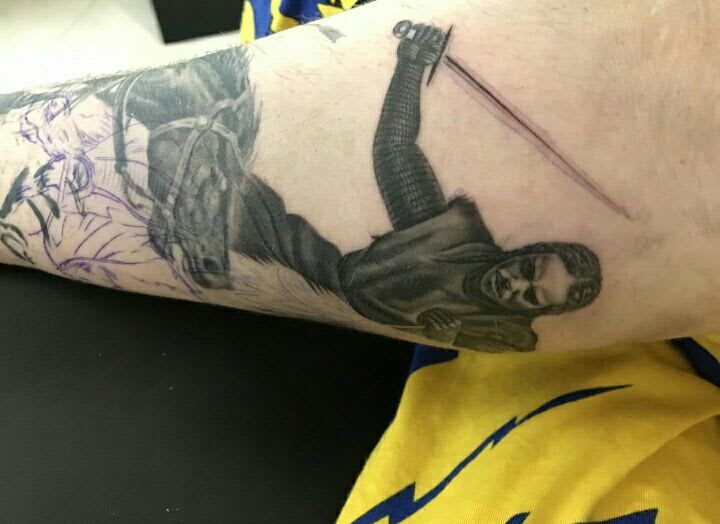 23. Praying hands with a gun in between them: This is tattooed on his right shoulder. I'm just going to take a wild guess and say that it was meant to pay homage to his faith and possibly his love for guns?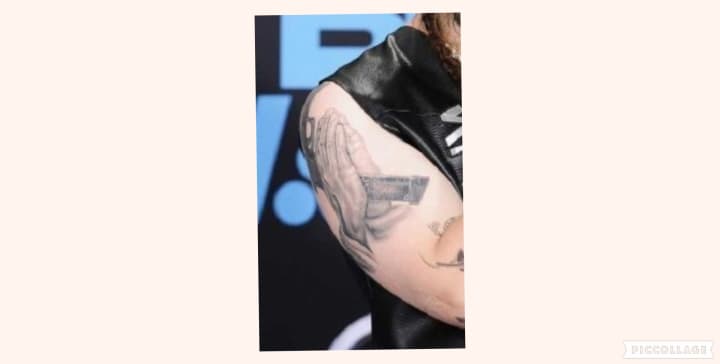 24. World War I soldier: This is tattooed on the right forearm.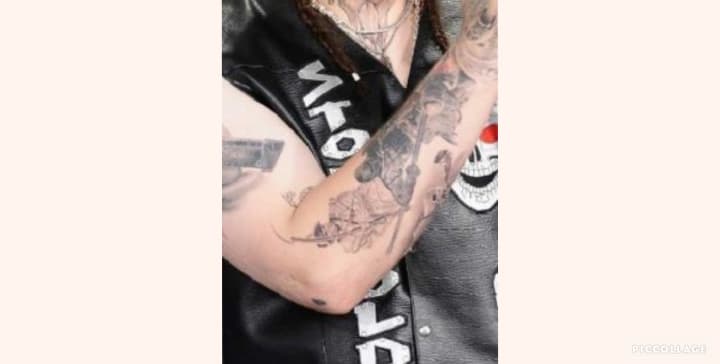 Legs:
25. Fallout Vault Boy: Tattooed on his left leg above the ankle.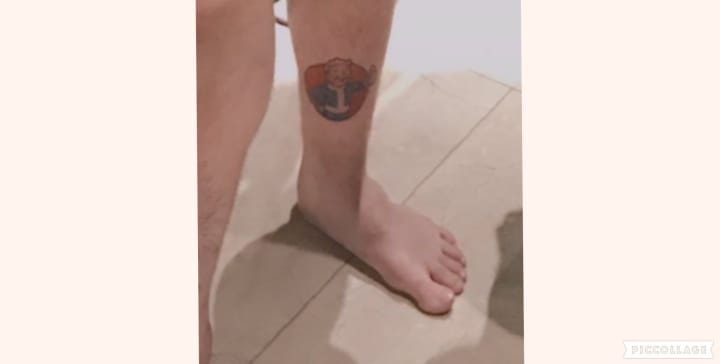 26. Skull with a Cherokee Headdress: Tatted on the right leg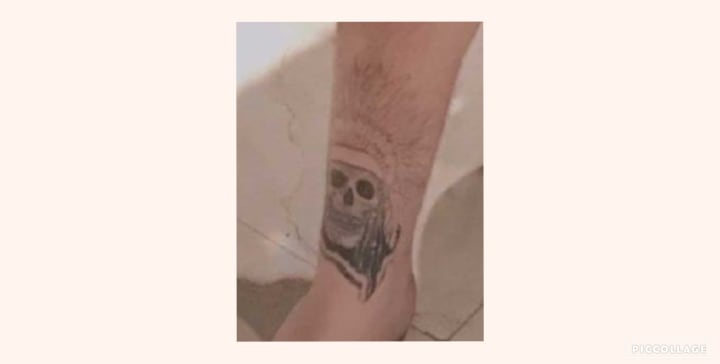 Neck:
27. Eagle: Tattooed on his neck. Obviously Post loves America.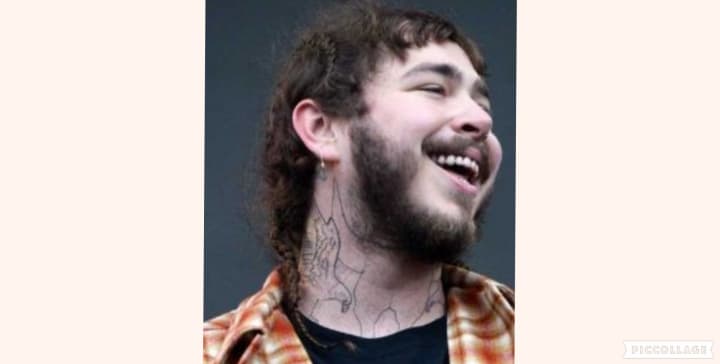 28. Bison Skull: Tattooed on the throat.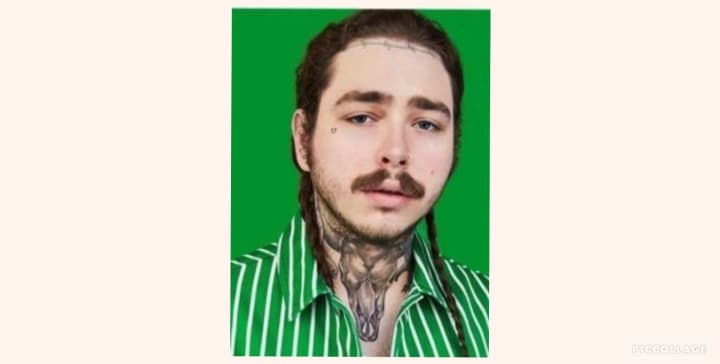 Although I could only see 28, I am almost certain that Posty has many more tattoos and plenty more to come!
Thanks for reading and getting weird with me!
Please go and check out my other Post Malone stories!