Pop Queens Who Rocked the 90s: Christina Aguilera & Britney Spears
Pop Queens of the 90s generation.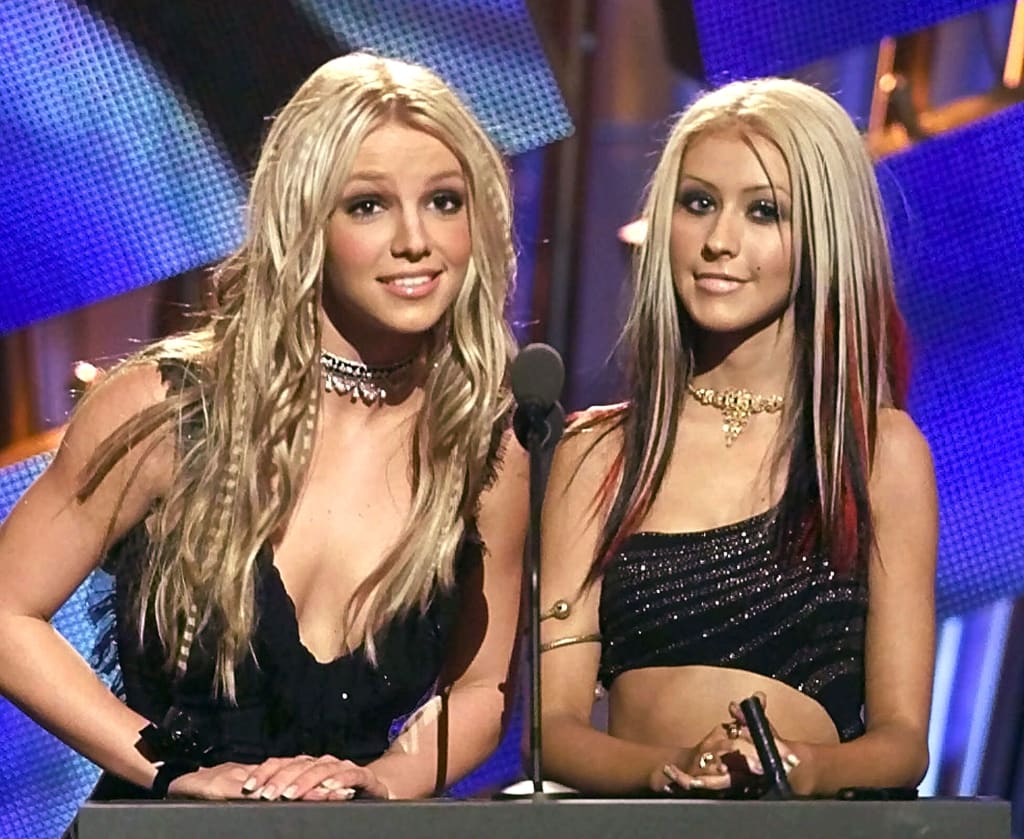 Britney Spears and Christina Aguilera at the 2000 MTV Video Music Awards
These two pop queens started off on Star Search to joining the Mickey Club to becoming iconic Pop Queens of the 90s generation. Behind the scenes, things got chaotic between the two causing more media attention from the infamous Madonna VMA kiss. These two women have continued on their music careers but kind of drifted off, then the Free Britney movement, and the return of the feud again.....But even though two are no longer friends Spears and Aguilera are known as the Pop Queens of the 90s generation.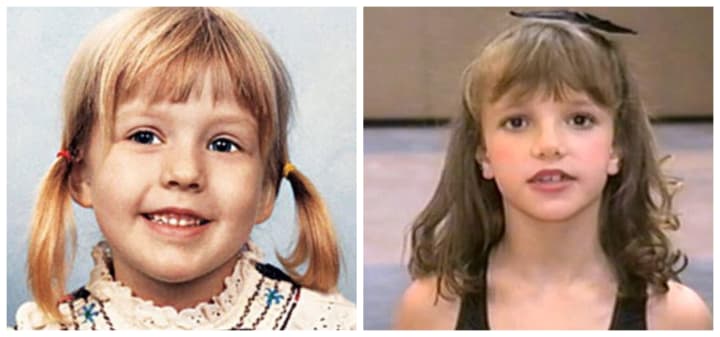 Humble Beginnings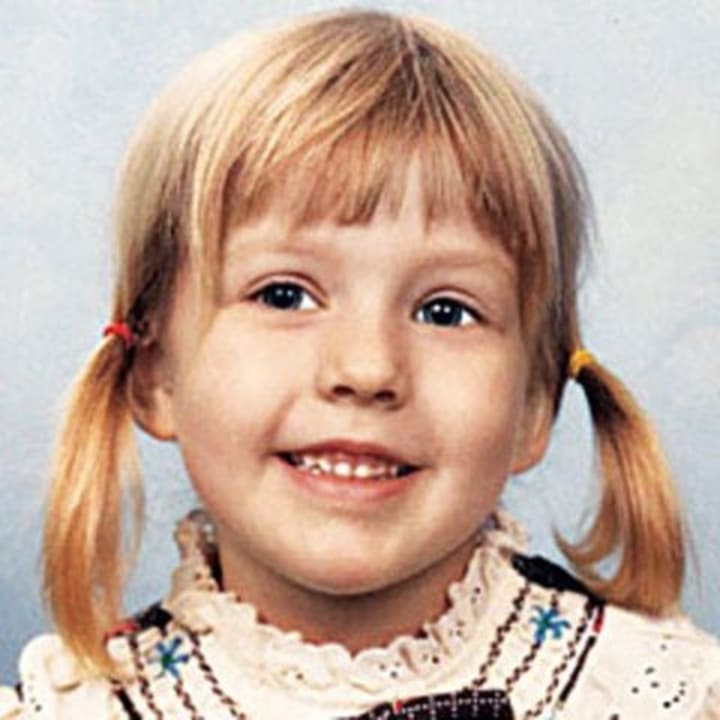 Christina María Aguilera was born in Staten Island, New York City on December 18, 1980 to her parents musician Shelly Loraine Kearns and Army father Fausto Xavier Aguilera. Her father was born in Ecuador and her mother has German, Irish, Welsh, and Dutch ancestry.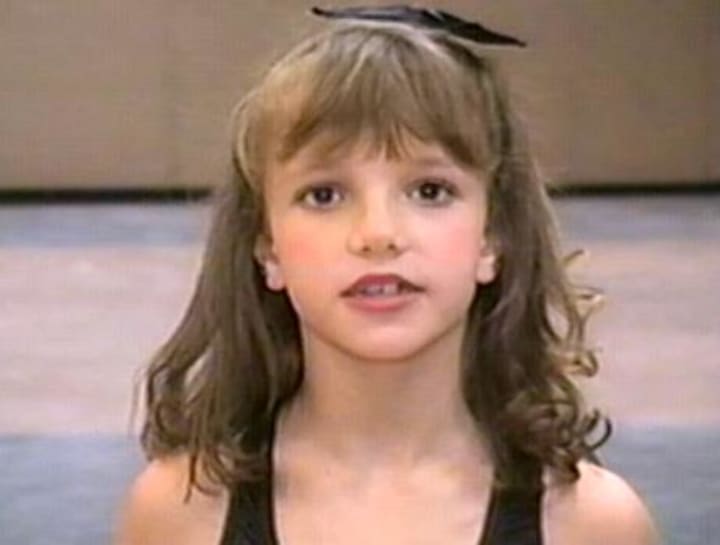 Britney Jean Spears was born on December 2, 1981, in McComb, Mississippi to the parents of James "Jamie" Parnell Spears and Lynne Irene Bridges. She is the second oldest of her siblings Bryan Spears and actress Jamie Lynn Spears.
Star Search: The Start of the Young Starlets
As a child, Aguilera was drawn to soul and blues records her grandmother bought and would practice singing. At age 10, Aguilera sang a cover song of Etta James "Sunday Kind of Love" on Star Search but lost to a 12-year-old named Christopher Eason.
Spears started at age five she made her local stage debut, singing at her kindergarten graduation. During her childhood, she also had gymnastics and voice lessons, and won many state-level competitions and children's talent shows. At 10-years old, Spears appear on Star Search. Spears wowed host Ed McMahon with her first appearance, singing Eva Tanguay's "I Don't Care" she made it to the next round.
After singing in the next round, Spears didn't make it as well but it wasn't the end for the girls.
The All-New Mickey Mouse Club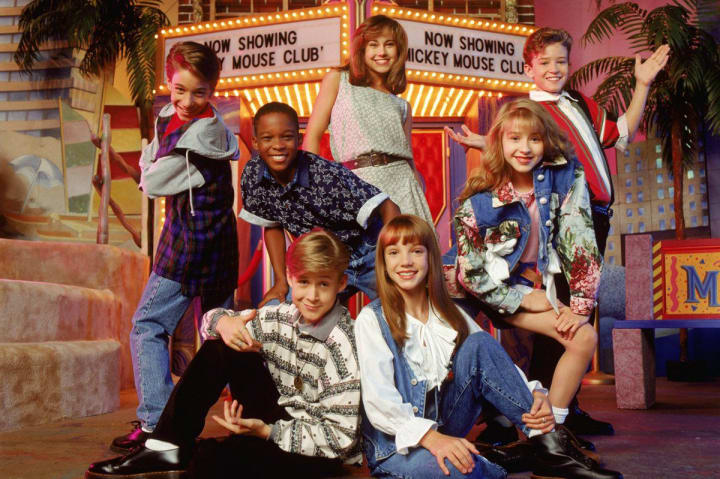 After Star Search, Spears and Aguilera had to look for gigs to reach for their stardom. A casting director was holding auditions looking for tweens to be apart of Disney's variety show for the All New Mickey Mouse Club. Spears was eight when she auditioned for the Mickey but the casting director says that she was too young to be on the show but she got a chance to meet her talent agent through the casting director of the show. Aguilera auditioned for the show when she was 11, though she didn't met the age requirement she joined the cast of the show. After Spears starred in some commercials, she was finally cast on the show in 1992. During their time on the show, Aguilera and Spears became the best friends on the show.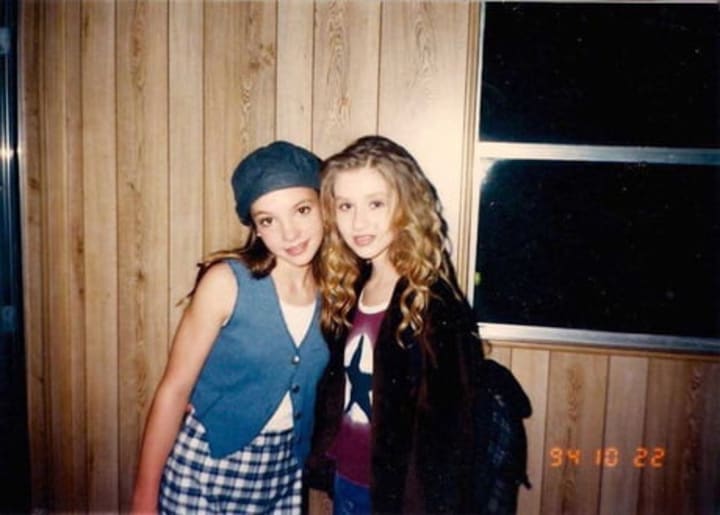 Not only that, Spears had her first kiss with her cast mate and future boyfriend Justin Timberlake.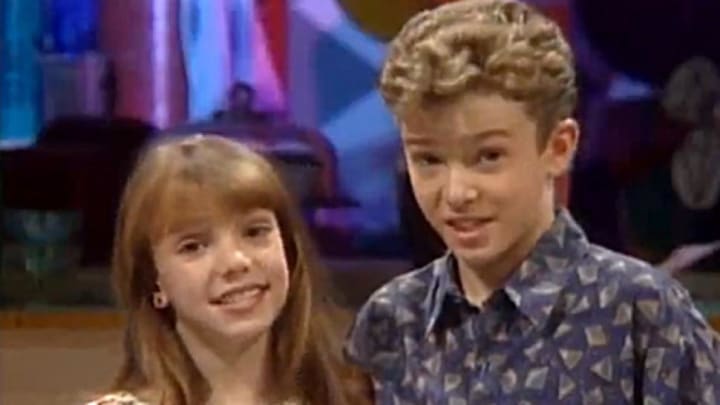 The show would canceled in 1994.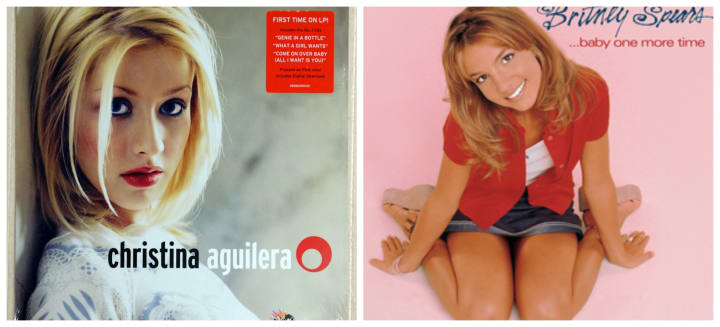 Their Debut Albums
After the show ended, Spears and Aguilera set off to start their music careers. Aguilera moved to Japan and recorded her first song, "All I Wanna Do", a duet with Japanese singer Keizo.
She would later record the song "Reflection" for the Disney animated film Mulan after they heard her cover version of Whitney Houston's "Run to You". The song was released in June 1998 and made it to the Billboard 100 charts. Ron Fair, A&R record producer grew interest in Aguilera and signed her to RCA records.
Her singles "Genie in a Bottle", "Come On Over (All I Want)", "What A Girl Wants", and "I Turn to You" topped the Billboard 100 charts making her album number one on the charts and certified octuple platinum becoming Aguilera's best selling album.
At the 42nd Annual Grammy Awards in February 2000, Aguilera won her first Grammy for Best New Artist.
Spears would go on working on her debut album as well. Her debut studio album, ...Baby One More Time, was released on January 12, 1999. The album was received praise and two Grammy nominations.
A year following her debut album, Spears released her second album Oops...I Did it Again in 2000 which made a huge success better than her debut album.
Her single "Oops I Did It Again" was the most talked about single and became a commercial success making the album the most best selling album.
Young Love: Britney & Justin
Spears and Justin have known each while working with each other on Mickey Mouse Club. Justin had a huge crush on Spears while they were working together. According to Spears, Justin was her first kiss. While they were in their teens, the two became close friends and became closer than that. In 1999, Spears and Timberlake started dating. The couple had made public appearances in making them iconic cutest couple in the late 90s.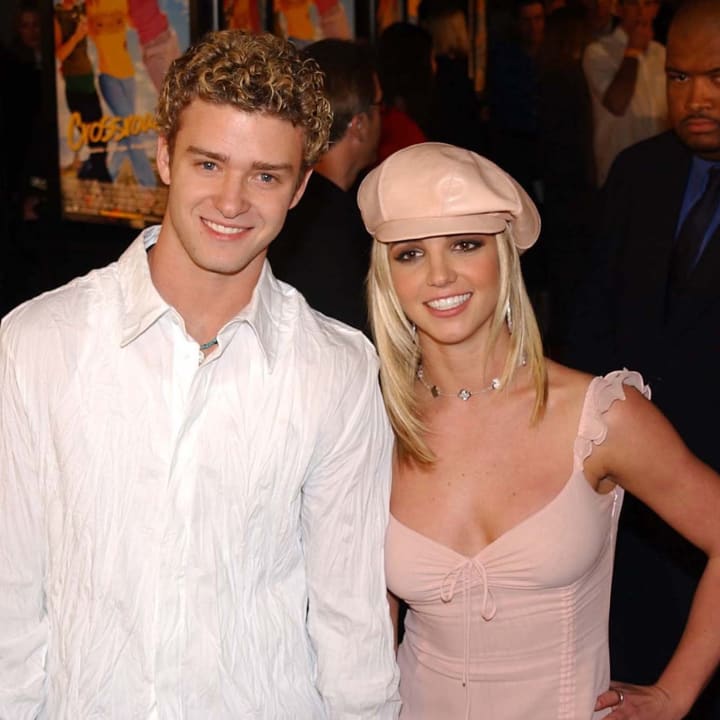 The two broke up in March 2002. The breakup was alleged that Spears cheated on Timberlake with Australian choreographer Wade Robson.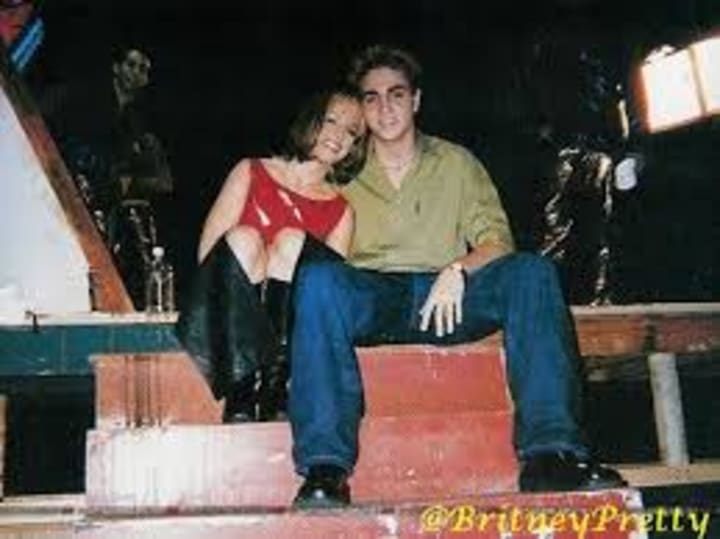 Though Robson denies the cheating claims. According to Wade's former girlfriend Brandi Jackson (Michael Jackson's niece), while Robson was on a shady documentary called Leaving Neverland accusing the late King of Pop for sexually abusing him when he was a child. However, Brandi calls out Robson "a liar" and says he is the reason why Justin and Britney broke up even though he denies it.
Their split was inspired by Timberlake's debut single "Cry Me a River" for his debut album Justified.
After their split, things got ugly between the two. Timberlake would brag about their sex life in his appearance on Saturday Night Live. Timberlake would apologize to Spears in 2021.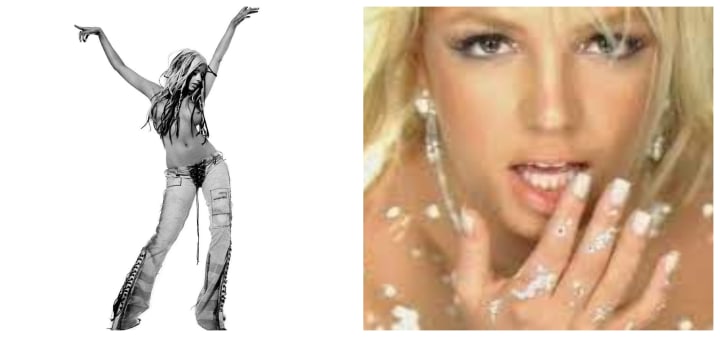 New Britney, New Christina
Since the success of their albums, Spears and Aguilera had to undergo changes from their teen pop icon image. No longer the 90s teen pop icons. Aguilera took her first steps in artistic control with a cover of Labelle's "Lady Marmalade" (1974) with Pink, Mýa, and Lil' Kim for the Moulin Rouge! soundtrack. The song topped on Billboard and would later win a Grammy for Best Pop Collaboration. After the success of Lady Marmalade, Aguilera took a different turn as the "new Christina" not the same teen idol Christina anymore bringing more of her true self. Her second album, Stripped was released on October 22, 2002. Stripped received generally mixed reviews from music critics; many criticized its lack of musical focus, while some of them called it "almost" an album for grown-ups, with comparisons made to Mariah Carey and Janet Jackson. Her album debut on number two on the Billboard charts making it 4x platinum.
Her single "Beautiful" was the most top charting single from her album praised by critics and fans. As for Spears, after her controversial Rolling Stone magazine cover, she took a different approach from the good girl image to naughty pop star image.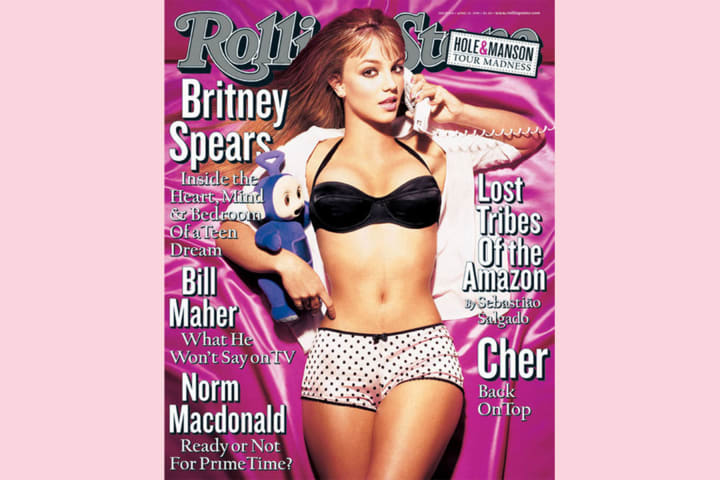 Her self-titled third studio album, Britney, was released in November 2001. While on tour, she felt inspired by hip hop artists such as Jay-Z and The Neptunes and wanted to create a record with a funkier sound. The album debut number one on the charts. Her next album, In the Zone, released on November 2003 receiving praise from music critics and fans.Four singles were released to promote the album, with "Me Against the Music", "Toxic" and "Everytime" all were number one on the music charts. "Toxic" also won a Grammy for Best Dance Recording which became Britney's first Grammy win.
Spears vs Aguilera (The Feud)
After the Mickey Mouse Club and their success of their albums, Britney and Christina have had their fair share of tension over the years. After Aguilera released "Dirrty" in 2002, she told Cosmopolitan that she wasn't a fan of everyone depicting Aguilera as the "bad girl" and Spears as the "good girl".
"I remember being hurt by these commercials on MTV, pitting Britney as the good girl and me as the bad girl. It's like, if I'm going to be demure and innocent, that's okay. But if I'm going to just be myself, I'm trouble."

Aguilera, Cosmopolitan September 2018
But that's not how the feud started.
For starters....it started in 2003
Spears and Aguilera performed "Like a Virgin" dressed as sexy brides on the topper at 2003 MTV VMAS alongside music icon Madonna as the groom and kisses the both of them.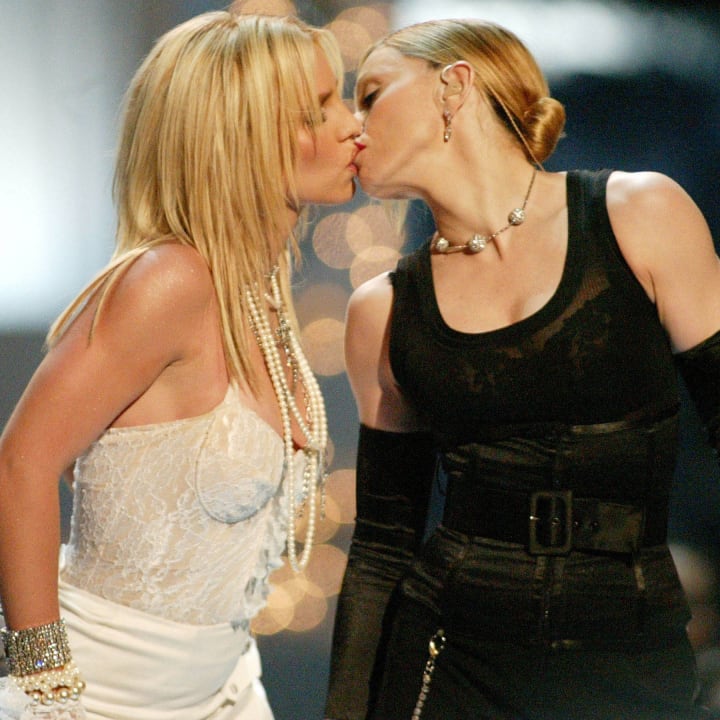 All the attention was on Britney and Madonnas lip lock and Spears ex boyfriend Justin Timberlake's facial expression. The Britney and Madonna kiss became the most talked about on the media leaving Aguilera in the shadow. Aguilera felt some type of way on the attention that Spears was receiving that she became shady towards Spears. When Spears was on TRL, host spoke to Spears on Aguilera's comments by saying and quote:
"They are just fake and superficial"
Crowd boos Aguilera's comments and Britney claps back by saying:
"Didn't she kiss her too?"
I mean.....well at least Britney kept it classy.
Years after the kiss the two have talked about wanting to reunite somehow but nothing happened.
New Love for Britney
Before she met her future husband Kevin Federline, she got with her then first husband, Jason Allen Alexander.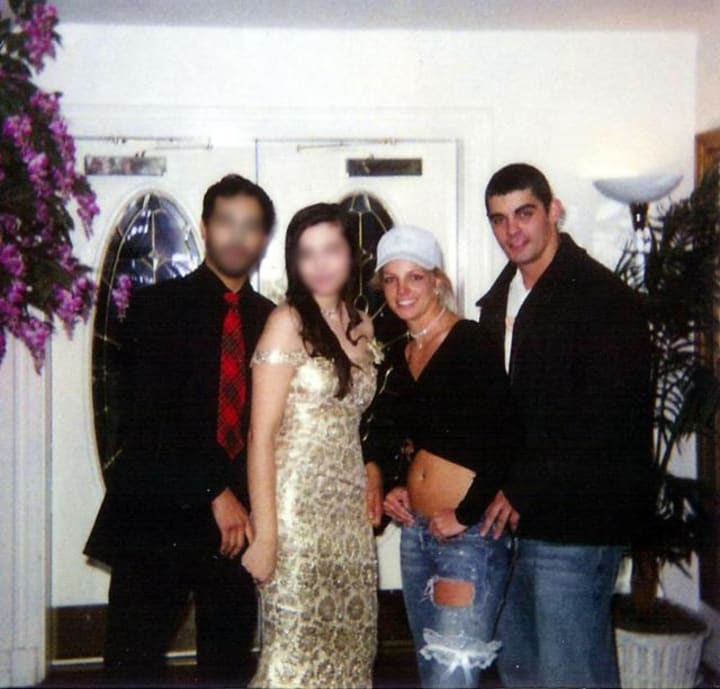 The two would secretly get married in Las Vegas then divorced after 55 hours. Spears later calls that marriage a mistake. She meet her next future husband backup dancer and aspiring rapper Kevin Federline at the Hollywood club, Joseph's Cafe.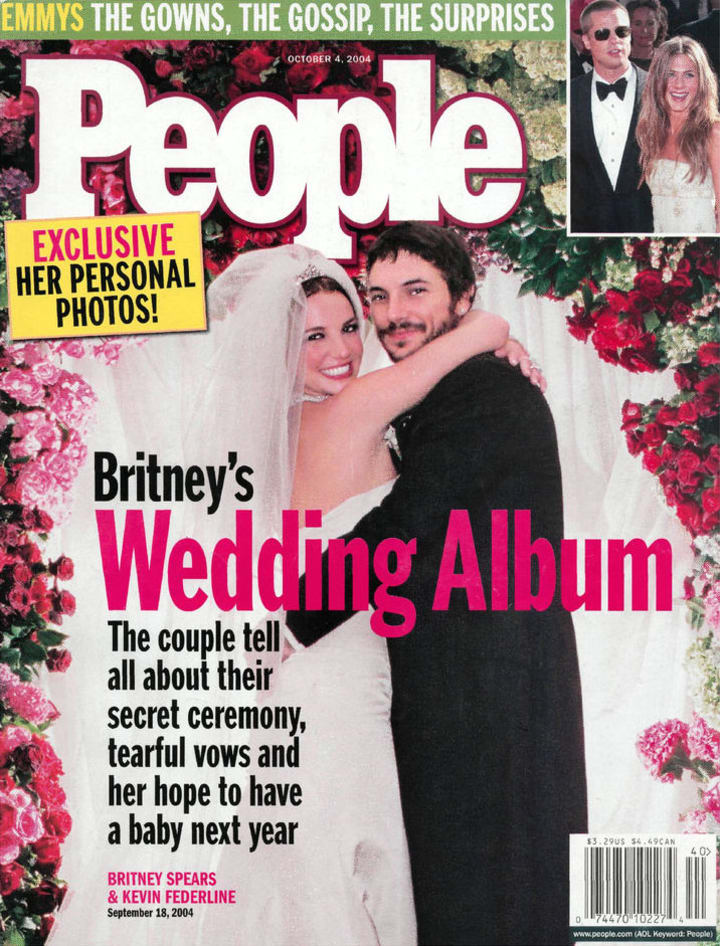 Federline was already engaged to Moesha star Shar Jackson and was also pregnant with their second child at the time. The two would later call it quits after Jackson found out that he was dating Spears. After three months of dating, Federline and Spears got engaged then got married in September 2004. Their marriage was documented on their brief short lived docuseries Britney & Kevin: Chaotic. The two would have two sons until their marriage crumbles. Spears filed for divorce in 2007.
Britney's Breakdown
In 2007, after her split with her ex husband Kevin Federline, Spears have completely lost it. Well for starters......
In February 2006, pictures surfaced of Spears driving with her son, Sean, on her lap instead of in a car seat. Child advocates were horrified by the photos of her holding the wheel with one hand and Sean with the other. Spears claimed that the situation happened because of a frightening encounter with paparazzi, and that it was a mistake on her part. At the 2007 MTV VMAS, Spears was lipsyncing and show a lack on her choreography giving the crowd some confusion. According to Spears, she never wanted to perform at the MTV Video since she was going through a breakdown in her career. Spears was spotted at salon, sitting on the chair, she grabbed the clippers and started shaving her hair leaving her bald. Spears breakdown would be the most talked on celebrities on every national news from Fox News to MSNBC. Another when bald Spears use an umbrella to hit a papperazzi car.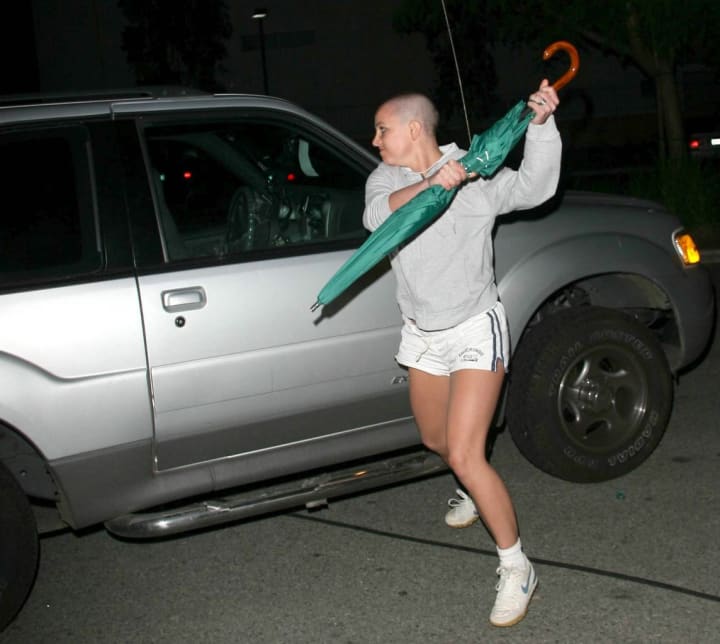 Some theories believes her breakdown was a distraction for President Bush since he gaining controversy for starting a war in Iraq. Allegedy!!!!
The National Disaster
On February 2011, Aguilera was performing the national anthem at Super Bowl. Her vocals were over the top and she became the most laughing stock on social media and news outlets.
It's Briney B**ch & Free Britney Movement
After Britney's breakdown, Spears went to rehabilitate herself and made some changes to focus on her career and her sons. Spears released her sixth album Circus which was her comeback album since her fifth album Blackout. Yeah I don't receive positive reviews and topped the charts. Three of her singles, "Womanizer", "Circus" and "If You Seek Amy" Became number one in the US charts in international charts. At first I didn't understand the whole free Britney movement until now. Though the term "Free Britney" had existed since 2009, the usage of the term as a hashtag to advocate for Spears began in 2019 after her career hiatus and mental facility stay.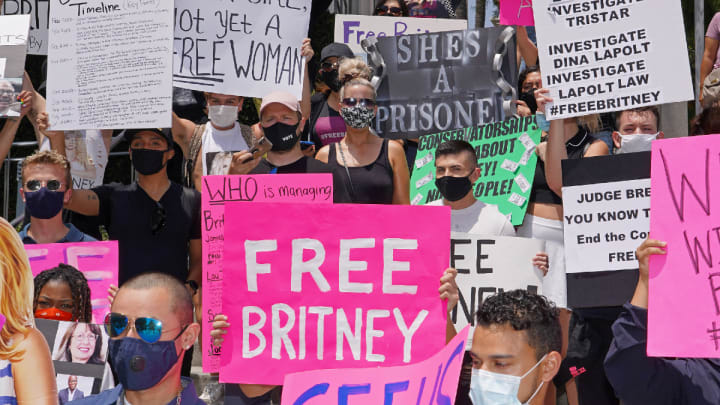 The movement has spread from Los Angeles to DC to everywhere around the world. Until November 2021, the conservatorship was terminated which allowed the pop singer to be independent and free to be herself. Britney's fans celebrated outside of the courthouse.
The Return of the Feud?
This is whole another "Oh sh*t, here we go again".Two months after refusing to speak about the end of Spears' controversial conservatorship during an awkward red carpet appearance, Aguilera was showing her support for the FreeBritney movement until Spears called out Aguilera for not supporting her. Spears posted on her Instagram story in November 2021.
"I love and adore everyone who supported me … But refusing to speak when you know the truth, is equivalent to a lie!!!!!"
Who knows if these women will ever be friends again. Hopefully, they will or maybe they won't. But no matter what they will always be "Pop Queens of the 90s Generation"
Source
https://en.wikipedia.org/wiki/Britney_Spears
https://en.wikipedia.org/wiki/Christina_Aguilera
https://www.thesun.co.uk/news/8616031/michael-jackson-niece-leaving-neverland-wade-robson-liar/
https://www.elitedaily.com/dating/britney-spears-justin-timberlake-relationship-timeline
https://www.usmagazine.com/celebrity-news/pictures/britney-spears-love-life-2013206/31255-2/
https://www.usmagazine.com/celebrity-news/pictures/britney-spears-and-christina-aguileras-friendship-through-the-years/amp/
https://www.wonderwall.com/entertainment/tv/mickey-mouse-club-stars-how-their-lives-have-changed-3010760.gallery?photoId=10001
https://www.rollingstone.com/music/music-news/losing-to-win-remembering-the-real-stars-of-star-search-117560/
pop culture
About the author
Hello, My name is Gladys W. Muturi. I am an Actress, Writer, Filmmaker, Producer, and Mother of 1.
Instagram: @gladys_muturi95
Twitter: @gladys_muturi
Facebook: facebook.com/gladystheactress
YouTube channels in the works
Reader insights
Be the first to share your insights about this piece.
Add your insights