Paula DeAnda & Nivea Are in the Building Sis
The dream team of a lifetime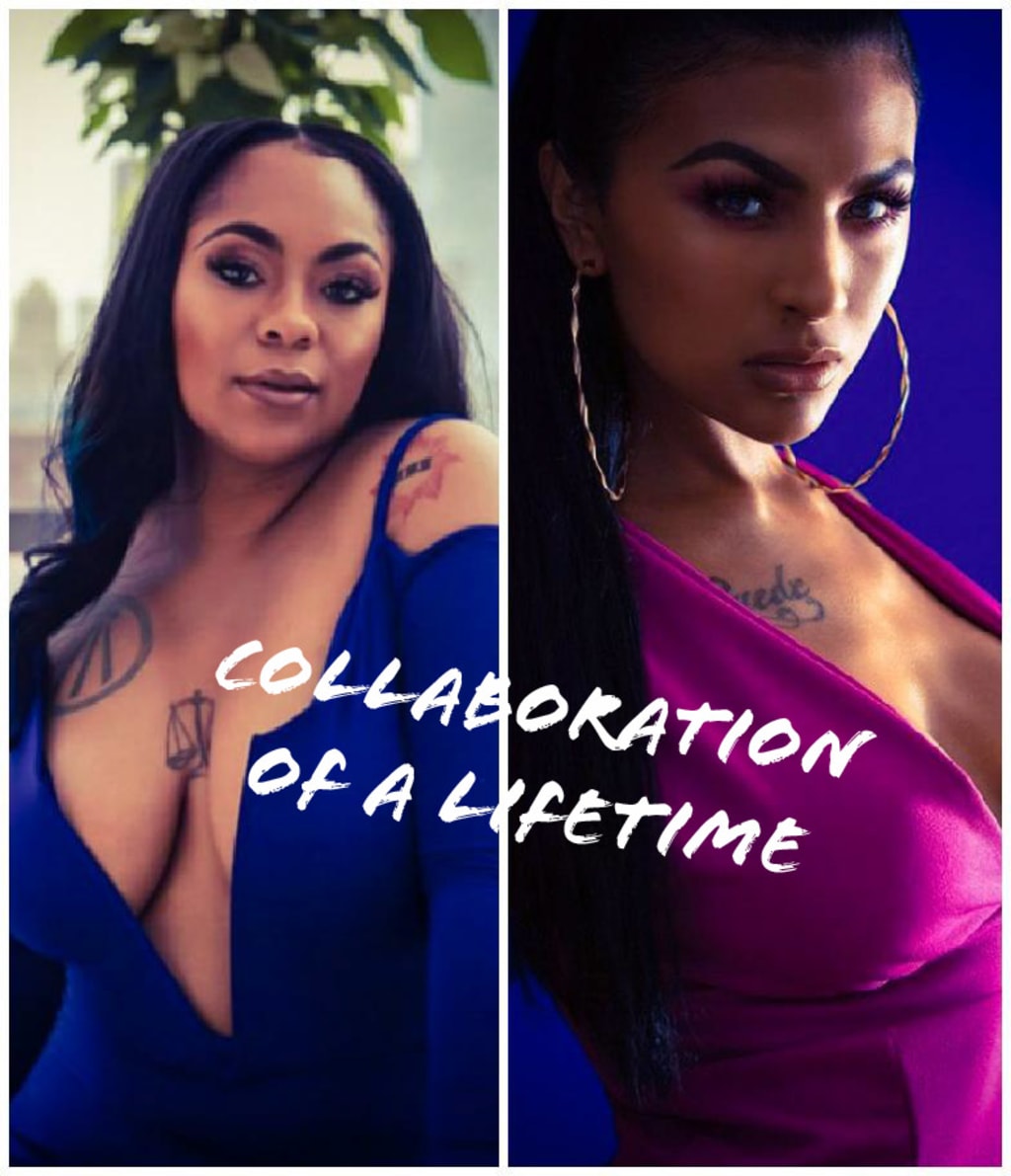 Nivea & Paula DeAnda
We officially have our sights set on the world's last chance of sanity, through the form of R&B and Soul music. The ladies of soul are in the kitchen and they're cooking up something magical. From our last story titled Yes Ma'am: Paula De'Anda & Nivea Dream Team we bring you the better and more revised version of the story, so let's just forget we ever did that one, okay? Since the day Paula came into the game, us fans have been begging to hear her soulful voice harmonize with the Goddess-like voice of Nivea. The two have been linked once in a now deleted collage story on the old gossip blog Treva—yes, which was removed by Yahoo.com in 2012. The blogger had posted their opinion of why the two beautiful women would break chart records and even snag themselves a Soul Train Award for the Ladies of Soul category. The keys point the blogger made were that both women bring back the roots in R&B and Soul music, and that no matter how much they modernize, they won't shy away from who they are. So let's take a dive into the magic of what's to come.
From July to Mid-October, fans have remembered what magic the two ladies could make and begun to bug-bug-bug. Luckily for us Nivea and Paula both have in the past open themselves to fan Q&A's. Paula was the first to be asked and I quote the Instagram user trina2.0, "Will you ever do an all girls collab with Nivea, Jojo, and Lil' Mama?"
Paula happily answered that user via Instagram Live, "I would be down to that."
Well trina2.0 definitely knows what she was doing. Nivea, Jojo, Lil' Mama, and Paula DeAnda have both been signed to sister branched companies of Sony BMG and Universal Music Group. Both Nivea and Lil' Mama were signed to Jive Records, now solely know as RCA Records, which was a direct branch of J Records in division Blackground Records, a part of Sony BMG which housed R&B Singer Jojo. Blackrgound's partnership with Arista Records is the branch of Universal Music Group and Sony BMG, that housed Paula De'Anda. Paula De'Anda, Jojo, and Lil' Mama have all performed on tour, sadly never together, because they didn't get around to collaborate. Thankfully Jojo & Paula did form a friendship away from the business so there is still clear hope for them to work together.
When it came to Nivea opening up a Q&A of her own, Official Teal Fanpage operator David B. asked Nivea, "Would you do a collaboration with Paula & Jojo, both do R&B?" To which Nivea responded that she would gladly love to do that. David B. took the opportunity to repost a screenshot of that and tag Paula De'Anda, to which she responded with a winky face emoji. So looks that there is hope there as both women followed each other and liked each other's recent posts. David B. Gladly added his excitement below.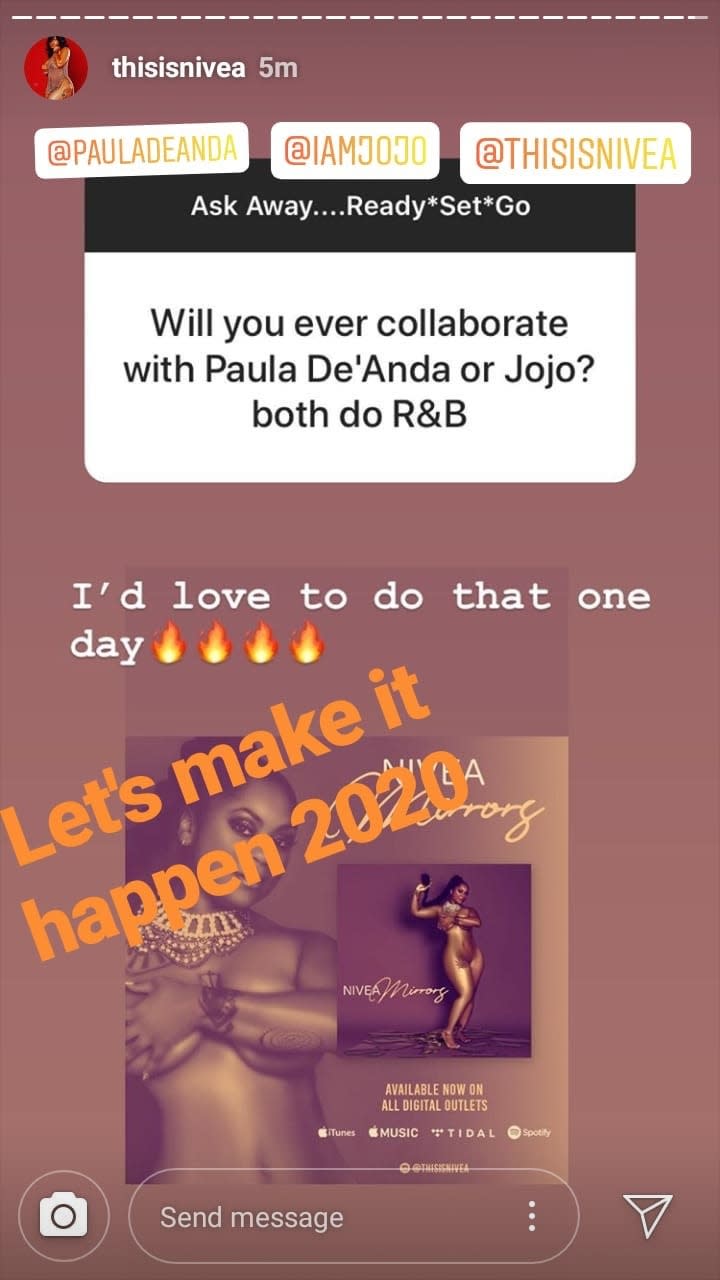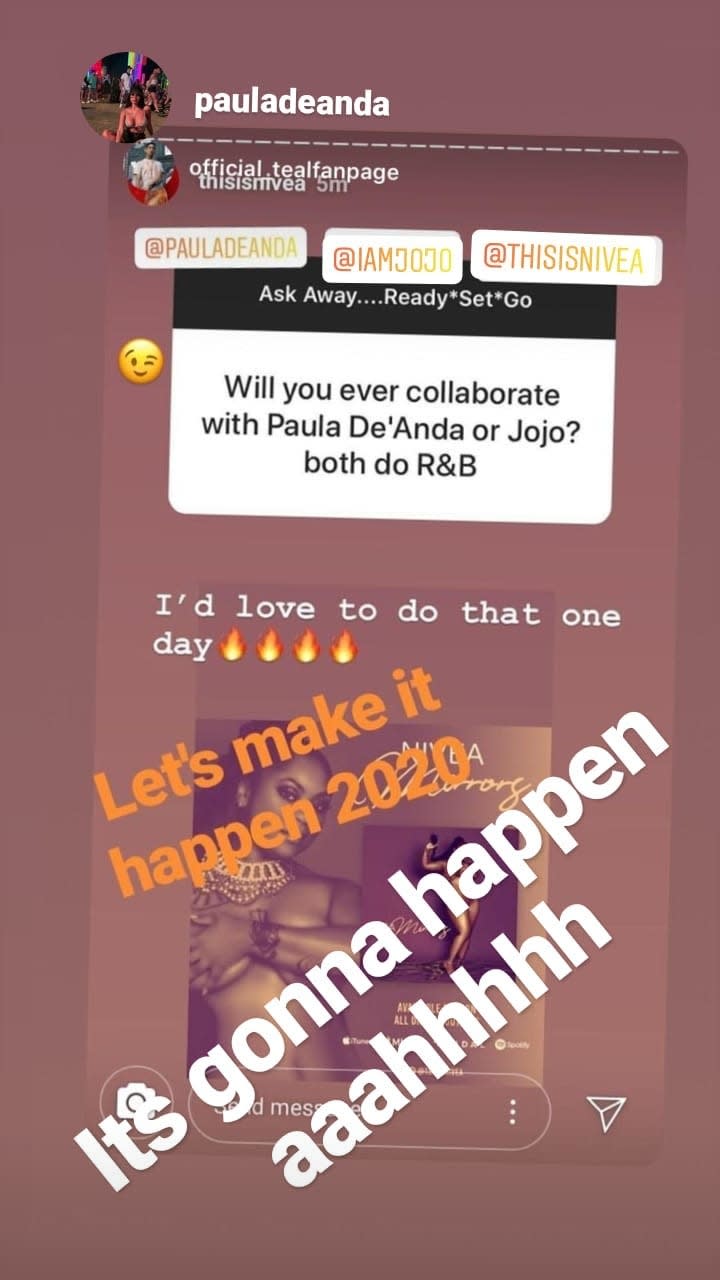 Both women have done extraordinary things in the game. Paula, alongside Jojo, brought back the dying genre of Urban Pop with singles like "Easy," "Make Em' Clap to This," "Stunned Out," "Shut up and Love Me," and of course "Besos." She has represented the Latina women in R&B since Lisa Lisa and Selena. She took on MTV's TRL like a boss, and she even payed homage to Nivea when she dyed strands of her hair the same vibrant radical colors Nivea made famous. Paula is considered a game changer for many reasons, and is still and always will be the Latina R&B Queen with Lisa Lisa. Nivea, on the other hand, is also a Queen in her own legendary lane, before Beyoncé made headlines as a Soul-Pop legend she took notes from the Queen of Soul-Pop genre, Nivea. Once known by the public as "The Black Brittney Spears" even though Nivea has talent and Brittney tries her best and really needs to focus on her relationships and sanity. Nivea has personally been a trendsetter that has gone underrated and unnoticed because many K-Pop artists and Bubblegum Pop Princesses have taken homage from her multi-colored wigs and outfits. Not only that, but Nivea deserves the credit for artist's styles like Lil' Kim and Ariana Grande. The bottom line is both these women have a remarkable sound that can't be incorporated by anyone else.
This is the dream team. Nivea and Paula, Paula & Nivea. With these women, the Hot 100 on Billboard will need to be giving out checks for the long over due spot that women will cherish. Funny thing though, Paula recorded her classic hit "Easy feat, Lil' Wayne" in Atlanta, Georgia. Nivea had at that time relocated to Atlanta and was civil with her ex-fiancé Lil' Wayne. Could these women have met in the past, or will they have an ultimate greeting when they collaborate on their hit single to come? We'll just have to wait and see because these women have been busy.
Nivea has released her fourth studio album titled Mirrors. At the moment we haven't seen hard copies, only digital, but there is hope for it to hit stores other than iTunes. The album has spawned a great hit single called "I Was Good," which might even premiere a music video in the future. Nivea still has time to start a dance challenge on Triller. She even collaborated with the king of Atlanta himself Goldie the Don on his track "Woody," which is Nivea's first jump in the water of 2019. She went on to promote the album by appearing on the T.V. One broadcasted television network show Sister Circle, and the hit online celebrity insider Vlad TV. Nivea has even discussed the possibility of a tour and buying back the rights to her music. Most importantly is her overseas album Animalistic, which at the moment is lost from Digital Download and mainstream platforms. She even became the face of women in mental health with her as the poster girl for the Hues Company. Nivea has had a big year and will continue to thrive as much is in store for her and her unreleased Lil' Wayne track and music video. Keep your eyes peeled for her next stops, she just might appear in the Lauren London movie.
Paula has been up to big things as well. She just announced that her delayed project PDA will finally come to the world. She released a Hindi jazz mix of Bollywood Music with Waseem Stark and Dub Shakes which might even see a music video soon. Her next musical collaboration brought on the likes of M-Status & Rico Rossi titled "I Don't Wanna Wait" which charted on the German Urban Chart, making it Paula's first single to chart in over eight years. The music video, however, did not meet the attraction it deserved as it was released on Rico Rossi's channel, and it has under 100k views, despite having excellent visuals. Paula even got crowned the Queen of 4/20 with her ballad to Mary Jane herself with "Roll It" which is steadily making its way to the million range. Paula has even graced us with her tribute to Tejano legend Selena with her newest song "Iddi Biddi." Paula will go on to promote the song on LATV, which will be released on television soon. Paula might even snag a spot on Ellen. Paula will have her sights set on big projects and maybe even release the video to Besos. Paula just got her Gold Plaques for her self-titled album and her hit single "Walk-Away (Remember Me)." Her newest music video will released on November the 17th, where she will reunite with MAV. She just had a birthday and has released her partnership with other projects away from music. She might even return to acting, as it is rumored that a sequel to her movie Super Sixteen is in the works. Watch out Selena Gomez!
Now we come to the song we want, Paula and Nivea. The song will have to bring a 2000's vibe obviously. We definitely need a catchy hook that will go down in history. Importantly for business, we will need a music video that has to premiere on MTV or Vevo certified. And last but not least will need them to perform the song on the Wendy Williams show, like I said before it is only fair to us. So ladies get in your Dm's (Direct Messages), exchange cellphone numbers, and make a date to meet up at Starbucks. Order up some Vanilla Bean Frappuccinos and harmonize and write down lyrics. Call up Timberland and tell him whip you up the classic R&B and Soul melody beats and get into the studio in New York. Record the song and reward yourselves because once it hits the airwaves on Hot 97 it will debut on the Hot 100 with exceptional reviews. The video will be trending at #7 worldwide and we will feeling like Aaliyah was there with you in the studio. After that you'll go on to win A BET Award and a Billboard Music Award, maybe even be Grammy Nominated. Nivea will go on to be on the next Mariah Carrey song and Paula will featured on Beyoncé next album. Ten years later, they will reunite and make a reunion song and hopefully title it "Debby". You can catch their songs down below and follow them on Social Media to see their journey back to the top of the charts.
Paula's Latest Single to PDA
Nivea's Hit Single off of her Mirrors Album
Paula's latest Feature Collaboration
Nivea's latest Featurette of 2019