Patrick Tabaks' Lost My Mind
Patrick Tabaks debut album "Lost My Mind" includes a variety of pop-based songs with hints of different genres like rock, jazz, lo-fi and R&B.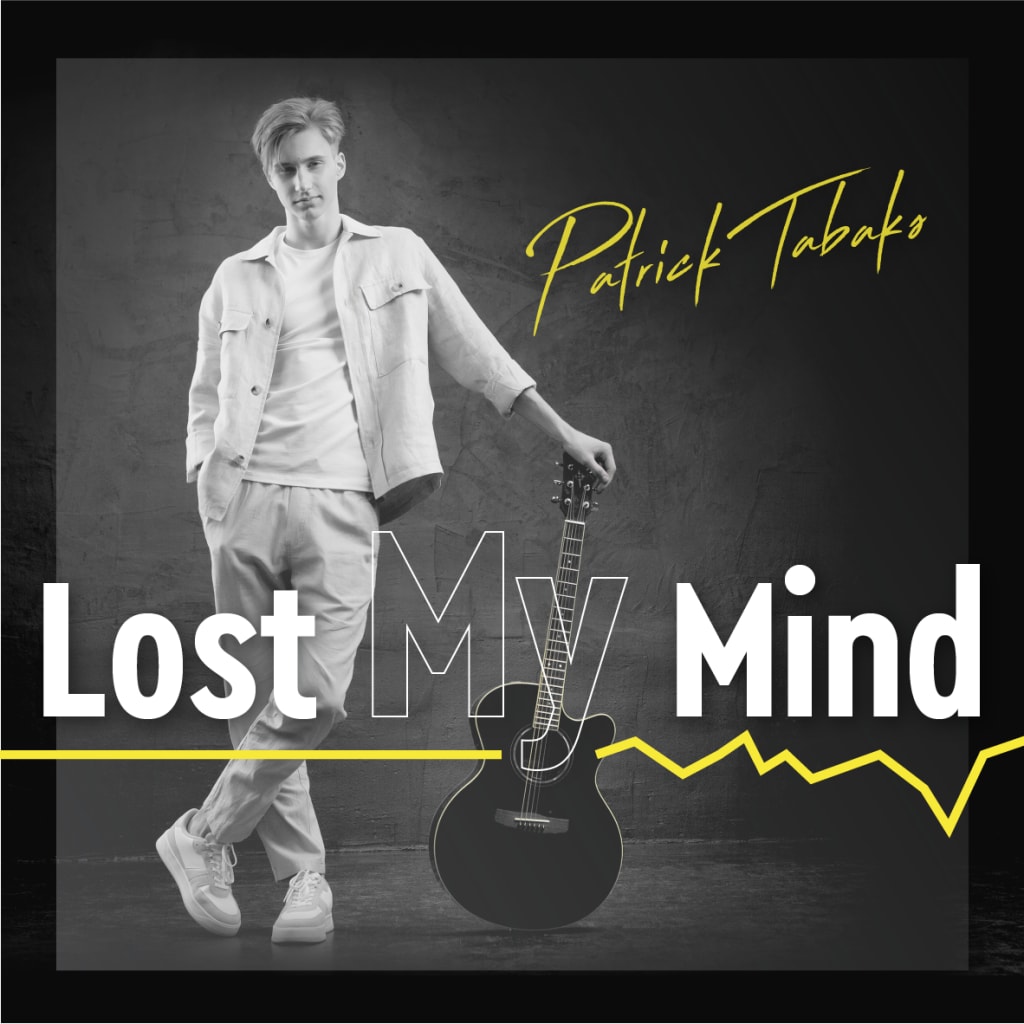 multi-talented Patrick Tabaks debut album 'Lost My Mind"
Hailing from Latvia, 17-year-old Patrick Tabaks has been immersed in music for much of his life. At age six, Patrick began learning piano courtesy of his sister, before a more formal, classical music education helped him hone his skills as a vocalist. Under the tutelage of his teacher Valda Tracuma, he began performing at the Latvian National Opera at the age of 11, becoming known as "the boy with the golden voice." This reputation led to duets with famous opera singers and performances in many opera productions, including Carmen and Tannhauser. Before long he had also added guitar and violin to his skill set.00

All of these early musical experiences have come in handy as Patrick launches his solo career with his debut album Lost My Mind. Patrick produced, co-produced and wrote all nine of the album's songs, which explore subjects such as grief and question the existence of the afterlife.

"And lot of the times I feel like people just don't quite get me," Patrick explains. "I can express myself better with music than with words or talking to other people."
How long have you been creating music?
I started making music about two and a half years ago. It all started when I had my voice break and I couldn't sing anymore. I decided to try writing songs for myself to perform when I get my voice back. And then it really clicked for me, I understood at that moment that I loved writing songs just as much as I loved singing and it was just a perfect musical combo for me.
Do you have a preferred genre?
I like all types of genres, I can't really say that one type of genre is my favorite. What genre I listen to might depend on the mood that I am in at that moment or what I experienced recently. Usually I go for more simple-formed genres like POP, R&B or EDM, but I also listen to Jazz and Rock from time to time.
Is there someone or something that inspired you to be part of the music industry?
For me, there wasn't really one particular person or thing which inspired me to write music. Most of my life, I've been just a singer and, although I wanted to write music myself, I didn't really have the time for it. But around the age 13-14 I had my voice break (the thing that all boys go through at this age) and I couldn't sing at that time, but I still wanted to do something with music, so I tried writing my own music. I was inspired by other artists like Shawn Mendes and Ed Sheeran and their music, so I knew that I wanted to keep on making music even after I got my voice back.
Are you signed to a label? Or … Would you like to be?
Currently I am not signed to a label, but I would like to be. I feel like there is so much happening with my career at this point and I would like to be able to give some of that weight to someone who knows what they are doing.
Do you write your own music, or do you collaborate?
I do both. Mostly I write music by myself, I feel like working with other people slows the process down for me and I feel like I have more control over the music that I am making, but that is not always the case. When I collaborate with somebody, I want to make sure that our thought process works the same way, otherwise I know that the song will be a mess. I am pretty picky about writing songs with other people, but sometimes I like to use the company.
Tell us about your sound and what sets you apart?
My sound is always developing and changing, so I can't give an exact answer, but for the album Lost My Mind the sound and the whole vibe of the album was acoustic instruments. They were the main part of the instrumentals and made an otherwise regular pop-sounding song into something fresh and lively. I really loved that sound and so I knew that it was going to be the main thing for this album. But as I said, my sound is always developing, so the next songs might even be a bit different.
What is your creative process like? Where do the ideas come from?
Ideas could come from, really anywhere. I could be going for a walk or sitting in class and suddenly, I'll hear a melody in my head that I really like and that I want to develop into a song. Most times when a song idea strikes me, I am not at the piano or in a room where I can write the song till the end, so I will pull out my phone and record the melody and save it for later, when I can fully develop it.
Are there any challenging aspects to writing and/or recording your music?
Yes, of course there are some challenges here and there, but that is the beauty of it. If everything came easily in making music, then it wouldn't be as much fun. For me, the most challenging thing is arrangement. I need a long time to get the arrangement sounding just right, but when I do get it right it is the best feeling.
Tell us about your latest album 'Lost My Mind'.
I started writing the songs for Lost My Mind about 2 years ago. It started off as more of a hobby and I didn't know that I wanted to make a whole album at the time, but as time went on and I wrote more and more songs I realized, that I wanted to release these songs and I already had a few of them written, so the logical thing to do was to make it into an album.
Lost My Mind is about what I have been carrying with me my whole life – all the things that I was too afraid to talk about in words, but not afraid to make into music. The whole sound of the album is very relaxed and acoustic, and this album covers subjects as romance, fear, afterlife and overcoming low self-esteem.
Do you create music for yourself or for fans?
I create music for my fans and for myself. For me, making music is therapeutic and it makes me feel better about certain subjects, but I also make music to make other people feel better. I love it when someone tells me that they understand what I am talking about in my music and that they can relate! That is something that makes me feel like I've done a good job on the song.
What is the best song you ever released and why?
Oh, I don't really think that I can pin-point one best song in particular, I think they are all amazing, but if I had to choose a few best songs I would say Like Home, Stay For A Minute and Lost My Mind.
Like Home is really powerful, yet very chill and I think that is a perfect combination of multiple vibes in a song. "Stay For A Minute" is very wide sounding and has multiple musical high points. I also really love the arrangement. "Lost My Mind" has the best story, in my opinion. It is a pretty simple song, but it carries a complex message. And of course, the vocals from Elizabeth Luka are phenomenal!
What song do fans seem to favor?
Fans seem to favor From Time to Time which I am not surprised by. The song is very well written, also has a deep message, has a great pop/rock vibe to it, as well as a guitar solo, I mean, what's there not to like?
It is also the first song that I released, and it is very personal. The subject of the song is about my grandparents whom I've lost in the recent years. It is an emotional song, but with the message to keep smiling about the moments that you shared.
Which of your songs is, or do you think would be, fun to perform live?
Are You Even Real a hundred percent! It is a very danceable song and has the most energy. It would be a real kicker in live shows!
Is there a hidden meaning in your music?
Yes, every song that I have written has a meaning. The meaning is maybe not always hidden, but it is there. I know that for me, writing a song without a meaning is not going to make the song sound as good. Most of the time, the meaning is something personal and something that only I can know, but I like it when listeners interpret the lyrics for themselves. It gives them the opportunity to relate the song to their life, and I think that is amazing.
Other than fame & fortune, is there something you hope to achieve through music?
I want to make my listeners feel listened to. I want to create relatability through my music, something that could possibly change somebody's life.
Tell about a magical moment or positive experience that has happened during your music career.
Every moment in music is a positive experience for me. I love making music and I love performing and singing, it is all magical!
If one artist were to perform at your party, who would get the call?
This is a tough one, but I would have to say Shawn Mendes. The guy has such a unique voice and his style in music is something that you don't hear a lot in popular music. I also think it would be really fun to perform with him, as he seems like a very chill guy.
What is your favorite/best outlet to connect with your followers Instagram, Spotify, FB, Twitter, iTunes? How would you want them to follow?
The best outlets for me are Instagram and Spotify. On Instagram, I get to share some of my personal, non-music life and I get to connect with my followers by chatting/engaging with them. On Spotify, I can share my work. Every song that I have released is a part of me that my followers can listen to.
You can follow me on Instagram: IG: @patriks_tabaks and on Spotify: Patrick Tabaks
What does the future hold for you?
I am no fortune teller, so I can't say for sure, but I do know that I will be releasing a music video for the song Country Side on October 22nd and more songs in the near future. I will also be playing the lead role of a new musical written by Janis Lusens called "Star Child" that will premiere on November 14th in the Riga VEF Cultural Center.
Did I forget to ask something? Something you would like to say, that I did not address.
I just want to say thank you for having me here, it has been a pleasure! And to my listeners and future listeners I would like to say – thank you for being with me on this crazy road that I am taking and thank you for listening to my music, it means the world to me!
Want to be a featured mysoundMusic playlist artist? Visit our page for details. Visit Now
interview
Music Fan plus Talented Musicians and Artist equals mySoundmusic