Opening My Soul to Rock n' Roll
How I fell in love with a genre
The story of every rock star starts out small, right? Well, I'm definitely not a rock star by any means, but I do have an appreciation for the entire genre. And I know that's a broad term, but it's true. All the way from the Beatles to Slipknot, I've fallen in love with it.
So how did I become enraptured in this category of music?
It began in the form of car trips to the grocery store as a kid. My mom had a massive collection of CD's we kept in the car at all times. Anything from Michael Jackson to Glenn Miller, she had it. Naturally my curiosity was piqued. But this wasn't where I became enamored.
I owe all of that to my cousins.
They lived just two houses down from me, between my place and my maternal grandfather's. I often hung out over there because they had a Nintendo 64, a Wii, and a Playstation. Other than a NES, video games weren't really much of a thing in my household. So I took the chance to play them whenever I could.
One day well over 10 years ago, my cousins decided to introduce me to Guitar Hero. I was utterly fascinated by it. It combined my favorite interests: music and video games. I was sold. I caught myself headbanging to the likes of Quiet Riot, Twisted Sister, Cheap Trick just to name a few.
Not long after that, I began asking my parents, begging them really to buy an Xbox 360 and Guitar Hero III. At first they said no, but that didn't stop my persistent, stubborn ass. Then one day, I noticed my dad came home from work with quite a haul from Walmart. Upon entering the house, I noticed he had bought an Xbox 360 and Guitar Hero 3, as well as an extra controller. Hell to the yes.
I didn't hold the controller traditionally at first. I would lay it across my lap and play it sort of like a piano. This didn't pose many issues for me, it was easier this way.
After practicing daily at this game, I became good enough at it to start looking at participating in tournaments. Holding the controller differently than normal was not going to be of use to me, so I finally decided to hold it like an actual guitar. It took some time to adjust, but I ended up back at my original skill level fairly quickly.
I never did enter any tournaments. Even though I was pretty good at the game, I wasn't skilled enough to beat the game on expert, nor play the toughest song out there, Through the Fire and Flames.
Somewhere along the line, I lost most of my interest in the Guitar Hero series. I still play it occasionally, but not anywhere near as much as I used to. Reason being is my hands and wrists just aren't built for it anymore. Sometimes if I'm at an arcade and they have the game, I'll play a song, but I'll barely make it through before my fingers and wrists are cramping up to the point of carpal tunnel.
But my love for rock n' roll has exploded. A band my cousins introduced me to was Guns' N' Roses. We'd play Paradise City in the car and sing along as well as Welcome to the Jungle. Those were happy, simple times.
For my 11th birthday, I remember getting a Barnes N' Noble gift card. With that I bought my very first CD, Appetite for Destruction. I memorized every lyric, every riff, even the exact length of each track on the CD from listening to it so much.
For several years my love for Guns' N' Roses continued. Even on a "flashback to the 80s" spirit day at school, I attempted to dress up as Slash. I wasn't even in high school yet.
Of course I knew I'd probably never get to see any of the band members live. But then my subconscious wish came true towards the end of 2015. I was in my collegiate choir class one afternoon. I was scrolling through Facebook, waiting for the class to begin when I came across major news. Guns N' Roses were reuniting! Now, it was only going to be with Slash, Axl, and Duff, but this was still huge.
The second I could, I purchased two tickets for the very first show on their Not in This Lifetime tour. It was going to be on June 23rd, 2016, in Detroit. I was absolutely excited! I bought hotel reservations and turned it into a mini vacation.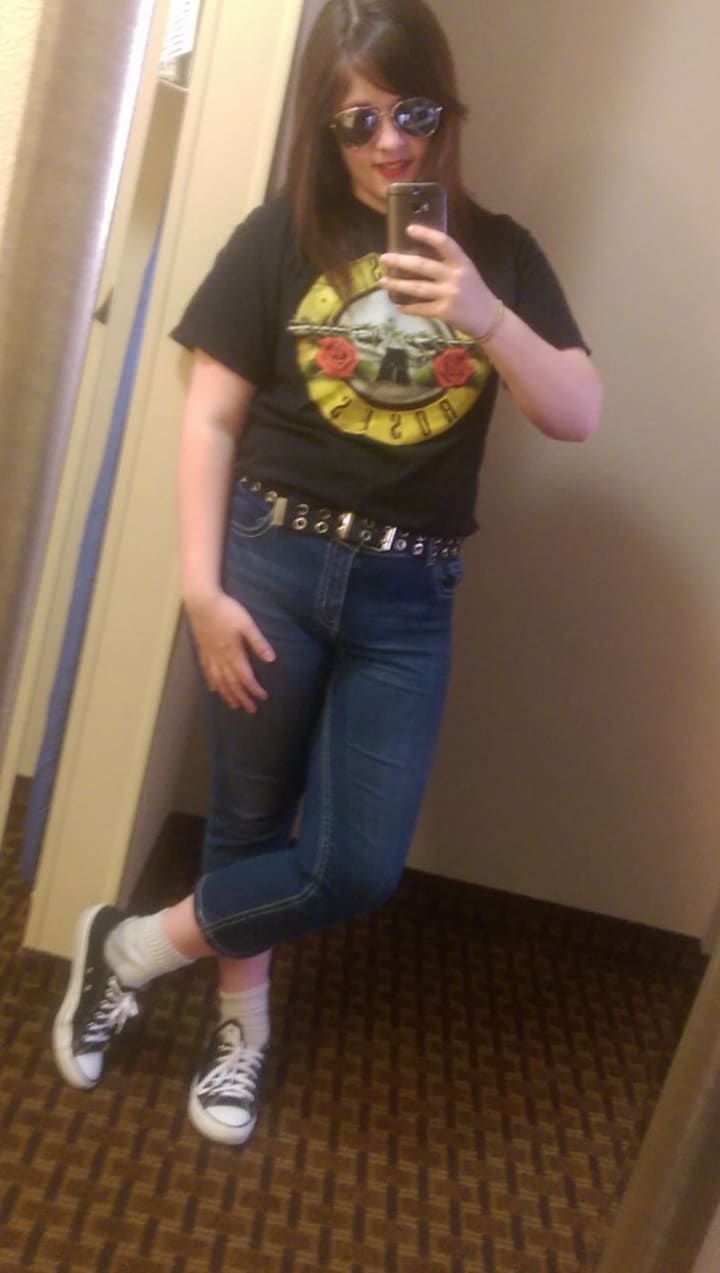 Even 5 years later, I still quote this day as being the best night of my life, and it absolutely was. Me and my then-boyfriend arrived at the hotel, where the majority of the people staying were for the concert. After checking in and getting into our Guns N' Roses t-shirts, we ventured out to the Hard Rock Café for dinner. It was small, but felt very home-like.
I ordered fajitas, and while waiting for our food to come out, my boyfriend and I were encouraged by our waitress to walk around and look at the memorabilia. Even one of Slash's guitars hung on the wall!
Soon we found out a lot of us dining there were going to see the concert. And so, the management played nothing but Guns N' Roses music videos the entire time. Everyone sang along to the lyrics of Welcome to the Jungle and Knockin' on Heaven's Door. We felt united with everyone. It was one hell of a vibe and an amazing atmosphere.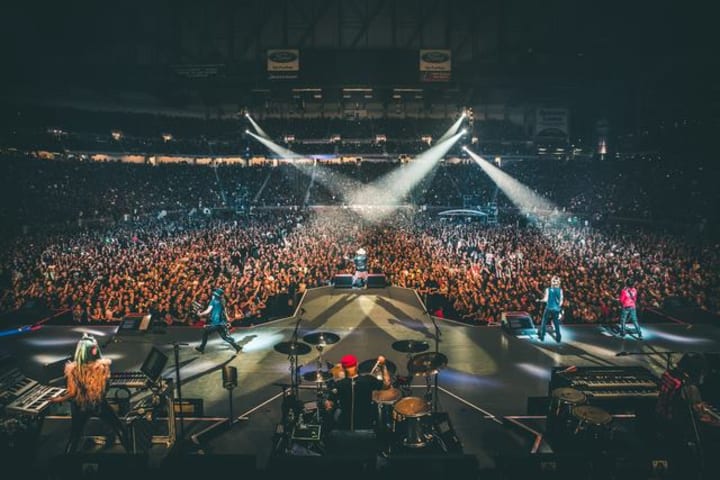 We finished our meal and headed to Ford Field. It was completely sold out. Every single seat was filled. There were thousands of people there. I'd gotten us decent tickets so we were at least halfway towards the stage.
Alice in Chains opened up. Admittedly I knew almost none of their music, but I still enjoyed it anyway. This was right up my grunge alley. Their last song of the set was Them Bones, which I recognized immediately. Who hasn't heard that on the radio?
After some time, a video began playing on the backdrop of the stage. It was time for the main event! A dark stage, and the beginning of the song It's So Easy roared to life. There were flashing lights, pyrotechnics, and of course the jamming noise of the legendary Guns N' Roses. I was absolutely mesmerized by this scene.
Their set ran for around 3 and a half hours. I was captivated for every single second of it. The entire crowd was on their feet for the whole show, singing along to the classics, headbanging, shouting, clapping. It was a culmination of every upbeat feeling in the book. Finally when it ended, I was left with almost no hearing in my ears, and a grin from ear to ear. My boyfriend and I ventured back to our hotel and turned in for the night.
That wasn't the only rock n' roll concert I went to.
It's called the Ruoff Home and Mortgage Center now, but in my heart it will always be the Klipsch. It's down in Noblesville, this small town that's about 45 minutes northeast of Indianapolis. In 2017 I was in the middle of some school work on my computer. I was scrolling through Facebook and saw an advertisement for $20 concert tickets at the Klipsch.
There was going to be a concert featuring Tesla, Def Leppard, and Poison. I never heard of Tesla, but I was super familiar with Def Leppard and Poison. Pour Some Sugar on Me and Talk Dirty to Me were commonly sung in my car on the way to work. So hell yeah I bought those tickets, plus they were cheap (they were lawn seats).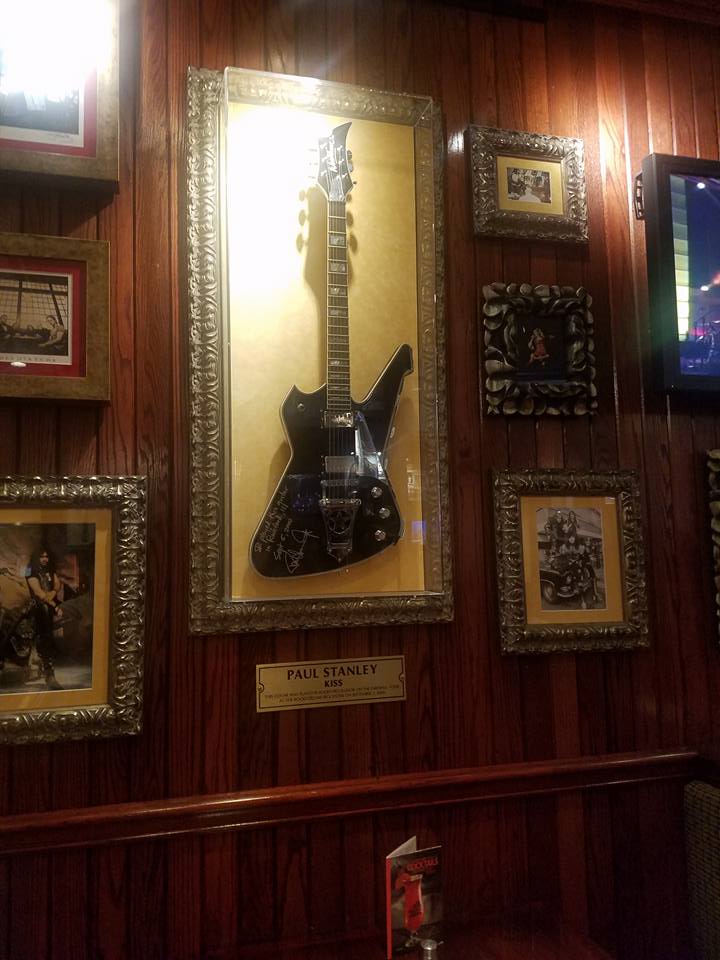 So me, my boyfriend, and another friend of mine went down to Indianapolis. We ate at their Hard Rock Café (which is unfortunately closed now). I bought some drumsticks (I collect them) and a couple magnets. After a bomb dinner and viewing the memorabilia, we got in the car and made our way to Noblesville. The Klipsch is entirely outdoors, but the staff had their parking under control.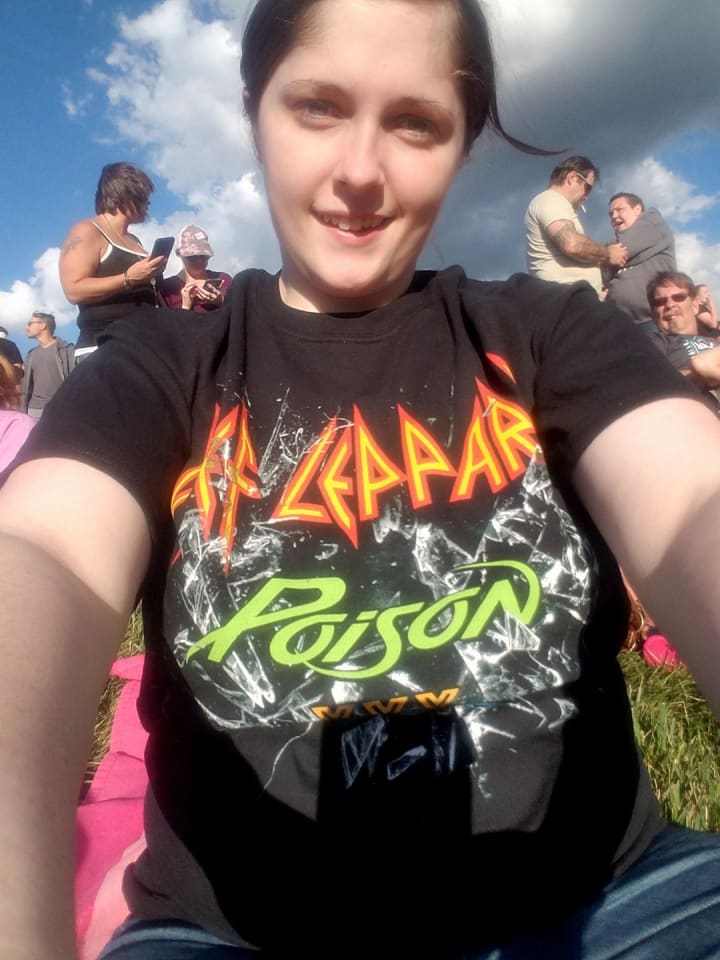 We trudged our way up the hills and through the entrance. After Tesla began, I went and secured the group some drinks and snacks. We sat down on beach towels we brought, kicked back, and relaxed. At least until Poison took the stage. Bret Michaels, their lead singer, seemed like a cool and chill dude. As soon as Talk Dirty to Me came on, I stood up and sang out loud. The weather was beautiful. It was clear and sunny, but not too hot.
After enjoying Poison's set, it was time for Def Leppard. I was impressed by their drummer, who I didn't realize until this day, only had one arm due to an accident. The entire group rocked the house down. The climax of the night was belting out the chorus to Pour Some Sugar on Me. There were brightly colored lights, shades of red and orange.
During the last song of the night, I decided it was a good time to leave in order to minimize the amount of time it'd take to get out of the parking lot. While I did beat a chunk of the crowd, I didn't escape entirely. It ended up taking almost 2 hours to get out of the venue. Road construction didn't help, but we finally got out of there and back on the interstate.
I've not seen a concert since then. That's due to money, life events, and now covid. There was a huge stadium tour announced that was gonna have Motley Crue, Joan Jett and the Blackhearts, as well as Def Leppard and Poison. That sounded like one hell of a day and I bought a Poison t-shirt just so I could get the presale code.
I spent a bit over $300 at the end of 2019 for the tickets. Originally the concert was supposed to be in June of 2020, but at the beginning of the year the pandemic had already taken hold and I knew damn well there wouldn't be a concert. The Stadium Tour officially got pushed back, this time to July of 2021.
Well at least by 2021 we have a vaccine, but now there's the Delta variant, anti-vaxxers, plus others who either can't or won't get vaccinated. All of this uncertainty, plus the lineup is probably why they decided to postpone this tour yet again to 2022. Two postponements, two years in a row, and now I wanted my money back. I needed that $300 for other things. So maybe that concert will happen in 2022, who knows, but either way I haven't pursued going to one since then.
The closest I've gotten is cruising down the highway at 75 miles an hour, blaring Girls, Girls, Girls through my stereo. And that's okay for me. I may not be able to participate in the music scene as much as I'd like to, but my love for the genre will grow until I'm deceased someday.
Even then, you'll probably find a Muse CD in my casket with me.
Live long, and rock on.