New Music Video, 'Brand New Shoes,' by Singer Josh Pfeiffer Goes Viral in Classic Boy-Meets-Girl Plot
The singer's latest music video has taken YouTube by storm.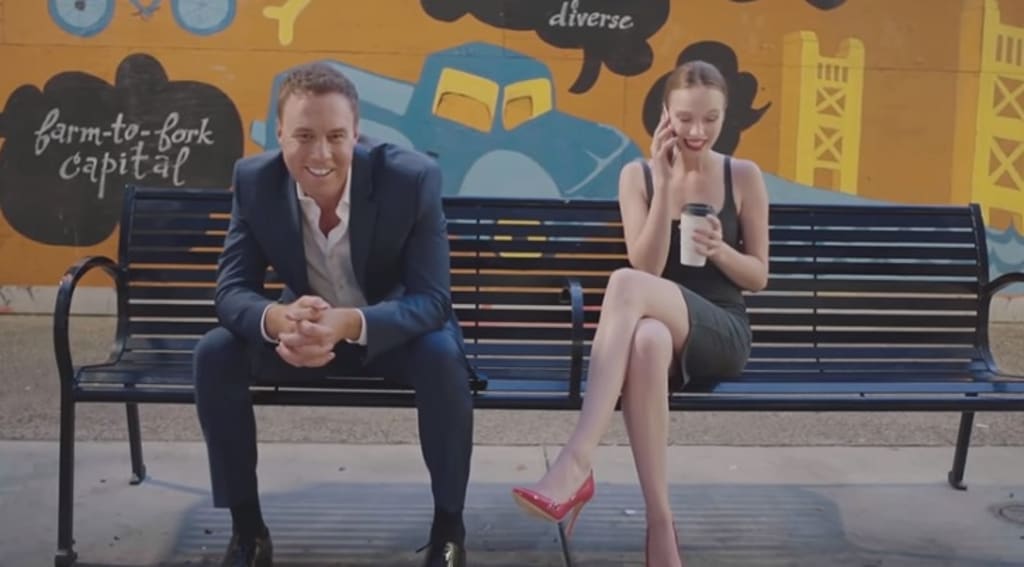 The New Year is looking pretty good for singer Josh Pfeiffer. Less than a month after dropping his latest single, "Brand New Shoes," the music video has managed to rack up more than a million views on YouTube alone. You gotta admit this is quite an impressive feat for a singer who has managed to stay relatively low key and out of the limelight.
"I have no idea who this artist is, but I am really impressed by this video," posted one YouTube user.
See what we mean?
What Everyone Else Is Saying
Pfeiffer's "Brand New Shoes" proves that you don't need a PR gimmick or scandalous headline to attract attention or virability. Good music sells itself. More than six-thousand "thumbs up" and viewer comments on YouTube can't be wrong. Not entirely convinced? Check out some of their comments below:
"For me this [the song] is kind of like James Blunt meets David Bowie. Very cool," stated one YouTuber.
"I am so excited about this new video! Such a fun story and song! LOVE!!! Please go on tour soon!" wrote another YouTuber.
"What's not to like? Fun catchy song, hot girl, and a great story with amazing cinematography!" posted another person.
A Musical Progression
Pfeiffer's latest video is a vocally focused, jazz-influenced pop song interwoven with electric guitar riffs, a light-hearted piano, punchy drums, and bass. This is somewhat of a detour from his previous music—but obviously that's not a bad thing.
Early in the California native's music career, his style largely mirrored that of legendary crooner Frank Sinatra. Sometimes compared to singer Michael Bublé, he's been known for his classic big band/swing era-type performances up until now. Like most musicians, he has evolved.
"As I've written and produced more of my original songs, I've gradually expanded into other genres, and I've really enjoyed the progression. It has kept things interesting, challenging, and rewarding!" Pfeiffer has stated.
The electric guitar heard in "Brand New Shoes" is front and center throughout the entire track, so much so that music lovers can't help but be reminded of the awesome guitar-playing skills of Carlos Santana; a true legend in his own right.
A voice that is undeniably unique.
As for Pfeiffer's voice, it's in a league of its own.
"For better or worse, I think stylistically and vocally I'm a little unique in today's industry. I haven't always embraced it, but I've come to appreciate it and embrace it over the years," Pfeiffer has stated.
Much like country singer Scotty McCreery or R&B legend Barry White, his voice is unmistakably baritone. It's calm like the wind, smooth like butter, and just all around pleasant. Sure, he may not sound like Justin Timberlake, Ed Sheeran, Robin Thicke, or other leading male solo artists, but that's a good thing.
Pfeiffer's musical influences have included Andy Williams, Frank Sinatra, U2 and James Blunt.
"My biggest musical influences though have been my late parents Gary and Joyce Pfeiffer, one of my mentors, Jim Wells, and close friend and collaborator David Schram," stated Pfeiffer.
The Video's Premise
Despite the name of the track, let's be clear: "Brand New Shoes" is not entirely about, well, shoes. The video starts off with leggy-model Haley Sutton strutting her stuff in four-inch red stilettos to a light rail train stop where she encounters Pfeiffer already sitting there. The two quickly get cozy and go on a mini-excursion around town to various sites. While the pair do end up in an actual shoe store, the visual depicted on screen serves more as a form of symbolism.
"Oh, to be with you, on a perfect Sunday afternoon. And have you feel it, too. It fits just like brand new shoes," the lyrics read.
According to Pfeiffer, his new love song is light-hearted and makes a comparison that love sometimes fits like "brand new shoes." In other words, a new relationship, no matter how amazing, can sometimes take some time getting used to, especially if you've never experienced anything like it before. Most people can totally relate.
The video was directed in Sacramento in September by five-time Emmy Award winner Alejandro Guimoye. The song was written and co-produced by David Schram, engineered by Adam Munoz, and mixed by Grammy Award winner Joe Chiccarelli.
To watch the music video, click here.
Looking Ahead to the Future
Pfeiffer is currently working on the pre-production for his latest original compositions, "One More Time" and "Dancing Girl." A tentative release date is scheduled for late 2018.
To learn more about Pfeiffer, visit www.joshpfeiffer.com.