Need a Website?
Wix.com is the Bomb.com.

I recently made the decision to invest in a professional website for my music business. As a singer songwriter and now performer, I needed a powerful means of distribution, enticing marketing, and a crisp display across desktop and mobile devices. Wix.com provided all of these things and more. Its drag and drop design was so intuitive that I was able to focus primarily on aesthetics as opposed to the technical logistics. There are other website design platforms that don't require coding such as Weebly, but Wix's music management is like no other. I get an eCommerce store built into my site, which is run through PayPal, so you get super smooth purchases and invoices for a reasonable fee of 3% plus $0.30 per transaction. By the way, I'm only paying $15/month for everything I'm about to talk about, and I still have all the rights to my songs.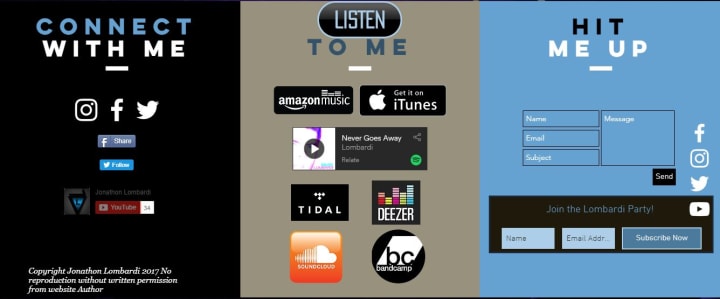 Distribution
Aside from the in-site distribution, you can also get your songs submitted to eight different online music stores: Amazon Music, Apple Music, Shazam, Spotify, 24-7, Deezer, Tidal, and Google Play. My first album has been approved by all of these except Google Play, Shazam, and 24-7 as of now. Regardless, I'm getting revenue and exposure that typically requires a medium such as CDBaby or Tunecore, which is a significant annual expense. This distribution service is included in the monthly bill of your choosing. Something that has helped my distribution immensely is their social media tools. Not only are there clickable icons you can link to your Facebook, Twitter, etc., but you can add instant share, like, follow, or subscribe buttons wherever you want. Once people start taking a fancy to your material, you can add your contact info and setup the Bookings feature within your site. This allows people to schedule you for performances and helps prevent people from bailing on you.
FREE HD Photos and Videos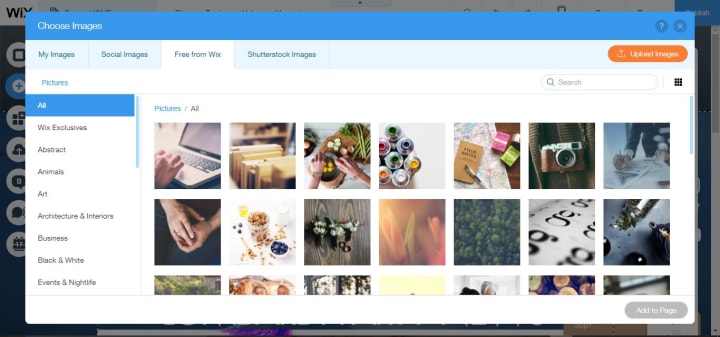 Lacking HD photos/videos to decorate your site? Forget about it! They've got free HD media galore. Not to mention a bunch of fonts, text design tools, animations, and handy light boxes. If you've got your own media, then uploading is easy. However, until you upgrade from the free plan, your data consumption is limited to 500MB. In an effort to save data and expand your influence, I recommend embedding videos as YouTube links. That way you get YouTube viewers/subscribers while streaming the video through your site. You can do pretty much anything you want. One critique: mobile device optimization could be better. It can still look great, but it'll eat up your time. Anytime you make a change on the desktop version, you've got to fix the mobile version, and that's often easier said than done. However, considering how much time it would take to code an entire separate mobile version of your site or how much it would cost to pay someone for that service, Wix is definitely the more convenient option.
Email List, Blog, and SEO
BUT WAIT, there's more! I setup an email list and membership program within minutes, and Wix offers snazzy email shout-outs for informing fans of upcoming performances, album releases, etc. There's also an optional live chat feature, which I've used to interact with fans directly. I even started blogging, because there's an entire blogging feature built into your site. By the way musicians, I totally recommend blogging to expand your fan base, because it's a great way for fans to get to know you better than simply reading your About page. On top of everything, Wix provides quality SEO advice (Search Engine Optimization). Through their SEO coaching, people can actually find my site when they type it into Google, which is incredibly helpful. You can also snag a custom domain through them FREE for a year. No GoDaddy.com needed.
Final Words
Overall, I've felt that investing in a Wix site was totally worth the time and money. I'd recommend it to any other aspiring musicians and really any other professionals. If you want to learn more about my experience with Wix, feel free to message me through my website.
About the Creator
I'm a Singer Songwriter with a Physics Degree. If you like my posts, then check out my website www.jlombardimusic.com to listen to my music, watch my music videos, and read more blogs.
Reader insights
Be the first to share your insights about this piece.
Add your insights