NCT 127 - 'Neo City: London - The Origin' Live Review
The K-Pop group bring the hits to London's SSE Arena, Wembley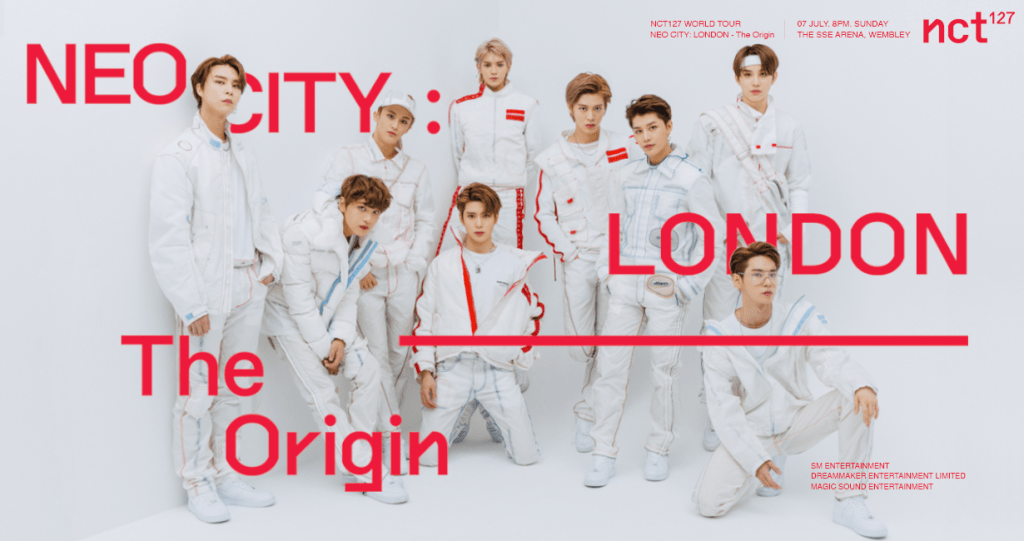 On Sunday July 7, it had been exactly three years since NCT 127 promised to "wake up this world." And, after a concert packed full of energy, raw talent and uncompromising craftsmanship at London's SSE Arena, Wembley, any suggestions of delusions of grandeur have truly been cast aside. It was a night to remember and an evening that proved that the nine active members didn't just wake the world up, but put it on notice.
It's hardly been a quiet year for NCT 127; James Corden hosted them on The Late Late Show, their latest EP, We Are Superhuman, sent huge waves all over iTunes Charts worldwide, and their first world tour—"Neo City: The Origin"—has seen more eyes put on them than ever before.
But, if anything, this is only the beginning; a sentiment clearly echoed by the crowd in attendance in London this past Sunday. It was an audience that helped add to the magnitude of the event, too, as fans chanted along to music videos that played before the show's start, ate every word each member spoke out of the palm of their hands as speeches were interspersed throughout the set, and remained on a constant high throughout the two hours and thirty minute spectacle. It was a truly unrivaled atmosphere, and one that no doubt aided the show tenfold.
But, as expected, it was the band themselves that truly delivered an unforgettable musical extravaganza, and ensured that from the first minute to the last, the performances remained impactful, memorable, and packed full of quality.
Beginning with "Cherry Bomb," a bass-heavy, swagger-filled track, the members sent a huge statement to the capacity-filled arena. "I'm the biggest hit, I'm the biggest hit on the stage" echoed around the walls as all nine danced and sung in front of a sea of lightsticks, a staple of K-Pop concerts. It was infectious and about as high-energy as one could expect from a live show.
This continued for a while. Songs like "Chain" that come with a powerful, experimental chorus had even the oldest in attendance dancing, whilst "Limitless" showed the synergy of the group and the well-oiled performance aspect that comes as part of the package with an act of this ilk.
From there, it was all about emphasising the talent. "Fly Away With Me," a modern ballad, showcased the sheer vocal prowess of NCT 127, and the stripped-back "City 127," with its quintessential boyband chorus, was an easy highlight for fans of slower offerings. The pyro and next-level production values weren't needed in this section, as it was the nine on stage that carried the pomp and circumstance needed for these performances.
After a fantastic showing of "Jet Lag" from their latest EP, several members left the stage and entrusted the vocal members—Taeil, Doyoung, Jaehyun, Jungwoo, and Haechan—to deliver two ballads, "Timeless" and "No Longer." It was a stellar change of pace, and one that, at the halfway point of the show, almost felt like a reset button so that fans and members could catch their breath.
However, it was the show's second half that really ensured fans got more than just their money's worth. It was a high-octane, full-throttle showcase that was worthy of getting anyone from the hardcore fan, to the dragged-along significant other, up on the dancefloor. As soon as Johnny's piano solo finished and "Regular," another confident offering, started with its Latin-inspired melody and catchy rapping, the energy in the room was tangible. It was hard not to get lost in the moment, and it was clear that hits like these were exactly what fans came for.
After that, the fan-favourites kept rolling in. "Wake Up" displayed zestful vibrancy, "Baby Don't Like It" was a perfect singalong anthem, and members Mark and Taeyong were happy to deliver scintillating rap verses on the track "Mad City."
Towards the end of the set, "Simon Says" invigorated fans and served up more of the frantic singalong anthems that had been present throughout. It was tough to initially gauge whether the firmly experimental, off-kilter pop of NCT 127 would translate to an arena, but instead of just translating to one, it felt stadium-ready. This is music that is enjoyable for people of all ages, all backgrounds, and from all corners of the globe.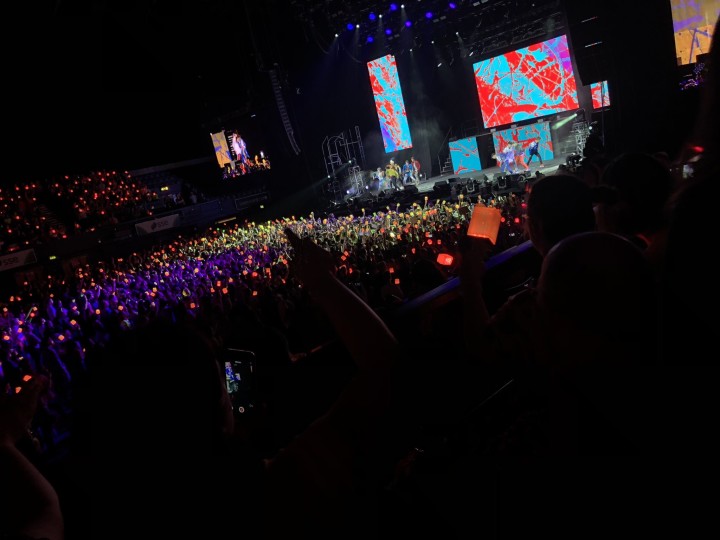 It's at this point that a special mention has to go to the organisers, Magic Sound, as without them, shows like these wouldn't go ahead. And, the high-level production, as well as smooth organisation in getting fans into the venue, wouldn't be seen. They helped deliver this show and made sure that they didn't compromise on any of the aspects needed to make this an unforgettable night for those lucky enough to get a ticket.
Returning to the show itself, it wasn't without an encore, either. Beginning with the empowering "Superhuman," a track all about how we can all do anything we put our minds to, the three-song segment was both fun-filled and joyous. As soon as the finale "0 Mile," an energetic, pace-filled boyband banger, came to a finish, it was hard to come back down from the highs the performance had given everyone in attendance. It was truly a monumental occasion, one that set the benchmark at the highest level for whenever the group choose to return to UK shores.
In summary, it was a genre-bending musical melting pot that defied all cultural and language barriers and succeeded in showing that music is one of the most powerful forces imaginable. From the climbing structure that saw exciting choreography to the well-rehearsed stages that put smiles on everyone's faces, the people in the SSE Arena, Wembley, came away with memories for life, and the notion that they had seen something special; something impossible to ignore.
concert