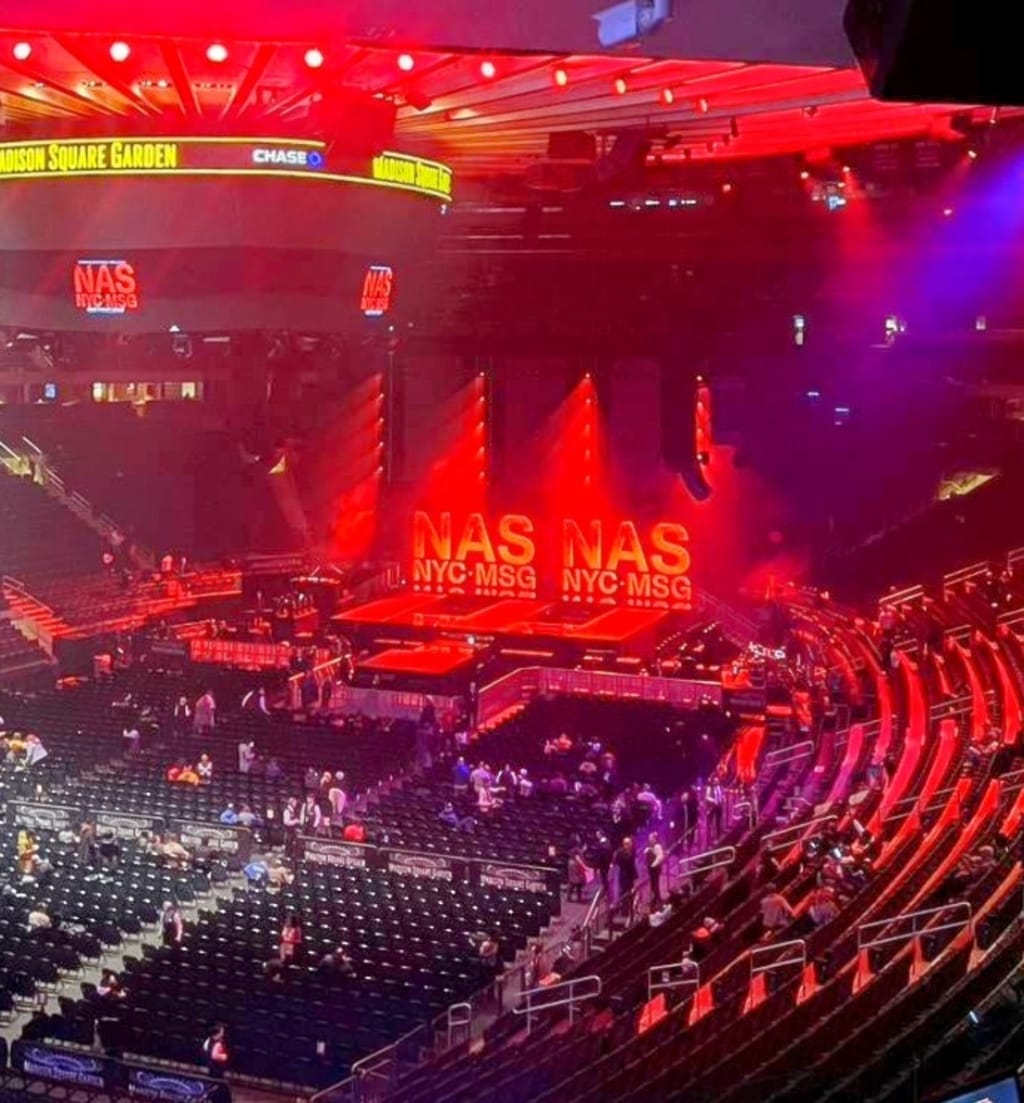 By Brian Salkowski
Set List:
(In no order. According to our memory)
•The World Is Yours
•Made You Look
•If I Ruled The World (part of encore)
•Get Down
•Hot Boyz Remix
•27 Summers
•Spicy
•Michael & Quincy
[Hit boy on stage and they talk & hype crowd)
•Reminisce (brought out Mary J Blige)
[Mary J Blige does a rendition of You Remind Me]
•Hey Young World (with Slick Rick)
•Life's A Bitch (with AZ)
•1 Mic
•I'm On Fire
•Car 85
•Get Light
•Blue Benz
•Speechless
•Ultra Black
•Wave God's
•The message (part of melody)
•Street Dreams (part of melody)
•Oochie Wallie
•You Owe Me
•Memory Lane (Sittin in da park)
•Hate me now (part of melody)
•Got yourself a gun
•Represent (part of melody)
•Bye Baby
•The World Is Yours
•The Definition
•Thun
•30
•Legit
•Store Run
•Rare
•Nobody (part of Encore)
"Live in Madison Square now, we on fire," a visibly elated Nas hailed, while fire bolted around him during his fiery performance of "I'm on Fire."
I arrived very early to the show. After a enormous session of blunt smoking with my cousin, my best friend from middle school & high school, My boy and my girl all from single digit years, we entered the venue. It was a little overwhelming. No it was very overwhelming. It was huge, even bigger than the last time I saw it as young kid seeing some Disney production maybe on a field trip. Even 10 years ago I would not tell you that Nas would perform here at Madison Square. On Friday Feb 24th It was a sold out crowd. All four of us kept thinking we were going to bump into other people we knew but as the crowd continued to swell the chances of that were getting less likely, being put on back burner.
When you say the words Madison Square Garden you think big acts like Michael Jackson or The Jackson 5 or The Beatles or Madonna. Aside for the special few, the venue was never largely used for a subtle lyricist from Queens. But it's been 34 years in the works. Navigating through the dystopian New York City of the 1990s. Conflicted yet successfully riding through the 00s. Grown up and philosophical in the 10s. And full circle in the 20s.
The show was as much a victory for Nas as it was for hip-hop. It was a proud occasion for the sea of generations-spanning fans, from those who remember the first time they heard "Live at the Barbecue" to those who recently tapped in with his recent work. Overall, the Garden couldn't have been a more perfect venue to host this celebration.
It is 2023 and sticking to the night's "King's Disease Trilogy" bill, the Queens rap icon pulled out gems across the trinity-spanning gem, from storytelling favorites like "Blue Benz" and "Car 85" to party-flavored cuts like "Spicy" and "Get Light." By the time the latter blared through the arena, MSG had practically turned into a park jam as fans throughout the sold-out arena swayed, bopped, and two-stepped from row to row. Like his output over the last two years suggests, Esco refused to let up on the momentum throughout the night. Between the King's Disease cuts, he also made room for a few records off his 2021 project, Magic, sprinkling in cult favorites like "Speechless" and "Wave Gods" to much fanfare.
The fact that Nas was performing these relatively fresh cuts to a fully-invested audience inside a sold-out Madison Square Garden was truly a moment to behold — something, even he, at times, seemed to be amazed by, sometimes even taking a brief moment to relish the vibe. At one point, he stopped to recollect and then turned the spotlight onto the other half of his winning formula: Hit-Boy.
One of the crowning moments occurred while performing "Memory Lane (Sittin' In Da Park)." He did away with the instrumental for the second verse and delivered a masterclass in mic control, performing the tongue-twisting verse a capella with absolute clarity and supreme breath control. As he took a bow while being showered in the crowd's adulation, one thing was crystal clear: Nas is still that good. It is one of the best shows I have ever seen in my entire life- and that says A LOT! I was so awe struck at the enormity and the prestige that my commitment to filming the show was done very haphazardly. Like I said, there was a full house and being there with long time friends was hard to get everything on film. When he brought Mary J Blige out, which I kind of had an idea he was going to do, it was over from there. I pressed record, let the people bump into me and let it catch what it caught.
After running through King's Disease, he hopped through hits from the rest of his catalog, including Illmatic. You always have to return to Illmatic. This time dressed in an all-orange jumpsuit with a matching skully, wheat construction Timberland boots, and his signature diamond covered "QB" chain, he dispatched "N.Y. State of Mind." Subsequently after, he brought out AZ for "Life's a Bitch," and one of "my motherf—ing heroes," Slick Rick, for "Hey Young World." Embracing the magnitude and momentous occasion of the night, he kept his foot on the gas, running through a medley of tracks — "The Message," Street Dreams," "If I Ruled The World," "Hate Me Now," "Made You Look" and "One Mic."
The enormity, a word I can now pretty much only associate with the experience, was in fact overwhelming. My thoughts were preconceived, and I was gladly surprised. This was the proverbial event. The event of all events. Nasty Nas delivered
I give the show 10 out of 10.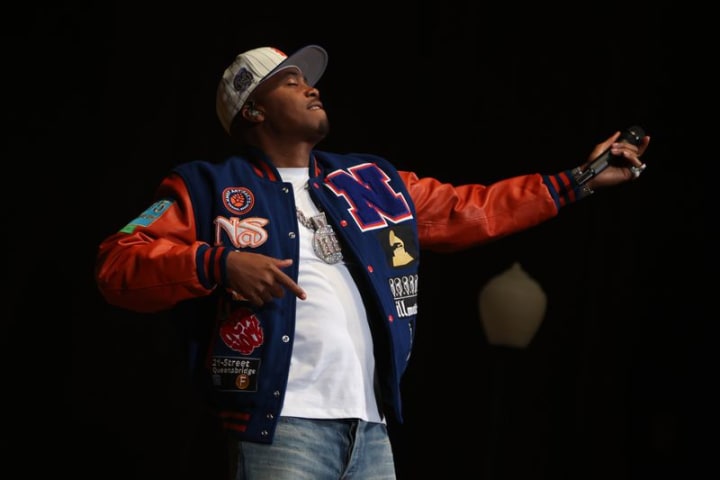 About the Creator
I am a writer. I love fiction but also I'm a watcher of the world. I like to put things in perspective not only for myself but for other people. It's the best outlet to express myself. I am a advocate for Hip Hop & Free Speech! #Philly
Reader insights
Be the first to share your insights about this piece.
Add your insights