My Top 20 Songs of 2018
A Few Weird Ones, and Few Ones All Will Love Too!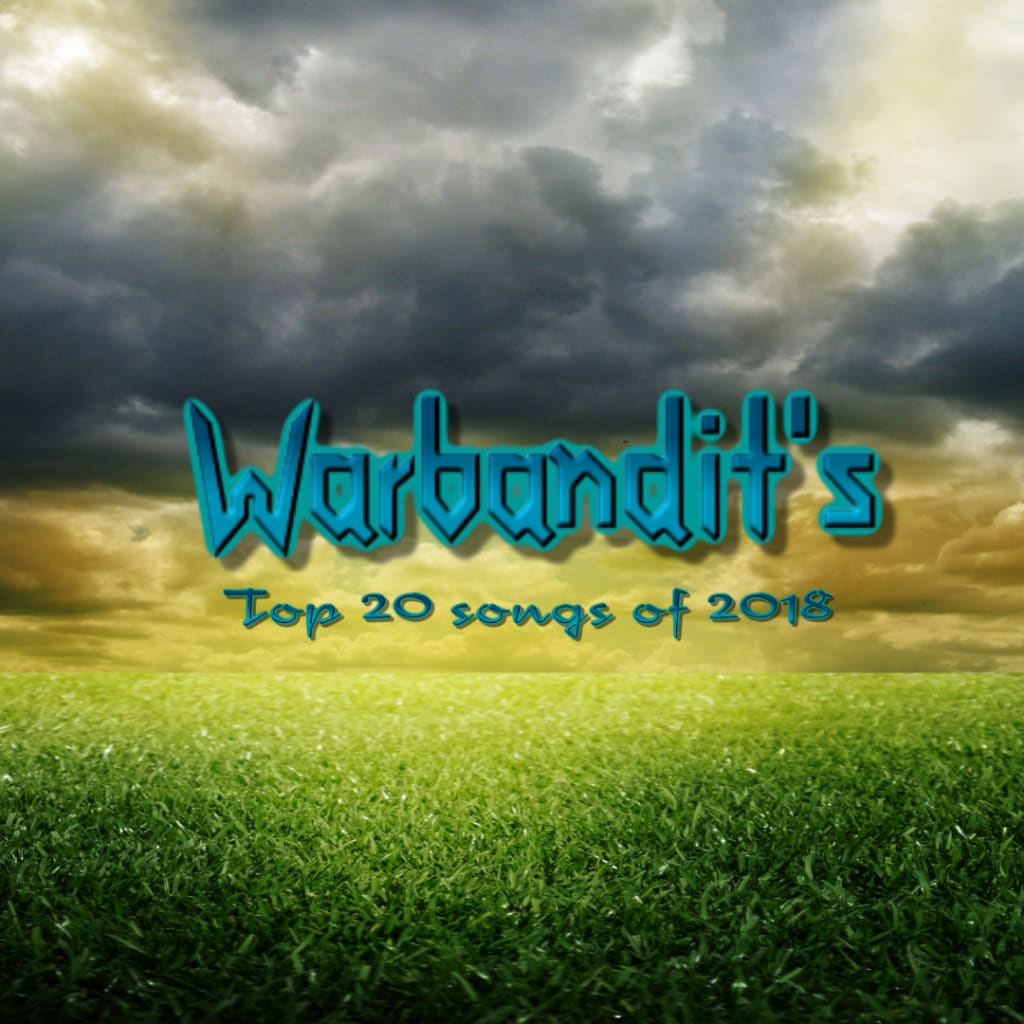 It is that magical time of year, list time! Here are my top 20 of the year, did some of these match up with yours? Did I miss any must-hears? Let me know, but here we go!
Number 20. Kegelapan Berkuasa Atas Jiwaku—"Tenget"
An easy way to start this list with some crazy Tiwaneese black metal from the future! I kid that it is from the future as on the Bandcamp there is a typo that has this album released in 2028 instead of 2018. All jokes aside though this is a solid track and a real diamond in the rough, pounding rhythms interesting melodies with the keyboards. The recording is a bit rough, it almost sounds like it was a live session at times which adds to the awesomeness of this low fi experience!
Number 19. Toarn—"Johan"
Local dudes making some great tunes, I would call this almost blacked beatdown or deathcore (if that even is a thing)? The atmosphere on this track is very thick and even dense at times with the blast beats blending with the guitar work. Keeping true to their core roots though, this song is filled with tasty breakdowns. Some so slow with such a length between them you think the song has ended, then boom there it goes again!
Number 18. Aborted—"Vespertine Decay"
This song slays! From its brooding intro into its assault on all senses for the next five minutes, this is a stand out death metal/core jam. The vocals are varied and excellent with the vocalist's full range being showed off in this track! The lead work around the four-minute mark kind of illicit a fear response with its key and tone. I would say almost ominous in a way like you are in a horror movie, and some abomination is about to catch you, no matter how fast you run!
Number 17. Cynic—"Humanoid"
Now after those blast beat driven walls of sound, how about a bit of a chill down for a track? This is a very proggy piece that fits a ton in it's under five-minute runtime. Technical riffing mixed with synths and strings, with an almost alt-pop voice. Doesn't sound like it should work, but if any band can do it and do it well it is these guys! When listening to the grimy walls of music I do pretty regularly this is a very good ear cleaning song. Still heavy, still metal but very pleasant compared with most other bands of their era!
Number 16. Pig Destroyer—"Army of Cops"
What a comeback tune! These guys have been out for a bit, but this lead single alone made me excited for the album. This song almost solely put the album on the top 30 albums of the year. More of a metalcore hardcore vibe than normal which makes it a bit more accessible but with the riffs akin to what got them this far. Also the line "why would God create something so weak, unless he wanted us to suffer" is going for my single favorite lyric of 2018.
Number 15. Sarcophaguts—"Bloodless"
Overall really good thrashy tune! In a seeming million albums on Bandcamp of indie bands, this one really stands out! Vocals are very blackened thrash but very clear and the instruments are very thrashy but different. As a person who does not like thrash that much, I really dug this song. Hell, I liked the whole album, this band would be a good gateway band into none big four thrash metal bands for sure!
Number 14. Skeletonwitch—"Temple of the Sun"
Unholy blackened beauty batman, this song has a lot going on in it and for it! Mostly black metal, but moments of their thrashy past with what I can only call essences of like post-hardcore! Which I never thought I would say about a Skeletonwitch song. Then again I never thought I would say them and full on black metal or even check out the cleans on that Skeletonwitch track! I dig the new direction and can't wait to see where they go from here!
Number 13. Horrendous—"Soothsayer"
Progressive death thrash eh? Sounds like it might be a bit of a cluster fudge but somehow it is not! It overall is a very good mix of the three. This song, in particular, is a stand out of the album and really gets across what they are wanting to do. Production is a bit quiet and muddy but with really good headphones one could hear this is a truly beautiful masterwork of metal!
Number 12. Psycroptic—"The Keepers"
Technical riffs, some sort of angelic string section and choir backing these up? All this and you are telling me the dudes from Psycropic are not some sort of musical alien overlords looking to change the tech death genre as a whole? After this track, you might join me in not only humming the tunes hook. But also questioning if these are grey ones disguised as humans because this is advanced beyond human musical comprehension.
Number 11. Behemoth—"Bartzabel"
Slow brooding jam from a band that usually plays at ear blistering speeds. It is a very nice change and on a very good album. This stands out in their discography as the closest thing this band has done to a ballad. Trust me though this is still Behemoth, slow broody ballad for them is still one of the heaviest things you will hear all year! The only downside is I keep singing the chorus, as I do I am starting to wonder how many times before Bartzabel actually comes to me and what I will do when it does?
Number 10. Into Eternity—"Fringes of Psychosis"
Overall this is a very well put together song and the new vocalist is really killing it on this track! Face melting riffs and good male-female vocal harmonies litter the track. For a techy proggy song everything seems to be there for a reason. There doesn't seem to be much wankery for wankeries sake even though this band is talented enough to do so!
Number 9. Rivers of Nihil—"A Home"
This song is one that will be remembered for years to come. From that nasty guitar tone at the opening to the last note of the song! When bands like this take all their tech death brilliance then add in melody and good clean vocals that make sense, my respect for that band rises beyond measure. This song is a wonderful example of this! There is a middle bit with clean vocals and acoustic guitar that sounds right at...home (do not excuse that pun). Hell this album as saxophone all over it, I love that these guys left the metal comfort zone and explored this sonic space to such a great avail!
Number 8. Avatar—"The King Welcomes You To Avatar Country"
This song is just overall a fun time! With lots of quarks and character held within it. Though not gimmicky at all, excellent songwriting and performance by all and the chorus seem to give me chills every time I hear it! If a song can do that, I always have to make note of it! It also has very distinct movements this song goes through with zero awkward transitions which are pretty awesome on its own right.
Number 7. As I Lay Dying—"My Own Grave"
This one cannot be added without a bit of controversy. I am in no way taking a side or anything of the sort, and only time will tell where this will go. But this song is pretty great, I have always dug their music especially their last one "Awakened." Lyric wise this song is incredible on the nose which I guess given the last few years, is needed. Honestly, though I am for this song more for everything but the controversial person in the band. Yeah, his parts are there, but overall the instrumentals and clean vocals make this song amazing for me, again with the chills. I could listen to just the chorus for an hour and not really get that bored. Here is hoping new beginnings and second chances make this band amazing again.
Number 6. Light the Torch—"Die Alone"
I enjoy metalcore here and there, usually not with as many clean vocals as this one for the most part. For this track though, vocalist Howard Jones just kills it! Catchy chorus decent riffing, a basic solo that works really well with this sort of stripped-down metalcore radio single.
Number 5. Coheed and Cambria—"Old Flames"
This song is one of my three 2018 happy place songs. Overall a fun mellow jam with a pretty guitar and vocal texture. To be honest Claudio's voice is always just a treat for my ears and a nice break from the harsher tones I normally listen to!
Number 4. Bad Wolves—"Learn to Live"
This album is packed with bangers and awesome jams! By the time of writing this list, I had narrowed the album down to four songs. Which was a hard undertaking but picking my favorite track off this album was even harder. Thinking this album is a vehicle for that Zombie cover is the furthest thing from the truth. In fact, I would call it a weaker track on the album as a whole and it did not make it past the first cut. I have been following Tommy Vext for a long time. Since the first Divine Heresy album, I really enjoyed his work! Knowing at one point he would find a project that really worked for him and this supergroup did just that. Their song "Learn to Live" really shows where he started and how far he has come as a vocalist overall. The guitar tone is a bit on the djenty side for me but it overall works really well, the guitar lead takes away a lot of the djent vibe when it comes in and out!
Number 3. Machinehead—"Catharsis"
In no way do I hide the fact that Rob Flynn is one of my favorite vocalists of all time. Or the fact he is a huge vocal inspiration at times in bands I am writing for. This dreamy tune is six minutes and ten seconds of musical bliss! With riffs that make me want to mosh anywhere, I am thus inspiring more than one car pit. The moment at 3:45 when the music breaks for a moment and all you hear comes through the speakers is "Come to feel my Catharsis" and the breakdown riff following may have made the spontaneous mosh pits actually happen more than once.
Number 2. Skating Polly—"Camelot"
Song two of three of my go to my happy place tunes of the year. Well, this album as a whole was my go to chill out album since the day I first heard it. That being said this song really stuck out with its uptempo punk/metal inspired feel. Once I found it I most likely listened to it like fifty times in a row it is overall just a fun track. Most likely not for everyone who reads my reviews or fellow metalheads but for a fan of music this track really stood out in 2018 pack as a real highlight!
Number 1: Ghost—"Dance Macabre"
This pick was easy, this is the single most fun song I have heard in a decade! While it is a throwback to an older style it is a breath of fresh air not just in the metal world but music overall. The lyrics are really dark but the tune itself always gives me a grin when I hear it, I don't see this song leaving my playlist rotation any time soon! Something about the song just has a real "it" factor to it that keeps bringing me back, it goes without saying this is the number one happy place song and easily the bright spot and overall my jam of 2018!
list
About the author
Lead singer of the band Vesuvian, lover of the metals, horror movies and grower of beards!
Reader insights
Be the first to share your insights about this piece.
Add your insights