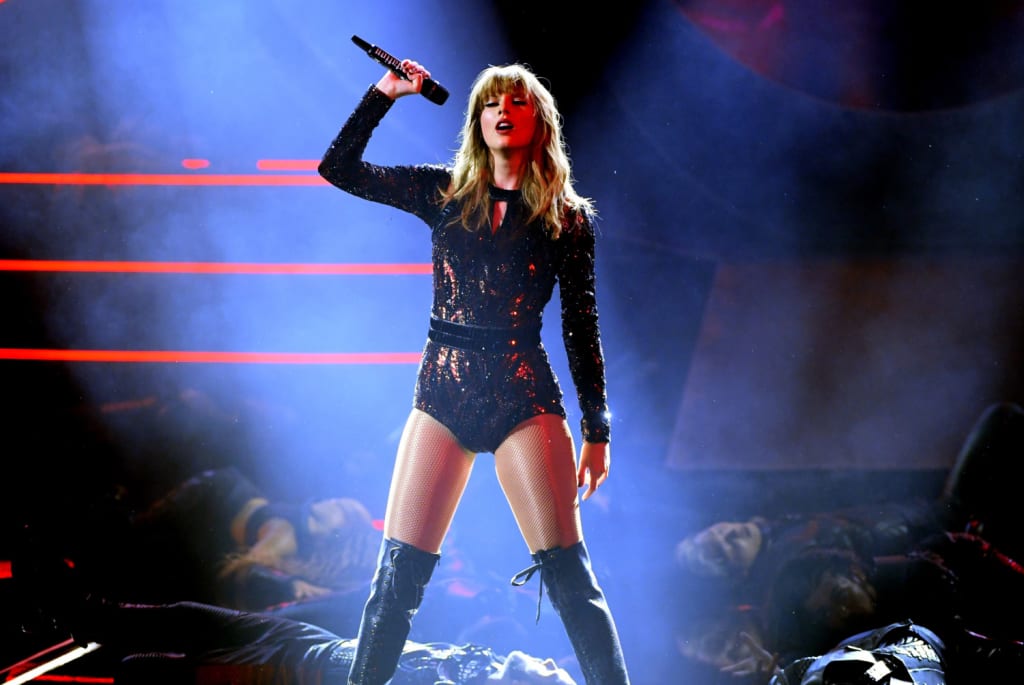 Even after my last article reviewing all the songs on folklore and evermore, I wasn't ready to be done with Taylor talk.
While every Taylor Swift listener (Swiftie or otherwise) has a unique opinion on the highlights of her musical catalog, especially when it comes to which album era is best (which I'll discuss another time), I wanted to share my personal take on Taylor's thirteen best songs from her nine studio albums (plus my favorite video and a few deluxe-version-only honorable mentions).
13. THE STORY OF US
"I'd tell you I miss you, but I don't know how / I've never heard silence quite this loud / Now I'm standing alone / In a crowded room / And we're not speaking / And I'm dying to know / Is it killing you / Like it's killing me, yeah / I don't know what to so say / Since the twist of fate / When it all broke down / And the story of us / Looks a lot like a tragedy now…"
I'll never grow out of one of my biggest teenage jams. Thanks for growing up with me, Taylor!
12. STYLE
I will readily admit that I am a sucker for pop songs (especially Top 40 ones), so it came as no surprise that Style quickly became one of my favorites when 1989 first came out. The music video is also SO aesthetically pleasing, which only encourages my obsession.
11. BACK TO DECEMBER
Even before I became a huge Swiftie upon the arrival of Red, Back to December was a favorite of mine and has remained one of my favorites from her early albums.
Every time anyone says anything about the month of December, this song is inevitably stuck in my head for the rest of the day… which I'm not complaining about.
10. I KNEW YOU WERE TROUBLE.
I will never forget the day this song came out. I was an average Taylor Swift listener, but she wasn't one of my favorites yet.
And then I Knew You Were Trouble hit. And suddenly everything was different.
I probably listened to this song fifty times the first day it was out, and I was in shock over how much I loved it. I fell in love with Taylor that day and I haven't looked back since!
9. WILDEST DREAMS
"I can see the end as it begins / My one condition is / Say you'll remember me standing in a nice dress / Staring at the sunset, babe / Red lips and rosy cheeks / Say you'll see me again / Even if it's just in your wildest dreams…"
While I loved Wildest Dreams from the first time I heard it, it was when I first watched Taylor's performance of the song at the Grammy Museum that I truly fell for the bridge that made this track become a top-tier favorite for me…
"You'll see me in hindsight / Tangled up with you all night / Burnin' it down / Someday when you leave me / I bet these memories / Follow you around."
8. MY TEARS RICOCHET
I still stick to my belief that this is one of Taylor's most unique songs. It presents betrayal and heartbreak in such a different way than the rest of her breakup tracks, yet still maintains that "diary-entry" quality that I love so much in her music.
For a more in-depth analysis of why I'm so obsessed with my tears ricochet, check out my ranking of all the songs from folklore & evermore. (Hint: mtr is at the top of the list.)
7. CRUEL SUMMER
While I do love the lyrics to Cruel Summer, especially because they are super sad and set in an upbeat song, the reason why it is one of my ultimate faves comes down to the fact that it is just. so. catchy. I LOVE the sound of Cruel Summer so much, and the fact that it also has one of Taylor's strongest, best-written bridges EVER is just icing on my obsession cake.
"And I snuck in through the garden gate / Every night that summer just to seal my fate (Oh) / And I screamed for whatever it's worth / 'I love you, ain't that the worst thing you ever heard?' / (He looks up grinning like a devil)"
6. ALL TOO WELL
Yes, I am jumped right on the bandwagon with the rest of the All Too Well cult following. But it is truly one of her strongest songs, so can you blame me?
"And maybe we got lost in translation / Maybe I asked for too much / But maybe this thing was a masterpiece / Till you tore it all up / Running scared, I was there / I remember it all too well / And you call me up again / Just to break me like a promise / So casually cruel in the name of being honest / I'm a crumpled up piece of paper lying here / 'Cause I remember it all, all, all / Too well…"
5. TOLERATE IT
Like with my tears ricochet on folklore, Taylor pushed the breakup-song boundaries even more with tolerate it on evermore.
This wasn't my favorite song on evermore the first time I listened through it, but after a few days I couldn't get it out of my head. And I still haven't been able to shake it.
4. THIS LOVE
This Love somehow became one of my comfort songs during some of the hardest times in my life… thus it holds a special place in my heart. But the driving, poetic bridge is such a work of art that I think I would love it regardless.
"Your kiss / My cheek / I watched / You leave / Your smile / My ghost / I fell / To my knees / When you're young, you / Just run, but you / Come back / To what you need…"
3. CALL IT WHAT YOU WANT
"And I know I make the same mistakes every time / Bridges burn, I never learn, at least I did one thing right / I did one thing right / I'm laughing with my lover, making forts under covers / Trust him like a brother, yeah, you know I did one thing right / Starry eyes sparkin' up my darkest night…"
Call it What You Want quickly became one of my favorites and I'm still not over the sensitive lyrics, echoey background vocals, and trap beat.
2. TREACHEROUS
"Put your lips close to mine / As long as they don't touch / Out of focus, eye to eye / Till the gravity's too much / And I'll do anything you say / If you say it with your hands / And I'd be smart to walk away / But you're quicksand…"
I literally went through about a four year period in which Treacherous was stuck in my head LITERALLY every single day. All I can say is that I had no complaints.
"Two headlights shine / Through the sleepless night / And I will / Get you, I'll get you alone / You name has echoed / Through my mind / And I just / Think you should, think you should know / That nothing safe / Is worth the drive / And I would / Follow you, follow you home / I'll follow you, follow you home."
1. READY FOR IT…?
Ready For It…? was the most important reputation track for me, aside from I Knew You Were Trouble. Taylor had been gone for a long time, and at the shock of Look What You Made Me Do was still coursing through me.
But then, there was a new single. And it wasn't like the first one. In fact, it wasn't like ANY of her other songs. Or really any songs at all.
I kept thinking, how can a song be so exactly aligned to my music taste??? And then I started getting texts and mentions asking if I loved it once other people starting listening to it… I guess I've become predictable.
Taylor's lyrical genius + a hint of EDM + a sick trap beat + a cyberpunk music video = all of my wildest dreams. I will take my stance on this to the grave, along with my Ready For It…? t-shirt and phone case.
FAVORITE VIDEO: OUT OF THE WOODS
"She lost him, but she found herself. And somehow, that was everything."
Need I say more than that?
HONORABLE MENTIONS
Thanks for reading! For more about Taylor and my other favorite things, check out my blog, Insomnia Paratus.
Until next time,
-A
About the Creator
writer // reader // dreamer // punk princess
i exist somewhere between star wars & jane eyre with occasional detours to mars & idris.
aliraewriting.com
los angeles, CA
Reader insights
Be the first to share your insights about this piece.
Add your insights