My Michael Jackson - Don't Stop 'Til You Get Enough Memory
Not only was this the first solo single from his first solo album off of the Epic Records label, the song literally stopped traffic (for me anyway!).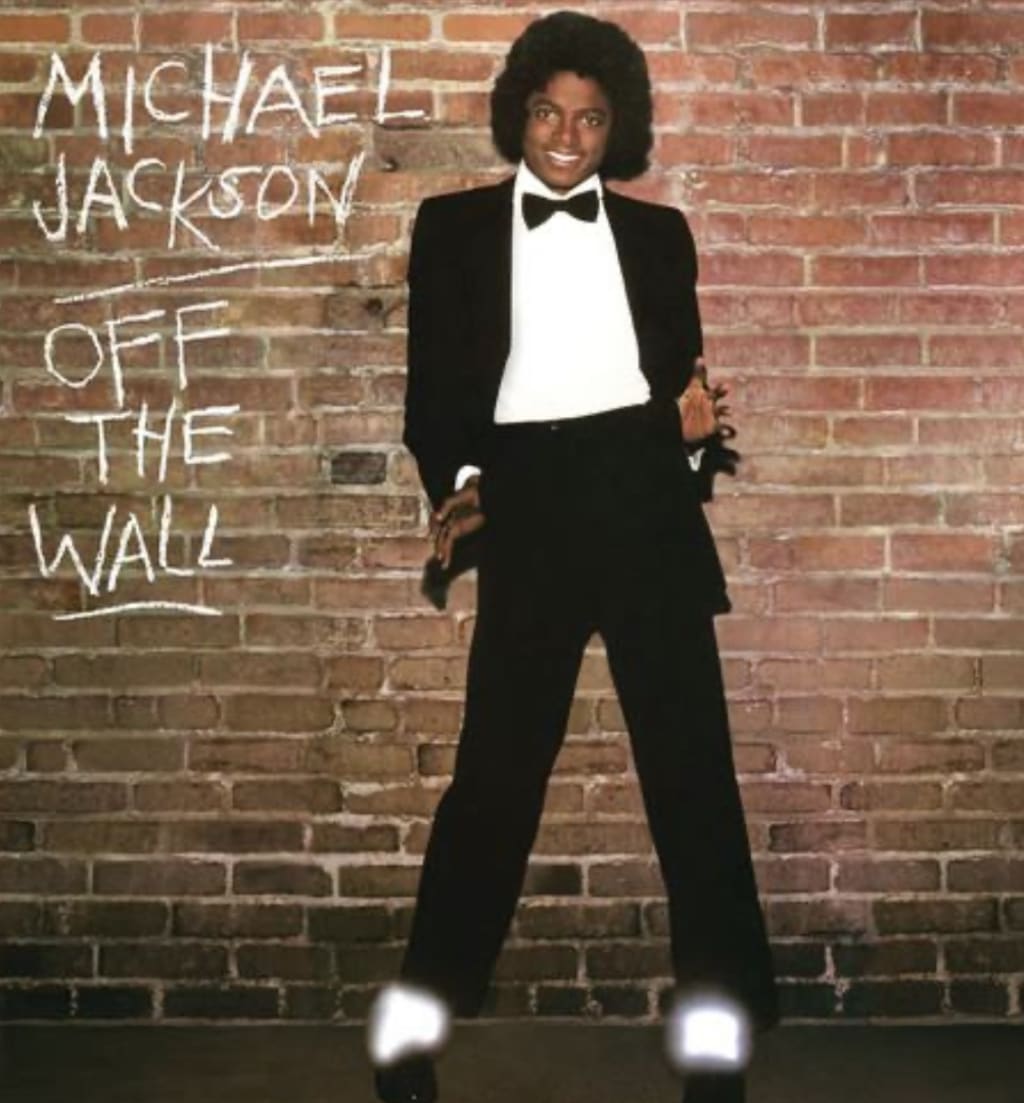 Michael Jackson on the album cover for Off the Wall in 1979
DON'T STOP TIL YOU GET ENOUGH - MICHAEL JACKSON - 1979 EPIC RECORDS
Okay, so I was challenged by my friend Andres CdeBaca to list 7 songs from the 70's era that means the most to me, and to write an explanation of why for each song. Also, to challenge someone else, each day. All to be done in 7 consecutive days.
Since I was born on day 7, I guess this number is ever so fitting for me. So let's do this!
Author's Note:
Since I am a lifetime and forever 'C' Student, I have pushed back the last couple days of this challenge. (Actually, having had to go to Paso Robles to attend my former brother-in-law's son's wedding reception, and because I haven't seen Martin in over a decade - I had to postpone this until today. I hope you all forgive my non-consecutive entry).
I have a trilogy of favorite artists. I've not kept this a secret and I'm sure once all three are revealed in this challenge as the first three artists that I'm recognizing, you'll remember. However, my trilogy of favorites is listed in no particular order of importance or standing, they are being listed by favorite songs from this era. So, let's continue.
The last time I wrote was for Stevie Wonder. The second in this trilogy of favorites is non other than the legendary artist of the century, Michael Joseph Jackson.
Although there are many songs to list from Michael from the 70's (as both a member of the Jackson 5 and as a solo artist), there is only one song that I can truly say grabbed my attention in a way that conforms to the sentiment behind the rules of this challenge.
There was a moment when we can all agree - when we thought Michael made the transition from being a part of this family group, and being the one who would stand out as a solo artist.
And this was that moment.
We've had solo albums from him before, too, as a child entertainer, but nothing like what he was about to present to us just as the decade was ending. I've mentioned this song and this story before. But for the sake of this writing I'll elaborate a little more on why I feel so strongly about this song and why it's the second one I'm listing.
The song? A catchy tune that has managed to remain something that has no problem standing on its own production genius against anything that is on the radio today, or in the past. Of course, I'm talking about the legendary breakout song, "Don't Stop Til You Get Enough".
August of 1979, I had just turned fourteen years old when I first heard this song, and it was as I was attending high school orientation or something like that, and walking across the street to get to the school's campus, when I heard this song blasting from the car waiting at the crosswalk I was using. Realizing it was MJ on vocals, and that this must be his latest recording, I was mesmerized and ended up stopping in the crosswalk and listening to the song until I heard a car honk, and realized I was holding up traffic, as my cross light had ended and theirs was green! Of course, I'm thinking - I've so got to get to the record store after school!
SOME JACKSON HISTORY ...
The last time we heard Michael prior to this release was with his brother's in their third album off of their new label, Epic Records. Having left Motown (reportedly due to being held back creatively). They wanted to write and produce their own songs and Motown had a system they weren't willing to let go of.
Michael was instrumental in getting this deal done and it was a pretty smart one. They were contracted to produce and record four albums as a group and Michael was guaranteed three solo albums in-between the group albums.
Their first release in 1976, "The Jacksons", found them in a strangely familiar relationship with a label, where they were forced to sing songs written by other, more proven producers. The only two songs any of the Jacksons wrote were not released as singles, and the ones that were, were lackluster at best.
In 1977, "Goin' Places" was released and, again, featured mostly proven songwriters and, again, two throwaway songs by The Jacksons. Two singles release and charted in the top ten and the top forty ... Dismal.
In 1978, "Destiny" was released. Michael, being fed up with being treated the same way they left Motown for, met with the label president to demand a shot at writing their third album. They reluctantly agreed and of the eight songs on the album, only one was not written by the brothers. The big hit on this album, "Shake Your Body (Down to the Ground)" was the biggest hit they had to date since leaving Motown, and was written by Michael Jackson and brother, Randy Jackson, and it reached number 7 on the Billboard Hot 100.
Destiny sold four million copies world wide. It was the first album where the brothers got to produce an album and the first time they were given full artistic control.
In 1979, "Off the Wall" was released. It was Michael's first solo album off or Epic. Having fought for and getting his way with having producer Quincy Jones (whom he met while working on the film, "The Wiz") work on this album. Epic initially told him they felt he was too old for Michael's sound!
Since Michael would have been able to write most of the songs himself, why should he not be able to choose whom he wanted as producer. Disco was ending and Quincy, though older, wasn't ready for retiring .... Too old? How wrong they were!
"Don't Stop Til You Get Enough" became Michael's first number one song as a solo artist on Epic records, and "Off the Wall" has sold over twenty million albums to date, making it one of the world's best selling albums.
Of course, MJ and Quincy went on to even bigger success with their top selling record breaking smash album, "Thriller" and "BAD", before MJ decided to work with other producers on his other solo recordings.
Now that all the history for this entry is out of the way, let me tell you why it was so important to me to mention in this writing.
Michael was a product of the group The Jackson 5. Their hits were done before my time as a listener. They belonged to that era and I was fine with that. I was aware of who they were, and I was aware that they changed labels. I was more of a fan of their new label's recordings than the Motown songs and it is because of this that I know (or knew) the Michael Jackson of that day.
I watched him become this suave dancer, this commanding entertainer and this amazing performer. I knew he could dance and I knew he could sing - but I had no idea that once he put that combination together as a solo artist just how incredible he was going to become.
"Don't Stop ..." was a preview of what was to come for Mike. It showcased his talent as a superb songwriter and as an incredible singer. The beat on this song is so original it begs to be played and danced to. The vocals so suave and sure, make you dive into the charisma of the character of the song. It also gave us a glimpse at Michael, and the sexy young man he became.
Dressed in a shiny and sparkly tuxedo shirt, jacket and bow tie, and with glittering socks visible from his trademark short black pants, and wearing what would become his choice of shoe until his death, his black penny-loafers.
Michael was young, extremely handsome and displaying to us his newfound confidence as a solo performer in a slick new format called 'music video'. He dances, twirls and smiles directly at us as he sings the song telling us how, 'the force' is making him desire this newly discovered power.
The lyrics, a product of Michael's new-found love of "The Force" (the Jedi Knight's tricky talent in the film Star Wars, which had been released prior to this album) and newfound confidence as a young and handsome leading man, goes like this ...
(Speaking over this simple bum bum, de bum ... bum bum de bum bass line:) "You know I was, I was wondering, if, you can keep on, because uh, The Force, its got a lot of power, and it makes me feel like, it makes me feel like, Woooo!"
(Enter these blaring funky horns, driving beat and continuing with this incredible bass line, and soaring string arrangement - thank you Quincy - and then ...)
"Lovely, is the feeling now. Fever, temperatures are rising now. Power, is The Force, the vow, that make it happen, It asks no questions why.
Get closer to my body now, Just love me till you don't know how"
(The chorus repeats the title four times before we hear:)
Touch me and I feel on fireAin't nothing like a love desire. I'm melting like hot candle wax. Sensation lovely where we're at
So let love take us through the hours. I won't be complaining, 'cause this is love power ..."
(More chorus ... then:)
"Heartbreak, envy despise. Eternal love shines in my eyes. So let love take us through the hours. I won't be complainin', 'cause your love is alright, alright"
The song continues into a repetition of the chorus over and over until the end. The music continues to drive this hot disco beat and the percussion is so smart and funky intertwined with horns and a funk/disco driven bass. Michael's vocals are prominently featured in a whisper and full falsetto, demanding that he be taken seriously as a man and now sex symbol.
This is Michael, all grown up, exiting, handsome, dancing, smiling and being a young 21year old leading solo singer and superstar.
This was the Michael I would grow to love and respect and follow (through thick and thin) for several years up to and beyond his death in 2009.
"I won't be complainin', 'cause this is love power "
- Tomás G. Robinson