My Journey Through Luthiery
Handmade Acoustic Guitars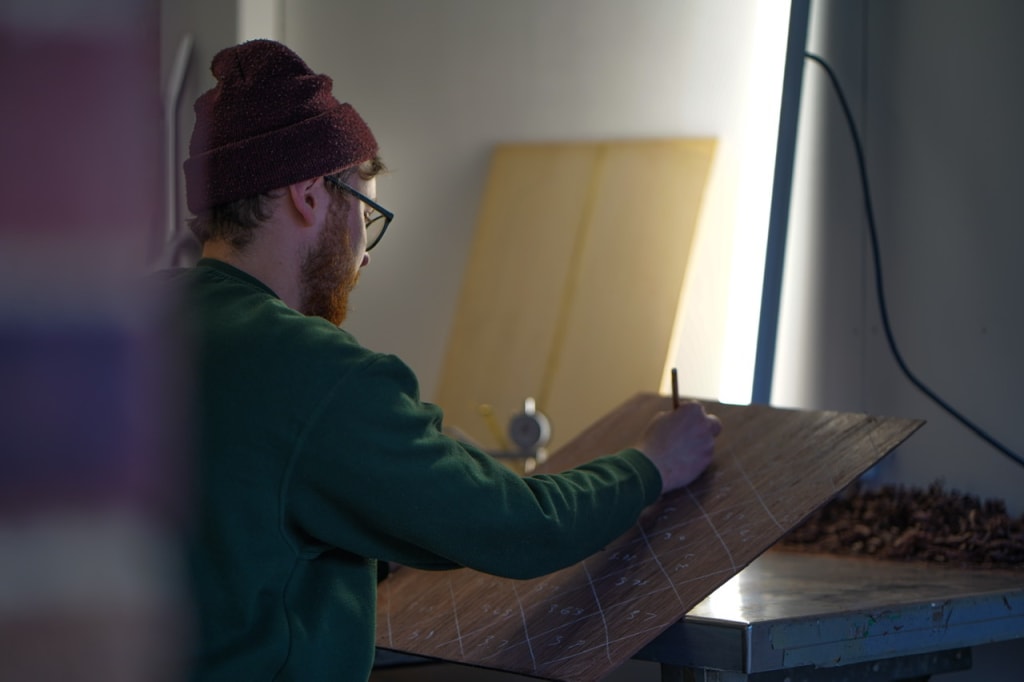 Marking out the thickness of the back plate.
Before I embarked on the art of luthiery, I started my career as a mechanical engineer through an apprenticeship at a local engineering manufacturing factory at the age of sixteen (2012). I completed my apprenticeship four years later as well as achieving a Higher National Certificate at Southdowns College. My first taste of Luthiery started when I was required to do a project for my engineering studies (2014). I decided to build an Acoustic Guitar!
As I was on an apprenticeship wage, I could not afford to buy the proper tone wood, I decided to build the guitar out of plywood. I watched a lot of videos and read a lot of books and I was incredibly happy with how the guitar turned out. I had to use a CNC element within the build, so I had the neck machined on a 5 axis CNC machine. Although there was some chipping on the headstock on the return path, it came out very well.
Presentation day arrived and I have never been so proud! With the report on the project and the guitar I made I managed to achieve a Distinction grade.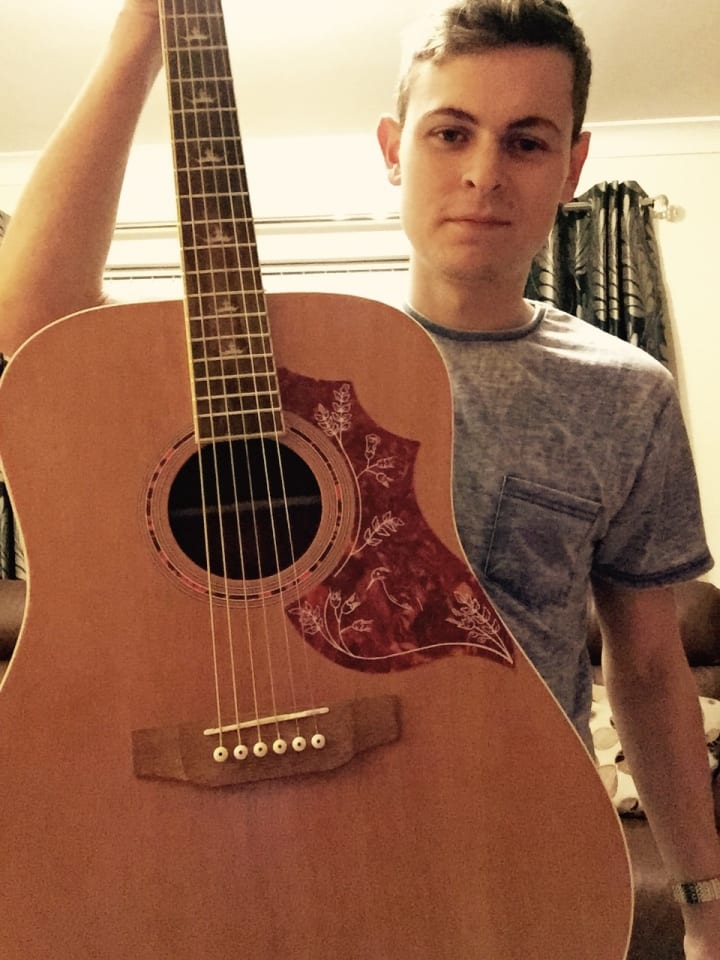 Fast forward to 2019 and I wanted to build my next guitar. I was busy for the previous years working on my engineering career and managed to work my way up to production and sales. My younger brothers 21st birthday was turning up and I wanted to build him his own guitar.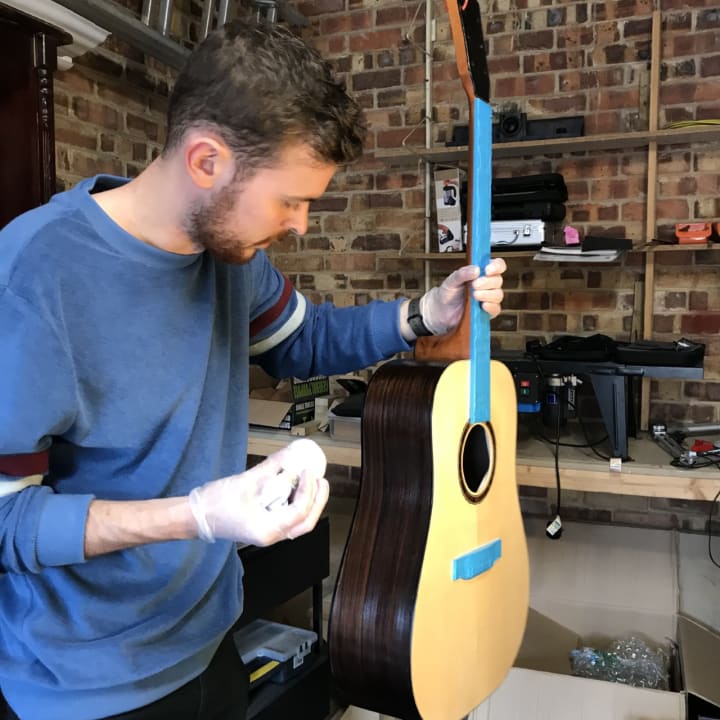 The video below is of my giving my brother his guitar I made for him. He thought I brought my guitar to the festival for him to play. But what he didn't know is that I switched the guitar with the guitar I made him. The look on his face made all that work worth it. He was so happy!!
This is when things got expensive. I bought my first guitar set of tone wood and spent way too much money on tools. I worked on the build in secret from my brother until his birthday. It was the best gift I ever given someone.
Now in 2021 I am on my fourth build and I have come a long way. Unfortunately, due to the pandemic, I could not keep my engineering job and had to leave it behind. This luckily opened a door for me to focus on my craft and make building guitars my full-time career. I have invested in myself to learn how to be a better photographer by online training school, to help boost my Instagram game. This has really made me stand out on social media as my following continues to grow.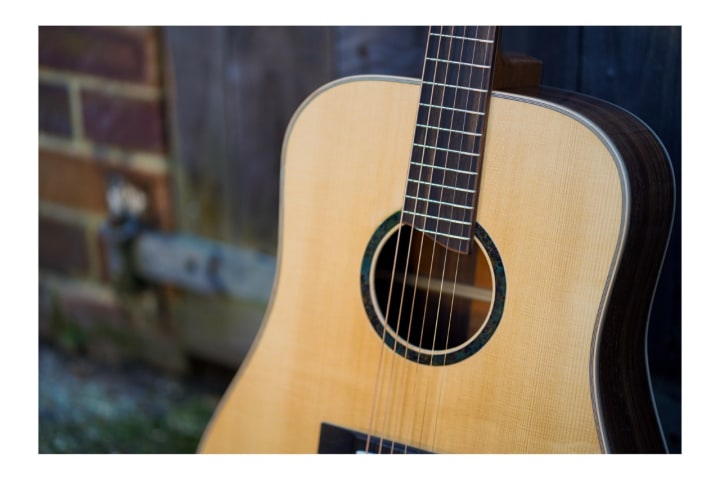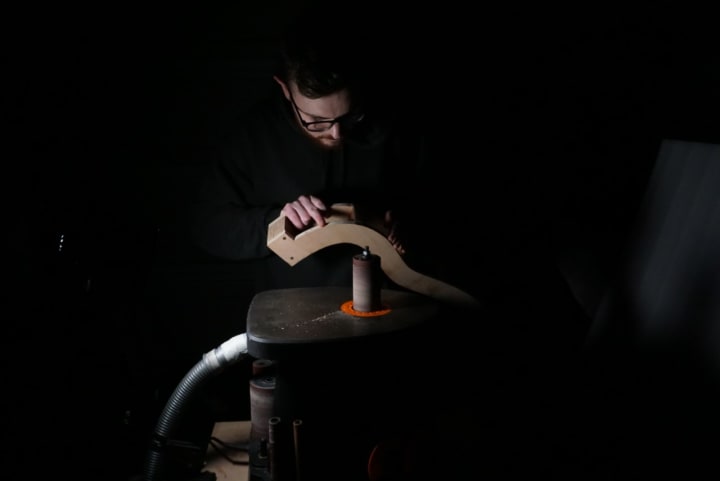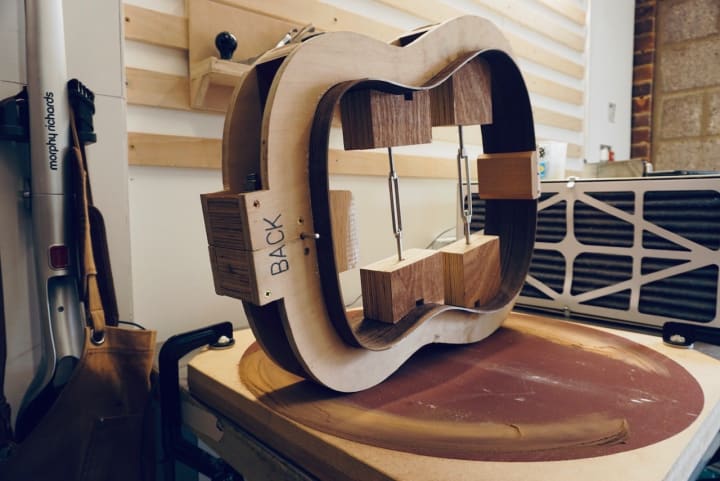 I get such an enjoyment by making guitars from scratch because it gives me the freedom to be so creative. Wood is one of my favourite materials to work with. The power of wood cannot be overstated. And for good reason. Its renewable, its sustainable, it is beautiful to our eyes. It is strong, it is versatile, it can be crafted into innumerable and infinitely useful things. It feels good when we touch it, it smells good. A musical instrument crafted from wood has the richest tones, the greatest rang. There is nothing like wood.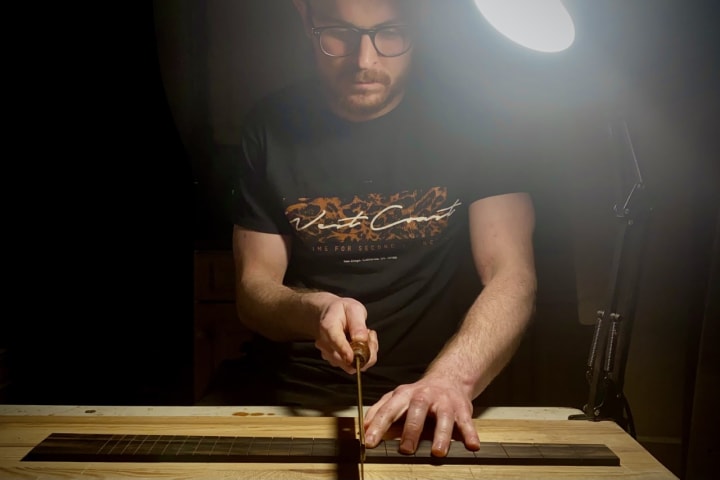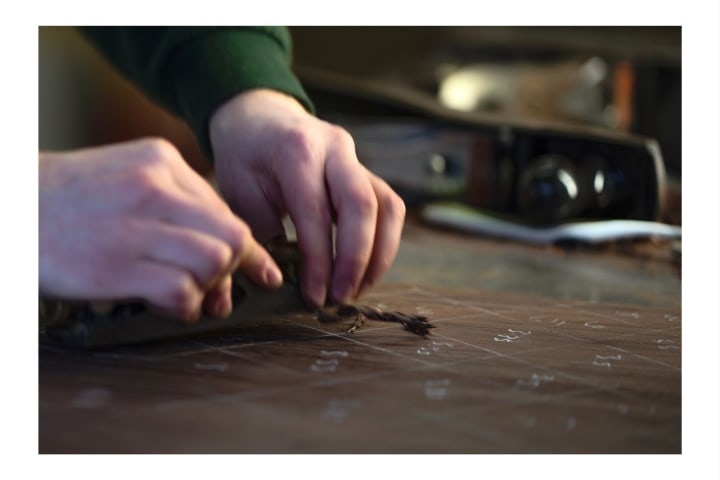 Design is a huge part of my craft. I make hundreds of templates for building new styles of guitars. That is where the scissors come into play. When it comes to fixtures, jigs and the guitars themselves, they all start from a piece of paper and carefully drawn out. I use scissors a lot to cut out the templates to make my jigs and my new body styles of guitars. After my current build is complete, my next build will be of my own design. I want to make an OM bodied guitar of my own creation and shape. This is when I will be using the scissors once again.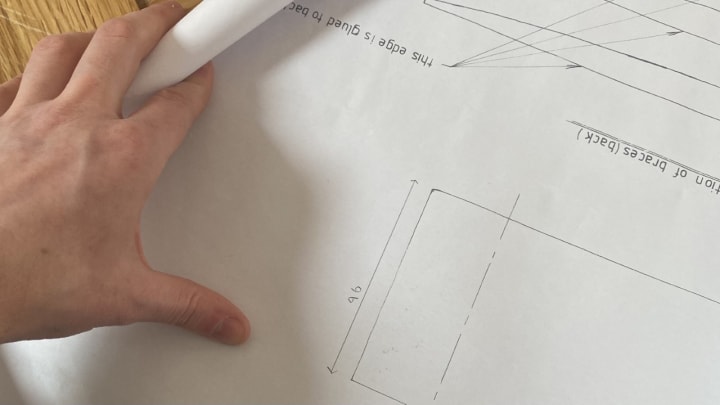 I really want to make this my full-time career because I wake up every morning and cannot wait to get into my workshop to build something new. It keeps me up at night, thinking about the next step in my build and how I can make it work out. I have never felt about a passion as much as this, that is why I know I will do this career for the rest of my life!