my first concert in my favorite city
seeing ROLE MODEL in new york city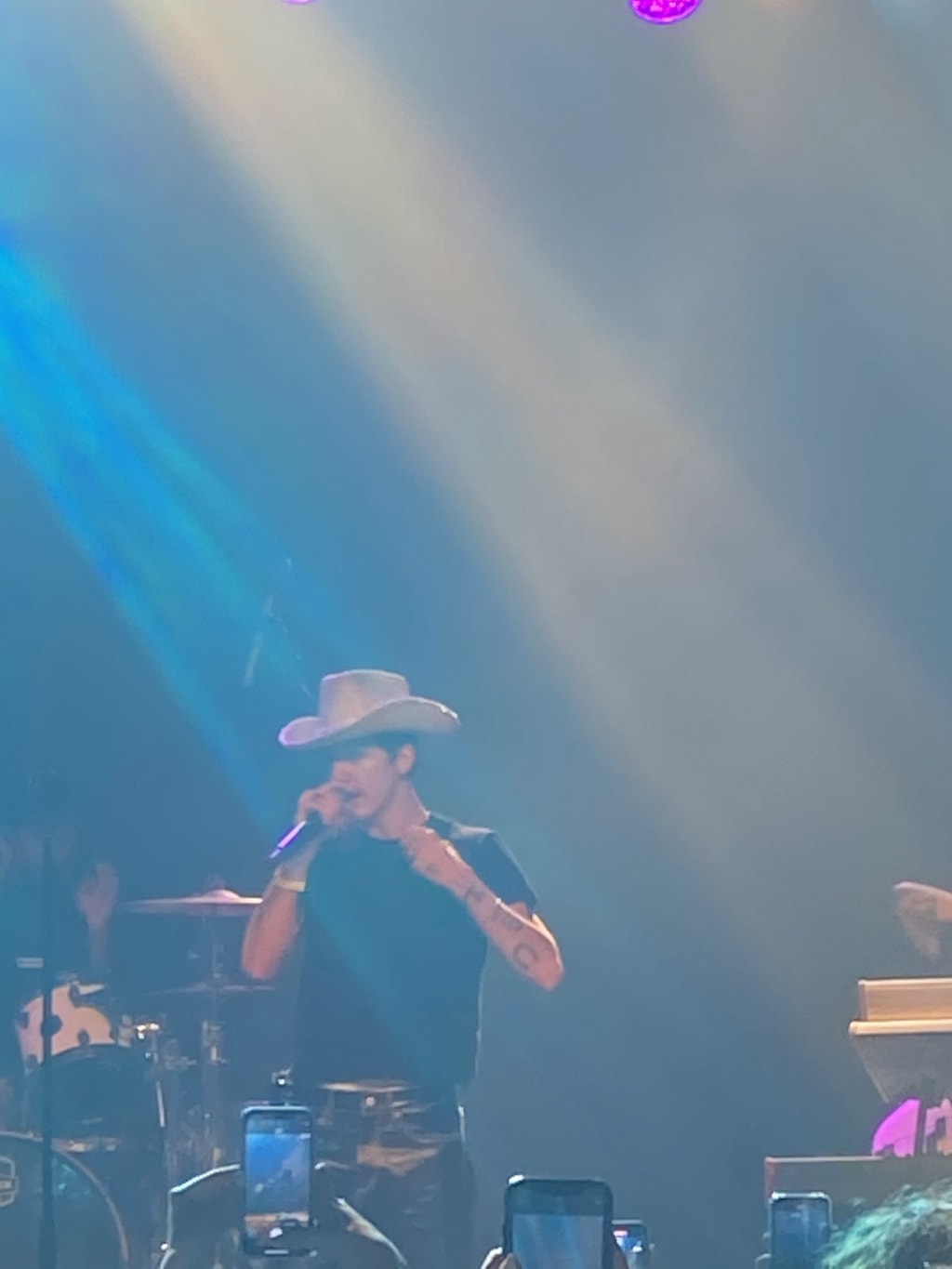 This story isn't just about a concert. This is a story about destiny.
Let me set the scene. Blaring music, sweaty bodies, screaming at the top of our lungs, hands and phones in the air. This was what my Thursday night consisted of as I experienced my first ever concert in New York City.
I bought tickets the night before and roped my friends who had never listened to the artist into coming with me. I promised them an unforgettable night and ROLE MODEL delivered.
"I'd like to try and feel okay. So if I call what would you say?"
As we stood in line I realized that this was my first concert since seeing Rex Orange County in January 2020, aka pre pandemic. I was beyond excited. I missed that feeling of the music vibrating through my body, so loud that you can't hear your thoughts. However, in line we were more concerned about the fact that it started pouring rain 10 minutes before the doors opened in classic New York fashion. I didn't even care that we were getting soaked. I just wanted to get in the venue and be immersed in the music.
The doors opened, we went in and got a prime spot in the middle of the room with a perfect view of the stage. Anticipation flooded my senses and when the opener, Jack Kays, came out on stage I could immediately feel this was gonna be a night to remember.
"Yeah, I've never seen something quite like you."
I had never heard of Jack or listened to any of his music, but he played and sang with so much feeling and determination that it felt like he was meant to be up on that stage singing for us, and in turn we were meant to be his audience. When he told us in between songs that this was his first show and first time in New York city I was shocked. Everyone watch out for Jack Kays, he will be dominating your playlists very soon. As I sang alone with him, learning the lyrics on the stop I felt like the whole world stopped. There I was in a room full of people all there for one thing and one thing only, music.
When ROLE MODEL, or Tucker Pillsbury, came on stage the crowd around me exploded. We pushed against each other to get closer, to feel the music on an even deeper level. The energy in the room was undeniable, perfect, alive. As if the people in that room, including myself, were the only people in the world. At that moment I felt infinite. I've noticed that this city has that effect on you. There was nowhere else I was supposed to be. It soon dawned on me that I am living in New York city, by myself. That I had met up with friends, walked through the city in a badass outfit, stood in a line, got absolutely soaked, and was screaming along to an artist I loved. This was my future, this city. And I decided that I was never going to leave. That New York was mine and I was hers. I almost cried.
"Let's dance when we're not supposed to be."
He ended the night by singing "girl in new york."
When it was over, sweat covered my body, my straightened hair curling because of the humidity, and rain that we had to stand in, my ears were vibrating and we were screaming without realizing it, but it was flawless. To end the night in an even more quintessential New York way, we got Joe's pizza.
concert
About the author
hi :) my name is beca and im a freshman at nyu! i love writing more than anything. in my opinion writing is the best form of self expression. here i will get to share what i am passionate about, i hope you enjoy.
Reader insights
Be the first to share your insights about this piece.
Add your insights