Music From The Home Front: An ANZAC Day Concert
A playlist based on the at-home concert to celebrate the ANZAC spirit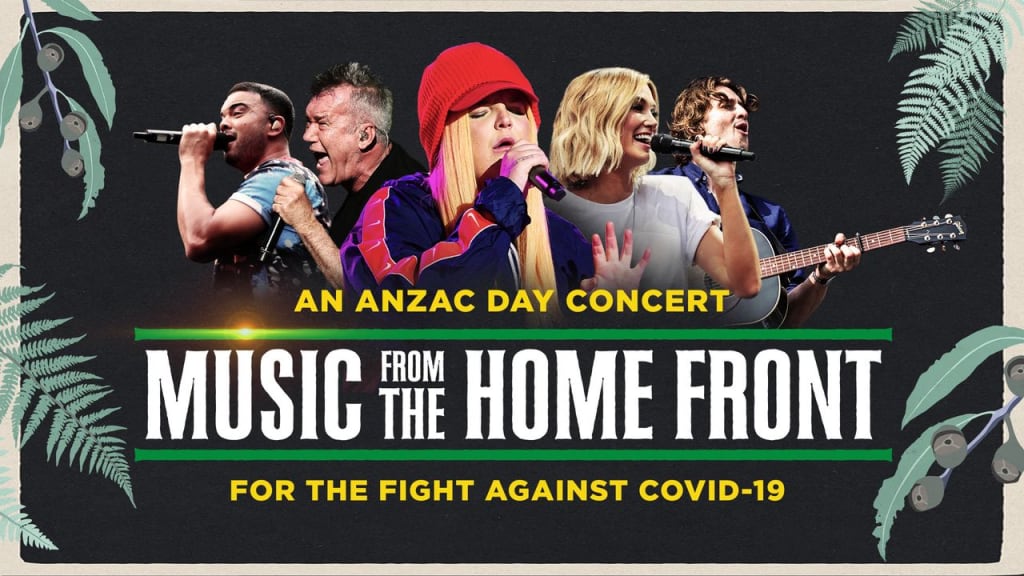 Channel 9's official promotional image for the event
25 April is ANZAC Day in Australia and New Zealand. A special day where we remember those who have given their lives for our countries, and thank those who have served.
Honouring the Spirits of the ANZACs
Australians normally celebrate ANZAC Day by attending a dawn service, where the dawn is greeted by haunting tones of a lone bugler. Ex-service men and women gather in their uniforms, and badges of honour of their fallen mates are proudly displayed by their surviving family.
Survivors of military conflicts gather to catch up, reminisce, play two-up (a gambling game that kept the troops entertained in the trenches of World War I), drink too much beer, then after the parades and other festivities, settle down to watch the Australian Rules Football (AFL) or National Rugby League (NRL) ANZAC Day matches.
With popularity of the day lagging in the 80's, then Australian Prime Minister Bob Hawke took the 75th anniversary in 1990 to remind us of the importance it had in our nation's history. The decades since have seen ANZAC Day restored as a commemoration of significance, receiving the respect it deserves, shining a light on those who fought (and fight) to protect us.
2020: The Year With No Parade
Until 2020, when for the first time, with gatherings cancelled, there were no public dawn services, parades or events of any kind. Instead, a virtual dawn service played out in the driveways, balconies and lounge rooms of participants across the nation.
The lack of footy matches brought an opportunity to help the nation celebrate the ANZAC spirit of mateship in a different way: by televising an at-home concert by some of our popular musicians.
The concert also provided the welcome opportunity to thank the non-military front-line warriors currently battling COVID-19: the doctors, nurses, and workers in food supply and other essential services who are keeping us safe and well.
Led by musical tzar Michael Gudinski (founder of Mushroom Records) and his mate Jimmy Barnes, an evening of entertainment was organised in record time, lifting the countries spirits and embodying the ANZAC spirit of working together.
Hosted by performers David Campbell, Delta Goodrem and Guy Sebastian along with radio host Christian O'Connell, the evening seamlessly tracked through 28 pre-recorded performances from wherever the musicians could record: be it their back porch, bedroom, or (and it doesn't get much more Aussie than this) their garage.
The #HomeFront Event
Starting in Adelaide at dawn, jazz virtuoso James Morrison played the Last Post on the traditional bugle. Accompanied by a socially-distanced medical nurse and digger to represent the twin focus of the event, it provided an observant lesson that traditions evolve to survive.
The ability to remember and honour those who've gone before doesn't require parades and fireworks. All we need is to keep those memories in our hearts and minds.
Ben Lee launched the pop music aspect of the night with a rousing rendition of his 20-year-old classic We're All In This Together. Taking on new meaning and a positive resonance, the addition of Jack River, Lime Cordiale and 'One Outstanding Choir' of health workers brought this anthem into the new millennium.
Living legend Jimmy Barnes, accompanied by Diesel on lead guitar, then sang a beautifully subdued (for him) version of Working Class Man. By presenting the melody and words simply, it hammered home the message that by self-isolating, we are all taking it one day at a time to create a better tomorrow.
The littlies didn't miss out with perennial children's performers The Wiggles showing how to look after yourself with their Handwashing Song (not written for this, this one came from their back catalogue). It's good to know that the adults of tomorrow know more than just how to wake up Jeff from these skivvy clad wonders!
2019's global sensation Tones And I then revisited her Triple J Like a Version cover of Forever Young, performing with just her keyboard in her lounge room.
Then it was off to the garage, the home of many Aussie get-togethers, for two classic songs from two 80's icons. Mark Seymour brought his Hunters & Collector's classic Throw Your Arms Around Me into the present with a brand new second verse about acceptance, followed by James Reyne singing Australian Crawl's Reckless ... where he enunciated each word so well they could be understood clearly! What happened to you James?
Then John Schumann performed his haunting story of a young man's horrific experiences in the Vietnam war, I Was Only 19. This touching tale, originally by John's group Redgum, was brought to life with The Vagabond Crew and the distinguished presence of Archie Roach.
A surprise appearance of Kate Ceberano singing with Vince Harder on Bliss n Eso's Moments brought us to the greatest collaborative project Australia and New Zealand have produced since the ANZAC spirit was born: Crowded House.
Well, we all know Australia claims the band is ours because it was formed in Melbourne, but when it comes down to it, we know they're kiwi as.
It's impossible to not stand at attention and sing along whenever you hear the opening chords of Don't Dream It's Over, and Neil Finn didn't disappoint.
A return to the new wave of Australian talent saw Dean Lewis perform Be Alright, before the great Aussie poet Paul Kelly teamed up with Jess Hitchcock for a delightful rendition of Every Day My Mother's Voice.
The Rubens Live In Life then led into a double classic whammy, with Jon Stevens and Isabella Manfredi supplying vocals for INXS's tear-jerking Never Tear Us Apart featuring the band's Andrew Farriss on keyboards and Kirk Pengilly on sax.
The utterly unexpected combination of Delta Goodram and Colin Hay followed as they tackled Colin's Men At Work staple Down Under.
To avoid sounding like a Triple M oldies marathon, Vance Joy proceeded to charm his way through Lay It On Me, followed by Ruel's bedroom performance of Free Time.
Then a split-screen for the intimate performance of Tim Minchin's Carry You (which he originally sang in last year's Upright tv miniseries), in this instance sung by Missy Higgins.
Then to prove you don't need production to make a song stand out, Kevin Parker (of Tame Impala) played On Track with just his guitar and his sofa.
G Flip followed with About You before DMAs sound more Neil Finn-ish than Neil Finn with a cover of our united-nations-of-AU-and-NZ-anthem, Better Be Home Soon.
Reminding us of the reason for this musical extravaganza, Lee Kernaghan is joined by Amy, George & Emma of Sheppard (and a sunglass clad Jon Stevens) for a rousing rendition of Spirit Of The Anzacs.
Indie darling Courtney Barnett then delivers Depreston with all her trademark droll cut-through, taking a song about house-hunting into the house of a veteran.
All stops are then pulled out for the Goanna anthem Solid Rock, with Shane Howard being supported in his traditional role by Troy Cassar-Daly, Emma Donovan, indomitable sisters Vika & Linda Bull, and world-renowned didgeridoo player William Barton.
The final straight begins with Guy Sebastion removing himself from his son (and the ongoing concern about whether that loose tooth would make it to the end of the night) to play his international hit Battle Scars.
Birds of Tokyo follow with their hit Unbreakable, and staying with the current youthful state of Oz music, Vera Blue performed Regular Touch. The final song from the 21st century (Fools Gold by Jack River) is preceded by Kiwi legend Dave Dobbyn rocking out a solo Slice of Heaven.
The celebration ends with Cold Chisel buddies, Ian Moss & Jimmy Barnes, giving a sombre rendition of Moss' much-covered When the War Is Over ... finding that common ground for our dreams of a better tomorrow.
That's A Wrap
This was not a cynical attempt to fill time, or display a crass salute to the fallen, but a heartfelt and passionate tribute to all those who have helped our two nations be lands of peace and prosperity. Through peace and war, prosperity and pandemic. Our nations stand together in mateship and honour those who led us here.
Hearing much loved music, old and new, performed by artists emerging and celebrated, allowed us to realise the wealth of talent we have fostered here in the land of the ANZACs.
We have a wonderful future to look forward to.
And we're all grateful that Ben Lee sang We're All In This Together rather than Catch My Disease.
Relive and Celebrate
If you missed it, or want to watch it again, just visit 9Now, the catch-up service for Channel 9. Here's a direct link to the concert. The page also includes 13 clips of various performances if you want to just catch one particular song.
To relive the concert when you're out and about, listen to this Spotify playlist I compiled, which includes bonus tracks after the final song of the concert, based on performers who didn't sing or didn't perform their own music. Included in the bonus tracks are:
Kylie Minogue - who sent a "virtual hug" - On A Night Like This
Diesel - who played guitar for Jimmy Barnes - Man Alive
Lime Cordiale - who provided back-up vocals for Ben Folds - Waking Up Easy
Archie Roach - who provided vocals for I Was Only 19 - Let Love Rule
Kate Ceberano - who sang with Bliss n Eso - True Romantic
Vince Harder - who sang with Bliss n Eso - Signs
Tones And I - who covered Forever Young - Dance Monkey
Jess Hitchcock - who performed with Paul Kelly - Fight For Me
Dan Sultan - originally performed Every Day My Mother's Voice with Paul Kelly - Killer
Noiseworks (Jon Stevens) - sang Never Tear Us Apart & Spirit of the ANZACs - Take Me Back
The Preatures (Isabella Manfredi) - sang Never Tear Us Apart - Is This How You Feel?
Delta Goodram - sang Down Under - Born to Try
Tim Minchin - played piano with Missy Higgins - Inflatable You
DMAS - sang Better Be Home Soon - Silver
Sheppard - sang Spirit of the ANZACs - On My Way
Lee Kernaghan - sang Spirit of the ANZACs - Boys From The Bush
Vika & Linda - sang on Solid Rock - Never Let Me Go and My Man's Got A Cold (with Paul Kelly)
William Barton - played didgeridoo on Solid Rock - Didge Fusion
Emma Donovan - sang on Solid Rock - Never Let Me Go
Troy Cassar-Daly - sang on Solid Rock - Wouldn't Change a Thing
West Australian Symphony Orchestra - played on Unbreakable - From the Sea (Live - With Eskimo Joe)
David Campbell - hosted the broadcast (a performer on his own merit, also son of Jimmy Barnes = bonus points) - Reflections of My Life
Wish You Well - played on the way to an ad break. Lovely song by Bernard Fanning (ex-Powerfinger) and could you imagine if the Finger had graced our screens? Gen-Xers across the country would turn into collective goo as they melted from the excitement.
Flame Trees - played during montage. It's a classic. It's unAustralian not to include some Cold Chisel.
Great Southern Land - another "to the break" song. Again, unAustralian not to play at some point.
True Blue - no, not the Madonna track, the I-can't-believe-it-wasn't-performed-it's-so-ocker classic by John Williamson. As Australian as Vegemite and blah blah blah unAustralian not to include it.
You're the Voice - see above. Repeat after me: "unAustralian without it". Additionally, if it wasn't played in the background at some point, Channel Nine would have lost their broadcast licence. John Farnham knows people in high places. Don't forget it. 😜
Also don't forget that musicians (along with most artists) around the world have lost the ability to make a living thanks to lockdowns. Just by listening to their music, you're helping them bring in a dollar or two.
If you have cash to spare, seek out your favourite independent artist and support them by buying merchandise or even a hard copy of their latest album.
After all, we're all in this together.
concert
About the author
I'm just a simple man, trying to make my way in the universe. Writing flash fiction to amuse, entertain, enlighten & inspire … and Other Random Things.
Reader insights
Be the first to share your insights about this piece.
Add your insights