Music for a New Chapter​
Songs That Got Me Through My First Year of University (2017-2018)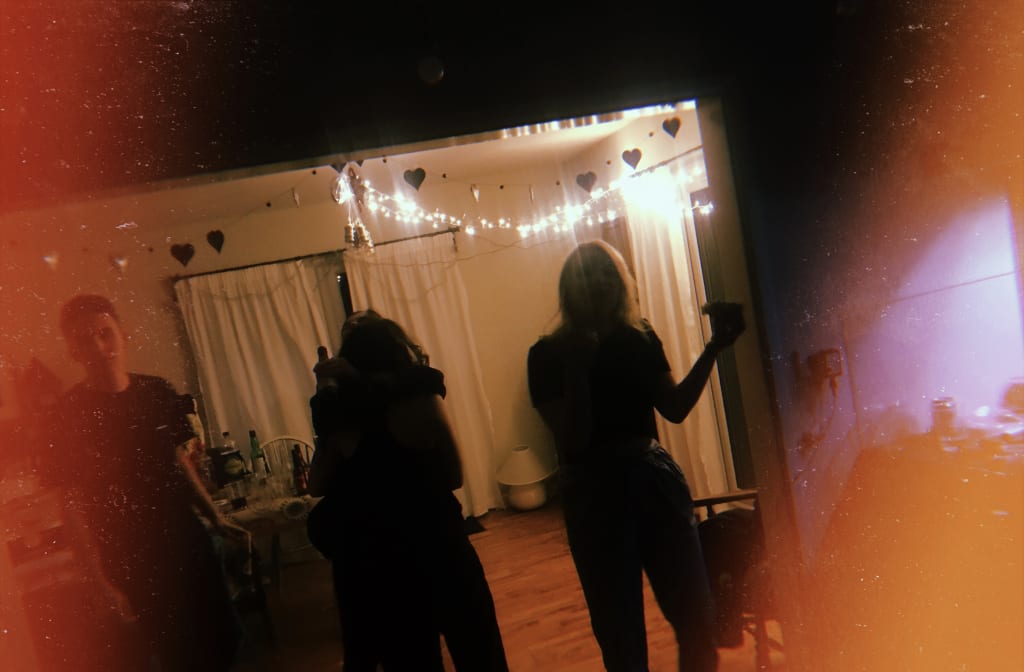 nothing suggests a house party more than someone eating drunkenly cooked pizza, and two girls hugging while a slightly emotional song plays in the background.
It's not unusual for people to say that music affects their mood. In fact, I think you'd struggle to find a person who would disagree. We, as a species, have mastered the art of music. We are able to make each other feel our emotions through a simple melody, eloquently crafted lyrics, and a lively beat. And I for one am not immune to the effects of music. A song can make me repeatedly cry due to the heartbreak that's been woven through it by the singer, but they can also improve my mood drastically within seconds of hearing the first chords.
Last September (2017), I started university and I must admit, I wasn't nervous at all until I found myself sat on my new bed in a new room, saying goodbye to my parents. The sudden overwhelming feeling of being alone in a completely new city suddenly felt like a hand squeezing my heart. I didn't want to live with nine random people and be more than a three-hour train journey away from my parents. I didn't want to be alone and have to make new friends, I had good friends back home. I had a good life back home. I almost felt like saying to my parents that we should pack up all my stuff and just take me home because I was not doing this.
I didn't do this, however. I instead cried in my mum's arms for a little bit, waved them off as they left and then faced my new reality. I was living alone in a strange place for the first time ever.
Now, looking back on it, I'm so glad I never asked my parents to whisk me away and back to the safety of my tiny, countryside town because I had one of the best years of my life. Not only did I make some amazing friends and have some amazing experiences, but I found some brilliant music.
I like to think I have a pretty broad taste in music, whether it's because I'm easy to please or whether I just genuinely like a lot of things, we'll never know. But ultimately, I do just like a lot of things. I know many people will probably consider my music taste awful, but it's music that I enjoy listening to, so I don't really care. Anyway, without any more rambling about how I surprised myself about moving away from home, here's my list of twenty(ish) songs that got me through my first year of university...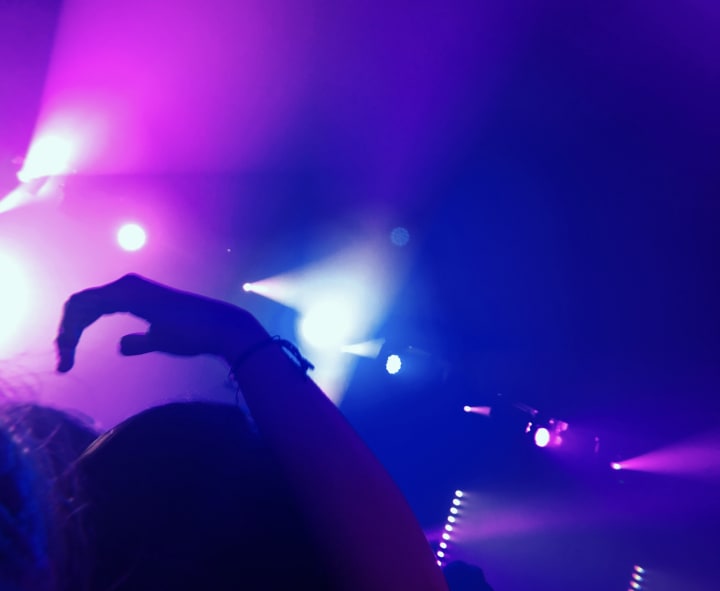 1. 'Melodrama' by Lorde


I feel like starting this 'list of songs' with an album and not a song is a red flag as to my personality, but I promise this will be the only time I do this. While this list is not, by any means, in any particular order, this album felt like the best and most natural place to start. Released on the 16th of June 2017, I was a little bit late to this album which looking back on it, I find strange considering how much I loved two of the singles Lorde released for this album - "Green Light" and "Sober". I have vivid memories of driving home from my friend's house in the middle of the night, singing "Sober" at the top of my lungs the summer before I started university. Despite my late start, I could easily consider this album one of my favourites. It's not very often that I fall in love with every song on an album, but Melodrama is not just 'any' album to me. I feel like I'm on a journey of emotions when I listen to it. "Writer in the Dark" is the song that truly gripped me and made me want more. A tale of minimising one's self to become who their partner wants them to be and gaining the confidence not to be that once they're gone, it makes you empathise and feel, whether you've been in that situation or not. That's a huge theme that ran through this album for me, empathy. Every song is so well crafted that you can't help but feel the exact way the singer does. I feel the intoxicating, drug-like feeling of being in love when I listen to "The Lourve" and feel the hopelessness of knowing you're going to be a tax on everyone at some point in your life, except yourself, during "Liability". This album got me through many a train journey back home in the last year and I fully urge anyone who hasn't listened to it in its entirety to do so as soon as possible - you're missing out on art.
2. "Lost in Japan" by Shawn Mendes


Ask anyone who knows me and you'll find out I have an embarrassingly huge crush on Shawn Mendes, so when this song was released as the second single from his self-titled album Shawn Mendes you can bet I was all over it. A song about spontaneity fuelled by desire, "Lost in Japan" had me dancing around my room in the middle of the night, wishing I wanted someone as much as Mendes wants the lucky girl he's singing to. It's safe to say this song was played on repeat until I felt I had my Mendes fix. This song got bonus points from me for the little 'uh' he does at the end of the first chorus, (precisely 58 seconds in).
3. "Don't Hurt Yourself" by Beyoncé and Jack White


Lemonade was yet another album I was late to, through no fault of my own. (Damn you Beyoncé and your decision to only stream it on Tidal). It wasn't until Titus from Unbreakable Kimmy Schidmt 'Lemonade-ed' during season three that I got my first taste of the album and decided to fork out the money to buy it. Whilst "Sorry" and "Hold Up" are brilliant songs, it was "Don't Hurt Yourself" that really caught my attention. Featuring Jack White of White Stripes fame, "Don't Hurt Yourself" is a song of rage and outright fury. This song was played many-a-time during the times I was frustrated at whatever I found annoying last year. Trust me, singing along to lyrics such as "Who the f*** do you think I is?" will help you release any anger you have.
4. "Dress" and "Delicate" by Taylor Swift


This one's a double whammy. Taylor Swift is a true legend in my eyes. While not the most popular of people, you can't deny her ability to create emotion through song. Ever since her first self-titled album, I have been hooked on her music and that's something I say without even an ounce of shame. Reputation was an album I awaited eagerly after not having any new Swift music for three years and oh boy, did she deliver.
"Dress" was the first non-single song I listened to on the album and remains one of my two favourites on the album. A sexually confident Miss Swift is not one we hear very often - "only bought this dress so you could take it off" - and it made a revolutionary change. Slow and sensual, this song is one for getting down to.
"Delicate" is my other favourite from the album. An emotional love song is nothing not exactly new territory when it comes to Taylor Swift, but there's a reason she writes so many. This song differs from my other favourite love songs written by Swift. It talks about the hesitant beginnings of a new relationship and plays on the ideas of rumours affecting how someone may see you. It's heartwarmingly personal and I love every second. Plus, the vocoder effect at the start is stunning.
5. "My! My! My!" and "The Good Side" by Troye Sivan


Another pairing of songs by the same artist, this time by Troye Sivan, YouTuber turned global recording artist. "My! My! My!" is a song I listen to in the morning on the way to lectures and seminars. It's a feel-good song about love that you can't help but dance to. For a more heartfelt and mellower experience, I highly recommend the studio acoustic version as well. "The Good Side" switches the mood up compared to "My! My! My!". As Sivan announced himself, the song about is about a breakup where one person inevitably got the 'shorter end of the stick', whilst the other got 'the good side of things'. This one tugs on the heartstrings, boys and girls, and is perfect for listening to when it starts to get cold but oddly the sun is still shining. A truly comforting experience.
6. "Mystery of Love" by Sufjan Stevens


This is the first of three songs that I love because of the film/TV soundtrack they appear on. Call Me By Your Name is one of my favourite books and films ever. It creates and nurtures one of the most honest and sweet relationships I've ever had the pleasure of reading/watching and then rips it away from you just as you think it's going to work out perfectly. It's heart-wrenching and uplifting at the same time, and that's exactly what this Oscar-nominated song recreates. It mimics the ups and downs of the Elio and Oliver's relationship perfectly and feels like watching the film all over again in four minutes. This song belongs on the same sort of playlist as the aforementioned "The Good Side", songs to make you emotional, but not entirely sad.
7. "No. 1 Party Anthem" by Arctic Monkeys


This a song I rediscovered this year after previously falling so deeply in love with it. "No. 1 Party Anthem" is one of the Arctic Monkeys most underappreciated songs and, along with their new song "Ultracheese", displays their versatility. This song makes me feel the same way sobering up at a house party does. It's 3 AM. The volume of the music has been lowered. Half of the people invited are asleep, gone home, or are in smalls groups doing nothing in particular. You're wandering around looking for someone specific and can't find them anywhere. Again, emotional but not exactly sad. This song gives me a very specific feeling, I know, but it reminds me so much of high school house parties that I can't help but feel attached to it.
8. "World Burn" and "Someone Gets Hurt" from 'Mean Girls the Musical'


You know, as someone who does and listens to a lot of musical theatre soundtracks, I'm shocked that there are only three songs from musical soundtracks on here. I could talk about these songs for years, but here goes nothing...Mean Girls the Musical was something that I was desperate for as soon as it was announced. When it finally made it to Broadway, a cast recording was announced, and as soon as it was, I was desperate for it to come out to give me my first taste of Mean Girls in musical form. I was gifted perfection in the form of two songs on the album. I mean, I love the whole soundtrack, but two songs stand out for me and they are "World Burn" and "Someone Gets Hurt". Coincidentally, both are sung by Taylor Louderman who plays Regina George, which is a pairing I love in its own right. One of my Broadway favourites playing one of my all-time favourite characters. These songs are sheer brilliance. The encapsulate the evil nature of Regina's character perfectly and also display Louderman's impressive vocal range. These songs will make you feel like you are the Queen Bee - full of sass, venom and beauty. Listen to them when you need a confidence boost.
9. "Wings" by HAERTS


"Wings" is the second song that I love because of the film it is in. Love, Simon was a deeply important film for me purely because of how refreshing it was to see something as relatable and basic as coming out being portrayed so accurately on the big screen. Not only was it an incredible film, but it also gave me an equally incredible soundtrack to listen to for months afterwards. I'm not sure at what point "Wings" is played during the film because it has been so long since I've seen it, but I can picture exactly where I feel like it should be in an American teen, coming of age film. The song feels exactly like the scene of a film where the main character walks into the school prom after facing whatever problem they face during the movie, coming out more confident than ever. The film then treats us to a montage of the main character and their friends dancing and just generally having a great time. Around halfway through the song (2:07 minutes in to be exact) and montage, the main characters 'unobtainable' love interest comes up to them and reveals their feelings for the main character, they kiss and at 2:45 minutes into the song, the new couple continues to dance with the main character's friends and the credits roll on a happy, teenage-friendly ending. Reading that back I realise I sound insane, but seriously, listen to the song as you read that and it will all make sense. But to put it succinctly, it reminds me of the happy ending of a film and a happy ending is a feeling you can't help but love.
10. "Where You Lead" by Carole King


There are two reasons why I consider this a song that got me through my first year. The first is that "Where You Lead" is the theme tune of my favourite ever tv show, Gilmore Girls. I started watching Gilmore Girls for the third time around a month into my first year as a way to distract me from feeling homesick. So I very much relate this song and the tv programme to feeling better. Sad? Angry? Lonely? Stick Gilmore Girls on. It fixes everything. Not only that, but it's one of my aunt's favourite programmes and she is one of my favourite people on the planet, so anything that reminds me of her is okay in my books.
The second reason is technically a bit of a cheat on my behalf as it stems from a trip I took after my last term had ended but it was still during the summer holidays of my first year, so I'm including it. I'd travelled to sunny Bristol to visit my friend and she announced some bad news as I got into her car at the train station - she had lost the adapter that allowed her to play the music on her phone through her stereo. This meant we were stuck with whatever CDs she had in her car. One of these CDs was "Tapestry" by Carole King, which contains "Where You Lead" within its track listing. We drove all over Bristol in the warmest weather I'd experienced in England for ages listening to this song on repeat. It's safe to say that this song holds a lot of happy memories for me.
11. "Creep" by Radiohead and "Million Reasons" by Lady Gaga


These aren't exactly two songs that I would normally put together, but they're united by one reason - car journeys. During my first year of university, I visited home a lot more than I thought I would and these two songs became quintessential journey listening. "Creep", a personal favourite of my dad, would never fail to get the radio turned up. There's no better feeling than belting a song at the top of your lungs with your parents. "Million Reasons" is one of those songs that just breaks your heart, but the memories you have attached to it do the exact opposite. Me, my mum, and my sister sing along like we're doing some sort of concert. We all sing these songs on every, long-ish car journey, without fail. Plus, they're both just good songs.
12. "Love on the Brain" and "Higher" by Rihanna


These two songs made it on my list because of one of my best friends. She is obsessed with Rihanna and told me to listen to Anti for months. When I finally got round to listening to it, I instantly became obsessed with these two songs. They're a slight change from the upbeat songs that make you want to dance that Rihanna is pretty well known for, e.g. "Work", "Rude Boy". They're the type of song that makes you think of a certain someone, whether the song fits your exact situation or not. Coincidentally, "Higher" was the song Lorde was listening to when she was inspired to write "Liability", a song I previously mentioned, which makes me love it just that little bit more. Essentially, these are two beautiful songs about loving someone a little too much and I can't help but adore them.
13. "We Get On" by Kate Nash


Yet another song I rediscovered this last year, Kate Nash's first album Made of Bricks was one of me and my sister's favourite albums growing up and I still listen to it to this day. Well, all of it except this song. This song was one of those that seemed to fit an exact situation I was going through with a boy I liked, and after I realised that, I couldn't listen to it anymore, (lame I know). Anyway, I'm now pretty good friends with that guy so I thought it was about time I didn't skip this song anymore and I found that it was just a song to me again and didn't bring any old feelings to the surface, thank God. I listened to this song a lot just to make up for lost time I think, but I'm pretty glad I did. The feeling of knowing you're over something for good is pretty spectacular.
14. "Boy" by Willow


A guy I had a bit of a crush on sang this at a drama showcase that I was in and from then on, I loved it. Luckily, I never connected it with the guy who sang it when I listened to it, so it remained an emotion-free experience. The song is not what I expected from 17-year-old Willow Smith, due to the fact that the last thing I heard from her was "Whip My Hair" back in 2010. It's a pretty, acoustic song about a guy she's dating and it was kept in pretty heavy rotation on my playlist last year.
15. "Loving is Easy" by Rex Orange County


This song was introduced to me by two of my friends. We'd been on a night out and had drunken stumbled back to their flat to eat the McDonald's we'd bought on the way home. This song came on shuffle whilst we played noughts and crossed in lipstick on one of my friend's legs (don't ask) and its infectious happiness made me love it. I remember messaging my friend the next day to ask what song it was, but the only thing I could remember about it was the lyric "you've got me f****d up". I ended up finding it myself after doing a bit of searching on Google and ended up playing it whenever I needed a bit of a boost to my happiness. It became very useful for that on the way to my 9 AM seminars on a Friday.
16. "A World Alone" by Lorde
This song closes Lorde's first album, Pure Heroine, an album I didn't listen to until this year. My undying love for Melodrama gave me a need to devour as much of Lorde's discography as was available to me and it lead me to Pure Heroine, yet another perfectly crafted album by the singer from New Zealand.
I danced around my room to "A World Alone" after multiple disastrous nights out, silent-disco-style. The chorus has the perfect beat and feeling for just spinning and prancing around your room. The feeling it gave me made me forget why I'd been upset that night because the song so vividly explains what it feels like to not care about what people think because you have the one. It's almost the opposite of "Delicate" by Taylor Swift where Taylor doubts her relationship because of what people may be saying about her, Lorde revels in it:
"Let 'em talk cause we're dancing in this world alone... You're my best friend and we're dancing in this world alone..."
She doesn't care what people are saying, because despite being an outcast, she has the one and I'll be damned if that feeling didn't resonate with a drunk and emotional 18-year-old me to an extent where I felt that feeling too.
17. "Him" by Oscar Roche


I don't have much to say about this song I must admit. I don't have many memories attached to this song at all. I just found it on my Spotify Discover Weekly and liked it enough to play it a lot. Pretty basic discovery. It is a good song though.
18. "Wait" by M83


This song makes me cry. Whether it's because the actual song is sad or because I'm pretty sure it was in The Fault In Our Stars film, I'm not sure. But, something about it strikes a nerve in me that makes me overly emotional. This is not one I listen to in public very often but it's pretty good for revelling in your sadness when you're feeling low.
19. "Goodbye Love" from Rent the Musical


This past year I was lucky enough to be cast in my University's production of Jonathan Larson's Rent. This is one of my favourite musicals so I was pretty excited when rehearsals started. I could easily put the whole soundtrack on this list as rehearsing them twice a week really gets them stuck in your head, but I have particularly fond memories of this song. We learnt it quite late into the rehearsal period due to where it is in the show and I just have so many memories of walking through our empty uni building, singing the dramatic parts with the rest of the cast at the top of our lungs over and over. It was also one of the songs that came together the quickest when we rehearsed it. I basically just have some many memories attached to this song and the show it's from so it would have been impossible not to include one of the songs from the musical's soundtrack.
20. "God is a Woman'' by Ariana Grande


This is another song that I discovered during the summer. I loved this song as soon as it was released as a single for Sweetener, which is an album I just love in general. It's not rare for Ariana Grande to release songs with sexual undertones, see ''Side to Side'' and ''Dangerous Woman'', but this song just drips with a sexual confidence that you don't hear very often. It quickly became the song of my summer. I played it on repeat during my trip to Mexico and I'm still listening to it now when I feel insecure about myself.
Well, that's the end of this list. Congratulations if you made it through to the end, I rambled on about each song a bit more than I expected.
This September (2018), I started my second year of university. This time, I moved into a house with six my best friends, who also happen to be six of the nine people I was so scared to move in with last year. This time, I'm certain I'll make more friends and have more amazing experiences, but I'm also hoping I'll find some songs I loved as much as those that are on this list.