Music Biz 101
Talent + Networking + Connecting With The Right People + Persistence + Live Performance + Experience = Success!
Ever since I watched The Beatles perform on The Ed Sullivan Show on February 9, 1964, I knew exactly what I wanted to do and be in Life. A Musician, a Songwriter, a Performer. Little did I know how long and hard the road would be. I started banging on pots, pans, cardboard boxes or on anything that sounded like a drum. Whenever a song title, idea or concept seeped into my mind, I wrote it down on paper, napkins, or even scraps of paper, whatever I could find. As a boy of 13 or 14, I remember having shoeboxes filled with scraps of papers with song titles I came up with. One day, my grammar school buddies and I got together to do our first music jam. I had just bought a snare drum, while my friends played on acoustic guitars. We would listen to records by our favs: The Beatles, the Rolling Stones, The Who, The Kinks, The Dave Clark 5, The Hollies, The British Invasion groups, The Zombies, The Animals, The Yardbirds, Santana, The Bee Gees, The Young Rascals. Then we moved on to more elaborate groups and artists: Jimi Hendrix, Cream, Bob Dylan, Jeff Beck, The Doors, Simon & Garfunkel, and in between, all of the Motown artists, along with so many Musicians, Songwriters and Artists that it is impossible to list them all.
We listened, we learned and then performed at local church halls, dances, Battle of the Bands, and other underage venues. Of course, one of the highlights was having 'the girls' swooning over the band. At age 15, my cousin and I started a group, as we were getting more proficient on our instruments and vocals. We headed to New York City's Greenwich Village and played our first Saturday/Sunday matinee at The Bitter End. Then we moved to The Cafe Wha? where we started finding girl groupies who were willing to educate the band with a few new tricks (if you know what I mean!). We were performing at The Night Owl, The Underground, and we were gaining the knowledge and experience of being a member of a band.
In 1969, I got a call from a bass player friend of mine who asked me if I'd be interested in auditioning for a 60s NY Doo-Wop group, called "Vito & The Salutations." I did. I was invited to join the 5 part harmony group with original lead singer Vito Balsamo as Lead Guitarist. With my friend Jimmy on bass and Vinny on drums, we had worked the NYC Metropolitan Area (NY, NJ, Philly, Conn.) from 1969-1974, playing auditoriums, shows, such as The NY Academy of Music, The Beacon Theater, Murray the K shows, and Clay Cole shows, all while doing radio interviews on CBS Radio with Norm N. Nite (DJ) and other promotions. We would find ourselves at parties at places like The Plaza Hotel with the likes of Richard Nader, Manhattan Transfer, and other music business alumni. Being headliners on the bill with artists such as Larry Chance & The Earls, The Channels, The Dubs, The Jesters, The Flamingo's, Bo Didley, The Elegants, and more, was very exciting.
In 1974, I heard of a Rock Group called "ACTRESS" and amazingly, as I was walking down the street with my guitar one day in my Brooklyn neighborhood, a guy came running out of a fish store and asked if I played guitar. I told him yes. He said he knows of a group that is going to "make it big!" He handed me a phone number on a piece of paper and asked me to call them because they were looking for a guitarist. So I called the number and spoke with one of the band members who set up an audition. After my audition, the Lead Singer/Piano player told me the band's name is "ACTRESS" and he said that they would be in touch with me. 2 months went by and as I was reading the newspaper, I saw the group, "ACTRESS" advertised and they were playing at an East Village venue, CLUB 82. My cousin and a few of my friends went to the club and I was amazed how great this band was! I had asked my cousin to approach the band after the show and let them know I had auditioned for "ACTRESS" about 2 months ago but hadn't heard back from them. The Lead singer took my number again, and the following week I was asked to join the group! I did!! I had found out that "ACTRESS" was formerly signed to ABC Paramount Records! To Be Continued...
Photos of my Musical Journey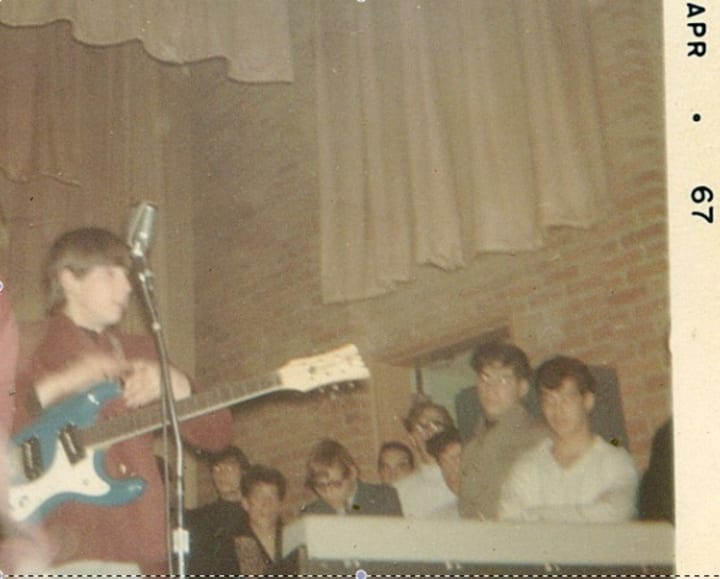 Sporting my groovy Beatles haircut and playing a Blue Mosrite Guitar just like The Ventures (Wipe Out) used! Check out the date on the Polaroid photo!!
Peter Frank Santovito Still Rocking in 2019!!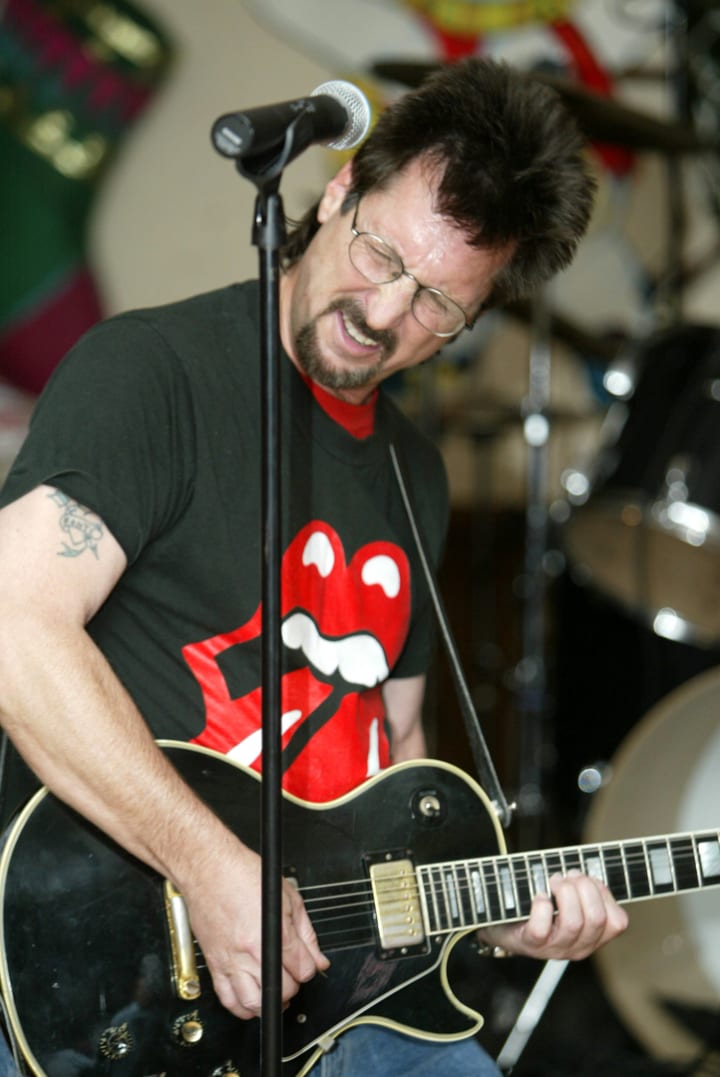 Still performing today, Peter Frank Santovito has CDs available on Apple Music, iTunes, CDBaby, GooglePlay, Napster, and his music can be heard on Spotify, Pandora, iHeart Radio, Slacker Radio, and other fine music sites.
'Letters to My Love' (Special Edition) Original Songs By Peter Frank Santovito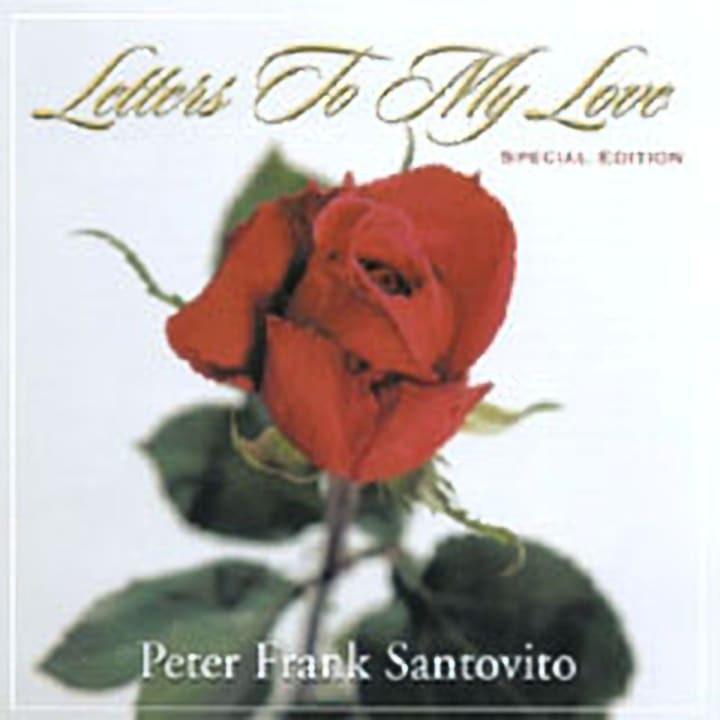 Please visit peterfranksantovito.com for more news, photos, upcoming gigs and more...
"BEAT OF MY HEART" By Peter Frank Santovito Peaks at # 17 on CASHBOX and RECORD WORLD MUSIC CHARTS!!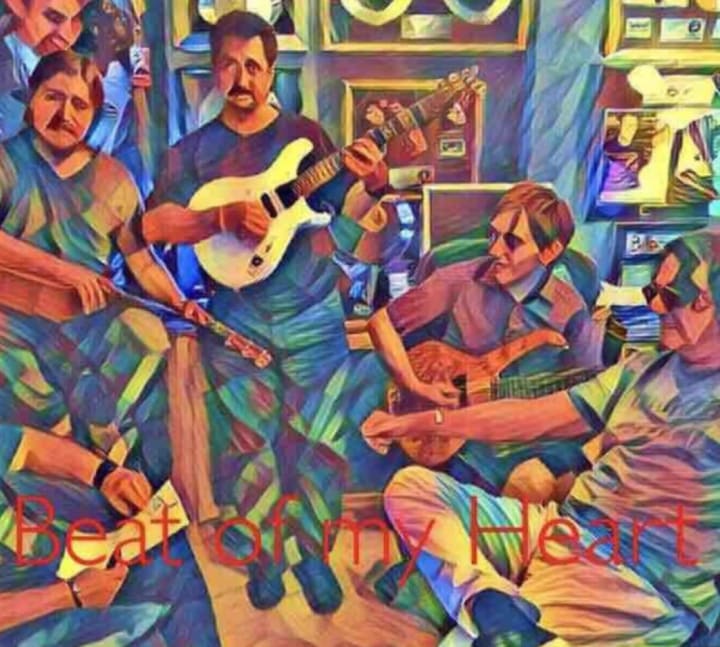 "BEAT OF MY HEART" # 17, This Week on CASHBOX and RECORD WORLD Music Charts!! 12.22.2018.
By Peter Frank Santovito
"EMPTY MAN" By Peter Frank Santovito~ (c.2017 Lyrics & Music By Rudy Perez and Chris Price).
"EMPTY MAN" By Peter Frank Santovito (Single- Photo)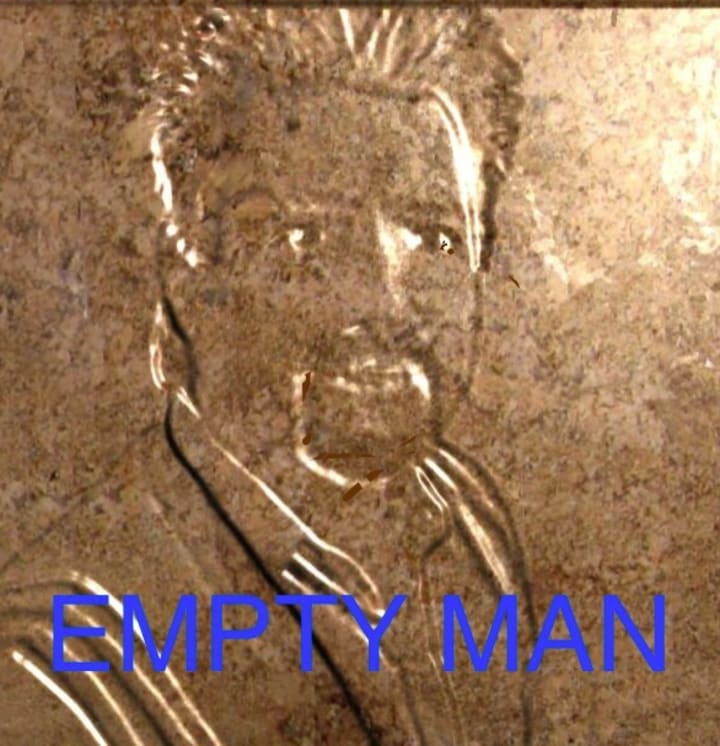 Peter Frank Santovito 50 Second Promo Video