Mr. Morale & The Big Steppers by Kendrick Lamar | Album Review
Reviewing the long awaited album from Kendrick Lamar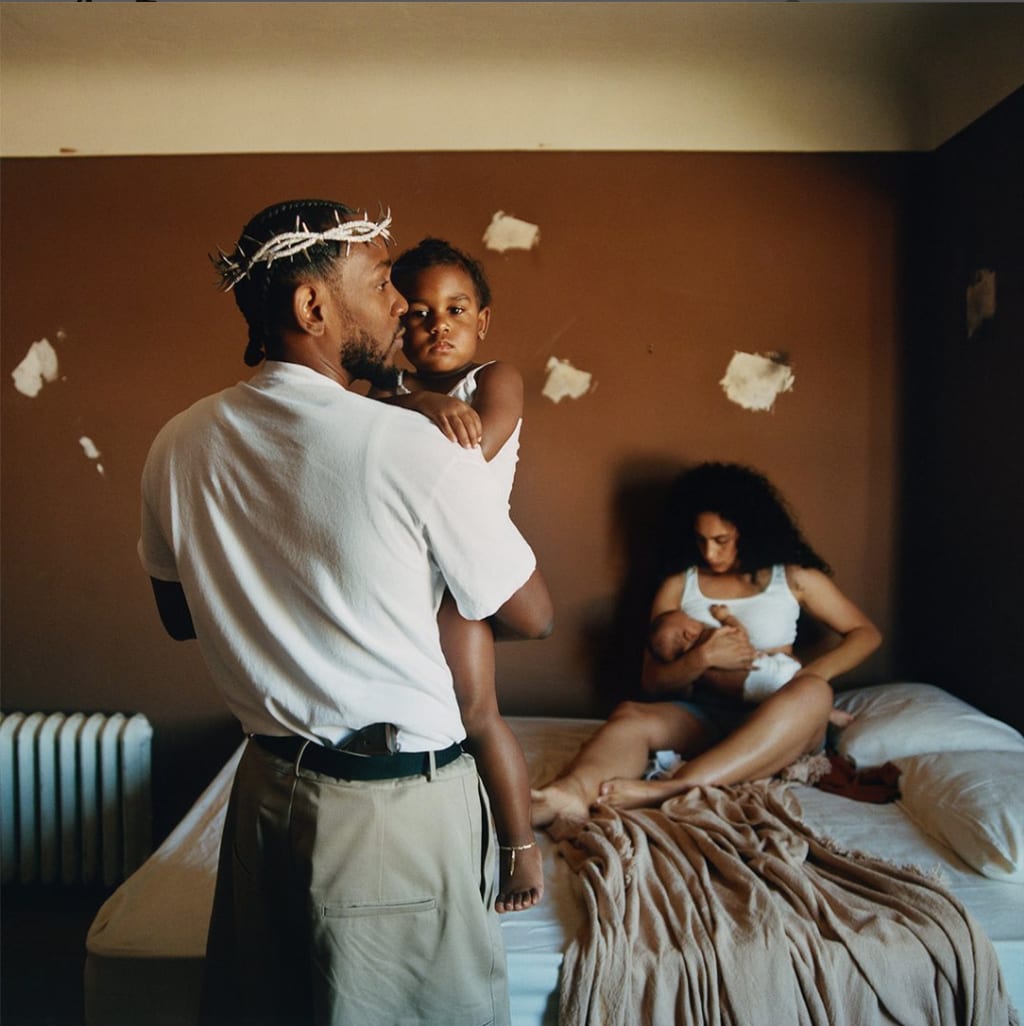 Mr. Morale & The Big Steppers album cover (via Kendrick Lamar Instagram)
It's been years now since the drop of award winning album, DAMN. We've gotten a taste here and there with teasing singles and features with Baby Keem, but a new album is finally here - Mr. Morale & The Big Steppers, a double album filled with x and y, topping off what has been one of the most incredible discographies of the modern era. The intimacy of family is front and center, with glimpses of religion, gun violence, and struggle hiding within plain sight - a Compton paramount. Kendrick, a modern rap king, has solidified his place atop the throne with this release.
The album opens with an angelic chorus, seeking "peace of mind" and "paradise" followed by the staunch proclamation from Lamar, "I've been going through something". "United In Grief" is a whirlwind of noise and beat switches that travel from ear to ear, traversing through quick, drum heavy rapping to the soothing tune of a reverberating piano. Right away, given the repeated line of "I grieve different", this song at the same time conflicts the different beats and backing music to create a conglomerate of art, similar to how grief is the cohesion of overwhelming emotion — one hell of a track to open on.
One thing I notice immediately is Lamar's approach being similar to his features on Baby Keem's album with snappy, quick delivery style backed by a hard-hitting bass that hardly rattles before the next line is delivered. A higher pitched voice is prevalent, especially in "N95", which features a plethora of these almost schizophrenic-like echoing voices demanding attention. There are so many elements to each song it's almost impossible to catch in one listen.
Of course, this wouldn't be a Kendrick Lamar album without recollection of memories painted through imaginative storytelling and commentary on the most important issues. Lamar's connection to and love for Compton is on full display, detailing the highs and lows, including sex and murder (even in the same track with "Worldwide Steppers"). Additionally, as seen on DAMN, Lamar has the ability to add features that perk the ears of even casual listeners, therefore taking the radio by storm. Even the feature list is exciting: Kodak Black, Sampha, Summer Walker, Ghostface Killah, and Baby Keem of course.
I admire Kendrick Lamar's ability to create his unique style in a world of radio fodder and make it enticing, even when speaking of the most difficult of topics like daddy issues (most candidly, Father Time), grief, and death. He uses his own visceral experiences, shines a light on it in order to normalize associative emotions with traumatic events and how these events can make us better, more coherent people. At the same time, behind the beauty of candid, cloudy emotions is the room for visceral truth and a flashy, not quite meretricious, lifestyle.
"Rich Spirit", including the interlude, really shine the light on the roots of rap culture including brotherhood, drugs, and women in opposing styles. Kodak Black does it in almost a spoken word poetry delivery over a quiet backtrack — very conversation-like — whereas Kendrick deliver similar sentiments on a vibing R&B backtrack complemented by a hard bass in the chorus. This song is heavily juxtaposed heavily with the next track in "We Cry Together" which is delivered in a back and forth argument style rap that is almost shocking. Taylour Paige does a beautiful job in the supremely realistic recreation of a domestic argument detailing infidelity and insecurity. In a song riddled with vulgar exclamations, the artists reveal aspects of intimacy, shifting perspectives of blame, and dynamics of toxic relationships eloquently. I am in complete awe of this song.
Now this album is considered a double album, signified by the transition from "Purple Hearts" to "Count Me Out". Immediately we see a more confident and optimistic Kendrick driven by naysayers and the promise of an idyllic future. There is certainly more analysis to be done with this album, but a recurring theme within the album is the slight noise of tap dancing opening and closing some tracks. Off the top of my head, this could be a nod to performative presentation, and knowing how Kendrick Lamar grasps for every straw he can, could be a call back to minstrel shows, further highlighting the performative aspect of the black image. This is evidenced by the track "Crown" in which the artist speaks about not being able to please everybody, and alluding to the toll of being a performer on a record deal, continuing to tap his feet and "keep the music in rotation".
Mr. Morale & The Big Steppers is a gaudy album, housing tons of music, standing at a lengthy an hour and a quarter, which I believe strengthens the argument that Lamar could approach selling a million in his first week — a bold prediction sure, but the excitement for this album was unfounded. I don't think there's any other album that people were more looking forward to than this one. Thus far, and I believe this will continue to be the case, this album is better than DAMN, and may end up being a top three Kendrick Lamar album when it's all said and done. The filthy, bass-riddled beats combined with the signature Kendrick style just makes this a head-bob inducing listen.
The familial connection between Lamar and Keem stayed true with Keem featuring on both of the "Savior" tracks. The fluency of their chemistry is still almost unmatched in the game in my opinion. Both of their presence on each other only elevated their game and is even more special since they're family, ones that experienced the same life events yet show it through different styles. This showing makes me more excited for future music from Baby Keem after a successful debut album in The Melodic Blue.
Back on the point of visceral emotional music, this is ever the case in "Auntie Diaries" where Kendrick Lamar proudly declares "my auntie is a man now". The song is a candid approach to transgender issues and social dynamics, going so far as to detail his own reactions to both his aunt and cousin Demetrius (who I believe we've seen before in a past album) dissolving the notion of traditional gender. This song is beautiful based on subject matter, and the courageous and empathetic approach to a sensitive topic, especially in black culture, is the cherry on top. I feel like this is a very timely release, one that needed to be included. Props to Kendrick Lamar.
I think the main point of this Mr. Morale & The Big Steppers lies within just the few words of the opening song — "I've been going through something". This album details aspects of black trauma, grief, both literal and metaphorical death and birth/creation, and how Lamar processed each of those aspects. It is certainly a sobering experience listening to the tales of transgender family members and molestation and so much more, one that should be heard. It may not be filled with radio hits or chart toppers, but this album illuminates the real and visceral emotions of a black man, and that's enough to make it beautiful.
...
MMA is back this summer with a big splash! So many more great album are to be released this year that we will definitely be reviewed by Modern Music Analysis, so keep an eye out by following us on Medium:
https://medium.com/modern-music-analysis
Reader insights
Nice work
Very well written. Keep up the good work!
Top insights
Easy to read and follow

Well-structured & engaging content

On-point and relevant

Writing reflected the title & theme
Add your insights