Months after promising and failing, Cynthia Morgan creates new insult for Davido
"It should be a new word"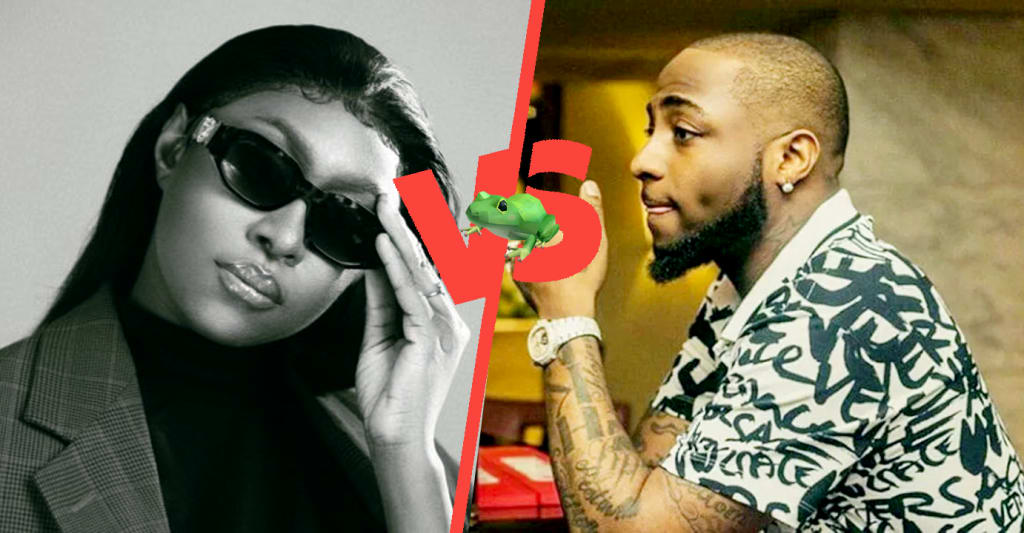 "It should be a new word"
This saga all started earlier in May when Northside INC. artiste Cynthia Morgan who had been missing in action in the music scene for a very long time finally came out to do an interview with a woman named Sandra. In the very heartbreaking interview, an unrecognizable Cynthia Morgan – a far cry from the 'Godmother' that she branded herself – talked about how she and her former manager Jude Okoye had a very terrible relationship and how he had been not only stifling her but also owing her money.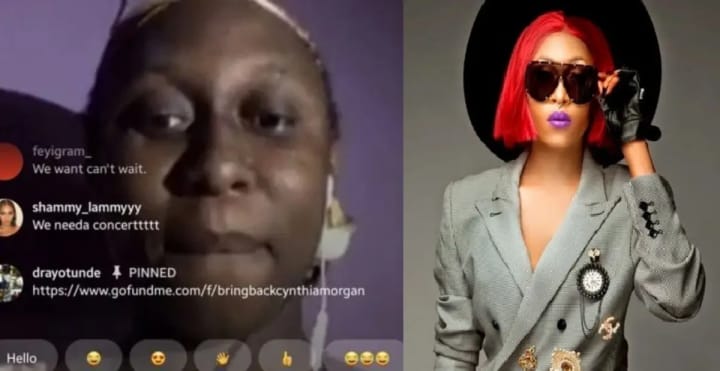 The whole ordeal was so touching and moving to not just regular fans and listeners of Cynthia Morgan like us, but also to her fellow industry mates. One of such persons who this Instagram story really touched was none other than Omo Baba Olowo himself, huge Nigerian artiste, Davido.
The singer following Cynthia's interview publicly tweeted out saying:
Cynthia Morgan call me .... Tell Cynthia I got an anthem for her .... I'll record my verse now. On God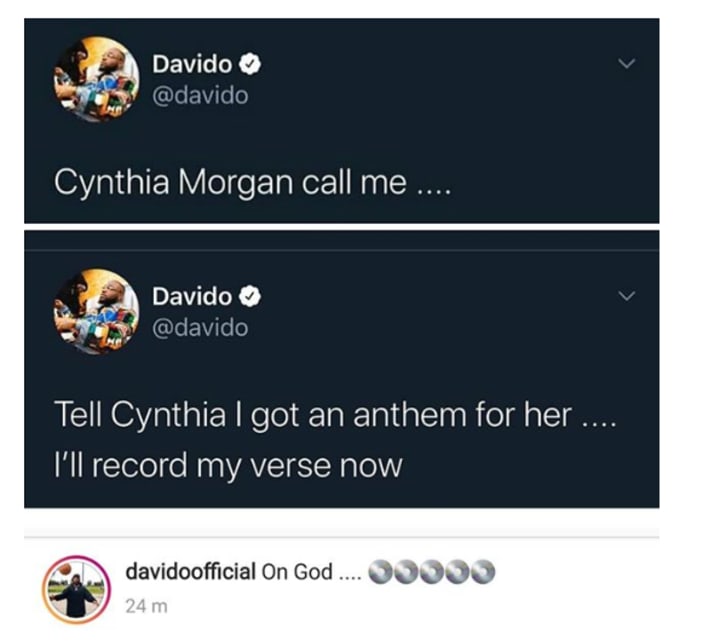 This is what Davido said all the way back in May of 2020, we're now in December, 7 months later, and Cynthia Morgan is not only spinning a different story but it also looks like there's serious trouble in paradise because insults are being thrown. Let's get into it!
**Before reading on, please make sure to like and follow my Facebook page so you don't miss out on any new and interesting lists, articles, and stories that I post every single day. I have a really fun page. If you like my page, you will have fun too. So what's stopping you? Like my page and let's have fun together!
In a recent sit-down interview that Cynthia Morgan did with entertainment television channel, Hip TV, the star singer said about Davido's promises for a new song:
After that interview that I had with Sandra, I did see a tweet where David said "Cynthia call me," and I did call David but he didn't take his calls. Sent him messages on whatsapp, didn't respond to messages. Just a long story actually. I don't know. Then, even the record that he sent, I made a demo verse for the record and it's been like three months and we haven't heard anything from David so...David David David. What's up?
However, it didn't just end there. It seems like there's more to this story because it now looks like her love and hope in Davido has completely gone sour.
Taking to her Twitter page, that's where the real drama lies.
It all started when a fan said to Cynthia:
No insults o But how far the davido anthem
To which Cynthia responded:
Ask @davido

Then, after that tweet, another twitter user by the name @tonyrossbeat tweeted on Dec. 19,
No David O slander would be tolerated!!!!
We have no idea how Cynthia Morgan saw the tweet because she wasn't tagged or anything, but she quickly quoted the tweet and responded to it saying:
You're a fool for this tweet

The tweeter then responded to the above saying:
Lol Cynthia stay away from my mentions I didn't mention you!!!
To which Cynthia responded:
You know you can't mention me. You're a fool I repeat. We know where we coming from. I will drop all this Christian shit and mess you up

The tweeter responded:
Get it out of your chest you've always wanted to do this... enjoy your self
To which Cynthia said:
You've always been the coward. You know if I had something to say I will always ring you. Keep the same energy
Everything seemed to cool down after that until the next day, December 20th, Cynthia Morgan tweeted saying:
Frogulent should be a new word

People were quick to piece it together – Davido has been repeatedly insulted for having a "frog voice" and she is also accusing him of being "fraudulent" so frog + fraudulent = frogulent.
As you can imagine people have been having mixed reactions to the whole ordeal – somebody replied under the tweet writing "Is this all because he didn't pick up your calls and reply your messages?" to which another wrote back "Had someone ever raised your hope and later dash it?"

Some other commenters reacted to the post saying: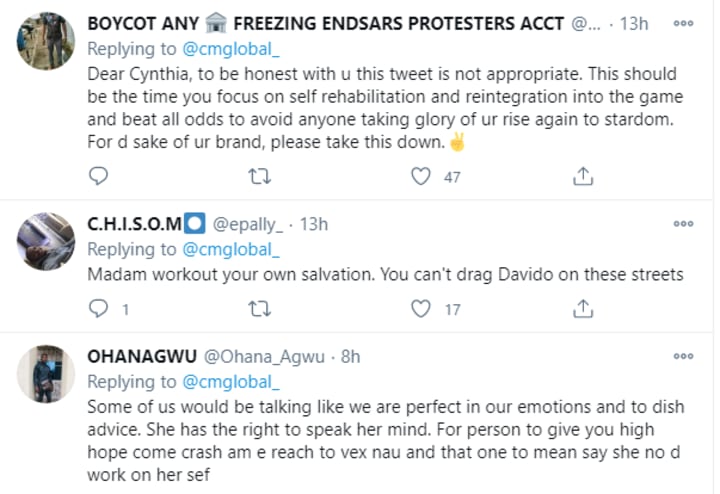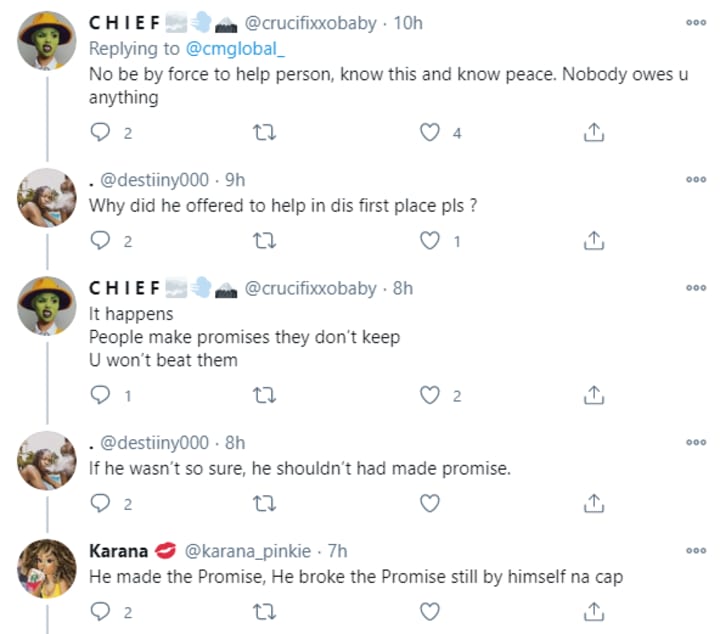 Wow! The way this has turned so contentious…who would have thought?
That's All.
I hope you've had fun. Don't forget to like my page if you don't already for more stories like this, the fun never ends!
To catch up on other content you might have missed, click here.
Until next time, have a wonderful rest of your day.
celebrities
Your one stop spot for everything Nigerian on VOCAL